Please note: I may earn commissions from qualifying purchases if you shop through links on this page. More info.
Stunning Plants For a Shady Landscape
Creating a beautiful garden is super easy… when you have a sunny location. But what if you have a shady yard that's not getting much sun? Suddenly the options feel very limited.
If you are struggling to find beautiful, flowering perennials that will grow under a tree canopy or in dappled shade, you are in the right place! I'll show you how to design a colorful, flowering garden in your shady landscape.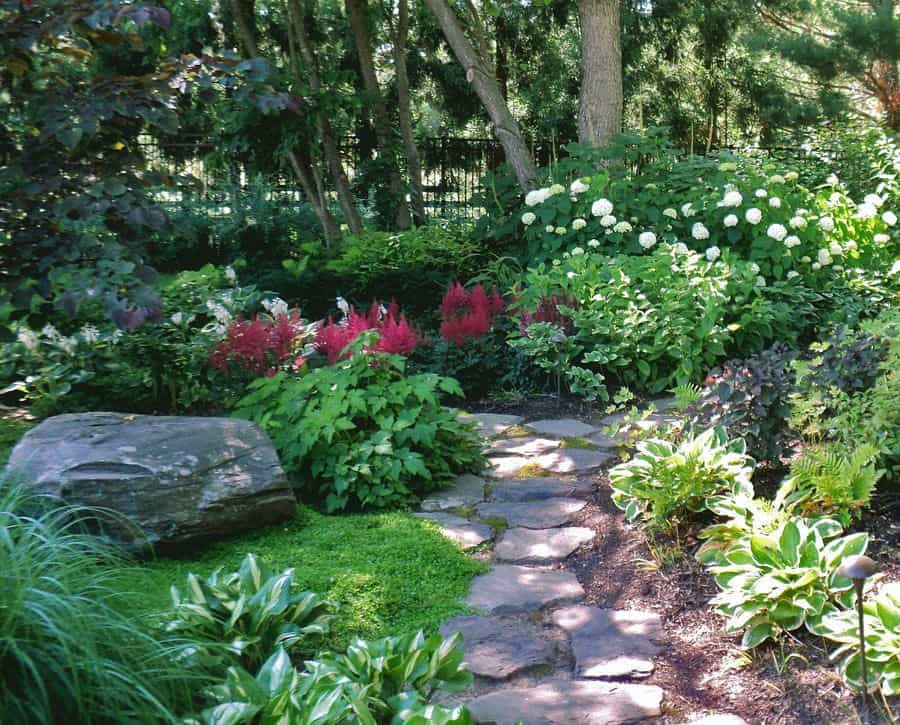 How much sun or shade does your yard get?
Before we talk about designing for a shady landscape, you may be wondering if your landscape is actually considered full shade or part shade. Here are some definitions that will help you figure this out!
Full Sun: Full sun means that the area of your garden that you're planting gets at LEAST 6 hours of sunlight per day.
Part Sun or Part Shade: These are the same thing. This means that your garden gets 3-6 hours of sun per day
Full Shade or Deep Shade:  If the area gets very little, if any, direct sunlight at any time of the day (3 hours or less) you have a full shade area. Typically this is a dense, wooded area or an area under a canopy or structure.
What Blooms with What?
Never know what to plant together? Find out with this FREE Plant Pairing Guide and become a pro at combining plants for the best garden design possible!
What can you grow in a shady yard?
There are plenty of shrubs, plants and even flowers that will thrive in a shady spot! Not all gardens need to be planted in the sun… you just have to make sure that you're planting the right plants for your space.
When growing plants in a shady area you should try to rely a bit more on the foliage of the plants rather than blooming flowers. That's because most plants will require at least SOME sun in order to flower. Designing around interesting foliage and texture will give you a better result in the long run.
Once you choose some interesting foliage for your shady garden, you can then add in some flowering perennials that can tolerate a shady location (plant suggestions below).
Woodland gardens offer great inspiration for a shady area. That's because woodland gardens are usually growing under a large canopy of trees that only let in a little bit of dappled shade… even in the middle of the day.
Quick Tip: Not sure what garden style is right for you? Check out this article to learn about garden design styles and which plants work for each type!
In addition to the above, you can also supplement your shady garden perennials with some annuals. This is a great way to add the color you crave! And, the great part about annuals is that you can change it up every year to give the space a different feeling. Some great annuals for the shade are Impatiens, Coleus and Begonias.
If you're looking for some ideas, check out my Woodland Gardens Pinterest board for even more inspo!
Shrubs that do well in shade
If you are struggling to find beautiful, shade loving bushes that will grow under a tree canopy or in dappled shade, you are in the right place! Here's a list of my top shrubs for shade and partial shade. Many of these shrubs are also native or native cultivars and will provide multiple seasons of interest in your garden.
Subscribe to my YouTube channel for more gardening videos!
Staple Shrubs for Shade
Hydrangea, azalea and rhododendron are all staple shrubs you'll see in many shady landscapes. What makes these shrubs great is that they tolerate shade and have beautiful blooms to brighten up that shady spot in your landscape!
Note: Some hydrangeas prefer full sun, so stick with oak leaf hydrangeas for the shade. Annabelle, Invincibelle and Incrediball hydrangeas also prefer part shade, while varieites like QuickFire and Limelight like the sun.
Shrubs That Tolerate Full Shade
Shrubs That Tolerate Part Shade
Evergreen Shrubs for Shade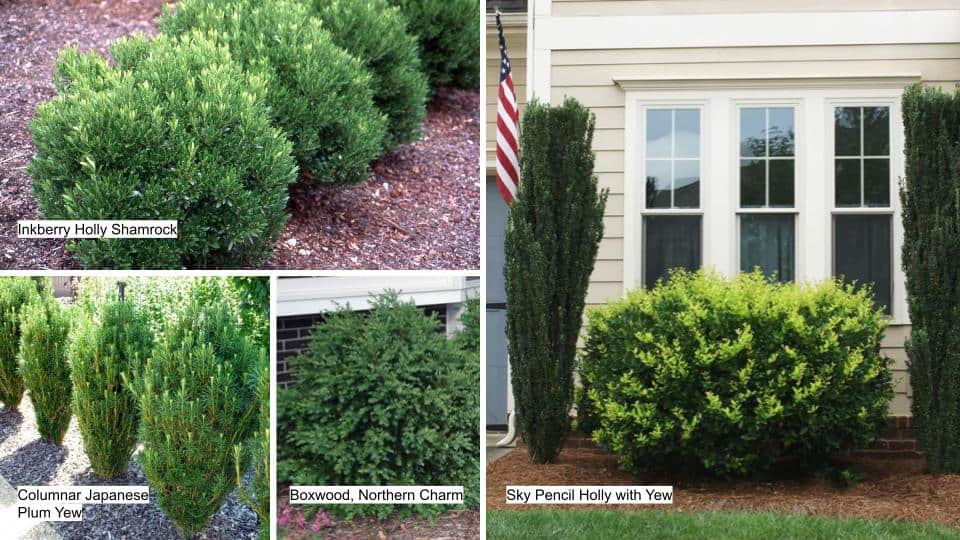 Shade Plants with Interesting Foliage
While there are many perennials that do well in part shade or dappled shade, many of these are perennials have great looking foliage rather than flower blooms. So you may need to consider designing a garden with a lot of foliage texture and variation rather than relying highly on flower blooms. Here are some of my favorite shade plants with interesting foliage.
All hostas are great options for your shade garden. You should even consider planting an entire garden bed filled with different varieties of hostas. One of my favorites to try is Hosta Elegans. This hosta is extra-large with eye-catching heart-shaped leaves. The leaves are a beautiful shade of blue-green and have such a unique texture they look almost as if they have been stitched by a seamstress. The only downfall to hostas are that they are basically deer candy so if you live in an area with a lot of deer it's not a great option.
30" H x 40-60" W, Full Shade, Zones 3-8
Ostrich ferns will make a great backdrop to the Hosta Elegans. The dark emerald green fronds of foliage fan out in a vase shape that resembles an ostrich tail.
4-5' H x 4-5' W, Full Sun – Full Shade, Zones 3-8
Coral bells, also known as heuchera, are one of my favorite plants and I have multiple colors throughout my garden. Their colorful foliage comes in greens, oranges, reds and more… you're sure to find the color you want. I love that they keep their color all year long instead of just a short time like a flowering perennial.
12-18" H x 12-18" W, Full Sun – Part Shade, Zones 4-9
Flowering Perennials That Grow in Shade
While the perennials above are really interesting foliage perennials to use, here are some flowering perennials that you can try!
Astilbes are one of the easiest perennial flowers to grow in the shade and works great in borders, along paths and even in a container. Plumes of flowers in pink, lavender, red, blush, white and salmon rise above fern-like foliage. 'Visions in Pink' or 'Visions in White' are great varieties to light up your shade garden.
20-30″ H x 20-30″ W, Part Sun – Shade, Zones 4-8
With pink, heart-shaped flowers and fern-like foliage, Bleeding Heart 'Luxuriant' blooms from May to September and also attracts butterflies!
12-15" H x 20" W, Full Sun – Full Shade, Zones 3-8
Virginia bluebells are native wildflowers that colonize in the moist woodlands of eastern North America Bluebells have smooth gray-green foliage with clusters of pink buds that open into light blue trumpet-shaped flowers. Plant Virginia Bluebells to see early spring blooms and frequent visits from pollinators. Blooms will last for many weeks in early spring (April and May) and go dormant by mid-summer.
18-24" H x 18-24" W, Part Sun-Shade, Zones 3-8
Aster 'Sky Blue' is a North American native wildflower that is great for middle of the border and grows even in the shadiest of gardens. The aster's foliage has an airy texture and the pale blue-lavender blooms attract butterflies!
---
Quick Tip: If you are ready to get started, here's a full list of perennials that grow in full shade that you can purchase online today.
Groundcovers That Grow in Shade
Here are some of my favorite groundcovers that can tolerate full or part shade.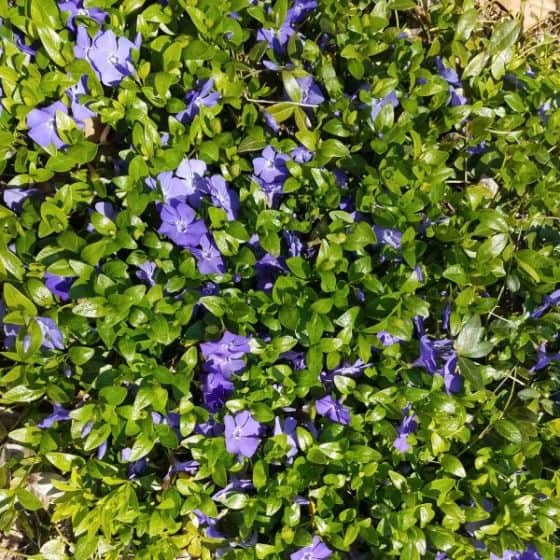 Periwinkle is also known as Trailing Myrtle, Dwarf Periwinkle and Creeping Myrtle. It has green foliage and blooms with little blue/purple 1" flowers that create a bed of color in your shade garden. Periwinkle is a versatile ground cover and make a great cover for bulb beds. It can also be used to stabilize soils and prevent erosion on slopes and banks..
6" H x 18" W, Full Sun – Full Shade, Zones 4-9
Ajuga or bugleweed is a really dark burgundy ground cover that does great in shady areas. In the spring, spikes of deep lavender (almost blue) shoot up from the dense, dark carpet of wavy leaves. Bugleweed can also tolerate light foot traffic making it great for a woodland path or between stepping stones.
6" H x 36" W, Part Shade, Zones 4-9
Sweet Woodruff is a deciduous to semi-evergreen ground cover forming thick mats that spread widely by underground runners. Dainty white flowers top find-textured green foliage in mid-late spring. This is a great ground cover for underplanting a woodland garden. Locate Sweet Woodruff with caution because it likes to spread and can spread vigorously.
8-10″ H x 12-18″ W, Part Sun – Shade, Zones 5-9
Wrapping Up
Although there are a handful of shade-loving plants and shrubs that will also bloom, when designing a shade garden, you need to rely heavily on variations in leaf foliage rather than just on flower blooms. Learn more about combining foliage in this article about plant texture.
Look to woodland gardens for inspiration as these plants are growing and thriving under tall canopies of trees and usually only see dappled shade–even in the middle of the day!
Try planting coral bells, hostas and ferns for their great contrasting foliage.
Combine great foliage with flowering perennials like astilbe or bleeding hearts that can tolerate shade and still flower.
For underfoot, try a carpet of periwinkle, sweet woodruff or some bugleweed between your stepping stones. 
There are also lots of shrubs that tolerate shade; hydrangea, rhododendron and azaleas are staples in shade gardens because of their beautiful blooms.
Finally, remember that just because you have a shady area of your landscape, doesn't mean you can't have a beautiful garden!
More Plant Lists You'll Love
Shop my Amazon storefront for my essential gardening books & tool recommendations!