Please note: I may earn commissions from qualifying purchases if you shop through links on this page. More info.
15+ Unique Plants with Burgundy Leaves (Showstoppers!)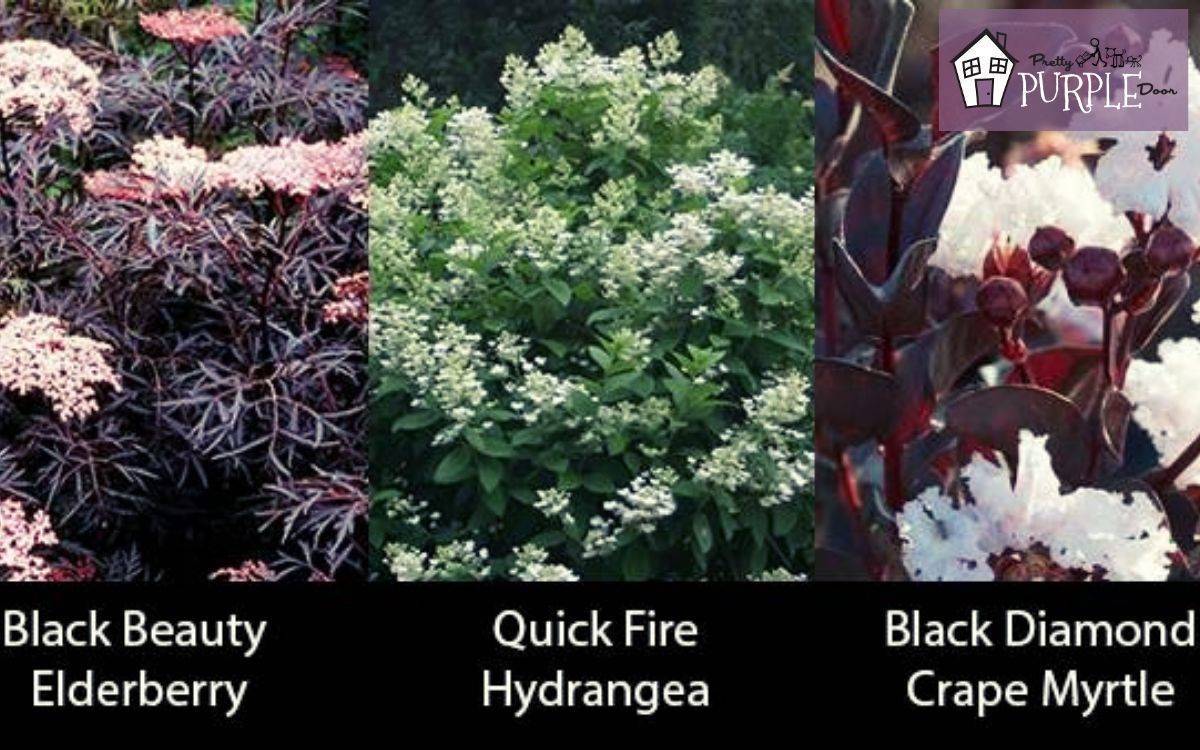 If you're anything like me… you want a garden that is beautiful and unique. I'm always on the lookout for new and unusual plants that will enhance my landscape.
One of my favorite ways to experiment in the garden is by using plants with burgundy leaves and foliage. It's such an unexpected color to incorporate into your landscape. And, there's a surprisingly high number of plants, from ground covers and grasses to shrubs and trees.
What I like most about plants with burgundy leaves is that the dark backdrop really sets off the flowers both on the plants and in front of the plants. It's almost as if they are popping out at you.
Many plants with burgundy foliage also sport really unique features like prolific blooms, edible berries and event scents that will make you fall in love with them.
Watch the video: How to use burgundy foliage in your landscape.
The best plants with burgundy foliage for your landscape
These are some of my favorite shrubs and plants with burgundy leaves. Keep scrolling for more details and pictures of each!
---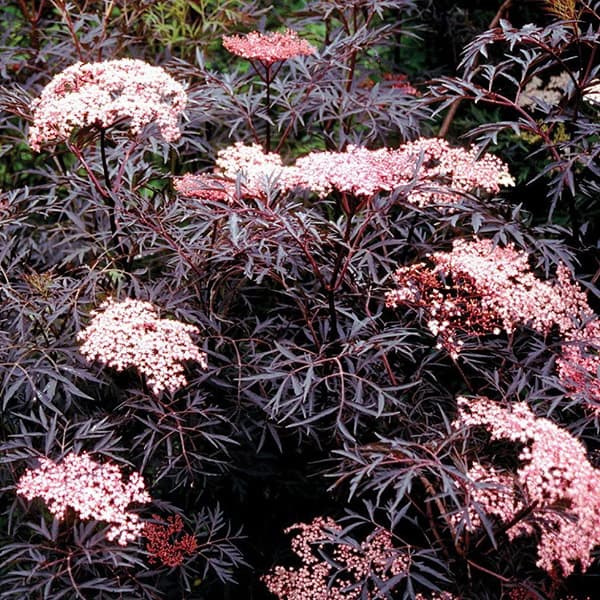 Zones: 4-7
8-12′ H x 5-6′ W
Full to part sun
The elderberry black beauty has exotic, fern-like deep purple foliage with purple young stems. Clusters of pink blooms with a lemony scent envelop this unique shrub, attracting butterflies. It also bears yummy fruit (elderberries) in the summer that both people and birds love.
In order to bear fruit, plant a compatible pollinator such as Black Lace, Instant Karma, or Laced up elderberry nearby. Both shrubs will produce berries when cross pollinated.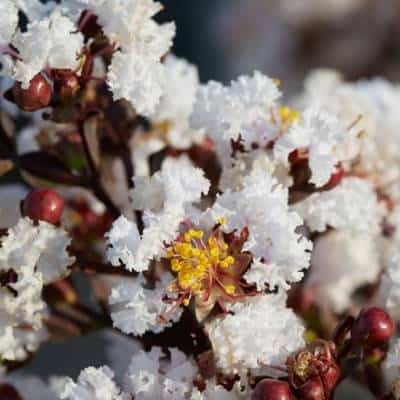 Zones: 5-9
10-12′ H x 8′ W
Full sun
The Black Diamond Pure White Crape Myrtle has dark, almost black foliage spring to summer white ruffled flowers all season. This is a small, multi-stemmed tree that's even drought-tolerant once established. It's contrasting deep maroon (almost black) foliage and pure white flowers are sure to get lots of attention!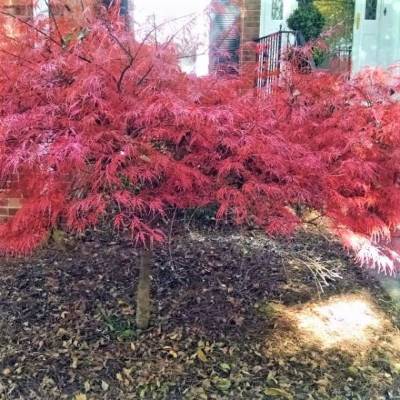 Zones: 5-9
15-20′ H x 12-15′ W
Part sun
The delicate reddish-burgundy leaves of the Bloodgood Japanese Maple are showcased on strong branches. The leaf color only gets more brilliant through the year, ranging from orange-red, bronze-red, through to purple-red.
The Bloodgood Japanese Maple is certainly a beautiful ornamental tree for any gardener looking to add red or burgundy foliage to the landscape.
What Blooms with What?
Never know what to plant together? Find out with this FREE Plant Pairing Guide and become a pro at combining plants for the best garden design possible!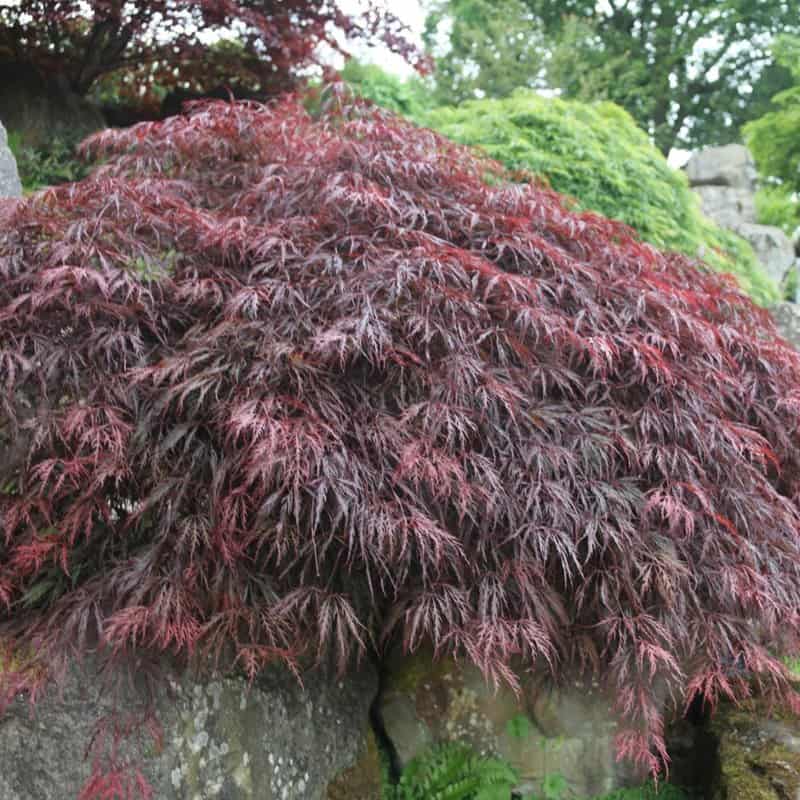 Zones: 5-9
10-15′ H x 8-15′ W
Full to part sun
The gorgeous Inaba Shidare Japanese Maple is a small weeping tree that has a shrub-like appearance. In spring, the leaves are a deep reddish burgundy and only get more brilliant through the year. In fall, the leaves turn a bright fiery red.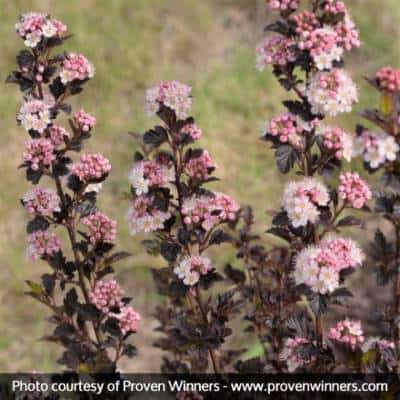 Zones: 3-8
3-4′ H x 3-4′ W
Full to part sun
Disease resistant, pest resistant and the perfect size, it's hard to find a friendlier shrub for the home gardener than Tiny Wine Ninebark. It's little bundles of spring flowers envelop the shrub in pinkish-white clusters of color.
When the burgundy-maroon leaves drop in winter, the exposed bark of Tiny Wine has a striking, peeling appearance that will add interest to your winter garden.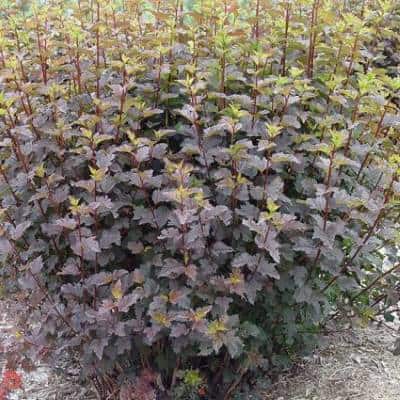 Zones: 3-7
8-10′ H x 8-10′ W
Full to part sun
Diablo Ninebark features eye-catching creamy white flowers, deep reddish purple leaves, and wonderfully textured bark. It's a real knockout plant that's also easy to grow.
Diablo gets fairly large so make sure you have the space for it!
Smoke Bush 'Velveteeny' or 'Royal Purple'
Zones 4-8
3-4′ W x 3-4′ H
Full-Part Sun
Blooms in summer
At just 3-4′ tall, smoke bush 'Velveteeny' offers the same silky smooth, deep burgundy foliage with large feathery dove gray/pink plumes in summer. In the fall, its unique purple foliage transforms to bright red, adding an additional season of interest. Velveteeny has similar qualities as her big brother 'Royal Purple', but in a petite, dwarf form perfect for small home landscapes.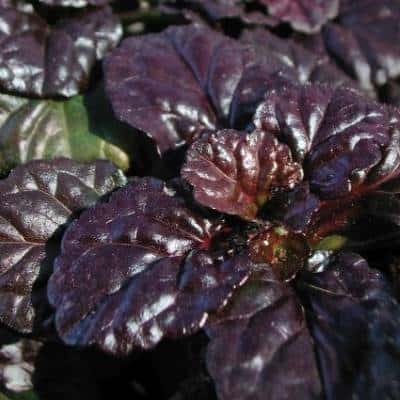 Zones: 4-9
4-6in H x 3′ W
Part sun
Ajuga, also known as bugleweed is a great groundcover, especially for shady areas. The leaves of Black Scallop are so dark burgundy they are almost black (hence, the name).
In spring, tiny spikes of deep-lavender flowers shoot up from the leaves! It's a great addition to any garden featuring burgundy foliage.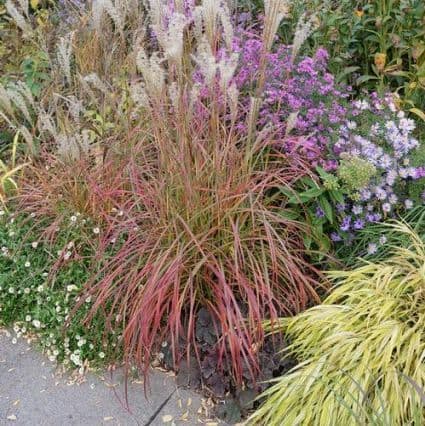 Zones: 5-9
2-3′ H x 1-4′ W
Full sun
Little Miss Maiden Grass is a great addition to any garden featuring burgundy foliage. Many gardens I see are often lacking the the motion and background noise that a beautiful grass adds to the landscape.
Little Miss's graceful foliage emerges in early spring. As the summer wears on, the outer foliage turns brilliant red and purple that intensifies into the fall. This is a perfect grass to try if you are looking to take your burgundy garden to the next level.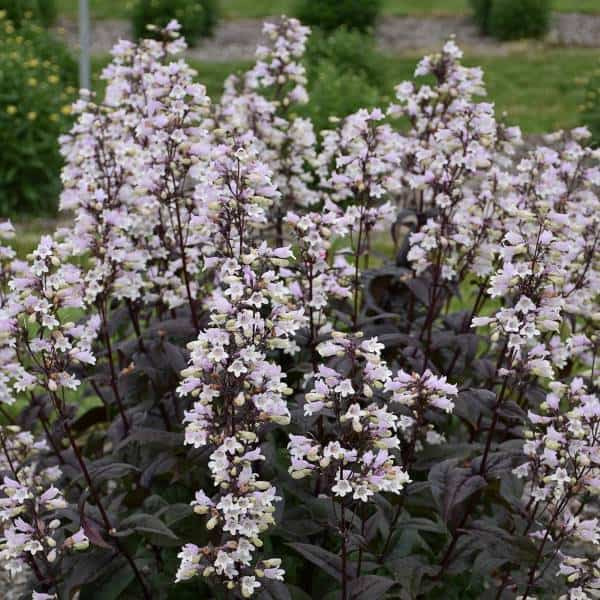 Zones: 3-8
3.5′ H x 3-3.5′ W
Full sun
Penstemon 'Onyx & Pearls' (penstemon digitalis) is a striking native flower with tall spikes of cream flowers with a wash of lavender that pop against the deep purple burgundy foliage. A tall, upright perennial that is deer resistant and right at home in sunny gardens. Drier native meadow gardens and borders are the perfect site for this hardy plant, where bees and hummingbirds are sure to visit! 'Blackbeard' is another variety to check out with deep purple leaves.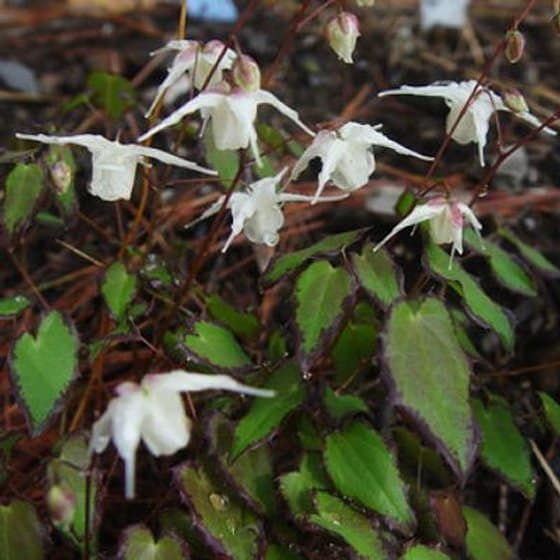 Zones 5-9
8-12″ H x 8-12″ W
Part Sun-Shade
Starting out with a burst of chocolate, the leaflets of 'After Midnight' (Epimedium x youngianum) soon become green at the center, crisply trimmed in bronze. These make a stunning backdrop for its flowers, which will draw you in from across the garden. Sepals are cherry-rimmed and fall away to reveal a flurry of white flowers that contrast so well with the dark foliage. This is a lovely low-grower to place along a shady walkway or in the crevice of a large boulder.
Heuchera, or coral bells come many, many different varieties. I love them for their unique foliage color, their petite size (12-18″ wide and high) and the fact that they keep their leaves and color throughout the winter months. Hardy in zones 4-9, coral bells will thrive in both sun and partial shade.
Here are some heuchera varieties featuring red and burgundy leaves: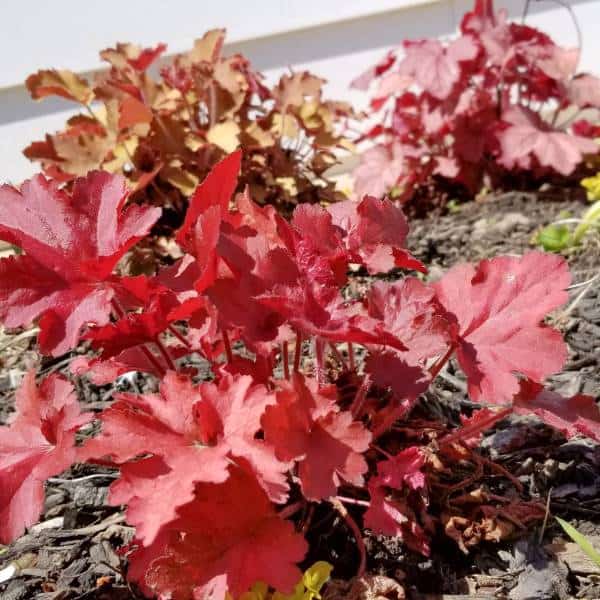 Plants with green leaves and red stems / veining
Plants with green leaves and red stems (or veins) are also a great option when you're trying to choose plants to combine with your burgundy foliage. If every plant has burgundy leaves… it's all just going to blend together.
So, in order to maintain the magic of your burgundy plants, you can try mixing in some plants that have green leaves and red stems.
The best part is that the red veining will be accentuated with planted next to your burgundy foliage.
Here are some green leafed / red stemmed plants to check out: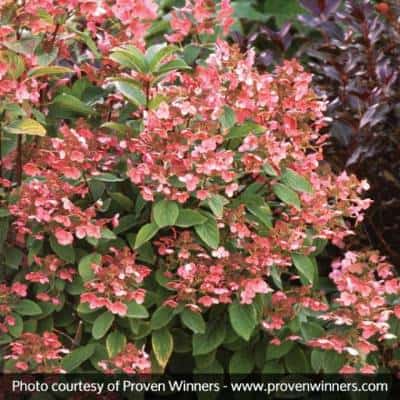 Zones: 4-8
6-8′ H x 6-8′ W
Full to part sun
This is a gorgeous hydrangea with beautiful ivory white blooms, big matte-textured leaves, and deep red veining. Quickfire blooms earlier than other hydrangea varieties, provides a floral show from summer through fall, and even provides winter interest with its dried flowers
If you like this shrub but it's a little bit too big, you're in luck. There's also a Hydrangea Little Quick Fire, which is a bit smaller at 3-5′ H x 3-5′ W. It's hardy from Zones 3-8.
I also mentioned coral bells in the section above. Many varieties of coral bells also feature red stems or veins (like Forever Red, Berry Smoothie and Red Lightening).
Some coral bells even feature a different color on the bottom of their leaves. For example, the variety Caramel is a burnt orange color. But, if you flip the foliage over, the underside has a strikingly bright burst of deep red!
So, make sure you flip over the coral bells leaves when you see them in the nursery. You may be surprised to find that it won't be the same color you see on the top of the leaf!
How to pair plants with burgundy foliage
Over the weekend I picked up a few unusual plants. And, I know it can be challenging for many gardeners to pair plants together. Especially ones with unusual dark/burgundy foliage.
So, I thought I'd share a little bit about why I chose these three beautiful plants in particular.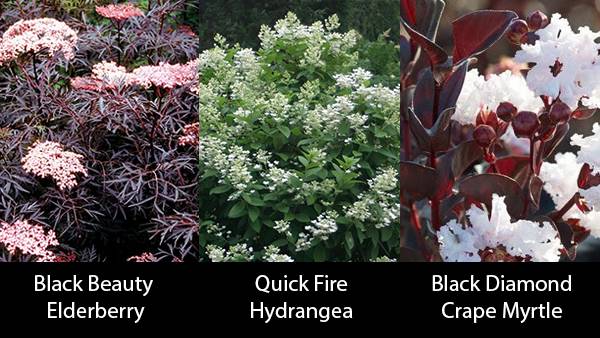 Black Beauty Elderberry
Black Diamond Pure White Crape Myrtle
Panacle Hydrangea Quick Fire (you might also like Little Quick Fire, which is a bit smaller)
Find similarities in the plants you want to pair.
First and foremost, the goal is to pair plants with similar features to tie them together, but different features to set them apart. Sounds so confusing, I know. Well, these three plants have two things in common:
Bloom color (white): They are all in the white, cream, very light pink family.
Foliage or stem color (burgundy): The elderberry and the crape myrtle have a similar very dark burgundy (almost black foliage).
The hydrangea has green foliage but the stems are a dark red, almost burgundy.
Find differences in the plants you want to pair.
What does each plant have that stands it apart?
The leaves all have differences!
Different how? In the size. In the shape. In the texture. This is the key!
The hydrangea has a really pretty, broad leaf. It's the largest leaf of the bunch and it's not the least bit shiny.
The crape myrtle has a smaller leaf to it, and it's a definitely shinier than the dull/matte texture of the hydrangea leaf. It also has a curled appearance.
The elderberry leaf is the most different of all. It's really fine and delicate. It kind of reminds me of the foliage of a fern.
So as you can see… they have similarities… but they also have differences.
The key to plant pairing success.
Make sure that your plant combos have common themes but ALSO have enough personality to set themselves apart from one other. Like I mentioned earlier, my post about combining plants will also be really helpful if you want to master this.
Choosing different leaf shapes and sizes is a great way to make sure you're on the right track so that your plants will look great even when they're not blooming.
Quick Tip: If you love the idea of combining plants in a 4-season garden, check out my post about how to make unforgettable plant combinations to learn even more!
Wrapping Up
So there you have it — a huge list of beautiful plants with burgundy leaves. Burgundy foliage helps not only the flowers on the plant to stand out, but also creates a wonderful backdrop to showcase plants in front of them.
When working with burgundy be sure to think about what the plant will look like each season and how you can use other parts of plants to create a cohesive garden. For example, we talked about using the maroon stem/veining of the Quick Fire Hydrangea to compliment the burgundy foliage of the elderberry and crape myrtle.
What's your favorite plant with burgundy foliage? Let me know if in the comments below and I'll add it to the post!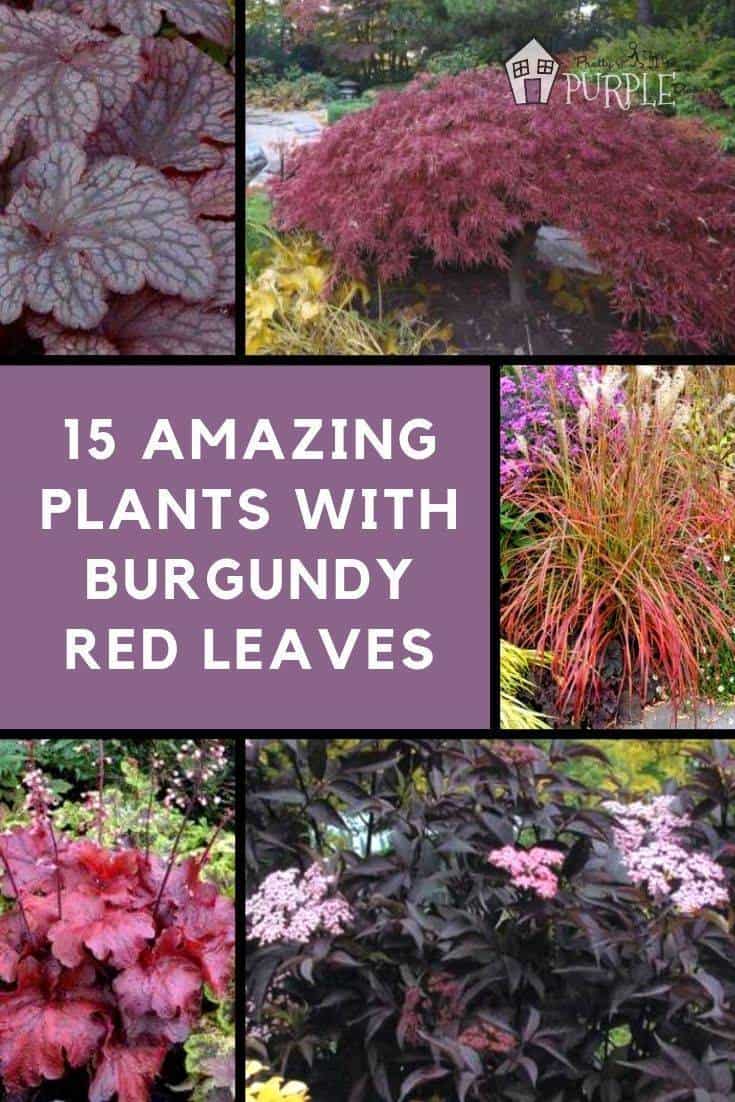 Check out these other great articles about gardening
What Blooms with What?
Never know what to plant together? Find out with this FREE Plant Pairing Guide and become a pro at combining plants for the best garden design possible!
Amy is the founder of Pretty Purple Door and has been a garden designer since 2014 and graphic designer since 2005. She helps home gardeners design their own beautiful landscapes that are colorful in all four seasons, show off your personality and suit your lifestyle. Amy's work has been featured in publications like The Spruce, Family Handyman, Buzzfeed, Country Living Magazine and more. Read full bio.