Please note: I may earn commissions from qualifying purchases if you shop through links on this page. More info.
Read This Before Ordering Outdoor Plants Online
With the increased interest in gardening and so many in-person restrictions, you may want to consider purchasing some of your plants and seeds online.
There are pros and cons to buying your plants online. In most cases, the plants you purchase online will be much smaller than what you would find locally. But, there is a lot more variety and ordering online gives you the ability to get the exact plant you want– if you're wiling to wait.
Keep reading to find out what you need to know before placing your first online order.
What to Expect When Purchasing Plants Online
Purchasing plants online certainly has its pros and cons. In most cases… the plants you purchase online will be very different than what you would see in your online nursery. The biggest takeaway is don't be afraid to order online. As long as you read through this list, set your expectations and do your research, ordering online can be a great option to get the exact plants you want.
Once you're ready to purchase online, be sure to check out my article on the top online plant nurseries you can trust and the ones you can't.
Here's an idea of what to expect and what you should look out for before clicking that "add to cart" button.
1. Purchasing in-person locally costs less money for a larger plant
Honestly… I'd rather get my plants in person so I can see them and pick the ones I want. The only time I turn to online shopping is when I can't find a specific plant that I want locally… or if I see a really great deal.
So, first, I'd recommend heading to your local nursery. Support small, local businesses. Often times, if you call the nursery and ask about a particular plant, they'll be able to order it for you and save you the hassle of ordering online. I love it when they will do this for me!
You could also purchase plants locally at Lowe's, Home Depot or even farm stores like Agway, Tractor Supply, etc. All of these stores have a decent selection of plants, but usually the staff isn't as knowledgeable as what you'll find at a plant nursery.
Another local option for getting some new plants is to check on Facebook marketplace. Many gardeners will divide their perennials in the early spring so they may be selling divisions at a reduced rate… right in your neighborhood!
What Blooms with What?
Never know what to plant together? Find out with this FREE Plant Pairing Guide and become a pro at combining plants for the best garden design possible!
2. Plants purchased online are smaller… usually A LOT smaller
Getting plants online is NOT the same as getting them from the nursery. If you are expecting a similar sized plant for the same price you'd pay locally, you are going to be grossly disappointed.
I know I was the first time I ordered online. I thought there was some mistake!
The majority of online retailers will sell you very small or even "bare root" plants. These very small plants will take a lot longer to get established and grow in your garden (boo). The good thing about bare root and/or young plants is that they are usually easier to transplant into your garden and less fussy about rooting. Sometimes more mature plants have a difficult time getting acclimated to their new home.
But if the thought of teeny tiny plants and several years of waiting for your garden to mature sounds disappointing, don't worry. There actually are some online nurseries that do sell larger plants and even trees! Head over to this post to read more about them.
3. The shipping dates may surprise you
You should also pay attention to the shipping dates because a lot of online retailers will NOT ship the plant immediately after you purchase.
Usually online nurseries will ship plants at the proper time for you to plant them in your growing zone.
Sometimes you'll receive your plants a week or two later… but I've had other experiences where I've ordered plants in the spring and had to wait for a fall shipment. I've also ordered in the fall and had to wait until the next sspring for plants.
As long as you know and are ok with it, this is not a problem. Most online nurseries are pretty clear about the shipping dates… it's the customers (like me) that need to pay closer attention to those those shipping times!
4. Read all refund policies and guarantees before ordering
Make sure that you read through the nursery's refund policies and guarantees before you order. Hopefully this is no different than what you do when shopping at any online store.
The policies from one plant nursery to the next can vary greatly. Most nurseries will guarantee a plant anywhere from a few months to a year after purchase. But some online nurseries have AMAZING guarantees… and that can really take a lot of the stress and uncertainty out of placing your order.
As an example, a customer service rep from Breck's provided the following information about their guarantee:
"We guarantee all of our plants to reach you in perfect and healthy condition. What's more, any item that does not grow and flourish to your complete satisfaction will be replaced free, with no time limit, for as long as you garden."
This LIFETIME guarantee is certainly not the norm. But it's a great selling point.
BUT (there's always a but, isn't there?)
Just because they offer a guarantee doesn't always mean that you are in the clear. I ordered from a nursery that had a one year guarantee and they still mailed me dead plants. I returned the plants per their guarantee and received more dead plants in exchange.
And, they would not replace my dead replacement plants.
Because of this experience, I don't believe that having a guarantee and/or solid refund policy is the be all end all. Which brings me to the next consideration.
5. Read customer reviews
You should also read some of the customer reviews. Very quickly you'll be able to tell if they are customer-centric or not. Check on their own website but also type it into google to find any other places where they're being mentioned online. Social media is also a good place to search for reviews. If you can't find any reviews, don't purchase from them.
I wish I read reviews before making my purchase… because I did after I received dead plants in the mail twice. And all of the reviews were very bad. If only I read them I would have saved myself a lot of headaches.
By the way if you're interested in who sold me the dead plants, head over to this post to read more.
5. Plants can easily get damaged during shipment
No matter how careful the nursery is, there's always a chance that plants will not survive or get damaged during shipping.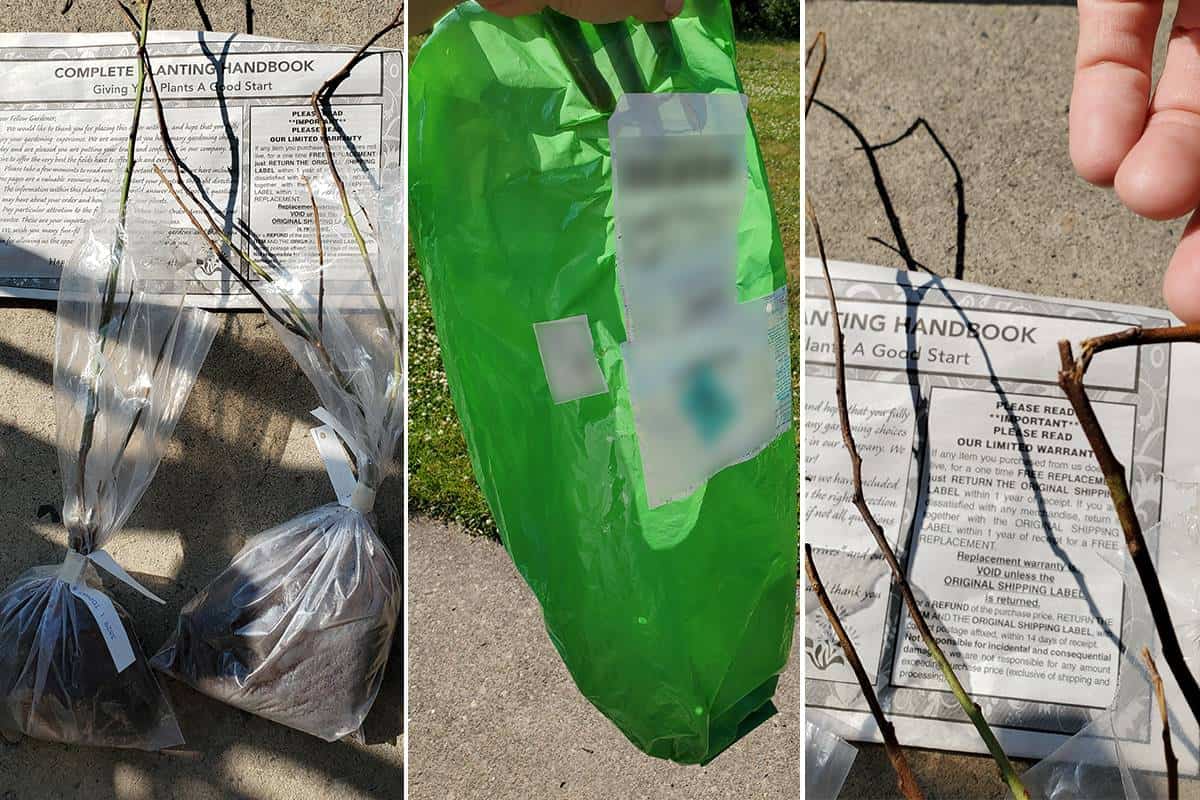 Some nurseries will take a lot more care in their shipping than others. You can see the dead plant shipment above… the plants were just tossed into a plastic bag. Can you imagine how many times that bag was thrown around the post office? It was probably stepped on and chucked a dozen times on its journey to me.
To me, their lack of care in shipping plants shows me that they really don't care about having a satisfied customer. And, they probably don't care about plants, either! Because as a plant lover, this broke my heart.
So just because they offer a shipping guarantee doesn't mean they care about the plants. And I'd honestly rather spend a little bit more money on a plant that has a better chance at getting to me unharmed.
6. Backordering/cancellations happen often
Backordering/cancellations can happen. I've noticed that this happens a lot more often with plant nurseries than other industries. So just be sure you're keeping track of your order and reading any messages that may come in from the nursery. They may ask if you're willing to swap a back-ordered plant for another one or if you want to wait it out.
I'm not exactly sure why this is so common with nurseries, but trust me, it is. It's better that you expect it might happen than be disappointed when it does.
7. There's so much variety available when you purchase online
I thought I'd end this post with a positive note. The good news is that most online nurseries ARE reputable and will provide you with a lot more variety than what you may find locally. Browsing through some of these online plant nursery websites has opened up a whole new world of gardening for me. Plants that I've never seen before or dreamed could grow where I live are available with the click of a button. It can be really exciting.
All in all, online plant nurseries are are a great option to find exactly what you're looking for or expand your gardening horizons. Just make sure you read through the nursery's refund policies and guarantees before making any purchase.
General Tips for Buying Plants Online
I've done my fair share of shopping for plants online. Here are some tips to make sure you're shopping at a reputable online nursery:
Make sure the website has a phone number or way to contact them for customer service.
Research their plant warranty information. Any reputable online nursery will clearly post their warranty information and refund policies.
Google the company name + reviews. Often times you'll find reviews from people with personal experience that can help you make a decision.
Check the Better Business Bureau website for reviews, scam alerts and complaints about the company. You can even review the business on this website if you want others to know your experience.
When in doubt, reach out before you buy. Try calling the customer service number or writing to their customer service email. See if their support is friendly and gets back to you in a reasonable amount of time.
Remember that if you're shopping for plants on websites like Amazon and Etsy, that these are "selling platforms" made up of thousands of individual sellers. So, just because you had a great experience one time, does not mean it will always be that way. The quality and customer service can vary significantly from one seller to the next.
Trust your gut. When in doubt… if it looks too good to be true, it probably is.
Wrapping Up
Here are some of the pros of ordering plants online:
Online nurseries provide you with a lot more variety. This can open up a whole new world of gardening for you!
It's a great option to get exactly what you're looking for.
You can often find good deals online with free shipping, buy one get one, etc.
When plants are delivered to your door, you don't have to deal with carrying them and getting your car all dirty :).
Unfortunately, there are also a lot of cons to consider when ordering plants online:
Ordering plants online is a lot more expensive (for the size of the plant you get) than purchasing locally.
Plants purchased online are often be MUCH smaller than those you'd find at a local nursery. In most cases, you will be much happier with the size and performance of the plant(s) you purchase locally, especially in the first year.
Shipping is not always immediate so you may not receive your order for quite a long time. Backordering/cancellations are also common.
No matter how careful the nursery is, there's always a chance that plants will not survive or get damaged during shipping.
Just because an online plant nursery has a refund policy does not mean they are legitimate (read more here).
If you're ready to purchase online, be sure to check out my article on the top online plant nurseries you can trust and the ones you can't.
More Gardening Posts You'll Love
What Blooms with What?
Never know what to plant together? Find out with this FREE Plant Pairing Guide and become a pro at combining plants for the best garden design possible!
Amy is the founder of Pretty Purple Door and has been a garden designer since 2014 and graphic designer since 2005. She helps home gardeners design their own beautiful landscapes that are colorful in all four seasons, show off your personality and suit your lifestyle. Amy's work has been featured in publications like The Spruce, Family Handyman, Buzzfeed, Country Living Magazine and more. Read full bio.