Lately I have been considering updating my front door color to a different shade of purple.  Unfortunately while I was doing research, I realized how difficult it is to find purple front door color suggestions – actual brand and color names. This post are just some color suggestions and pictures to help you along.
Purple Front Door Color Suggestions
(original post from 2014 updated Jul 19, 2016)
This is my front door, and it's certainly a "safer" purple front door color. Also nearly impossible to get a nice photo of it, haha. I will keep trying, though. It's a muted purple that would go well with just about any color scheme. Curious about the color purple? Find out what it means.
Color Suggestion: Clark and Kensington Purple Energy
Color suggestion: Benjamin Moore Autumn Purple and Benjamin Moore Crushed Berries
A plum/eggplant purple front door color is perfect for someone inspired by the dark and mysterious. For the sophisticated and the elegant, this color of purple gives off a vibes of wealth and prosperity.
Color Suggestion: Benjamin Moore Majestic Violet or Valspar Purple Rain
Don't forget what your purple front door color will look like from the inside of your home. It's important to make sure it doesn't completely clash with the decor of the room in the front of your home.  If it does, try painting a vase, picture frame, or flower pot in the same purple front door color. Or choose an area rug that pulls in the door color with the other colors of your room!
Color Suggestion: Clark & Kensington Burgundy Velvet
Mountain Ridge
How about a strong and bold color that makes a statement? I like this gorgeous raisin with undertones of purple and gray and brown. It's an unusual color for a front door. A little mysterious.
Color Suggestion: Benjamin Moore Mountain Ridge 1456
Fashionista
Not too light, not too dark, this purple is so pretty. I love how it pops against the green foliage.
Color Suggestion: CLARK+KENSINGTON Fashionista
Majestic
When purple is perfect it is downright majestic.
Color Suggestion: Beauti-Tone Direct Line 436
Hidden Mountains
This deep, deep purple really does look like mountains hidden in the shadows.
Color Suggestion: Beauti-Tone Hidden Mountains 5135EC
What a great cabinet color! Wouldn't it also look beautiful on a front door?
Color Suggestion: Benjaminor Moore Passion Plum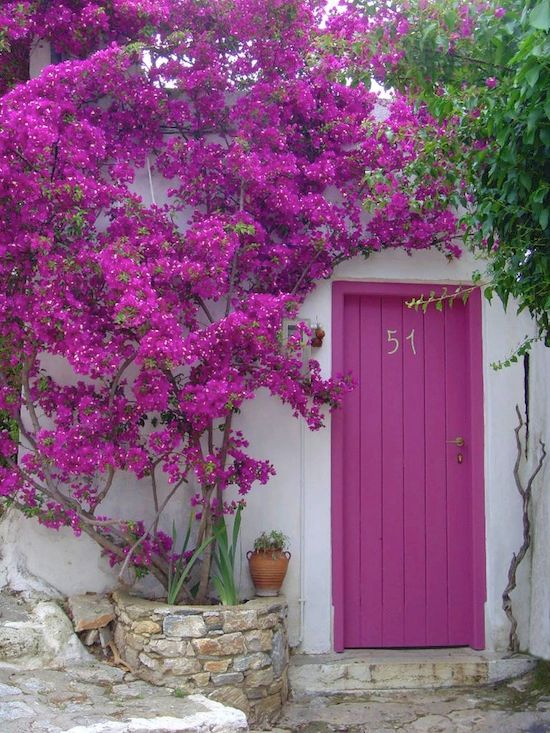 OMG This door looks just like a rhododendron bush. Actually that tree is called "Barbara Karst Bougainvillea" – but isn't the door lovely?
Color Suggestion: Sherwin William Dynamo 6841
What Blooms with What?
Never know what to plant together? Find out with this FREE Plant Pairing Guide and become a pro at combining plants for the best garden design possible!