Please note: I may earn commissions from qualifying purchases if you shop through links on this page. More info.
Purple Front Door Color Suggestions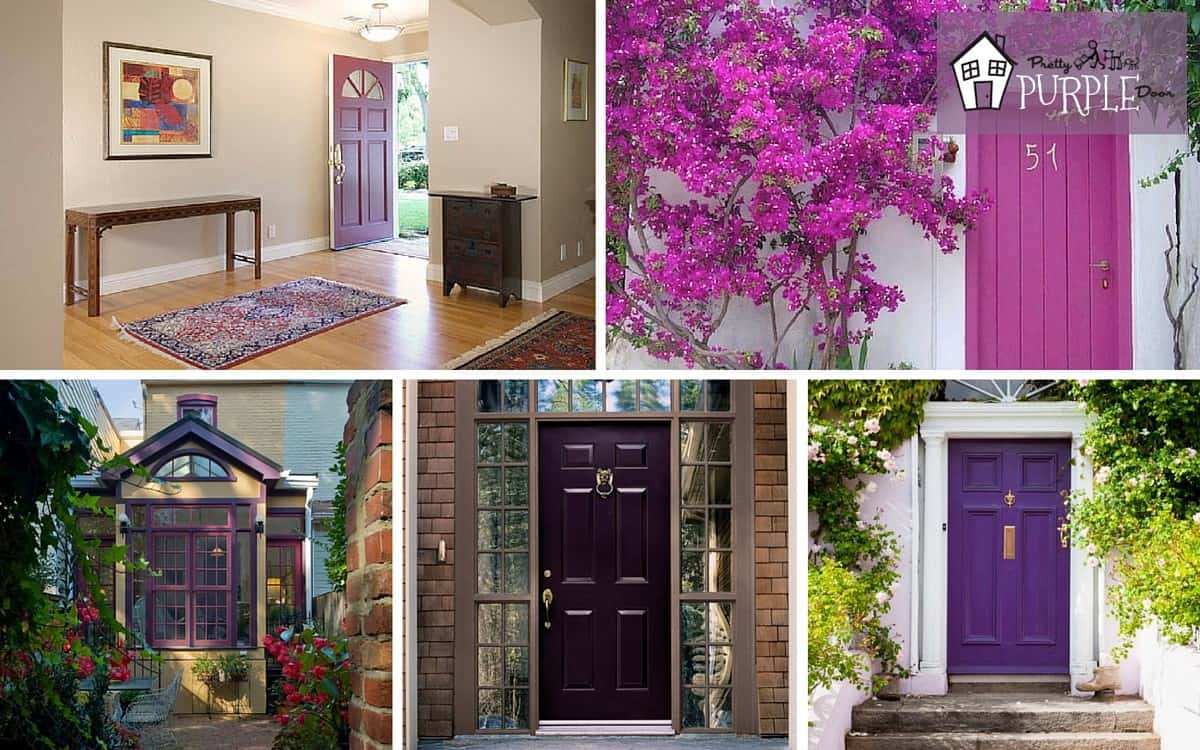 Considering updating your front door color to a lovely shade of purple? Let me make your research a little easier for you with these awesome color suggestions for purple front doors.
While I was doing my own color research, I realized how difficult it is to find purple front door color suggestions – i.e. actual brand and color names. So, hopefully these suggestions and pictures will help you along in your search for the purple front door. I'll be sharing color suggestions for light, medium and dark purple doors.
Need more convincing? You should first check out my post on the meaning of a purple front door. Then, after you choose the perfect color check out my post on how to properly paint your front door.
The color purple is made from combining blue and red together. If there's more red than blue in the mix, the purple is said to have red undertones. This is a warmer color purple that can lend itself to a pink or a mauve. If the mix has more blue than red, the purple is said to have blue undertones. This is a cooler colored purple that leans more towards a grape or eggplant.
Colors for Light Purple Front Doors
Pastel colored front doors are great for bringing a bit more attention to your front door, especially if it's under an awning and doesn't get much light. Lighter colors like lavender reflect light and can draw the eye towards your door and make it stand out. Although a fairly uncommon front door color in the U.S., I've found that lavender is a fairly common color used on front doors in Paris, France. Here are some light purple doors, along with paint color suggestions, you may like.
Raspberry Ice (Benjamin Moore)
This front door is beautifully understated and elegant. A pale, pastel purple door with pink undertones works great with white trim to really show off its true color.
Benjamin Moore Raspberry Ice 2072-70
Amethyst Cream (Benjamin Moore)
This is a bright and cheerful lavender door that isn't lacking in saturation like a lot of other pastels do. I love the way the modern light purple plays off the distressed, whitewashed brick. The pink flowering tree to the right is just the cherry on top of this adorable vignette.
Benjamine Moore Amethyst Cream 2071-50 or Lily Lavender 2071-60
Dynamo (Sherwin Williams)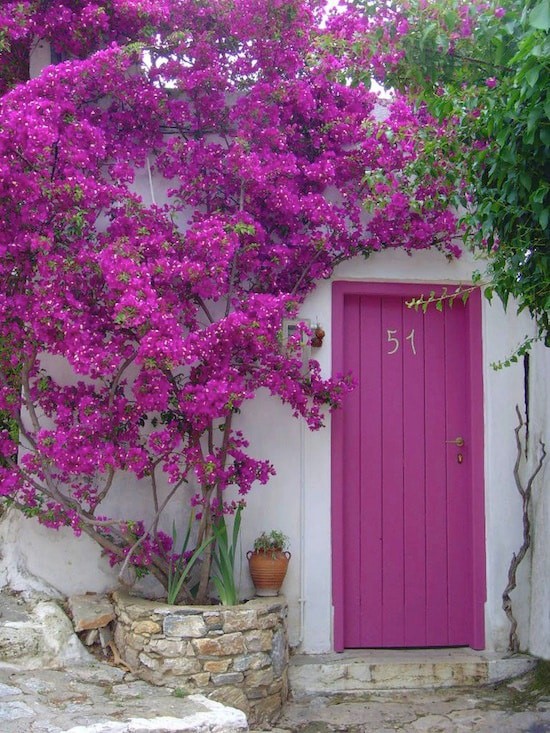 OMG This door looks just like a rhododendron shrub. Actually that tree is called "Barbara Karst Bougainvillea" – but isn't the door lovely? I like this because it's definitely leaning towards pink/fuchsia color. But I thought I would include it for those of you considering a purple door. It's something a little different you may not have thought of.
Colors for Medium Purple Front Doors
If you're looking for a perfectly rich, medium-toned front door color, these are some great options. I've included purples that are very saturated and less saturated, along with purples that have either red or blue undertones. These mid-tone purples work really great with white trim. Purple also looks great when mixed with natural earth-tone colors found in trees, wood and natural stone.
Purple Energy (Clark and Kensington)
This is my front door, and it's certainly a "safer" purple front door color. Also nearly impossible to get a nice photo of it, haha. I will keep trying, though. It's a muted purple with gray undertones that would go well with just about any color scheme.
Curious about the color purple? Find out what it means.
Autumn Purple & Crushed Berries (Benjamin Moore)
I love the mix of 2 purple front door colors — you can do the trim in a darker or lighter version of purple.
BM Autumn Purple 2073-20 | BM Crushed Berries 2076-30
Burgundy Velvet (Clark & Kensington)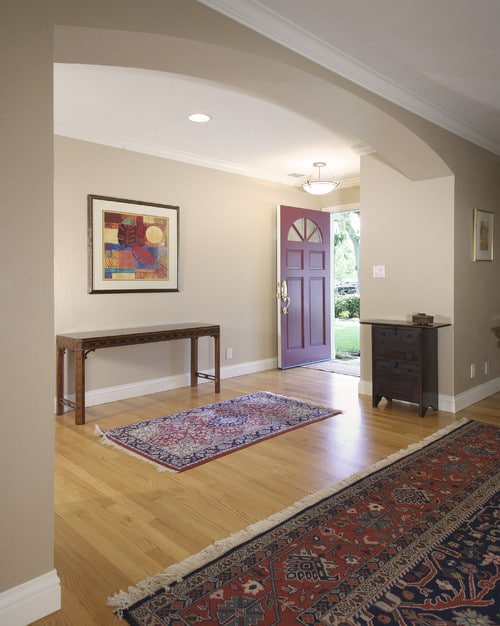 Don't forget what your purple front door color will look like from the inside of your home. It's important to make sure it doesn't completely clash with the decor of the room in the front of your home. If it does, try painting a vase, picture frame, or flower pot in the same purple front door color. Or choose an area rug that pulls in the door color with the other colors of your room!
This purple front door definitely has red undertones. It's a burgundy color (red undertones) without being so "in your face" as a bright red door.
Fashionista (Clark and Kensington)
Not too light, not too dark, this purple is so pretty. I love how it pops against the green foliage. This purple door may lean a bit to the blue side rather than the red, but not very much.
Passion Plum (Benjamin Moore)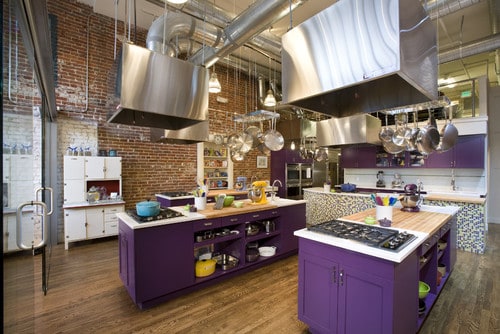 What a great cabinet color! Wouldn't it also look beautiful on a front door? I love how absolutely saturated and balanced this purple is. It looks to be about equal parts of blue and red and looks very rich and saturated.
What Blooms with What?
Never know what to plant together? Find out with this FREE Plant Pairing Guide and become a pro at combining plants for the best garden design possible!
Colors for Dark Purple Front Doors
Dark purple front doors can appear nearly black in the shadows. That's because dark colors like dark purple and black will absorb light. If you are trying to draw attention to your front door, I'd consider a light or medium purple color rather than this. However, if you're looking for a sophisticated and upscale look, dark purple may be the right choice for you.
Majestic Violet (Benjamin Moore) & Purple Rain (Valspar)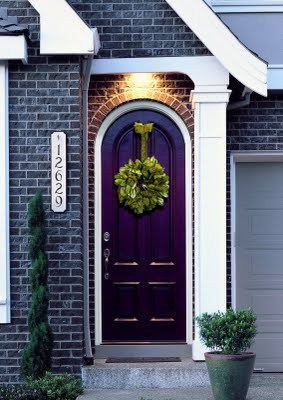 This plum/eggplant purple front door color is perfect for someone inspired by the dark and mysterious. For the sophisticated and the elegant, this deep purple front door gives off a vibes of wealth and prosperity.
BM Majestic Violet 2068-10 | Valspar Purple Rain CI127
Mountain Ridge (Benjamin Moore)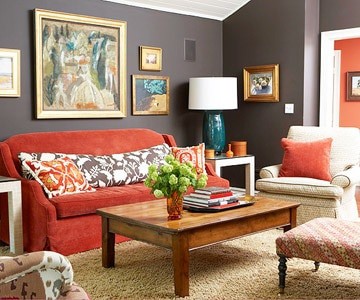 How about a strong and bold color that makes a statement? I like this gorgeous raisin color with undertones of purple and gray and brown. It's an unusual color for a front door. A little mysterious. I would imagine this color changes throughout the day depending on how the light hits it.
Majestic Purple (Sherwin Williams)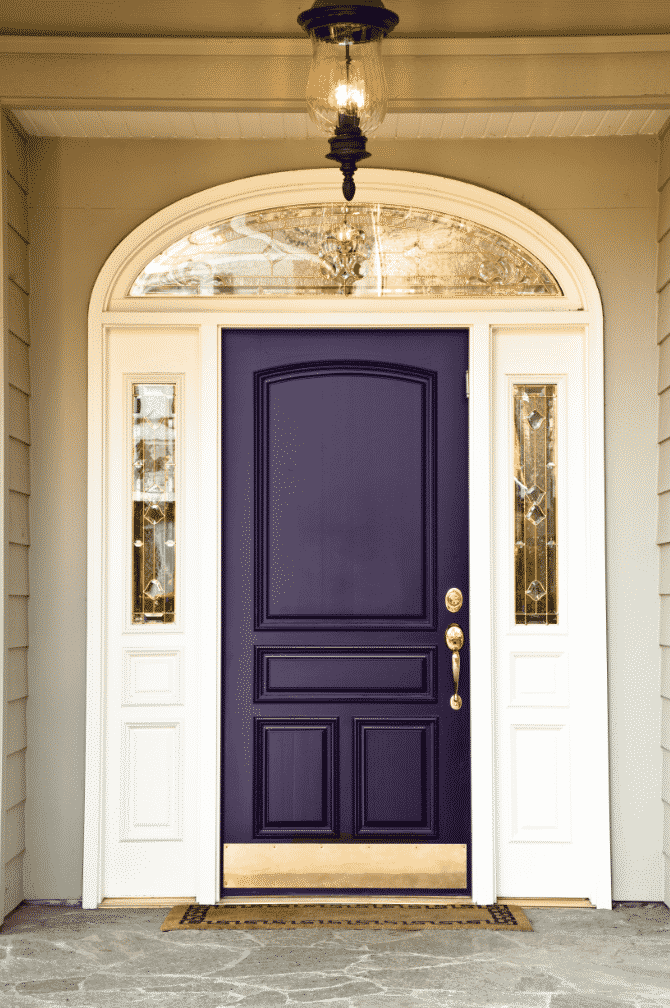 When purple is perfect it is downright majestic, you get Magetic Purple. This dark plum purple with gold accents really gives off a sense of royalty and regality. I'd imagine this door to appear almost black if the light isn't hitting it. That's why I like the metallic gold accents so much.
SW Majestic Purple or Beauti-Tone Direct Line 436
Caponata (Benjamin Moore)
This deep, chocolatey purple really does look like a mountain range hidden in the shadows.
Benjamin Moore Caponata AF-650 or Beauti-Tone Hidden Mountain 5135EC
Wrapping Up
I hope these color suggestions gave you some inspiration for what color to choose when painting your front door purple. Don't forget to check out my post on the meaning of a purple front door. After you choose the perfect purple, check out my post on how to properly paint your front door.
This original post from 2014 was updated in October, 2020.
More Posts You'll Love
What Blooms with What?
Never know what to plant together? Find out with this FREE Plant Pairing Guide and become a pro at combining plants for the best garden design possible!