So, you love the idea of having a purple front door? Me too! Adding a purple splash of color to your home has some beautiful meaning behind it, too. The color purple can represent a lot of things, including creativity, wealth, and honor.
When I bought my new home, I was excited to paint the front door purple since I first pulled up, way before I made an offer. Pretty crazy right? Purple felt like the perfect color to set apart my plain white house with plain black trim.
My mind spun with ideas.
My house needed TLC, love, personality. A front door color should make a statement, but also shouldn't offend anyone… or be too weird to fit into the neighborhood. This is where painting your front door purple can get a bit challenging. It is a little bit unconventional. But, if you read through this post and my purple color suggestions, you'll find the perfect shade of purple for your situation. So lets dive in and find out if a purple door is right for you!
I've read that purple front doors can promote good health and success in your career. In many cultures, purple is associated with royalty and wealth. It is a spiritual color, often worn by pastors and priests. Some people believe that purple fosters creativity. In a room, purple feels regal and majestic.
I guess you can say that I'm sold on the idea of a purple front door. Not only is a purple front door unique, but I love the message and meaning behind it. The exact color I chose for my front door is "Purple Energy" — a new Clark & Kensington color you can get at Ace Hardware.
Quick Tip: Check out my purple front door color suggestions if you're looking for some color ideas and pictures
What Does a Purple Front Door Mean?
Here are some other little-known representations of purple:
A purple front door represents wealth, honor and royalty.
Having a purple front door lets others know that you are living a prosperous life. It does not necessarily mean that you are wealthy, but you are rich in your quality of life and well-being. You are also honorable.
What Blooms with What?
Never know what to plant together? Find out with this FREE Plant Pairing Guide and become a pro at combining plants for the best garden design possible!
A purple front door can show your open mindedness.
The color purple also is not a common front door color depending on where you live. So when you paint your front door purple, you are telling people that you are open minded and versatile to life's possibilities. You think outside the box.
A purple front door can bring a sense of calm.
If the shade of purple you choose for your door has some blue hues in it as well, this can bring a sense of calm and have a peaceful affect on your front door space. There is a lot of good energy surrounding the color purple. Think about how you'll feel if you come home to a front door that is painted purple.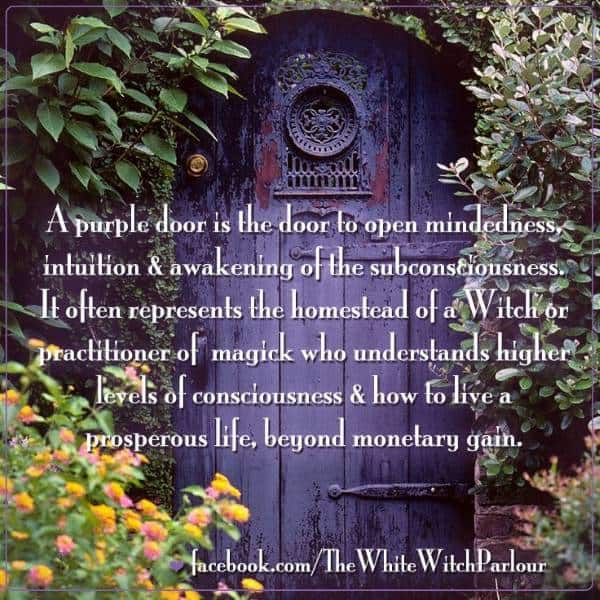 A purple front door can mean a witch lives in the home.
This is a really weird one. Depending on your superstition level this could be a deal breaker. Personally, I still think it's positive and kind of neat!
A purple door is the door to open mindedness, intuition and awakening of the subconsciousness. It often represents the homestead of a Witch or practitioner of magic who understands higher levels of consciousness and how to live a prosperous life beyond monetary gain.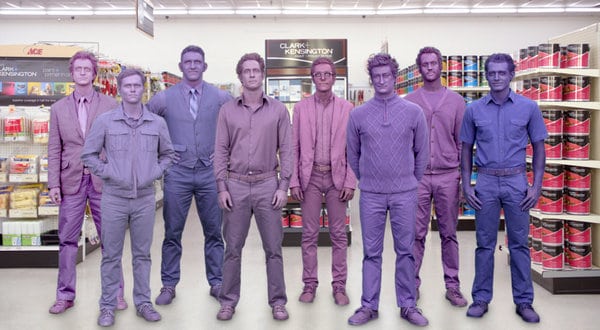 Purple front door – feng shui meaning
Looking for the right door color to optimize energy flow and good fortune? Well you're in luck because the color purple in the practice of feng shui is the only color that you can use, pretty much no matter what direction your house faces. There's one exception, which I'll talk about in a bit.
Purple invites opportunities to your home and activates the energy of the entry way – which is where chi enters your home. Which means, you can instantly improve the chi of your home simply by painting your front door… you guessed it… purple.
Plus, painting your door purple can improve your opportunities (and whatever aspect of your life that relates to the direction that your door faces).
Want a better career? Paint your door purple. Want to improve your health? Purple can help with that. Wish you had more friends and recognition? Purple saves the day.
Purple doors for homes facing Northwest
There is only one exception for using purple and that front doors that face northwest. Northwest facing front doors support the element of metal expressed through the colors of white and gray/silver and colors of fire and water are known to weaken and corrupt metal.
Because of this it's recommended to avoid blue, black, red, purple, orange and deep pink with a northwest-facing door. Most say that it's best to paint your northwest facing door gold, white, silver, or gray. But, perhaps you can choose a purple that's got a lot of grey undertones? Maybe we are pushing it a little too far with this one!
I think I've made my point that the color purple is extremely versatile and just plain awesome in almost every case. 🙂 But, if you're interested in learning more about feng shui and front door positioning, check out the video below. I'm not an expert in feng shui so I don't want to give any misinformation on this topic.
When to paint your front door purple
There are many options of purple to choose from. In this great article about when to paint a purple front door, author Jennifer Ott gives some reasons when purple makes sense.
What shade of purple should I use?
If the exterior of your home has a light, neutral hue, a deep dark purple will call attention to your front entrance.
If your home has a medium gray exterior, pretty much any color will work. Ott suggests a saturated purple with a bit of red to warm it up.
If your exterior is an olive green or light taupe, choose a cooler bluish purple front door color to create a welcoming entrance.
If you want to go more "neutral" with your color palette but still like the idea of a purple front door, try an inky purple color (with some blue undertones). This color purple can almost read navy or black, making it a more neutral purple.
You can also use purple or different shades of purple to emphasize the architectural elements of your homes exterior like the moldings and window trim. This is a great way to add a touch of whimsy to your curb appeal.
A very bright purple front door color on a plain white home can be a really exciting idea to try. It will also create a more modern look and freshen things up.
Pairing lavender purple with a bold yellow hue against a neutral backdrop to add a huge punch of color and style to your home.
Check out these purple front door color suggestions if you are ready to start painting!
What do you think? Are you brave enough? My philosophy is that a coat of paint is easily changed, so it's very non-committal to give it a try.
Quick Tip: If you're ready to get painting, check out my post on how to prep your front door for painting and ensure that you have a finish that will last for years to come.
Purple front door idea gallery
I hope you've enjoyed reading about the meaning behind purple front doors. I'd love to hear what color purple you've chosen! Comment below and even post your photos so we can all get some ideas.
More posts about front doors
Don't forget to pin this post for later!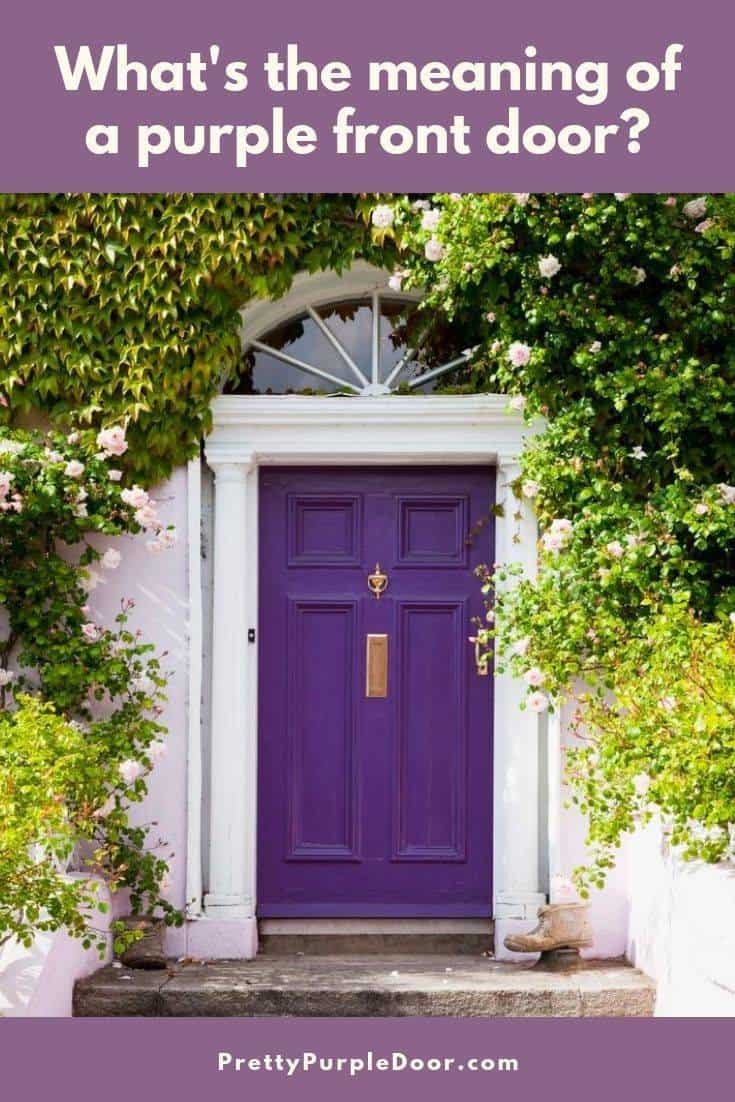 More Posts You'll Love <3
7 tips for choosing the RIGHT plants
This FREE guide has 7 key questions to help you pick the perfect plants for your landscape. Pop in your email below for instant access.