Please note: I may earn commissions from qualifying purchases if you shop through links on this page. More info.
How to Build a Reclaimed Wood Pallet Desk Top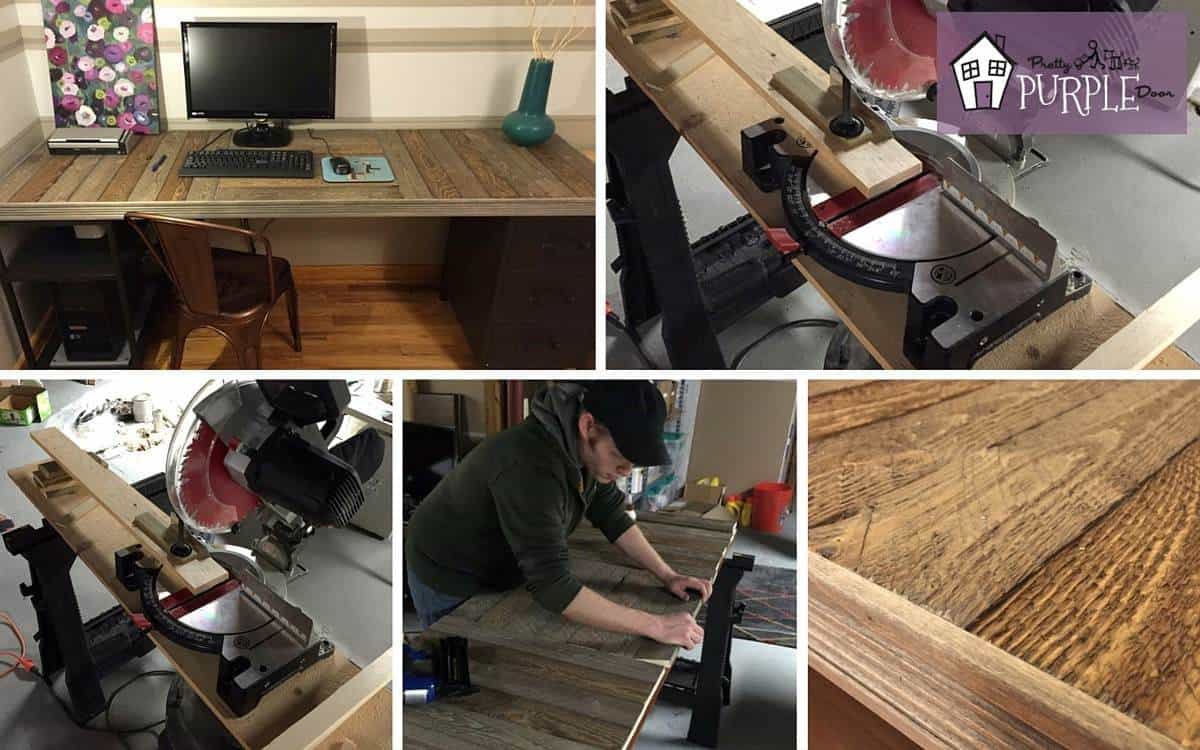 Ever want to use reclaimed wood to build a pallet desk? We figured out a great way to build one by starting with an old closet door for the surface.
Materials
Reclaimed / Pallet Wood — or any kind of wood you'd like
An old door (we used an old closet door that was about 24″ x 80″
Finish Nailer & Nails
Wood Glue
Chop Saw
Stain / Polyurethane / Furniture Wax (optional)
Building a Reclaimed Wood Pallet Desk
The first thing we did when building our pallet desk was to take the dimensions of the old closet door we had, and the dimensions of the pallet wood (length and width), and work on different pattern options for the door. We went between completely horizontal, to vertical, to chevron patterns and checkers — the works. Since we wanted to be mindful of the cuts in the wood, we decided to go with a simple pattern of vertical boards along the end, and a horizontal "work space" in the center of the pallet desk. This made the best use of our wood lengths and really just worked for what I wanted.
After you decide on a pattern and figure out your dimensions, it's time to make the cuts for the desktop. We used our chop saw and screwed in a "stopper"– which is just a block of wood screwed in at the exact board length we needed (you can see the stopper next to the drill near the right of this photo). This allowed us to quickly cut the reclaimed wood without having to measure every single piece over and over.
It was cold out that day. haha…
What Blooms with What?
Never know what to plant together? Find out with this FREE Plant Pairing Guide and become a pro at combining plants for the best garden design possible!
After cutting the wood we took the project to the basement — it's getting cold out and dark early. Winter is the pits. Anyway after moving the production inside and setting up the horses for a temporary workspace, we laid everything out, glued the backs of the wood, and nailed them in using the trim nailer. You can see the old closet door we were nailing into. If you use anything other than a tiny finish nailer, and your door/base is hollow, you'll have to be careful about nailing or screwing. Make sure you use the proper length nails/screws and test in an inconspicuous corner in case you totally mess it up 🙂
After getting the wood glued and nailed on, you can add a molding of your choosing. We picked a 2″ molding and had to stain and do some work to it to make it match the rest of the desk. I think it came out pretty cool (pats self on back).
Our "lazy edges" — yeah… this can work when you used reclaimed materials 🙂
Once you are done with the molding you can go over your wood with a sander if you'd like. We didn't. you can also stain it or cover it with polyurethane to protect it. We didn't. I should point out that we actually bought this wood, unlike our other pallet projects. It's actually "fake" reclaimed wood, which is the funniest thing ever (seriously still laughing that this is a thing). But I loved the patterns on it and it really made things go more smoothly for us — no fighting with the pallets, cleaning them, ripping the nails off. It's a project working with pallets.
The Finished Pallet Desk
I love the simplicity of this desk. It really works for what I need. I purchased the two "desk bottoms" from World Market, if you are curious. There are a handful of stores that will let you "build your own desk" and choose different options. If they do this, typically you can just buy the bottoms and make your own top. It's a nice alternative if you are looking for a functional pallet desk that you can store some things in. If you are just building a table you can use wood or even plumbers pipe to give it that industrial look.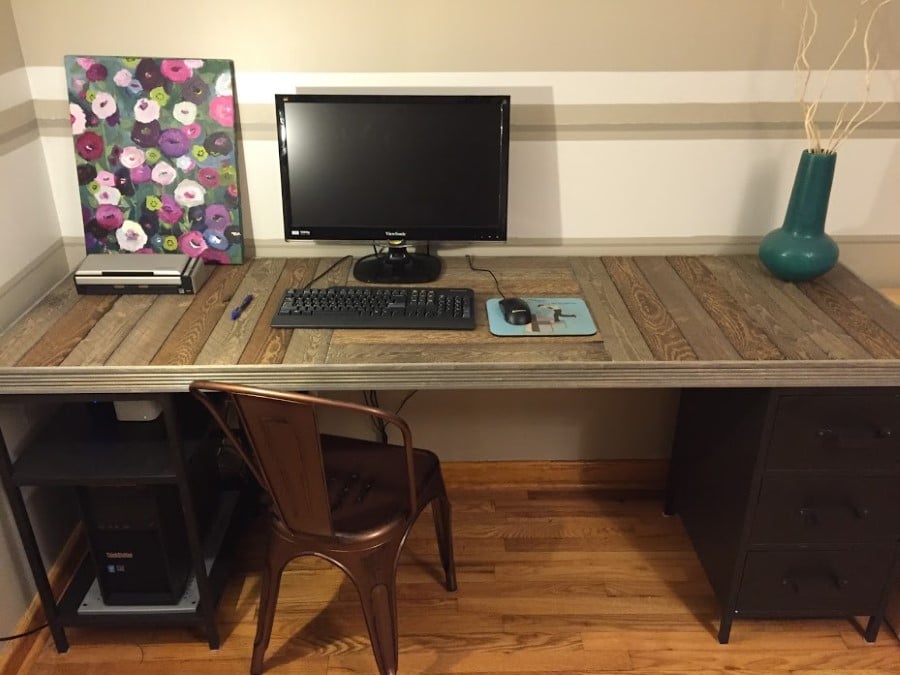 More Posts You'll Love
What Blooms with What?
Never know what to plant together? Find out with this FREE Plant Pairing Guide and become a pro at combining plants for the best garden design possible!