Please note: I may earn commissions from qualifying purchases if you shop through links on this page. More info.
Redoing Your Landscaping? Read This Before Tearing Out "Old" Plants!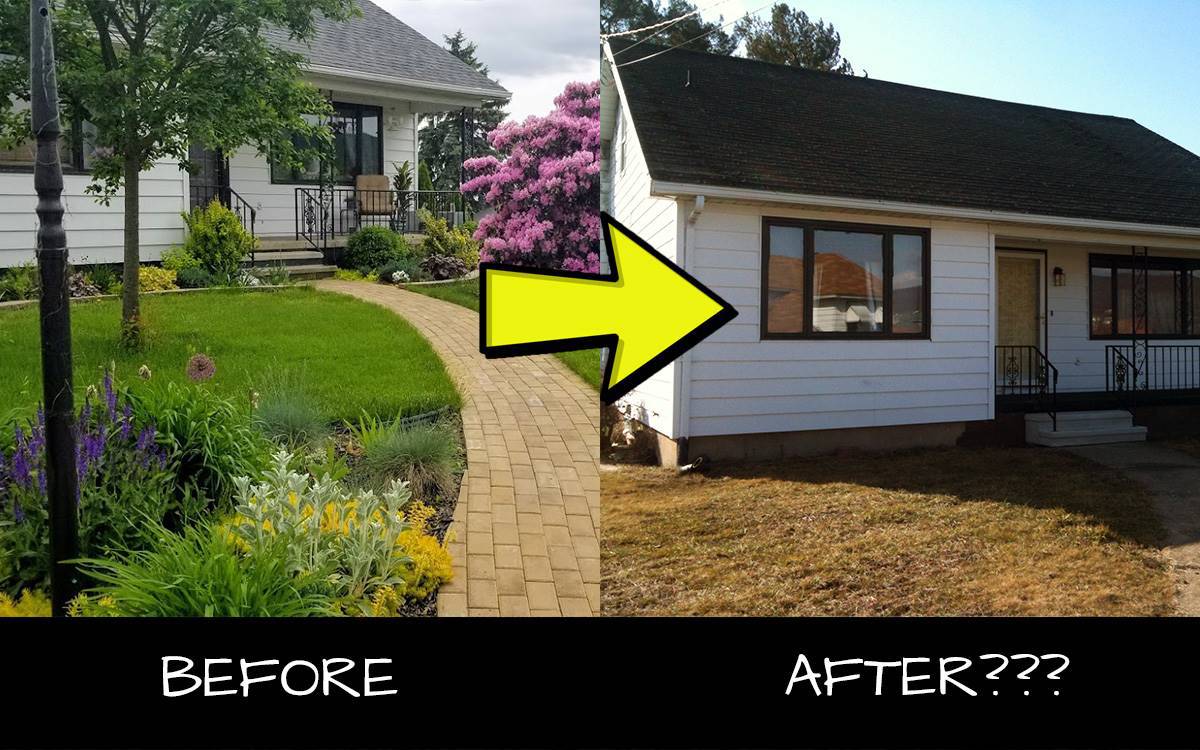 Is your landscape tired? Overgrown? You're not really "digging it" and want to start fresh?
Sometimes completely redoing landscaping is an excellent decision. But often times, it's not necessary. In fact, it can be a huge mistake that can cost a lot of money and several years to get the property back to a base-level instead of building on what's already in place.
Keep reading before you strap a chain to your pickup truck to tear out all of the mature landscaping in your yard. Improving the landscaping you already have can save you SO MUCH time, money and effort.
You can thank me later 🙂
Below is a post I recently came across in a Facebook gardening group.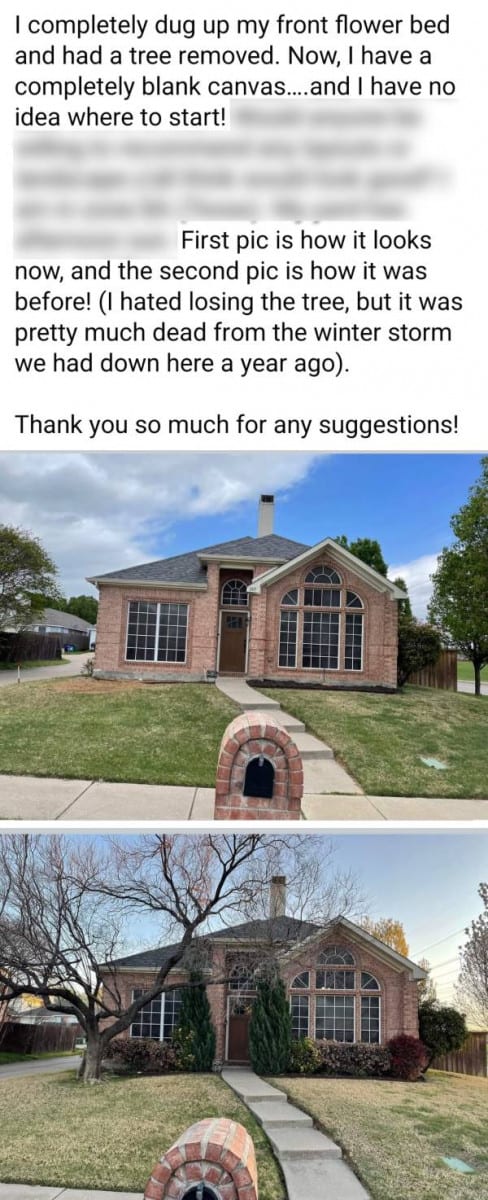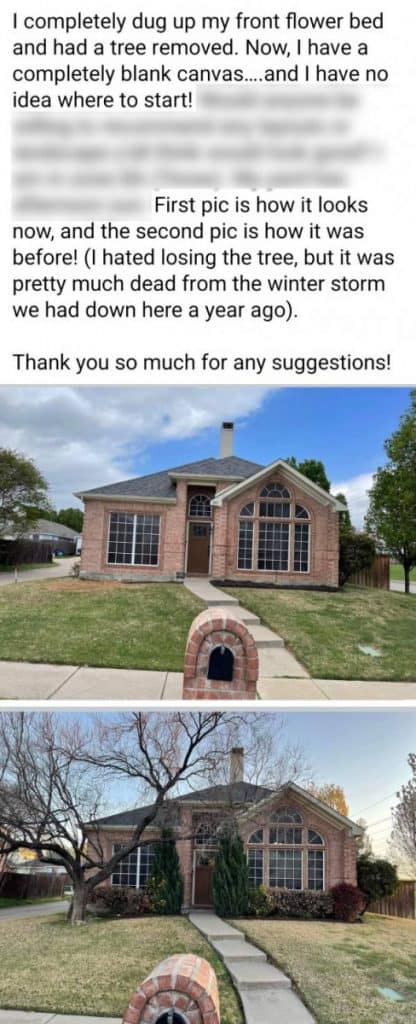 This may look like every other post you've seen (on the surface). Except that the "before" picture is the bottom one. The photo with no landscaping at all is actually the "after" photo.
Before we get started, please note that this is for educational purposes only. It's not meant to shame anyone! The only bad question is one that you never ask.
With that said, there are some big issues that I want to share with you. And, a few tips for what I would do instead.
First, it is a BIG mistake to tear out ANY plants in your landscape without creating a plan first!
I saw this post and my heart dropped… because the plants that were torn out were beautiful, mature landscaping that will cost thousands of dollars to replace.
Not only that…
Removing Mature Landscaping Decreases Property Value
So, by removing the mature landscaping of their property, these home owners have essentially lowered their home's value by 1-10%. And, I've seen percentages for this statistic that go as high as 20%.
Now, if you have a vision for the space and the landscaping doesn't match your vision… then by all means completely redo your landscape and tear it all out. But, if you aren't quite sure what you want to replace it with, you should really reconsider.
This leads me to my next point…
When Redoing Your Landscaping, Consider Replacement Costs and Time for Plants to Mature
Taking a look at the plants from the Facebook post photo, I can see about 8 mature shrubs, 2 pyramidal full-grown trees, plus the large tree.
I would estimate that you'd spend about $600-1,000 to replace the 8 shrubs. The new shrubs wouldn't be as large as what was there, but they would be a decent size.
7 tips for choosing the RIGHT plants
This FREE guide has 7 key questions to help you pick the perfect plants for your landscape. Pop in your email below for instant access.
To reinstall something similar to the narrow junipers, you'd be looking at another $400-500.
A replacement tree would be a lot smaller and younger than what was in place… and would cost around $250-500. It would be 5-8 years before it matured to the size of the tree that's there.
Redoing this landscaping with something similar would bring the total estimated plant cost to $1,250-$2,000 and 3-5 years to mature and appear "filled in." Oh, and a lot of sweat equity to do all of the planting and caring for your new plants!
Yes, I realize the tree HAD to go due to storm damage (according to the home owner). But, it's sad (and quite pricey) when that happens. At least it didn't damage the home, though!
So, would I start from scratch to completely redo this landscape? Absolutely not. The plants that were in this landscape were perfectly healthy. They weren't overgrown or unattractive. So, tearing them out to start fresh doesn't make much sense. Plus, it's an added cost to the home owner just to get the property back to its original value. I don't believe redoing this landscaping is money well spent.
What would I have done instead?
I would have kept a lot of the existing landscaping on this property. This would allow me to focus the budget on NEW plants that would add more layers, seasonal interest and color to the property. Maybe I'd even convince the home owner to splurge on a nicer walkway (stone?) or widening the existing walkway.
To me, that would be a MUCH better use of their budget.
So, not only did the home's value decrease when the original landscaping was removed, but now the owner will have the added cost of new landscaping PLUS several years of time. This is just to get their property back to a base level (i.e. nothing fancy).
Which leads me to my next point 🙂!
Have a Solid Plan Before Doing the Work
Because of the nature of this post and the home owner asking for help in a Facebook group, it's really obvious to me that they did not consider what to replace the old landscaping with. They don't appear to have a vision for the new landscaping. So, why tear it out at all?
By the way, I have an article about why I don't recommend crowdsourcing ideas from Facebook groups.
Instead, I would highly recommend doing some research BEFORE tearing out the mature landscaping.
You can also:
But, ultimately, there is NO harm in leaving the current landscaping in place while you do your research and figure out what you want. This will give you the time you need to decide what you really want.
Otherwise, redoing your landscaping can turn into a big, urgent project that can cause you to panic and make poor decisions. So, just leave things be until you figure it out!
Or, you may tear things out, then regret that decision later. This can lead to having to hire a professional landscape designer to help you sort it all out.
Which leads me to my next point!
Hiring a Professional Landscape Designer is Expensive
If this home owner gets analysis-paralysis and needs to hire a pro, it will be another added expense. So, that's already a bummer.
But what's an even bigger bummer is that most landscape designers who saw this property would have created a design that incorporated the existing landscaping.
So, you may have to spend a ton of extra money on plants that you didn't need to remove. And, you also may have to spend a ton of extra money on a professional to tell you that.
I'm not providing this stat to scare you, but it's important to know it before you tear everything out and need some serious rescuing.
Hiring a pro is a great investment. But, it IS an INVESTMENT.
Landscaping is not, "run to the garden center in early spring and purchase $150 in plants… and POOF! You get a beautiful landscape."
There's a lot more that goes into it, which is why the cost is what it is.
And, if you've ever run to the garden center in the spring to buy "ALL THE PLANTS" — you should definitely watch my FREE "3 Gardening Secrets" Training right now👇️ (that's another mistake that you can easily avoid).
With prices like this, it's no wonder so many home owners want to DIY their landscapes.
So, can a landscape be DIY'ed properly by the home owner? Absolutely! I'm not one of those people who wants everyone to hire a pro. I think DIY landscaping is a really fun and rewarding hobby to get into. I'm ALL FOR IT!
But, please, have a plan and do your research first, because…
Poorly Executed DIY Landscaping Can Lower Your Property Value Even More
The sad truth is that so many people jump into redoing their landscaping without doing any research or planning. And, unfortunately, a no-thought DIY landscape job can reduce your property value even further.
According to a survey of 1,250 real estate agents, "lackluster landscaping can decrease property value by up to 30%."
That's a really startling statistic and it sure made me think!
I hope it made you think too!
Wrapping Up
So, the moral of this story is to do your research first. Figure out what you really want your landscape to look like before you touch a single plant. It's often much better to keep your existing mature landscaping in place and build AROUND that structure than to redo it all and start with a blank slate. If you're not sure what to do, hire a professional to help you if you need to. Mistakes can be very costly (as can the free advice you'll find in Facebook gardening groups).
Or, you can immerse yourself in the art of landscaping and garden design. It is a really interesting subject and can be a rewarding lifelong hobby!
I think it's SUPER GREAT if you want to DIY your landscape. Just learn the dos and the don't so you don't end up causing more harm than good.
Again, check out my course if you want to learn how to DIY your landscape and create interest in all 4 seasons like the pros do!
More DIY Gardening Posts You'll Love
What Blooms with What?
Never know what to plant together? Find out with this FREE Plant Pairing Guide and become a pro at combining plants for the best garden design possible!