Please note: I may earn commissions from qualifying purchases if you shop through links on this page. More info.
Removing Carpet to Reveal Hardwood
Removing carpet when you know you have hardwood flooring, is one of the most satisfying DIY jobs you can do. With a few simple tools and some sweat equity you will get that allergen filled carpet OUT of your house… and be able to breathe a sign of relief.
cut the carpet along a straight line with a sharp razor blade.[/caption]
Removing Carpet Spontaneously
Ok. So you clearly aren't going to be removing carpet spontaneously if you are reading this post. But I basically got annoyed at my carpet one night and took a razor blade to it. It's really as simple as that.
Pull the edge of the carpet
When removing carpet, you may want to start in
a corner or a closet to get the carpet separated from the floor. Use pliers to grip the fibers if you need to, and just pull the carpet up and toward you. You will be able to check and see what's underneath as you are removing carpet. Hopefully you are lucky like I was, and have beautiful oak flooring.
Cut the carpet into strips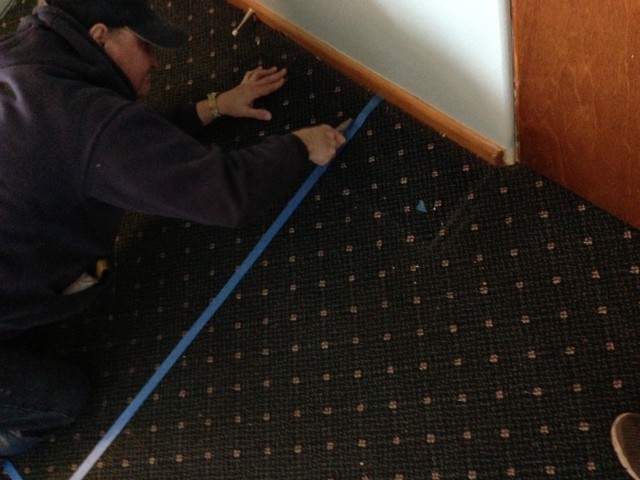 Use a utility knife or carpet knife to slice the carpet into manageable strips. Roll the strips of carpet and under-padding up as you go along. The key here is "manageable" strips. So know your limits, and know that after it's rolled up you actually have to haul that giant heavy gross old carpet out of your house. I did this by myself and in a 12×12′ room I cut the carpet into about 3 strips. You should probably wear a mask during the process of removing carpet. I have asthma and didn't want all the allergens to get into my lungs, so the mask helped a lot.
Remove the Tack Strips
If you are simply replacing the carpet with new carpeting, you don't necessarily have to remove the tack strips if they are in good shape. Check with your carpet installer.  However, if you are going to install hardwood, or refinish the existing hardwood, you need to remove all of the tack strips along the edge of the room.
Wedge a flat bar (pry bar) underneath the tack strip. Position the pry bar under the  tackstrip where a nail is positioned and hit the pry bar with a hammer to get it near the nail. Once your pry bar is underneath the nail, you can pry upward to remove the nail. Or, you can move on to the next nail (sometimes it is easier to loosen all of the nails along the tack strip before you pry the strip off.

Removing the Staples
Ugh. I will be honest… removing the staples is the absolute worst part of removing carpet. You can try to remove the staples using pliers. After some time I did find a tool that worked a little better than that called a tack puller
. It looks something like this:


After you have removed all of the staples and nails, give yourself a pat on the back because you're done! Just clean up your floors. Even though mine have some spots and stains, I'm planning on just keeping them like this until I have some time to get them refinished.
What's next?
When removing carpet, in most cases you will find that the quarter-round moldings that used to trim your floors were removed when the carpet was initially installed. Sometimes if you are lucky you will find some pieces of the quarter round along the back of a closet. If you do, you can easily match the style and size and use that information to get the moldings reinstalled.
While a lot of people will sand, stain, and completely refinish their flooring as a DIY project, I am opting to get them refinished by a professional while I'm on vacation. At the time he's also going to install the moldings all along my baseboards, as well as the threshold between my kitchen and hallway. He's also going to frame out my penny floor foyer. Even though I'm paying for the professional refinishing work, all of the work I've put into removing the carpet and prepping the area is going to save me a lot of money in the longrun.
What Blooms with What?
Never know what to plant together? Find out with this FREE Plant Pairing Guide and become a pro at combining plants for the best garden design possible!