Please note: I may earn commissions from qualifying purchases if you shop through links on this page. More info.
Little-Known Reasons to Consider Replacement Windows
If you're considering replacing your windows, you may be wondering what the process is like and if it's really beneficial to do so. How many years do windows last anyway? In this article I'll cover all of the basics plus touch on some little known reasons as to WHY you may consider replacement windows that may make you a bit more excited about calling a contractor.
The first step is to call a few local window companies to get some quotes on vinyl replacement windows. I like to get quotes from at least 3 different companies so I have some numbers to compare. Check out my project planning worksheets to see how I lay this all out.
Each window company will come to your home to measure the windows for you. They will then be able to give you an accurate quote on pricing. While the "window guy" was measuring my windows, it was also a good opportunity to get to know him and bounce some ideas off of him about the layout of the windows. Use this opportunity to ask the pros what they would do and get some ideas that you may not have thought of. There's so much you can learn from free consults like this.
So, why should you consider replacement windows?  Here are a few reasons you may not have thought of!
To Customize / Change Your Window Style
Vinyl replacement windows are also used because they are affordable with a wide range of styles and easily customizable. They even come in a variety of colors, so you'll never have to paint or stain them.
Remember, just because they are "replacement" windows, does not mean that they have to operate in the same way. For example, I have large 3-pane picture windows in my living room and front bedroom (the front of the house). The side panes are very narrow and open using a crank mechanism, while the large middle picture window does not open or close.  When discussing these windows with my window guy, we decided to make the narrow windows a little wider and set them up as double hung windows flanking a picture window.
Types of Replacement Window Styles
Vinyl windows come in a wide array of styles:
Single Hung: Traditional in appearance, single hung replacement windows slide vertically, reminiscent of old-style sash windows. They also open without using any exterior or interior space.
Double Hung:  Both top and bottom sashes open and the sashes tilt inward for easy cleaning of the interior and exterior window pane! These are a great option for upper floors, where cleaning the glass from the outside can be dangerous or just plain impossible.
Horizontal Sliding: Popular for an easy-opening solution over kitchen counters and sinks and for providing a contemporary look. Opens without using any exterior or interior space. Horizontal sliding windows are best used for shorter-height windows.
Double Horizontal Sliding:  This is the same as the horizontal sliding option, except both ends slide open without using any exterior or interior space.
Picture: Maximize your view in living rooms, dining rooms and master bedrooms with a picture window. Picture windows do not open, so it's helpful to combine them with other types of windows on the sides to get better ventilation.
Radius/Arch: Radius windows, also known as arch window, this window has a half circle on top of a regular rectangular shaped window, creating a dramatic effect.
Casement: These provide excellent ventilation, has no rail to obstruct views and puts the screen on the inside where it doesn't get as dirty. These windows open outward, usually with a crank mechanism.
Awning:  These windows are hinged on the top to tilt outward and to enable ventilation. A lot of homes have awning windows as an accent above or below picture windows.
Bay/Bow: Bay or Bow windows give the illusion of a bigger interior space because they curve, or bow outward.  This leaves room inside for a nice shelf/bench area under the window.
Jalousie:  These are a nice option for porches and sunrooms or in regions with mild winters and are available with multiple glass options or cedar slats. Their louvers (glass slats) open easily and close tight.
As you can see, opting for replacement windows can actually make your windows function a lot better, too.
To Make Window Maintenance Easier
Vinyl replacement windows are virtually maintenance free… except for cleaning. Choosing the right replacement window can make your annual spring cleaning so much easier.
When I was a kid, cleaning the windows was a full day job because our home had a lot of windows and they weren't at ground level. We had to clean the windows from the inside, then literally get on a ladder and go around the house cleaning the outsides of the windows. The screens had to be removed, too. It was a big chore and sometimes difficult to reach all of the windows along the outside of the house because of sloping ground and landscaping in the way.
Finally, my parents replaced their windows with new vinyl windows. These windows easily "tilt in" so that you can clean both sides of the windows from the inside of the house. Now it takes much less time and is safer to clean the windows.
To Enlarge Windows & Let in More Light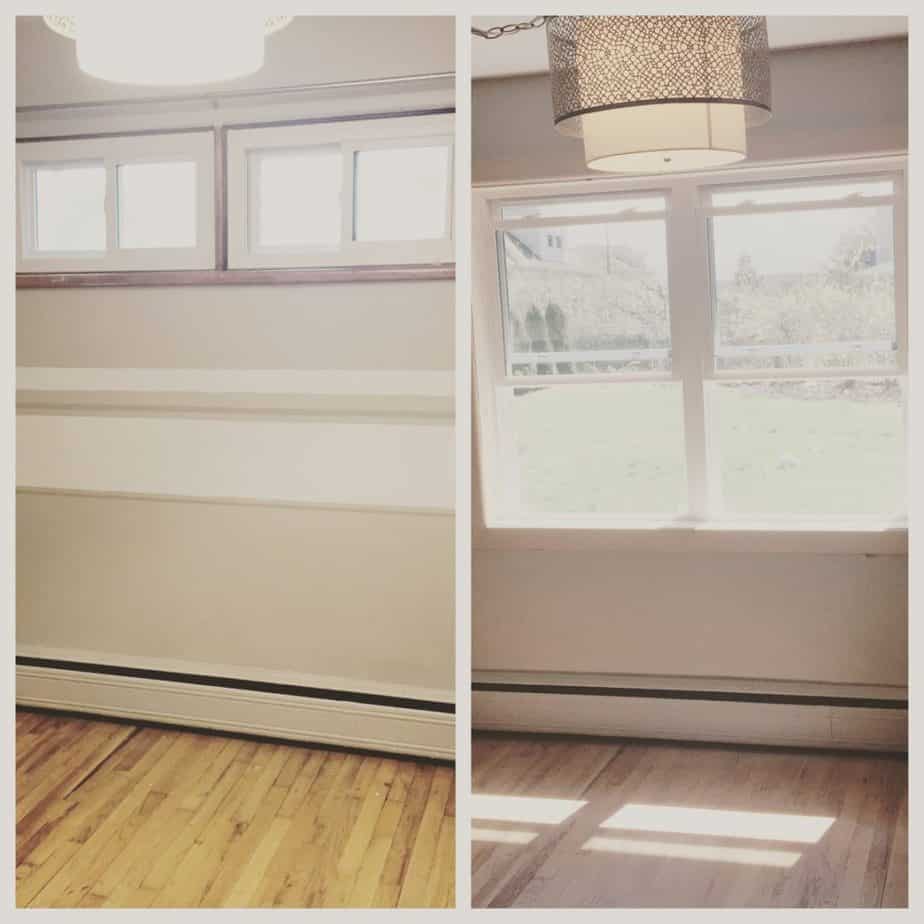 You can also choose to enlarge your windows when you are getting replacements. Obviously, getting replacement windows to fit your existing window size is the most cost effective option, but you should also consider enlargement.
If you opt for a "cut-down" enlargement, you don't have to deal with structural changes to your home because of the window size. This can be a cost-effective way to let in more light and increase the size of your windows!
Whatever your reason for needing windows, with vinyl windows you'll definitely be able to find an option that suits your needs. Make sure to read my post about working with a contractor before you move forward with your job!
To Improve the Energy Efficiency of Your Home
I think that improving energy efficiency is a fairly obvious reason to replace your windows, but I wanted to mention it because it can make such a huge difference in the comfort and cost of managing the temperature of your home.
Windows have come a long way over the years and replacing old windows with Energy Star rated ones will really help keep the heat in during the winter and the cool air in during the summer.
The Environmental Protection Agency (EPA) EnergyStar program states that, "Installing ENERGY STAR certified windows, doors and skylights can shrink energy bills — and carbon footprints — by an average of 12 percent nationwide, compared to non-certified products."
For single-pane window replacement to an energy star certified window, the average U.S. home can save between $101-$583 and 1,006-6,205 pounds of CO2 (equivalent to 51-317 gallons of gasoline) each year.
Replacing double-pane window replacement with energy star certified windows has a bit less of a return, at $27-197 and 246-2,001 pounds of CO2 (equivalent to 13-102 gallons of gasoline) each year.
Also, be sure to visit energystar.gov to find out if there are any rebates available in your area.
Wrapping Up
As you can see, there are many pros to choosing vinyl replacement windows for your home. Not only can you choose from many different styles, but you can also enlarge your windows at the same time, which can let in more light and make your home more usable. When I enlarged the window in my office, it really did change the way I use my own home. Because I chose a "cut-down" enlargement option, it was really cost-effective, too.
Cleaning and maintaining vinyl replacement windows is usually much easier. Plus, replacement windows will allow you to reap the benefits of a more comfortable, energy-efficient home that can save you money and reduce your carbon footprint.
More Posts You'll Love
What Blooms with What?
Never know what to plant together? Find out with this FREE Plant Pairing Guide and become a pro at combining plants for the best garden design possible!
Amy is the founder of Pretty Purple Door and has been a garden designer since 2014 and graphic designer since 2005. She helps home gardeners design their own beautiful landscapes that are colorful in all four seasons, show off your personality and suit your lifestyle. Amy's work has been featured in publications like The Spruce, Family Handyman, Buzzfeed, Country Living Magazine and more. Read full bio.