Please note: I may earn commissions from qualifying purchases if you shop through links on this page. More info.
Rusty Wrought Iron Remedy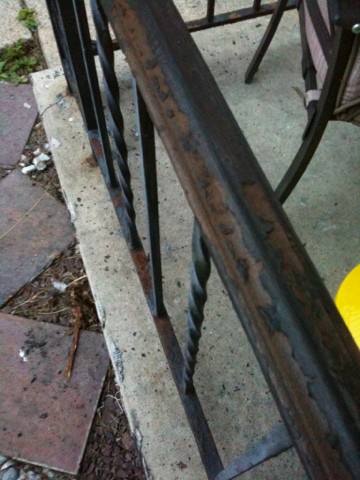 So, my next outdoor project is repainting my rusty wrought iron railing around my front porch. Here are my instructions on what to do:
Scrub the wrought iron with a steel wire brush. This will remove any loose or flaking rust. I used a brush from Sherwin Williams with a little "ice scraper" attachment at the end of it. I used this little plastic piece to tap away at the rust and paint chips so they were easier to brush off.

wire wheel attachments for drill

Sand the wrought iron with electric drill attachements, such as a sandpaper disc or wire wheel to further remove rust. Begin by using a coarse sandpaper to remove deeper rust. Go over the wrought iron with a medium-grit sandpaper.

If necessary, mix a solution of water and commercial rust remover in a bucket. Dip a wire brush into the solution. Scrub the remaining rust spots on the wrought iron with the solution. A lot of times, using a very high quality metal primer will allow you to skip this step.
Dampen a sponge with plain water. Wipe down the wrought iron to remove any further residue. Allow the surface to dry.

These are the Sherwin Wiliams paint and primer I used

Apply a coat of rust-resistant primer to the wrought iron. Allow the primer to dry completely. I used a metal primer by Sherwin Williams.

Apply rust resistant paint… again I went with a high gloss black Sherwin Williams latex enamel. I actually asked the guy who originally put in my new steps and railing, and this is what they use.
Use a medium-bristled paint brush to apply the paint in smooth, even strokes. Let the paint fully dry in between coats. Or you can try one of those lambskin paint mitts and just dip your hand into the paint and cover the railings. It's much easier, especially if your railing has all those pretty swirls and details to go over.
Fixing up old railings is definitely hard work. You won't get it to look perfect… but the difference in my railings is really rewarding. It's like night and day.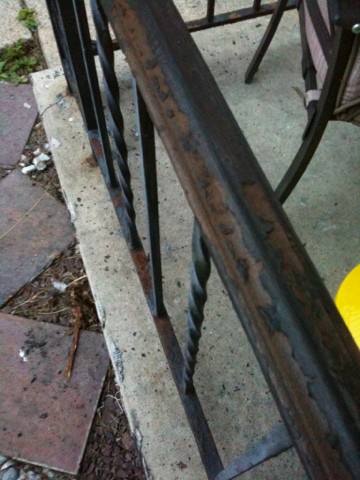 What Blooms with What?
Never know what to plant together? Find out with this FREE Plant Pairing Guide and become a pro at combining plants for the best garden design possible!