Please note: I may earn commissions from qualifying purchases if you shop through links on this page. More info.
Creating Seasonal Flower and Plant Groupings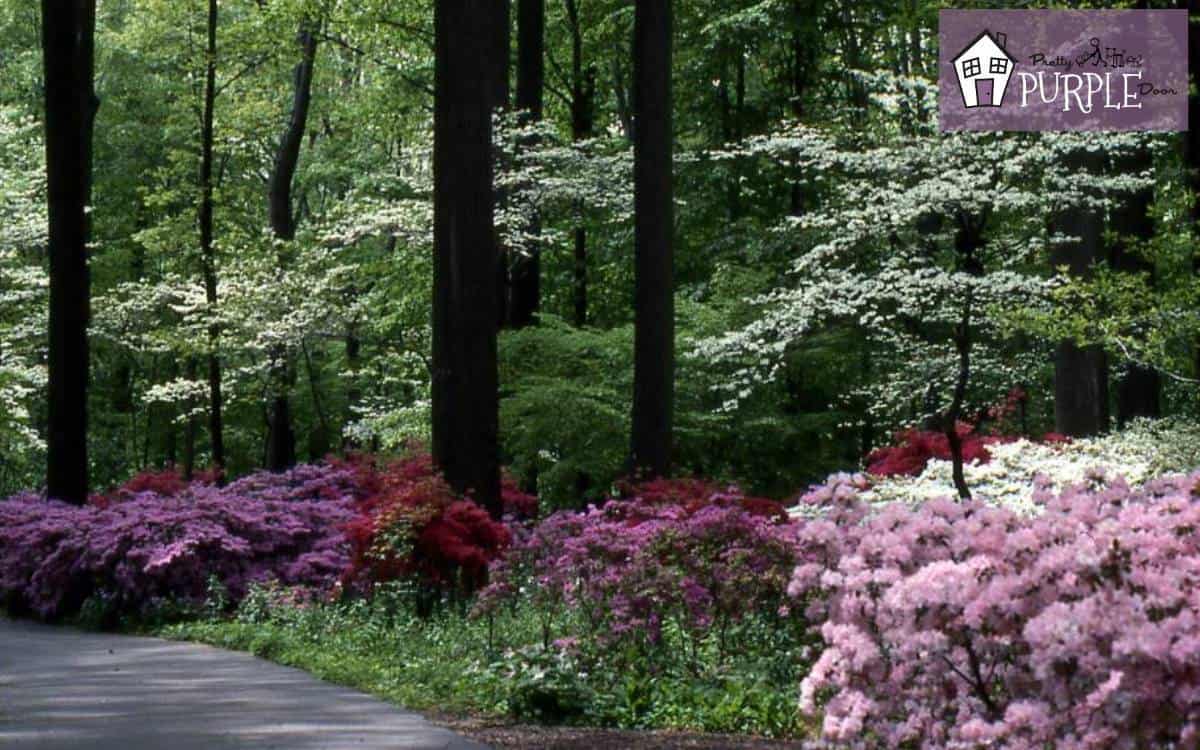 When designing a four-season landscape, seasonal flower and plant groupings are a topic that always comes up. It can be confusing to understand the terms. When I was a beginner gardener, I always thought that seasonal flowers bloomed all year round– in every season– all the time.
But… I never actually found that perfect flower or plant that just magically bloomed all year round. Especially in Northeast PA where temperatures range from 90ºF in summer to -10ºF in winter.
I know… it was wishful thinking at best. But, as I got a little more experienced with my gardening I was able to understand what seasonal flowers and plant groupings actually were and what flowers and plants were best to use in different areas of my garden.
Want to learn more about this? Keep reading to pick my brain about this really interesting and fun garden design concept!
What is a Seasonal Flower or Plant?
A seasonal flower or plant is one that is currently blooming or 'in season.' Many also refer to seasonal flowers and plants as ones that have exceptionally long bloom times. Meaning, they are blooming in multiple seasons. These are great flowers and plants to add to your four-season landscape. This is because you are getting a big "bang for your buck" as far as the interest the flower or plant provides for the amount of space it's taking up in your garden.
What Are Seasonal Flower & Plant Groups?
So what exactly are seasonal plantings or seasonal groupings? In a four-season landscape, the goal is to group plants that bloom at similar times or sequentially (one after another).
The goal is to try to make each area of your landscape bloom for as long as possible.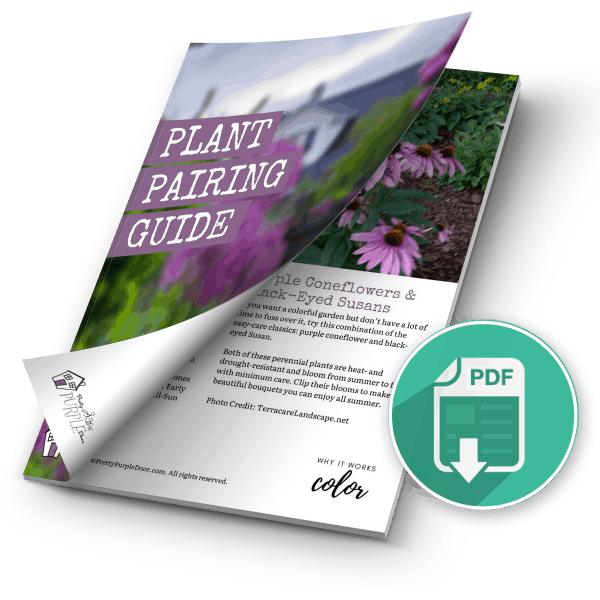 The first thing you'll need to know to create sequential blooming in your own garden is when each plant blooms. This can be a very tricky thing to figure out, so I created a really fun guide that will give you some examples of plant pairings that will get you started with your plant groupings.
By creating different interest groups in different areas, your gardens will change and give you a different look and feel as different plants begin to bloom. This is what I absolutely love about seasonal groupings (and gardening, in general).
You have the ability to change the entire look, color scheme and focal point of your garden throughout the seasons like a conductor. It's really fun and addicting once you get the hang of it!
If you're feeling a bit discouraged because this seems complicated, please don't! A four-season landscape does NOT mean that each area of your landscape needs to be in bloom every single season, all the time!
There will be peaks and lulls to each seasonal grouping. And that's ok.
It's actually a good thing because it will allow you to shift the focal points in your garden from one area to another at different times of the year!
Quick tip: To learn more about creating a four-season landscape, check out my post on landscape layering. I also have a post about arranging plants in your landscape that should help you with creating these groupings.
Sequential Blooming
Designing your landscape so that multiple plants near each other bloom at the same time is such a wonderful accomplishment. I think most gardeners strive to find and implement these magical combinations. I know I do!
With that said, I still want each garden room in my landscape to bloom for as long as possible, too. The way you can do this is through sequential blooming… or bloom sequencing.
Creating a bloom sequence means that you select multiple plant varieties (usually of the same plant) that will bloom one after the other (sequentially) in your garden. Once one plant variety fades, the next variety will take over.
Spring Plant Grouping Example
Let's put this into practice by creating a spring plant grouping for a part-shade area.
The Cornus Florida dogwood tree blooms for about three weeks in May. Just as the white or pink flowers give way to the tree's foliage, the Kousa dogwood blooms for the entire month of June.
By adding both of these dogwood trees to your seasonal grouping, you'll basically double the bloom period. This is called sequential blooming. Pretty cool, right?
But it doesn't have to stop there. You can also plant other shrubs and flowers near the dogwood trees to add more interest to your vignette.
For example, many azaleas and small-leaved rhododendrons bloom at the same time as the dogwoods and would be very complimentary.
You could also add some early-blooming perennials like bleeding hearts, violets and blue bells (one of my favorites for shade) to round out your spring plant grouping.
When you begin to combine your plant groupings with sequential blooming is when the magic starts to happen!
This is a great option for spring, but don't forget to complete the plant grouping by adding summer and fall bloomers as well as plants for winter interest.
Again, my Design Your 4-Season Garden Course gives you a step-by-step roadmap for making this happen.
Sequential Bloom Sequence – 1 Plant Example
Another example extends the bloom time of just one single flower: alliums. I like to call this bloom sequencing but I'm not sure if there's an official term for it.
Did you know that there are all different varieties of alliums and if you do your research you can actually plant them so that they will sequentially bloom in your garden? I absolutely love alliums and the idea that I can enjoy them for longer is music to my gardening ears.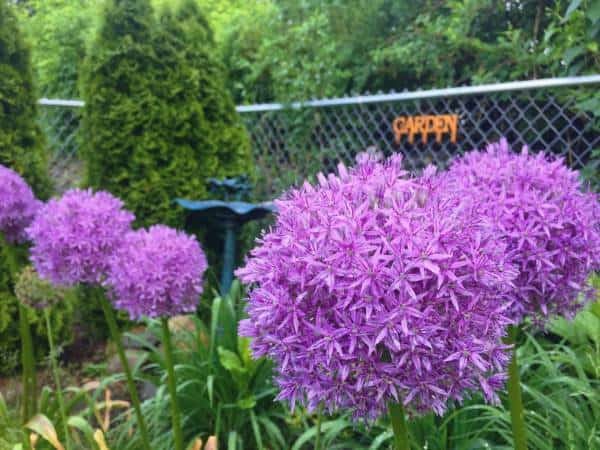 In early spring, allium varieties such as purple sensation, giant online, Turkestan onion, tumbleweed and golden onion will get you started.
In late spring, check out gladiator and white giant.
Summer varieties include nodding onion, blue globe onion, stars of Persia, black onion, drumstick, hair and circle onion.
In the fall, you can end the season with 'Glaucum' and 'Ozawa' varieties.
Planting one or two alliums from each of these categories will extend your allium bloom time from just two weeks to several months!
Here are some handy charts with other varieties to try.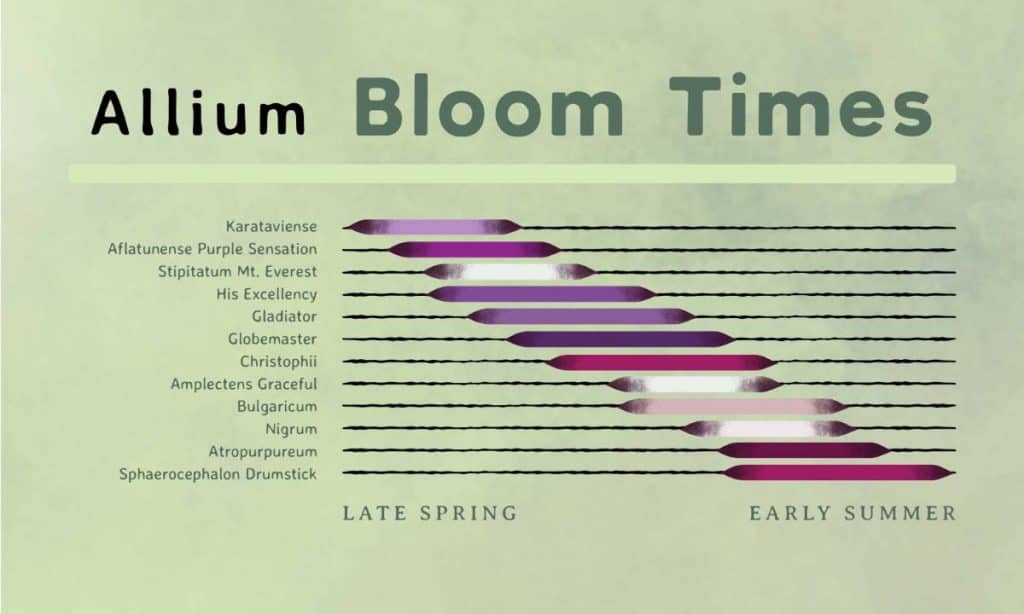 I told you there were a lot of alliums!
How To Create Your Own Seasonal Plant Groupings
So, how do you figure this out on your own? The answer is plant research! There are many online databases to research plants online. Even a lot of the online nurseries have search features that will help you to find plants and flowers that bloom during particular times of the year.
My garden planning worksheets are a great printable resource for conducting plant research. You fill in the name of your plant and you can visually mark off the times that it blooms. That way you can see where you may have bloom gaps in your garden and find plants that will fill those gaps.
As I mentioned earlier, I also have an online course that will teach you how to create a 4-season garden bed. It walks you through this whole process step-by-step and we use the garden planning worksheets along the way.
So, if you're dreaming of a beautiful landscape but are having a lot of trouble understanding these seasonal groupings and bloom sequencing, my online course may be the answer you're looking for.
Long-Blooming Flowers to Try at Home
When creating a four-season landscape, most beginner gardeners are looking for the "magic bullet" flower or plant that will bloom in all four seasons. Wishful thinking. Unfortunately there is no flower (that I'm aware of) that actually blooms constantly, although there are ways to make flowers bloom more (and longer).
But don't worry, there are plenty of perennial plants and flowers that do have beautiful and interesting features in each and every season. So, while you won't be able to find one single flower or plant that will accomplish this for you, with a little planning you'll be able to create a garden that has something in bloom each and every season! Preferably, lots of things!
Flowers Bloom For a Long Time
While I can't tell you about this secret magic bullet flower, here are some that come pretty close. These flowers, in my experience have exceptionally long bloom times. You can click on the links to purchase these online, if you'd like.
Wrapping Up
When creating seasonal groupings in your landscape, you should pick plants, flowers, shrubs and trees that blooms at the same time of year and plant them in the same area. I call these areas garden rooms.
In addition to planting what blooms at the same time, you should also look for ways to extend the bloom period of your seasonal groupings. This can be accomplished by sequential blooming. Or, in other words, choosing plants and flowers that bloom right after another in the seasonal grouping. This keeps your garden room full of color and interest for a longer amount of time.
Remember that you don't have to make every area of your landscape bloom in every single season. By creating these seasonal groups, you can bounce the interest around your landscape and change the focal point and even the color scheme as the seasons change. It's a really fun way to make your landscape unique and ever-changing from week to week, month to month and season to season.
If you need a step-by-step process and some help with designing your 4-season dream garden, check out my online course. It's also a great course for anyone who is interested in garden design as a career and is looking to get started in the industry.
More great gardening posts
What Blooms with What?
Never know what to plant together? Find out with this FREE Plant Pairing Guide and become a pro at combining plants for the best garden design possible!