Designing Landscape Layers eBook
After reading dozens of encyclopedia-sized books, scouring the web day and night and a whole lot of trial and error, I've poured everything I know about landscape layering into to a beautifully designed & illustrated 100+ page eBook.
I will teach you step-by-step everything you need to know to create structure, layering and interest in your garden for all four seasons.
What's Inside?
Get a crash-course in gardening basics so your plants will survive and thrive.
Improve your design with garden styles & theme ideas to make your space unique.
Discover the key to amazing garden color schemes & borrow the examples for your own garden.
Learn how to use the layers of the Planting Pyramid for a successful mixed border.
Get tips & tricks guides and plant lists to make the entire process easy peasy.
Master your mixed border with an 8-step illustrated guide and mastery checklist.
Snag the pro list of plant research resources that make choosing the RIGHT plants simple & fun!
If you love flowers and nature, landscape gardening can be an incredibly exciting and rewarding hobby. But, the majority of us are in the dark about how to make a landscape come together.
Trust me… it's not your fault!
It seems all that gardening magazines and websites have to offer are lists of beautiful plants. Longgggg lists. Of beautiful, singular plants. Plants that typically:
are too fragile to survive in the conditions where you live
bloom for a short week before they drop all their leaves for the year
are impossible to find at your local nursery
The truth is that most articles offer very little help to weekend hobby gardeners. Even when you end up finding an easy-to-grow plant that works — where do you put it? What do you put under it? Around it? Behind it? In front of it (if that's even a thing)????
Why is it that no one explains exactly how to design a pretty landscape? One that blooms all year rather than for a week? One that never ends up looking empty, desolate… amateurish!
If you're anything like me, you've walked through your neighborhood pointing out the beautifully designed landscapes thinking… "I wish I had the money to hire a professional landscaper, too."
Why do we think, that without a professional, our gardening efforts will never pay off? Why do we accept that our curb appeal will forever remain a barren, lifeless mess of dirt and weeds?
We do accept it.
We let out a deep, regretful sigh, hopelessly throw up our arms and say, "I guess I just don't have a green thumb."
But that's totally NOT true. There's no magic thumb color that makes you good or bad at landscape gardening. Your landscape can be beautiful, colorful and lively all year round. You don't need a professional, a "green thumb" or a magic wand to make it happen. All you need is a plan.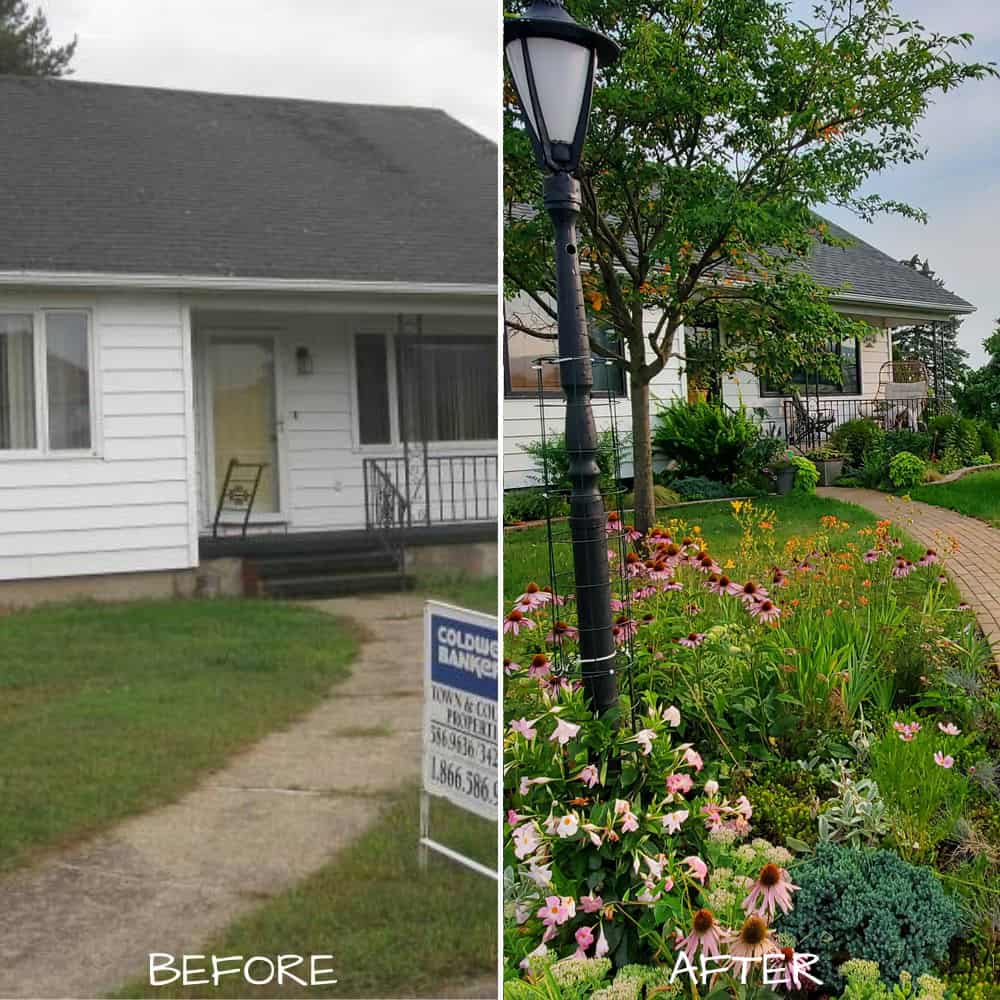 I struggled with "landscape envy" for a long time. I've read so many books. Big, encyclopedia sized landscaping books for professionals while taking vigorous notes in the margins. I've talked to arborists, buildings and grounds crews and unsuspecting neighbors about landscape gardening. And with this info, I've poured all I know into this clear and easy-to-follow eBook, Designing Landscape Layers.
"Really helpful! Easy to understand and put into practice. So glad I read this before starting to run amuck with confusion, indecision and exorbitance. There is an area on my property that is a disaster, but thanks to some really good tech and tips now I know how I can handle it harmoniously. Thanks!"

Karen Evans, Gendale CA (Zone 9)
"When I lived in Minnesota, I was an active member of the Winona County Master Gardeners so I am not having trouble following what you have to say and find it all quite brilliant. Now I just need to run over to Menards and get a green colored notebook to put it all in."

-Terry
"I love this e-book. I appreciated all the tips, tricks, design ideas and other thorough information it covers. We have heavy clay and lots of rocks which makes gardening hard work, so I especially loved the information on raised beds without digging."

-Leesa, Tasmania, Australia (Zone 9)
"I enjoyed ur download. I have been playing in the dirt since 2010. I love all seasons. We just moved and our home has basically no landscaping. Hubby and I have a foundation plan now I just need to add the finishing touches and ur info will help."

-Siobahn
Table of Contents
Here are all of the topics covered in the eBook (with page numbers) 
Designing Your Dream Landscape 5
What We'll Cover 6
Gardening Basics 7
Your Hardiness Zone 7
Right Plant, Right Place 9
Identify Plants Just by Looking at Them 10
What Latin Names Tell You About Plants 11
Prep Your Layered Garden Beds 12
Gardening Tools 14
Planting Your First Plant 15
When to Plant a Plant 16
Planning Your Layered Landscape 18
What is Landscape Layering? 18
Garden Styles 20
Traditional Garden Style 20
Elements of Traditional Gardens 21
Plants for Traditional Gardens 22
Modern/Contemporary Garden Style 22
Elements of Modern/Contemporary Gardens 23
Plants For Modern/Contemporary Gardens 24
Cottage Garden Style 25
Elements of Cottage Gardens 26
Plants For Cottage Gardens 27
Natural Garden Style 28
Elements of Natural Gardens 29
Plants For Natural Gardens 30
Mixing Garden Styles 30
Garden Themes 31
Why Choose a Theme? 31
Color Schemes 32
Colors & Their Meanings 32
Relaxing & Calm Colors 34
Vibrant & Energizing Colors 34
Add Excitement To Your Color Scheme 35
Define Your Garden Style, Theme & Color Scheme 37
Plant Research 38
Identify Plants in the Wild (Phone Apps) 39
Research Plants For Your Garden (Online Plant Databases) 40
Specialty Research Resources 40
Landscape Layering: Step-By-Step 42
Layers of the Planting Pyramid 45
Layer 1: Ornamental Trees 48
Tips for Choosing Trees 49
Small Ornamental Trees for Mixed Borders 50
Layer 2: Evergreen Shrubs 51
Beautiful Backdrop, Essential Backbone 52
Backdrops Don't Have To Be Boring 53
Evergreens Create "Living" Structure 54
Using Evergreens in a Mixed Border 55
Tips for Choosing Evergreen Shrubs 55
Evergreen Shrubs For Mixed Borders 56
Layer 3: Deciduous Shrubs 57
Tips for Choosing Deciduous Shrubs 60
Deciduous Shrubs with Multi-Season Interest 61
Layer 4: Perennial Plants, Flowers & Grasses 63
Tips for Choosing Perennials 65
Perennial Plants & Flowers For Mixed Borders 66
Ornamental Grasses For Mixed Borders 66
Layer 5: Vines & Groundcovers 67
Tips for Choosing Vines & Groundcovers 69
Vines for Mixed Borders 70
Groundcovers for Mixed Borders 70
Design Principles For Layered Landscapes 72
Structure: The Bones of Your Garden 72
Lack of Structure & What To Do About It 72
Structure Homework 74
Structure Exercise Example 75
Repetition 76
Scale 82
Balance 82
Unity & Flow 84
Layering Tips and Tricks 88
Use Personal Items To Inspire Colors For Your Outdoor Space 88
Strive For Multi-Season Interest 88
Vary the Shape, Size & Heights of Plants 89
Hide Views 91
Incorporate Focal Points 92
Lay Out Your Design 94
How to Arrange Plants in Garden Beds 94
How To Make Plant Combinations 96
Bloom Sequencing 96
Why Bloom Sequencing is Difficult to Achieve in the Home Landscape 97
Bloom Sequencing Tips 97
Color Combinations 97
Take cues from your clothes and your home décor. 98
Decide on the energy of your garden. 98
Choose one color at first. 100
Hone your garden over time. 100
Texture 101
Layering Tips For Beautiful Borders 103
Master the Mixed Border Checklist 104
What's Next? 105
About the Author 106
Disclaimer 107
References 108
More Garden Design Goodness 109
Beginner Level 109
Intermediate & Advanced Level 109
110 Pages
Price: $20.00