Ultimate Garden Planner Bundle
Don't pick plants… plan a landscape.
The ultimate garden planner bundle includes:
Garden Planner Kit – This kit includes 5 printable worksheets you can use to document and plan your landscape garden design.
Designing Landscape Layers eBook (v 2.0) – This 100+ page landscape gardening eBook will help you to achieve the layered, four season landscape of your dreams.
Project Planning Worksheets – Plan literally ANY project with this worksheet (2 variations included). Organize home renovations, DIY projects and even lists/projects for crafts and hobbies like quilt making or restoring a car! It's so versatile that you'll find yourself coming back to the sheet over and over again.
SAVE OVER 25%
Learn how you can use the Garden Planner Kit Printable Worksheets to plan your garden.

I recently created a Garden Planning 101 Course, too! With the purchase of the course you'll also get access to the printable garden planning worksheets… plus the extra video instruction so that you can become a pro at planning your flower gardens the fast & easy way (which happens to be my favorite way).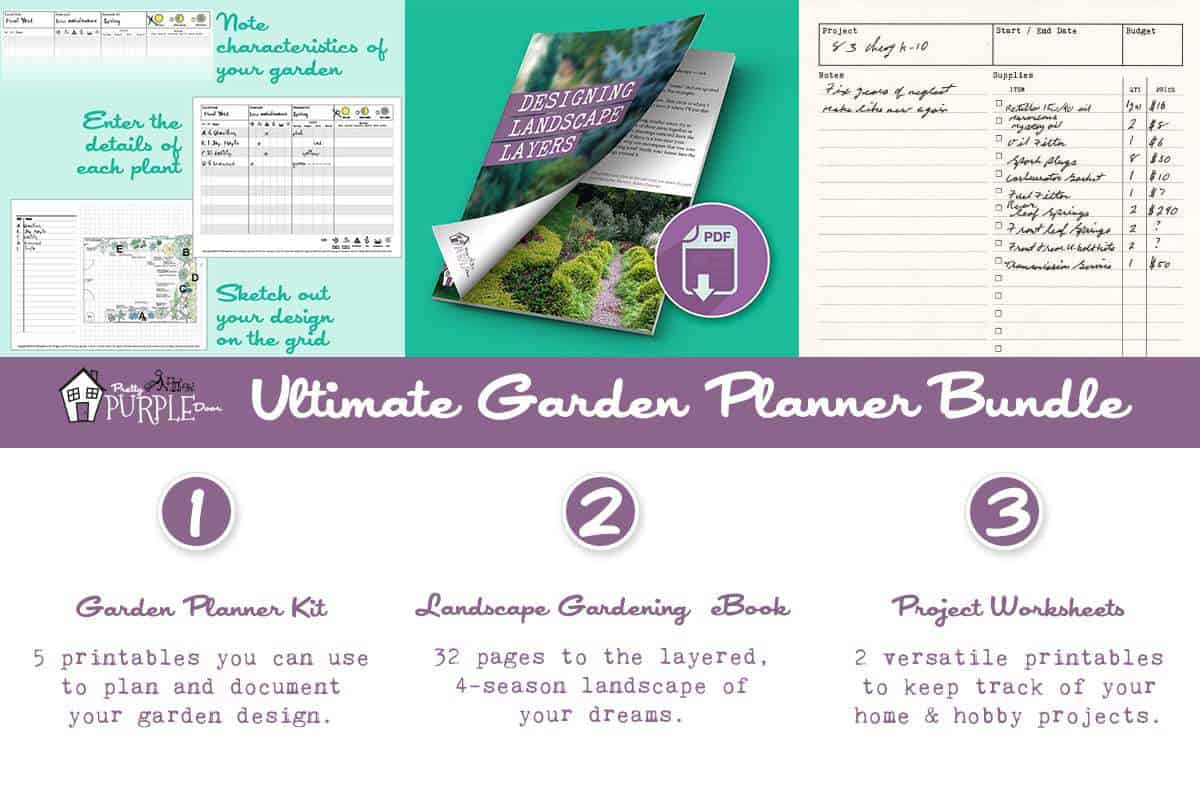 If you love flowers and nature, landscape gardening can be an incredibly exciting and rewarding hobby. But, the majority of us are in the dark about how to make a landscape come together. Trust me… it's not your fault! It seems all that gardening magazines and websites have to offer are lists of beautiful plants. Longgggg lists. Of beautiful, singular plants. Plants that typically:
are too fragile to survive in the conditions where you live
bloom for a short week before they drop all their leaves for the year
are impossible to find at your local nursery
The truth is that most articles offer very little help to weekend hobby gardeners. Even when you end up finding an easy-to-grow plant that works — where do you put it? What do you put under it? Around it? Behind it? In front of it (if that's even a thing)????
Why is it that no one explains exactly how to design a pretty landscape? One that blooms all year rather than for a week? One that never ends up looking empty, desolate… amateurish!
If you're anything like me, you've walked through your neighborhood pointing out the beautifully designed landscapes thinking… "I wish I had the money to hire a professional landscaper, too." Why do we think, that without a professional, our gardening efforts will never pay off? Why do we accept that our curb appeal will forever remain a barren, lifeless mess of dirt and weeds?
We do accept it. We let out a deep, regretful sigh, hopelessly throw up our arms and say, "I guess I just don't have a green thumb."
But that's totally NOT true. There's no magic thumb color that makes you good or bad at landscape gardening. Your landscape can be beautiful, colorful and lively all year round. You don't need a professional, a "green thumb" or a magic wand to make it happen. All you need is a plan.
I struggled with "landscape envy" for a long time. I've read so many books. Big, encyclopedia sized landscaping books for professionals while taking vigorous notes in the margins. I've talked to arborists, buildings and grounds crews and unsuspecting neighbors about landscape gardening. And with this info I have created the trifecta of gardening tools that I want you to have.
The Ultimate Garden Planner Bundle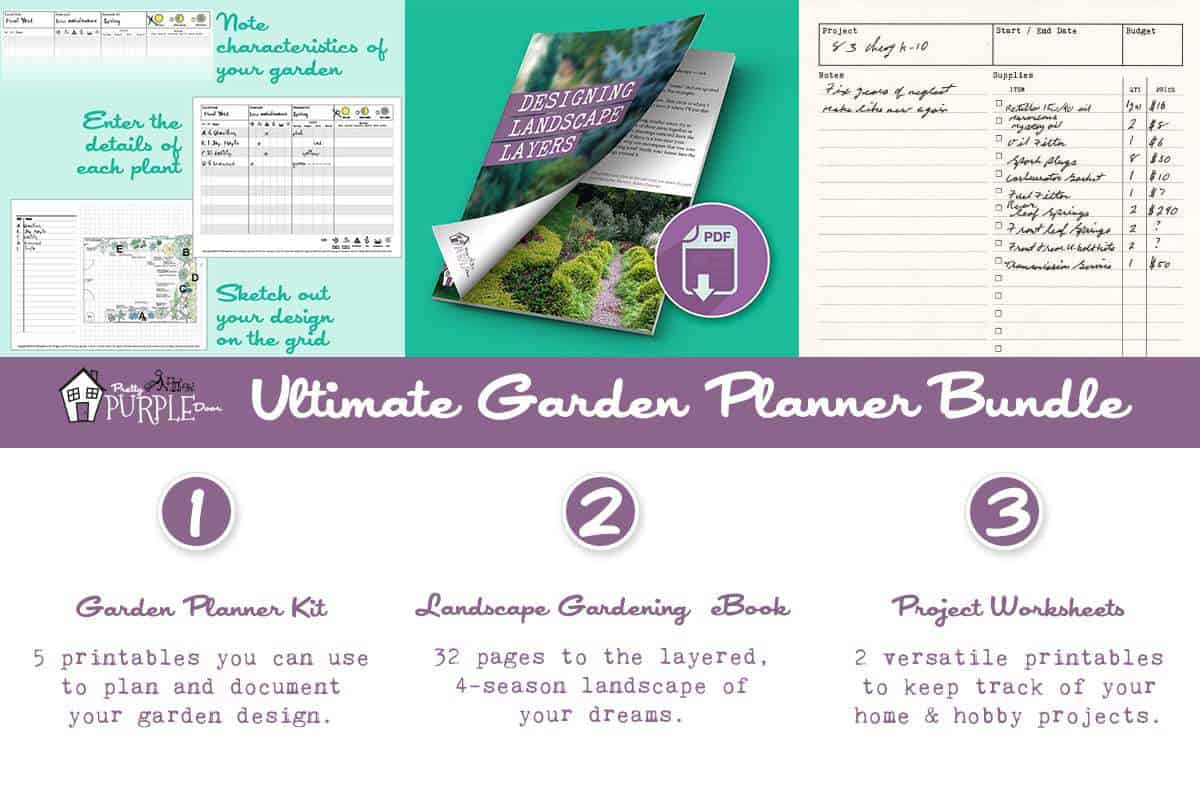 This is exactly how I work out details for my own four season landscape and I'd love for you to try it, too. It makes the garden planning process really easy and fun and will keep you on track so you can have the garden of your dreams.
What's Included?
Garden Planner Kit
My Garden Planner Kit is filled with awesome worksheets you can use to plan all of your garden rooms. All of the worksheets are in PDF form, so you can print them at home over and over again for every garden project you have. This kit includes 5 printable worksheets you can use to document, plan and even sketch your garden design.
Designing Landscape Layers eBook
I've poured everything I know into this 100+ page eBook that will teach you even more about how to create structure, layering and interest in your garden. The easy to follow step-by-step complete yard landscaping guide will help you to design your garden "room by room" — a much less intimidating, expensive and overwhelming approach than trying to bulldoze your whole yard at once.
Project Planning Worksheets
You can use these project planning worksheets for not only your gardening projects and to-dos, but literally for ANY project. I use to for all of my DIY projects — for my garden AND home. I use them to plan out posts and projects for this blog. My boyfriend even uses this to plan out the details of his car restoration projects. They are super versatile and worth their weight in gold.
At only $25 you're saving over 25% to get everything you need to plan your landscape. The ebook alone is $20.
So… what are you waiting for?
The Ultimate Garden Planner Bundle is only available at this price for a limited time, so grab it RIGHT NOW before the deal passes you by.
Trust me, I wish I had this bundle when I was plopping miscellaneous plants into random holes throughout my yard… all the while knowing I was wasting my money because I could buy 10 plants or 500 plants and my landscape would still never feel "full".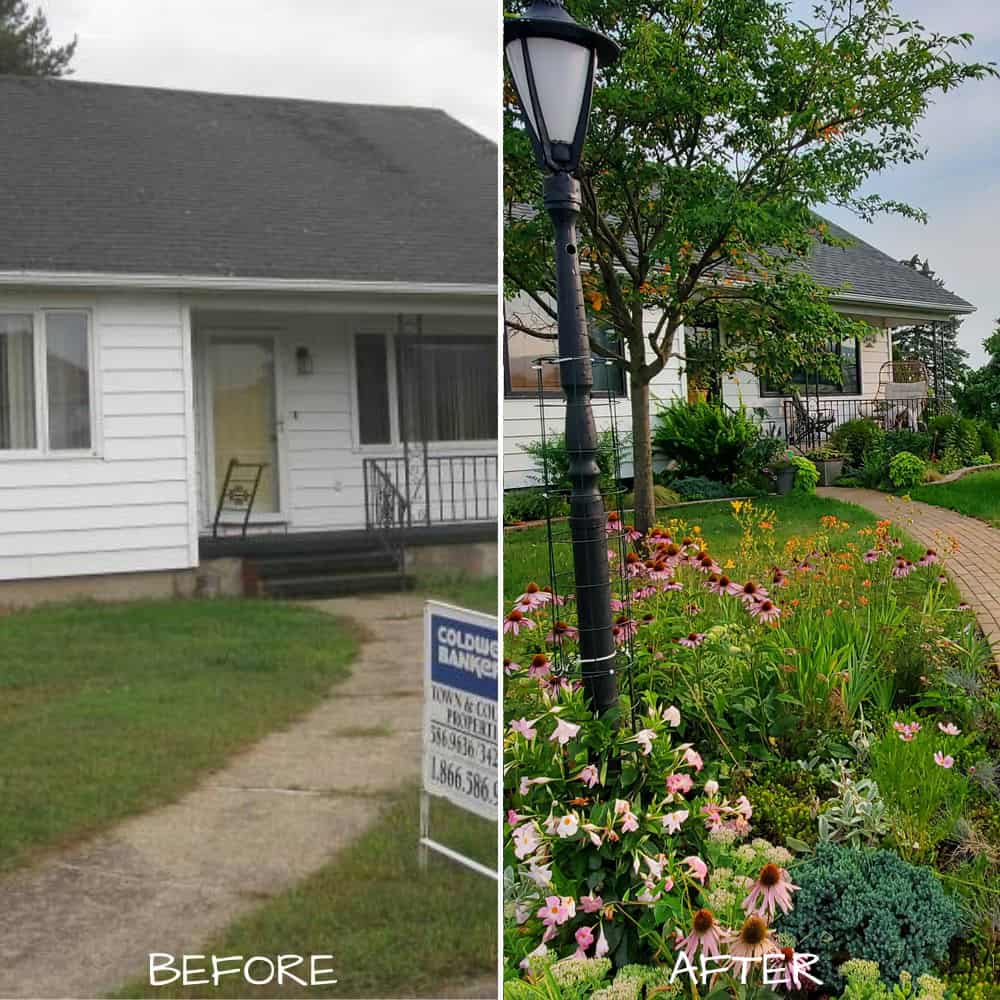 Take a look at the before and after pictures of my own landscape. If I can do this, you can do this. You don't need a degree in landscaping. You don't have to be a professional artist to make a simple garden sketch. You don't have to read encyclopedia sized books like I did. And you don't have to do it all at once. Can I get an A-MEN??
Still not convinced? See what others are saying:
"I love this book and my only sadness is that I had never seen it before I tackled my square, untouched garden. I have spent a lot of money and time over a 3 year period and I just wish I had seen your book before I started………it is great and I have a lot of work ahead, undoing, where possible, my mistakes."

Mrs Angela Liddell, London, UK
"I love this e-book. I appreciated all the tips, tricks, design ideas and other thorough information it covers. We have heavy clay and lots of rocks which makes gardening hard work, so I especially loved the information on raised beds without digging."

-Leesa, Tasmania, Australia (Zone 9)
"Amy, your website inspired me!! Your ideas inspired me! Last year, I found and printed out your "landscape plan" for your front yard. I decided I was going to do the same thing using your suggestions."

-Michele
"Really helpful! Easy to understand and put into practice. So glad I read this before starting to run amuck with confusion, indecision and exorbitance. There is an area on my property that is a disaster, but thanks to some really good tech and tips now I know how I can handle it harmoniously. Thanks!"

Karen Evans, Gendale CA (Zone 9)
"Anytime I research landscaping ideas online, I can only find ideas for larger, "normal" sized homes, which doesn't do us tiny house people any good! I'm really clueless when it comes to all this, but was able to make a list of the plants I want to use in our front landscape based on your perennial garden plan just in time for Spring! I will stay tuned for more ideas. :)"

-Ellie
"I enjoyed ur download. I have been playing in the dirt since 2010. I love all seasons. We just moved and our home has basically no landscaping. Hubby and I have a foundation plan now I just need to add the finishing touches and ur info will help."

-Siobahn
"Thank so much for the help and inspiration!"

-Pam
Purchase the Garden Planning 101 Course, instead!