Please note: I may earn commissions from qualifying purchases if you shop through links on this page. More info.
Is it Legit? Shrub Hub Review by Professional Landscape Designer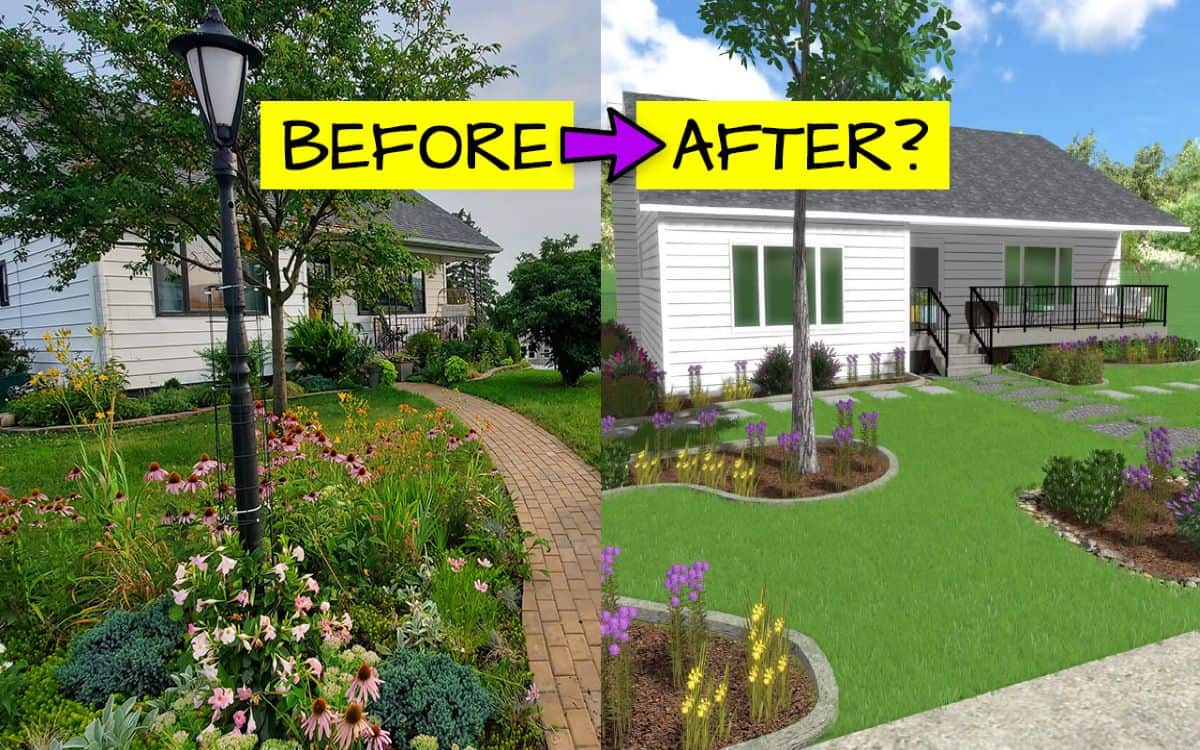 In today's technology-driven world, there are tons of services available at our fingertips. The internet makes it possible to hire professionals of all different industries, without even having to leave home. Landscape design is one of these online services!
Shrub Hub, Yardzen, Tilly, Bacqyard… Any of these sound familiar? You may have seen their ads while scrolling Facebook or gardening pages, like I have. These companies take your landscape requests and team you up with a designer who uses their expertise to create a design for your space.
Convenient, fun and helpful, right?!
Well, after seeing Shrub Hub's ads and being curious for months, I decided to try them out. Here's my complete Shrub Hub Review.
My Background
A little about me, for anyone who is new to my site: My name is Amy and I have a diploma in Garden Design and Maintenance and I've been helping gardeners design landscapes that are "uniquely you" since 2014. 
Even though I am a landscape designer myself, I love getting outside ideas for my space. I have been wanting to redesign my front yard for some time and I thought some guidance from an outside source would be a fun and helpful experience.
I also thought it would be helpful to try a service that my followers may also be considering. I thought that with my experience, I could really be a good judge of the quality of the service Shrub Hub provides and pinpoint any flaws or dupes in the process. I figured I was a good candidate to give an honest review about this service.
So without further adieu, here is my official review of Shrub Hub.
What is Shrub Hub?
Shrub Hub offers 3 packages: Front Yard Package ($197), Backyard Package ($237) and Front & Backyard Package ($297).
According to their website, Shrub Hub's landscape design capabilities don't stop at plants and hardscaping. They can also incorporate functional spaces like outdoor kitchens, play spaces, pools, patios and more.
I did notice during the process that if your space goes over a certain amount of square footage, the price increases. Still, this is likely the lowest price you'll find for a landscape design.
According to this article, the average price of a landscape design plan is anywhere from $1,955 to $7,220. Even a simple design with native plants on a quarter-acre will run at least $500.
What's Included
All 3 packages offered by Shrub Hub include:
A 15 minute phone call with an "Experienced Design Consultant" to go over all of your wants & needs.
A 3D design of landscaping and hardscaping based on your preferences.
The option to request a revision (for an additional cost) if you're not happy with the design.
A shopping list of the products featured in the design, with the option to purchase and have the products shipped right to you.
A consultation with a "Plant Expert" to go over the plant choices.
Quotes from the best contractors in your area for actually putting the design in your space.
A bonus eBook titled "Designer Secrets to Maximize Your Home Value."
A 30-day money back guarantee.
The Process
Once you sign up, you receive access to their online portal where you'll upload videos and photos of your current space, plus inspiration images for what you want in your design.
Then you'll schedule your phone consultation, where you'll talk to your personal design consultant and get more in-depth about what you're looking for.
After everyone's on the same page, the designer gets to work and you receive your photorealistic 3D render in 15-21 days!
Once you've received your design, you'll talk to the Plant Expert about all the plants going into your landscape. Then they'll reach out to the contractors near you to find the best deal for putting the design into your space.
Your design consultant will be ready for any questions or feedback you may have along the way.
If this sounds too good to be true, seriously… keep reading.
My Experience with Shrub Hub
I signed up for the Front Yard Package and got my project underway.
I noticed there were quite a few things needed before I could get on the phone with the consultant:
Log into the online portal
Complete Shrub Hub's design style survey
Upload inspiration photos and add commentary
Upload photos of my space, plus a video walkthrough
Add measurements of my space
Describe what I want in my design
I think it's important to note that all of the things required at startup can easily take upwards of 3-4 hours to complete.
Personally, I appreciated the thorough nature of the preparation process. I uploaded all of the necessary information and went ahead to schedule the call.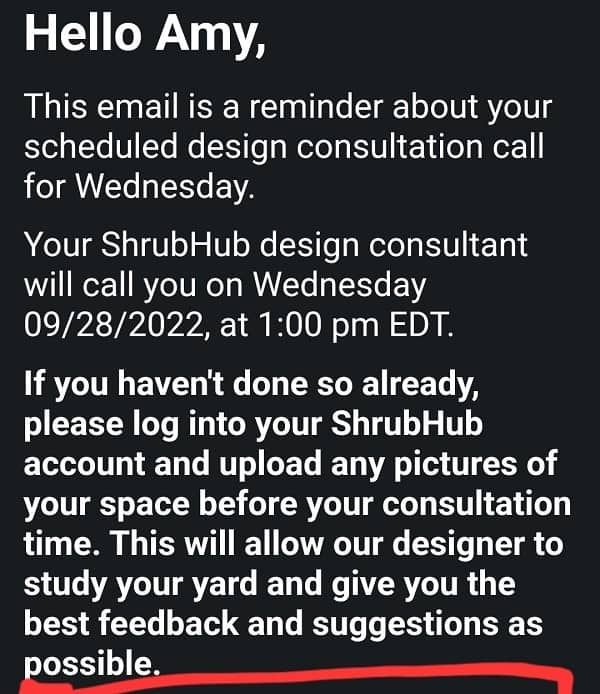 The "Experienced Design Consultant" was what I would consider a "project manager" – a kind of middleman between the customer and the actual designer.
For me, this part of the process was great. My design consultant was very friendly and seemed to be listening closely to really understand exactly what I wanted. I was feeling really optimistic that she knew exactly what I was asking for. I felt that she would have no trouble communicating everything to the designer.
After gathering and entering all of the information, all that's left is to wait. Shrub Hub promises a design in 15-21 days. It took the full 21 days for me to receive my design plan.
My Project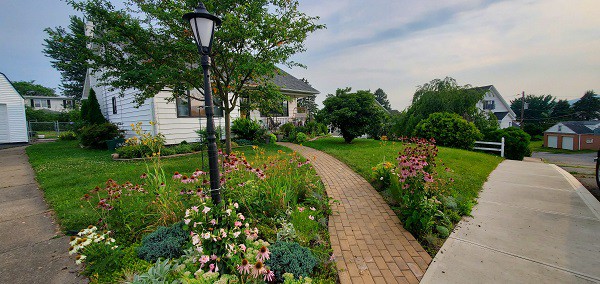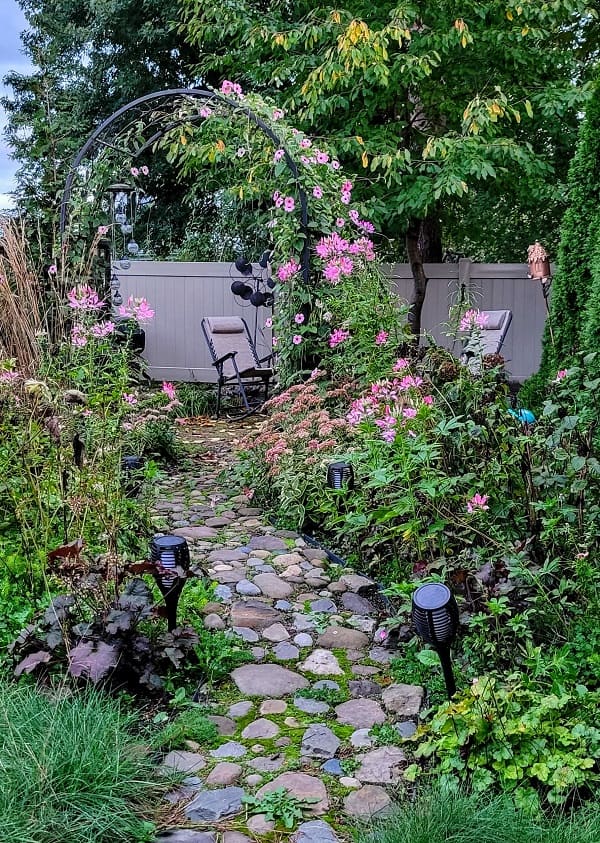 This is the exact information I provided to Shrub Hub:
I want to create a cottage style garden with no lawn. I don't want to just "pack" the entire space with plants to eliminate the lawn. I am ok with having some "open" areas that are not grass, but I'm not sure exactly what. I'd like to incorporate more hardscaping… perhaps a water feature and a fig tree as focal points… and secondary path(s). 
I like the brick walkway I currently have, but I am open to changing the walkway placement (or width) to improve the design. It's quite narrow and (in my opinion) does not feel balanced. I imagine it being more "meandering" like a journey to the front door where secrets are around each bend… but I'm not sure how to pull this off. It gets very snowy here so I'd like to keep the brick… or some surface that's easy to shovel and is not a trip hazard (at least for the main walkway).
We need a secondary walkway from the driveway to the main walkway… behind the Serviceberry tree to the front of the house is where we always cut through.
I have a fairly eclectic style and I like unique and reclaimed items. So, I'm not afraid of a little quirkiness as long as it's tasteful. BUT, I live in a neighborhood where everyone has grass front lawns and they all cut their grass twice a day. So I don't want it to be too "out there" or feel "unkempt."
Colors: I love purple and my front door is purple. I like to use purples and blues (fescues, junipers, etc.) with accents of orange/amber (like butterfly weed). I love alliums and would like to incorporate them.
Plants: I prefer the use of native plants or nativars (I'm in Pennsylvania). Would like to have about 70% native plants. I want to keep the Autumn Brilliance Serviceberry on the left. Rhododendron can go (if needed)– it does provide nice evergreen privacy in the winter but feels so out of place. I recently purchased a Chicago Hardy Fig Tree that I'd love to incorporate into the new design. I love alliums… and I'm very fond of grasses as you can see from my inspiration photo. Definitely open to more evergreens, shrubs and anything else you think.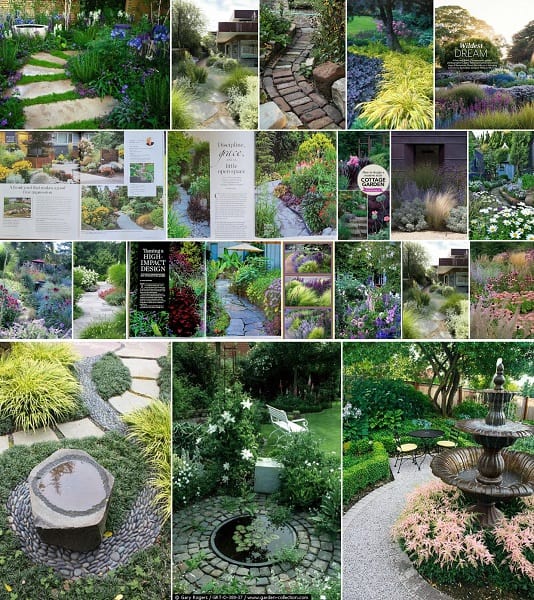 My Design
After 21 days, I received an email from Shrub Hub prompting me to log into their online portal. My design was ready!
Excitedly, I logged in… and quickly felt my excitement fade.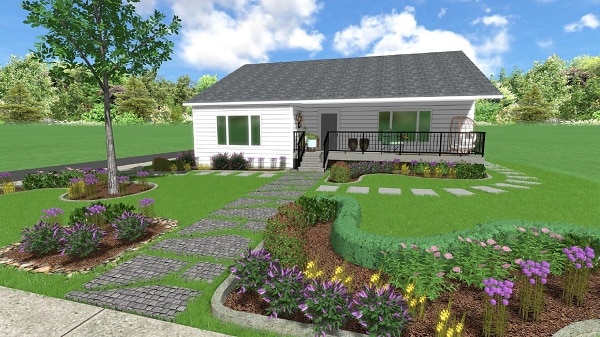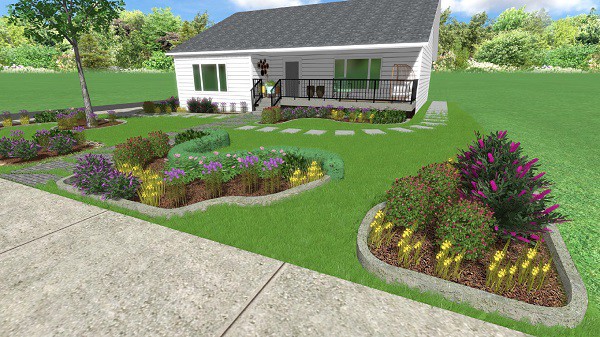 My Requests vs. What I Got
Overall, there was a complete disregard for the items on my wishlist and any of the information I provided to them. For example:
| My Requests | Shrub Hub's Design |
| --- | --- |
| No grass/lawn | ❌ Artificial turf |
| A water feature | ❌ No water feature |
| A reimagined front walkway that will be easy to shovel when it snows | ❌ A walkway made of stepping stones with large gaps between the stones… not ideal for shoveling snow |
| Possibly open to the idea of moving the front walkway | ✅ Front walkway moved to a location in the yard with a significant slope that would have cost $20,000+ and permits from the city in order to implement |
| Incorporate my new fig tree (which is still in the pot) | ❌ No fig tree |
| 70% native plant choices | ❌ Less than 30% native plant choices |
The Landscape Design
Not only were most of my requested features totally absent, but the design itself did NOT look like it was created by someone with formal design training.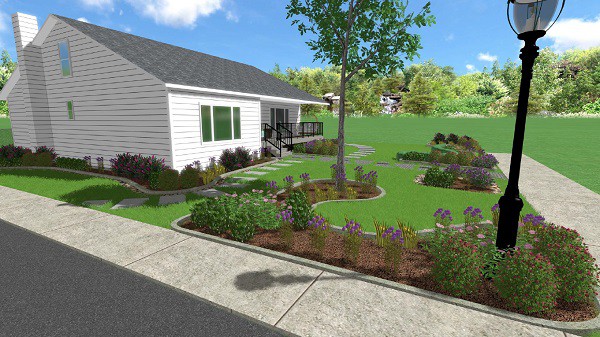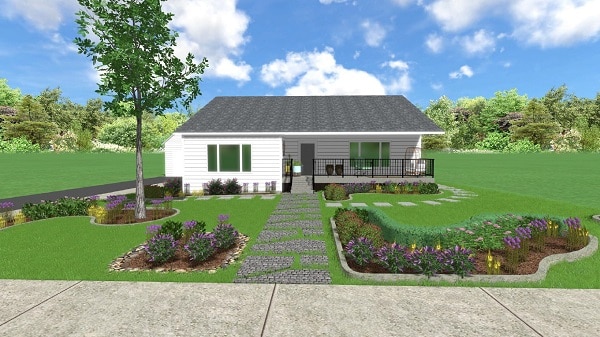 It honestly looked to me like Shrub Hub just had their designer use some fancy program to make a 3D model of my house. It was like they relied on the cool rendering to give the impression that a professional designed my space.
The Plant Choices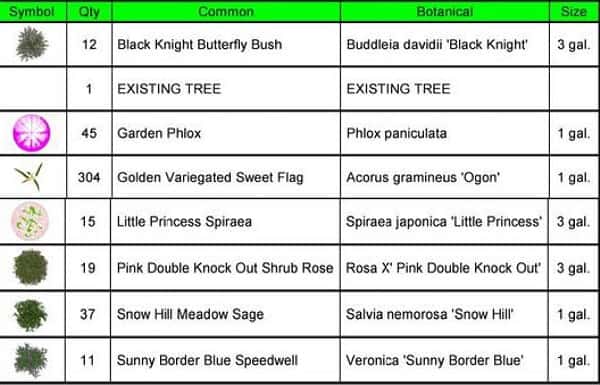 I was also appalled at the plants chosen for my design. I'm a client who is requesting no grass and 70% native plants. I think anyone familiar with gardening would figure I'm going for an environmentally-conscious approach. Not only did Shrub Hub fail to add natives to my design, but most of the plants they chose for me were invasive plants (like the Black Knight Butterfly Bush and the Little Princess Spirea). Invasive plants can grow completely out of control and cause ecological and environmental damage when planted outside of their native regions. The non-invasive plants that Shrub Hub chose for me were still plants that just do not grow well in my climate. Shrub Hub's plant choices led me to believe that the designers are not at all trained in horticulture.
Needless to say, I was NOT happy with my design. It frustrated me because I spent 3-4 hours gathering all the information they required and making sure the requests for my design were clear. Then I spent another 15 minutes on the phone talking to a REAL person who could listen to me and understand what I was asking. I really didn't see how they could miss the mark this badly.
Second Chance
In order to give them another chance to make it right and give me a design I actually loved, I spent $67 to upgrade to their revision package.
I reached back out to my project manager and went over all of the issues I had with the first design. I explained how it was missing a lot of my requests and input. My project manager again was great and understanding. It seemed like she really wanted to make me a happy customer.
After ANOTHER 3 weeks, I got a new design.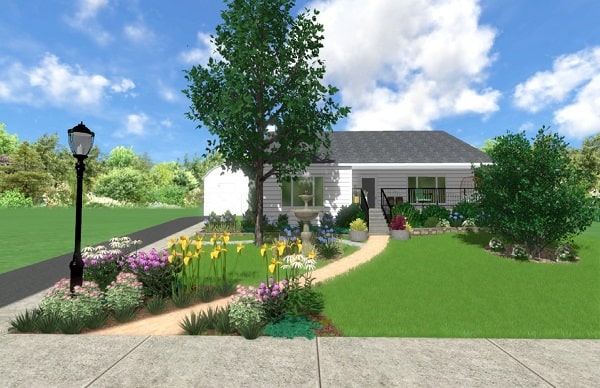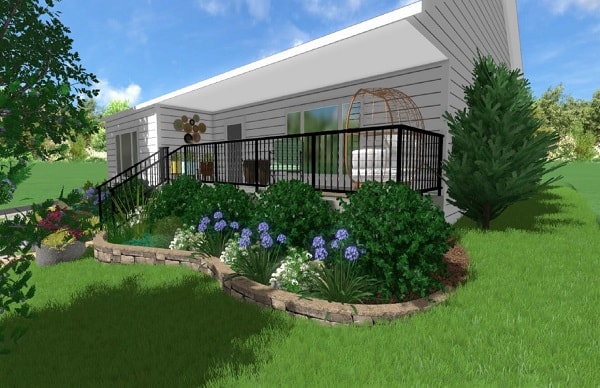 My Requests vs. What I Got (take 2)
Once again some of the MAIN things I requested were completely ignored.
| My Requests | Shrub Hub's Design |
| --- | --- |
| No grass/lawn | ❌ Mostly grass/lawn |
| A water feature | ✅ A small fountain |
| A reimagined front walkway that would be easy to shovel when it snows | ❌ Walkway kept in the same place with no changes. |
| Incorporate my new fig tree (which is still in the pot) | ✅ Fig tree incorporated in the design |
| 70% native plant choices | ❌ Several invasive species as well as several species that are not meant for my climate |
The Landscape Design (take 2)
Overall, the second landscape design was a little bit better than the first.
They moved the front walkway back to its original position. But, they did not remove the lawn. They added a few small areas to include a couple new plants and a water feature. This design was not creative or inspired in any way, but at least it wasn't appalling like the first one.
The Plant Choices (take 2)

This design showed replacing the plants I already have with their own plant choices. This would mean ripping out beautiful native plants that were already established and thriving! Then I'd have to go and spend MORE money on plants that weren't even ideal for my region.
I was beginning to lose my patience. I wrote back again highlighting my requests that were being ignored and they promised yet another revision.
The Refund Run-Around
In the midst of more waiting, I received a message from Shrub Hub stating that my project manager was no longer working with them and I was being assigned a new one. Ever so conveniently, they did not bother to provide me with my new project manager's contact information.
At this point I was beyond frustrated. I was almost $300 and 2 months in the hole with Shrub Hub and the service they promised was not being provided. It was clear to me that no real expertise was going into my design and I was ready to be done dealing with this company.
Once they informed me that they were changing my project manager, I decided to request a refund. Instead of acknowledging my request, my new project manager contacted me and asked to get on the phone to go over my design… AGAIN! I refused, again asked for a refund and again they resisted.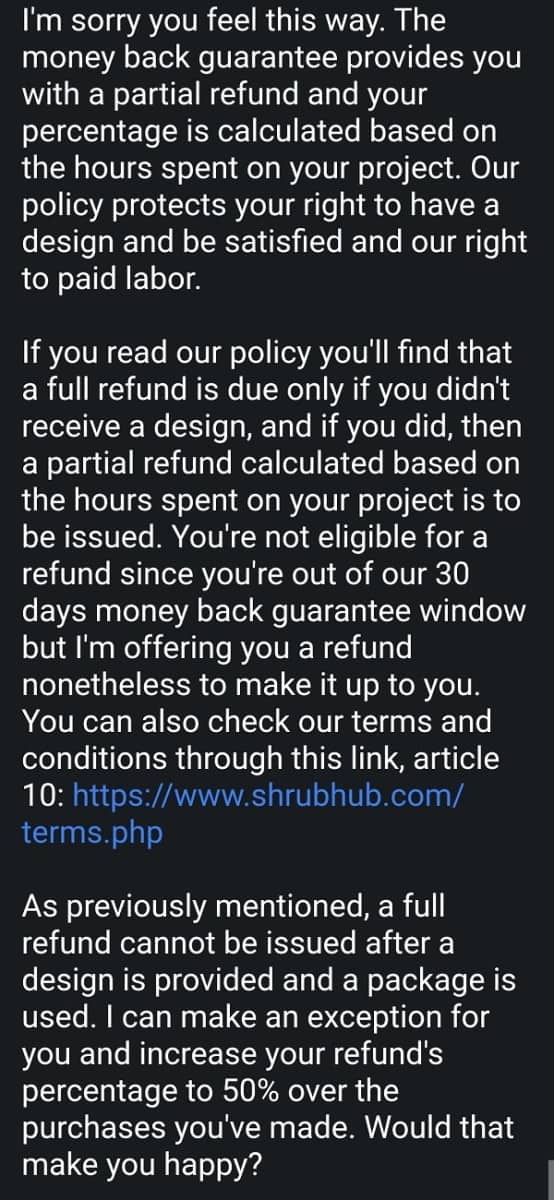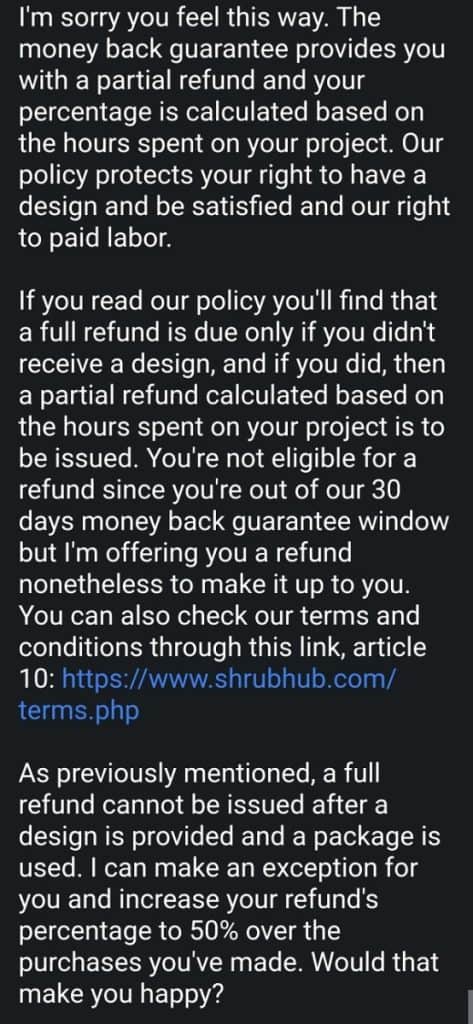 Upon my second or third request for a refund, they forwarded their policy. I learned that you are eligible for a full refund if you haven't received a design within 30 days. However, if you HAVE received your design, you are only eligible for a PARTIAL refund.
This was not reasonable to me considering THEY were the ones who dropped the ball on my design. I provided more than enough information and inspiration. I didn't think it was my fault that these designs were coming back completely lacking my requests. So, I stood my ground and my reasons for believing I was entitled to a full refund.
At this point, my request moved up to the "management department." They offered me a 20% refund. When I said that was unacceptable, they raised their offer to 50%. I continued to request a full refund with nothing but radio silence on the other end.
After a month of waiting (this is now 3 months dealing with this company), I reached back out to check on the status of my refund and threatened to contact the Better Business Bureau and a lawyer. I also informed them that I'd be reviewing my experience with Shrub Hub on YouTube and forwarded them a link to my channel so they could keep a lookout for it.
This got a response. After getting the run-around for weeks, they gave me a full refund.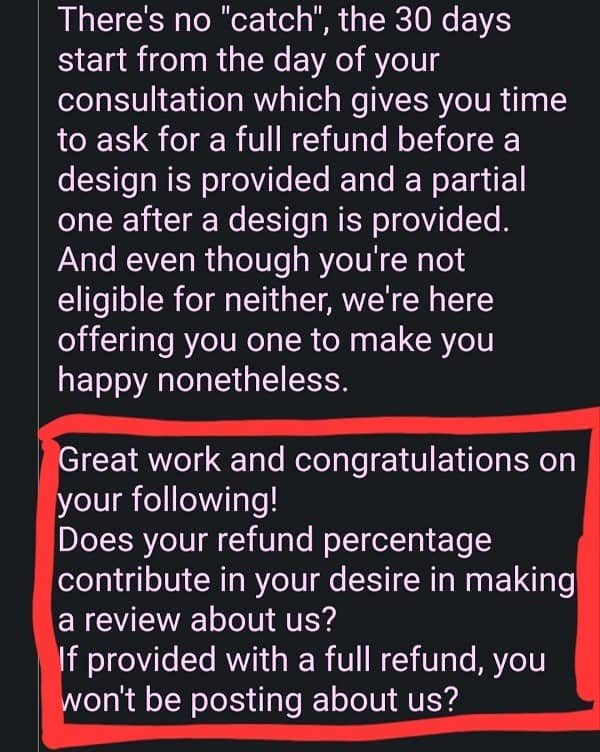 The kicker: A rep from Shrub Hub asked if the percentage of my refund influenced my decision to post a review of their service. In other words… bribery. Hush money!
After what I dealt with for months of working with this company, I shouldn't have been surprised by this unethical business tactic. But this was the icing on the cake for me.
I obviously still decided to move forward with reviewing them for my channel AND the for the Better Business Bureau.
My Honest Review of Shrub Hub
I personally do NOT recommend Shrub Hub.
I can't speak for all of the designers in the company, but the ones that worked on my project were not trained in landscape design and horticulture.
They forgot key elements of my property, like the fact that my yard has a significant slope. Their new location of my walkway was completely impractical and would have cost tens of thousands of dollars PLUS a permit from the city to implement.
They also ignored most of my requests for no apparent reason, like my request for 70% native plants and no grass.
A lot of the things they failed to perform on were very basic landscape design tasks.
On top of that, their business practices were shady.
I am glad to say I've received my full refund, but that was after SIX total requests AND the threat of legal action. I do not think I would have received a full refund without standing my ground for several weeks. Notifying them of my upcoming review of their company for my website also seemed to be persuasive.
I honestly fear for the unsuspecting homeowner who puts their trust in this company to design their space professionally.
However, I DO think that someone who just needs to get "something" in their landscape and really doesn't want to take the time to learn anything about design MAY benefit from a base-level design service like this.
It's inexpensive and could be helpful for someone who just wants their landscape done. Just use the tips provided in this article to make the process as smooth as possible.
Pros, Cons & Tips
Despite my experience with Shrub Hub being overall negative, there were a few pros to the process. In case someone might still be considering using Shrub Hub to design their space:
Pros of Shrub Hub
Likely the lowest price online landscape design service available. (Besides my own Design Your 4 Season Garden course, which gives you the know-how and the complete control to design your space how you want it).
Good for basic, cookie cutter designs. This service is good for people who just want to get something in their yard, and don't mind if it's basic or cookie-cutter.
Having a personal project manager. It was a really nice point-of-contact through the process (even though mine ended up changing midway through).
They offer a partial refund if you're unhappy with the service. Just be warned that you might have to fight tooth and nail for it.
The most positive thing about my experience with Shrub Hub was definitely my project manager. I thought the use of a middle man was really smart – I had a customer service-focused point-of-contact for all of my questions and concerns. She was super friendly and really listened to all of my requests, and later on, my complaints. It really seemed to me like she wanted to make me happy and make sure I got the design I wanted.
Cons of Shrub Hub
Lots of due diligence up front. You'll need to upload pictures, videos and measurements of your space. You also need to provide inspiration and information on the landscape that you want. It'll take some time and effort on your part.
Getting in touch. It can be hard to contact the project manager at times.
Designers weren't trained professionals. In my opinion, the designers didn't seem to have any formal design training.
No way to speak directly to the designer. You have to trust that your project manager is doing their job taking notes of everything you want and relaying the details to the designer.
Ignored my requests for my design. For some reason they were unable or unwilling to add a lot of the things I wanted to my design. This kind of made the whole process pointless and frustrating.
Revisions are not included in the base package. If you're not happy with your design and want a new one, you'll need to pay extra.
Lots of upsells. They try to get you to spend money on a lot of extras.
Very impersonal at times. It can feel like you're just a number to them.
All in all, I really felt like the designers at Shrub Hub were NOT professionally trained designers. There was a complete lack of flow and cohesiveness in the designs they provided to me – mismatched borders and random curves in the beds that just made absolutely no sense.
They also ignored (or forgot) about the slope in my yard which I mentioned a few times in my video walk-through. This is not a mistake a professional landscape designer would make. If I were to move my front walkway as per Shrub Hub's design, building the retaining walls to even out my property would have cost me tens of thousands of dollars – way more money than I would've spent going to a local landscape designer and getting a REAL design from someone who knows better.
I also believe the designers at Shrub Hub are not trained in horticulture. The plant choices they put in my design were scary – plants that were either invasive or just not ideal for my region because of the moisture or climate. If someone without gardening experience were to trust Shrub Hub's plant choices, they'd be doing more harm than good… and a lot of the plants would likely not survive.
I also found it surprising that they didn't bother to ask me for my budget. They sent a design with absolutely no budget taken into consideration. This just isn't practical for most people and can make receiving the design quite pointless if the client can't afford to implement it.
Tips for Working with Shrub Hub
Here's my advice for anyone who decides to move forward with using Shrub Hub for their landscape design:
Come to the call prepared. You need to provide a lot of information and details to them. Do not show up to the call without giving your site measurements and all of the information requested. They will just tell you that they can't help you until you do that. So you don't want to waste the project manager's time or your own time by showing up unprepared.
Use the chat box. If you don't know how to contact your project manager, use the chat box in the bottom corner of the interface when you log in. I found it difficult to figure out how to contact my project manager and also how to convey my revisions to my project manager when I wasn't happy. So, I used the chat box. I also replied to emails I was receiving from [email protected] and was able to get a response from that email address.
Know your budget. Shrub Hub does not ask for your budget at the beginning of the project. If budget is a real concern for you, be sure to include that up front. After you receive your design, ask your project manager about anything that looks like it may be over your stated budget.
Purchase the revision package. Even with a really good designer, the odds of hitting it out of the park on the first try are slim to none. I'd recommend getting the revision package off the bat. Give thorough information about what you like and don't like about your design. Try your best here.
Don't expect much. There are better ways to spend your money, friends.
Hire locally. You'd likely have much better success if you hired a local landscape designer. This will cut down on the time you spend up front with Shrub Hub to measure your space and fill out all of the information. IF you hire someone locally, they will measure your space for you and likely go over a similar questionnaire with you over the phone or in person. So, you'll still have to provide this information but a local professional should steer you along during the process. I also know some landscape designers who will have you complete a questionnaire similar to what you'd see at Shrub Hub, so be prepared for that as well.
Get my Plant Perfect Activity Book! It's a fraction of the price and can give YOU the power to design the landscape you've always wanted. More on that below!
Silver Lining: The Plant Perfect Activity Book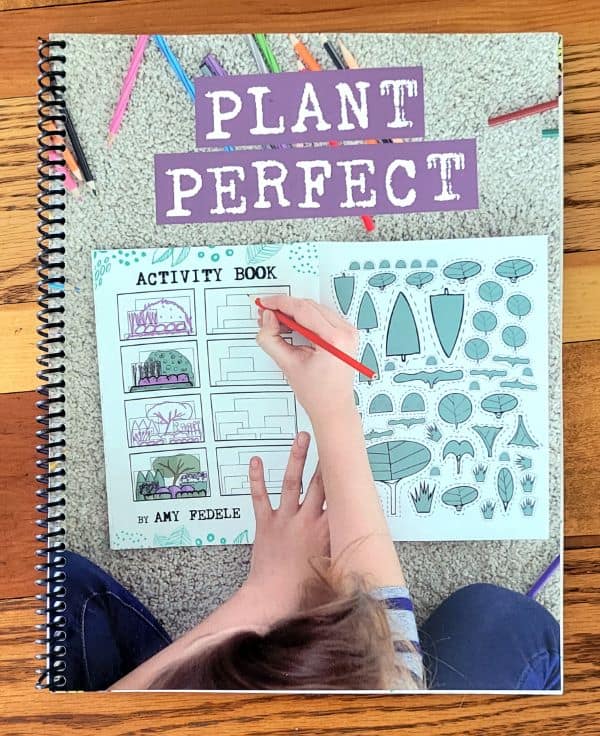 There was one positive thing to come of my experience with Shrub Hub: the idea for my NEW Plant Perfect Activity Book!
After the long and grueling process of dealing with such poor execution from Shrub Hub, I channeled my frustration into making a simple and fun way to help homeowners design their OWN dream garden!
This book takes you step-by-step through how to design a layout of your space.
Here are a few examples of how I would have designed my front yard differently than Shrub Hub, using the same processes you can learn in my Plant Perfect Activity Book: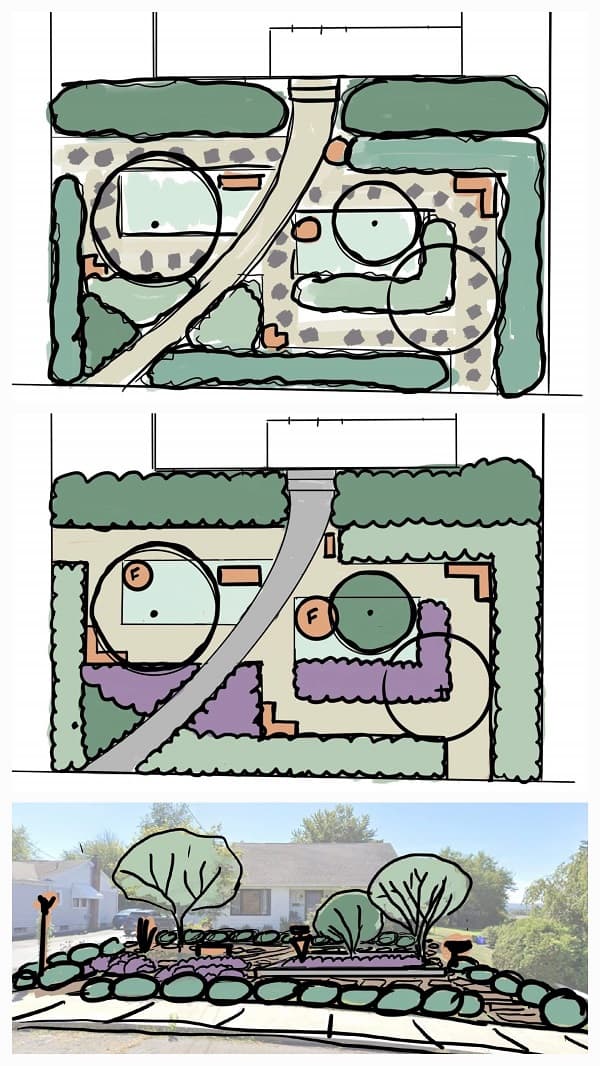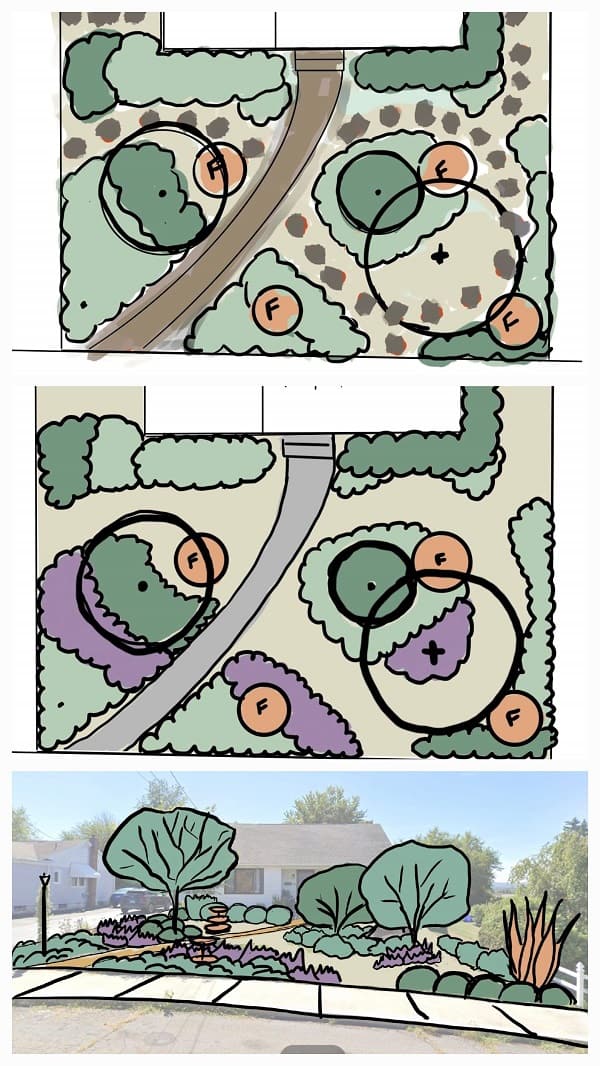 This spiral-bound activity book is filled with tricks and tools to help you design a beautiful space that's infused with your own personality – not a cookie-cutter design from an unprofessional company.
If you're ready to get a landscape you love at a fraction of the cost of a landscape design company, check out my Plant Perfect Activity Book today and give yourself the power of professional design!
More Gardening Articles You'll Love
Shop my Amazon storefront for my essential gardening books & tool recommendations!
Co-Authored by Kady Volpe
Kady is a pro-gardener-in-training. She's in the process of learning all of Pretty Purple Door's frameworks and landscape design techniques.