Love tulips, daffodils, crocuses and other bulbs but have limited space to plant? Or, like me are just plain outta space because you are a planting machine. These 6 awesome small garden ideas I use myself will show you how to layer your bulbs and use vertical space to make the most of your garden – no matter how big or small you think it is.
Plant a vertical garden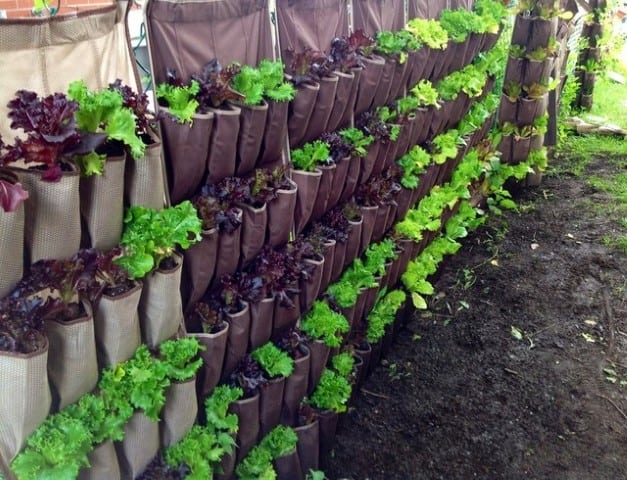 Plant a vertical garden using a hanging shoe organizer (link to Amazon). Hang it outside and fill it with herbs, trailing vines, creeping jenny, and/or different varieties of sedum (which are drought-tolerant and super low maintenance)
Use tiered or stacking planters
Use tiered or stacking planters, like this one on Amazon, make great use of the vertical space you have. You can even try this with an old pallet by attaching some mason jars to the planks. Or use a simple step stool to place small bouquets.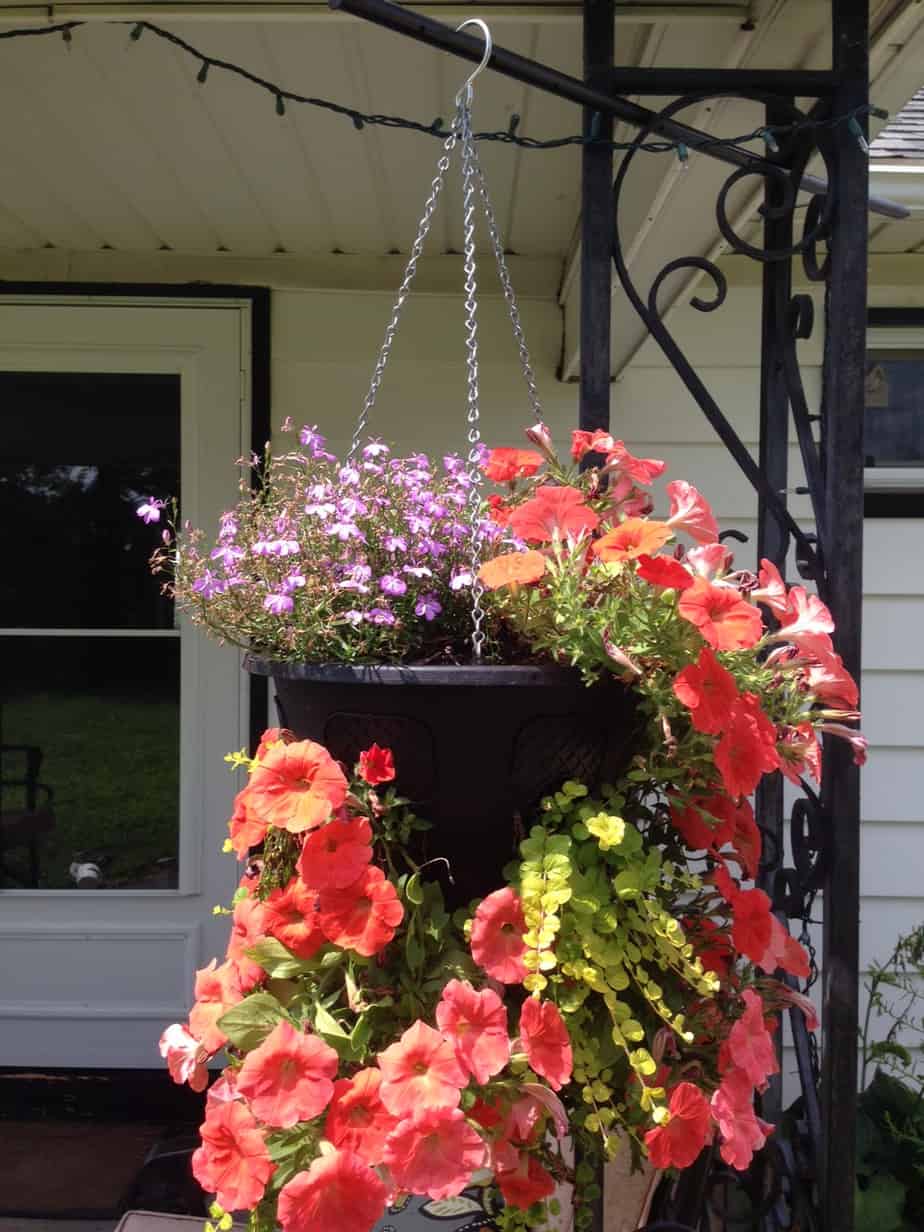 Hanging baskets are an awesome way to maximize space. Using the vertical space adds a  lot of impact without taking up any space on the ground. Check out this post on creating a SELF-WATERING hanging basket for even less maintenance.
Add a trellis or low fence behind planters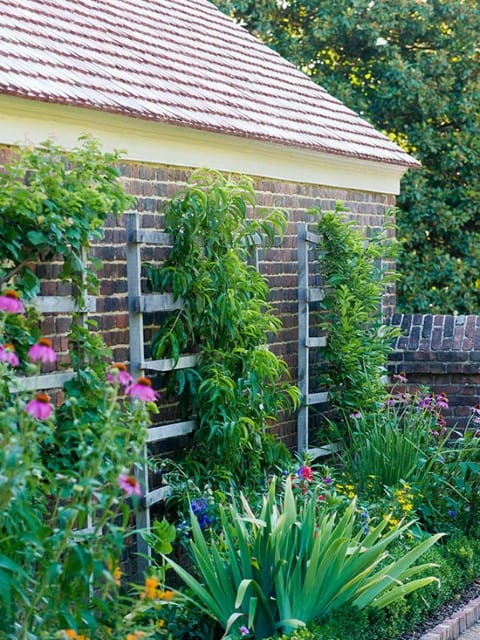 Add a trellis or low fence BEHIND your existing planting beds. Instantly get twice the flowers and vegetables in your small garden. Here's a great option that you can purchase on Amazon.
Plant on your railings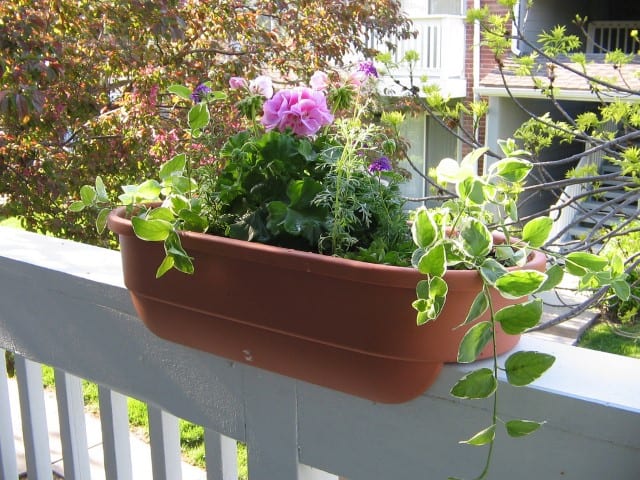 Really, you can do this. They actually sell railing planter boxes – attach right onto your porch or deck (like this on Amazon). These also come in self-watering varieties!
Plant in a window box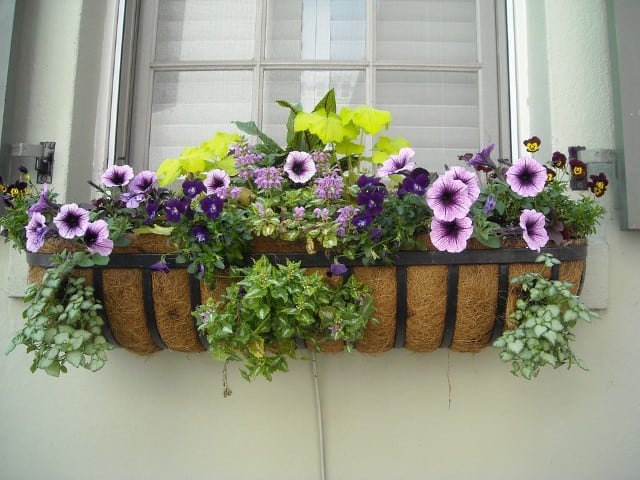 Planting in a window box is a great way to expand your planting space. Not only that, but it will add great curb appeal to your home! This window box on Amazon is one I really like.
Layer Bulbs in Pots for Maximum Impact
Love tulips, daffodils, crocuses and other bulbs but have limited space to plant? Or, like me are just plain outta space because you are a planting machine. Next I'll show you how to layer your bulbs to make the most of your container plantings.
Layering bulbs is a great way to save space and time in your garden.
By choosing the right flower bulbs, you can stack the bulbs for a beautiful flower show in a small area. This is a great small garden idea because you are taking up a very small space and maximizing the results you get!
Making a bulb lasagna
The optimal time to plant new bulbs is in the fall, before it frosts. This will give your bulbs time to acclimate to their new environment and go dormant for winter. When spring arrives, they will bloom beautifully!
This how-to guide shows how to plant layers of bulbs in pots, but this same bulb layering technique can also be used right in the ground. The great part about putting them right in the ground  is that it's a huge space AND time saver. To accomplish this, just dig a hole to the deepest layer depth (in this case it will be 6″), then cover with 2″ dirt, put in the 4″ layer, and so on. Hey, digging holes is hard work… right? This is a great way to save space AND time.
Which bulbs are good for layering?
Choose bulbs that bloom come up sequentially (such as early spring, mid spring, late spring)
The bulbs can (and should) be planted at different depths (such as 2″, 4″ and 6″)
The earliest blooming bulbs need to be the highest depth bulbs (i.e. the early spring blooming bulb would have to be planted at the 2″ depth, and the late spring bulb would have to be planted at the 6″ depth)
Plant for color and variety! There are tons of bulbs to choose from! I'll give you some examples, or try searching layering bulbs on Pinterest or Google.
If you'd like to keep it simple for your first time around, choose bulbs that are easy to grow and care for.  A good choice is a basic planting of:
Tulips (Bottom — about 6″ deep)
Daffodils (Middle — about 4″ deep)
Crocus (Top — about 2″ deep)
How-To Layer Bulbs in Pots Step by Step
Step 1: Place a layer of gravel across the bottom of the container, then apply a thick layer of potting soil mixed with bulb food. 
You can find bulb food via this link, or at your local hardware store or garden center. Bone meal is also a great option! You can layer the bulbs shoulder-to-shoulder if you have a lot of them. You don't have to space them out like you would in the garden. The tighter the better. I wish I had more actually.
Step 2: Place the first layer of bulbs in the pot and cover with a layer of soil.
Step 3: Continue layering, and place your second layer of bulbs in the soil.
Step 4: Cover the top layer of bulbs with a final layer of soil, as if you were planting outdoors.
Keep from hard frost and enjoy this Spring!
Tips for Layering Bulbs in Colder Climates
Use durable containers that won't crack in the cold: More durable containers made of stone, cast concrete, fiberglass, cast iron, or plastic are suitable for colder winter climates.
Use small plastic pots and transplant in spring: You can also plant your bulbs in small 6-inch or 8-inch plastic pots and come spring transfer them into your larger pots or containers.
Insulate your pots: If you plan to leave your pots outside through winter, you'll have to protect your bulbs from the severe weather. You can surround the pots in tightly packed straw or bury them in sawdust and put a good 18 inches of mulch on top.
Store them in a garage or shed: You can also store your bulb pots in a garage, shed, cold basement, car port, or outbuilding that won't get too far below freezing but will also not heat up during the day.
[Source]
Bring your containers outside in the spring when the danger of hard frost has passed or when you see other bulbs in the ground outside starting to emerge.
Some Resources for Small Garden Ideas
Image Credits: Canvas Shoe Hanger Planter: Inhabitat | Trellis behind existing planters: Better Homes & Gardens
You May Also Like
For your pinning pleasure…
What Blooms with What?
Never know what to plant together? Find out with this FREE Plant Pairing Guide and become a pro at combining plants for the best garden design possible!