Please note: I may earn commissions from qualifying purchases if you shop through links on this page. More info.
Soil Improvement Tips For Flower Beds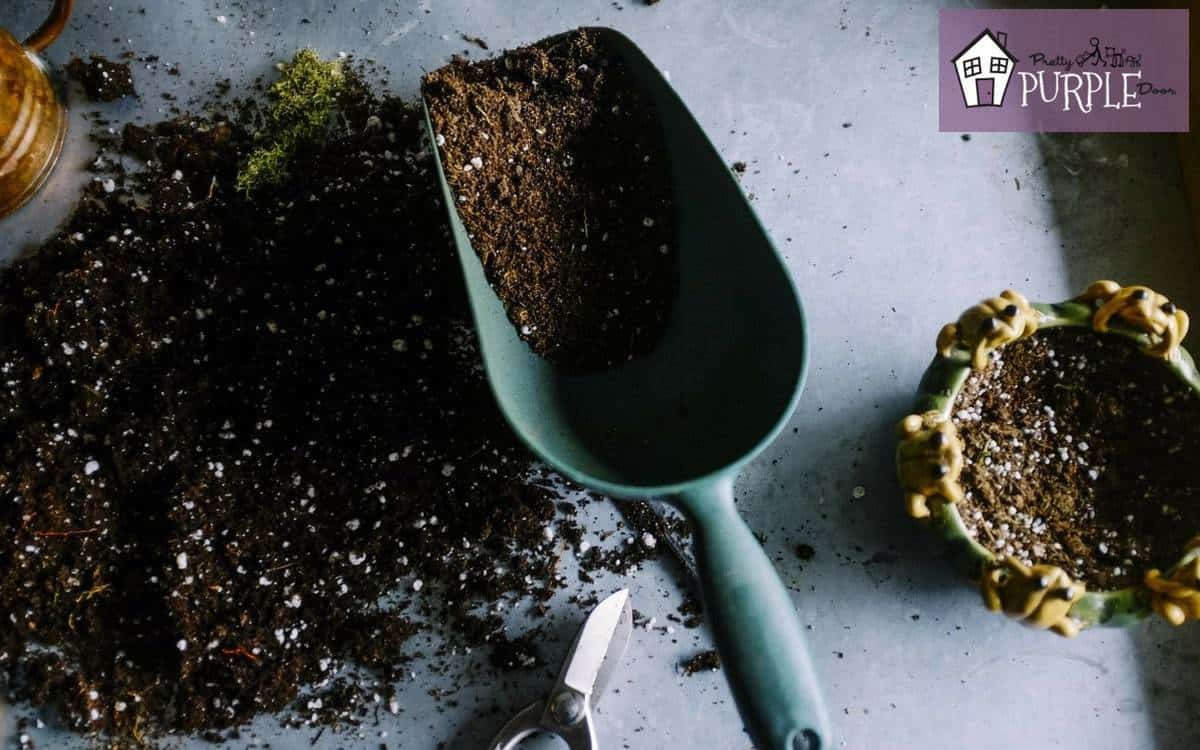 Is your soil wet or dry? Alkaline or acidic? Is it light and sandy? Heavy and high in clay? Before you put one plant in the ground, know what you're dealing with. Learning about your soil and making soil improvements will help you to choose the right plants for your site, and make sure that your plants will be happy and healthy. No more black thumbs, here!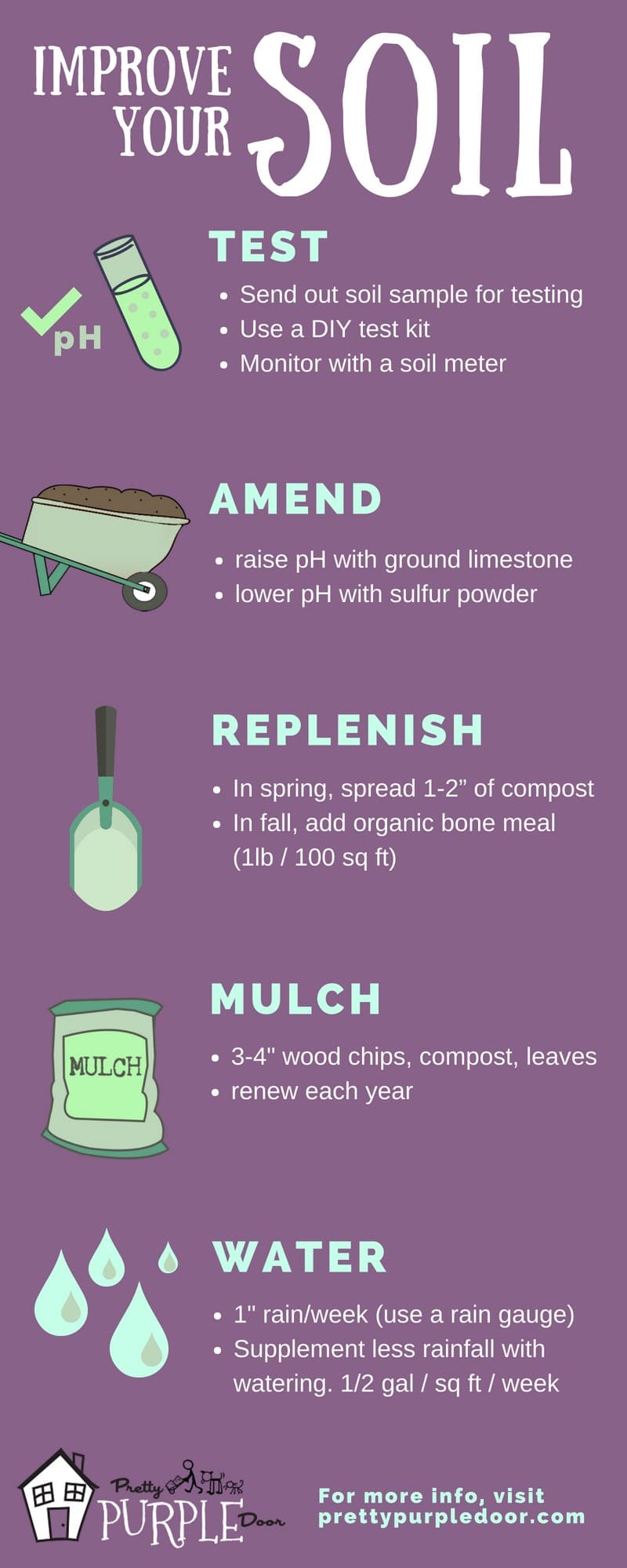 Soil Improvement 1: Test your soil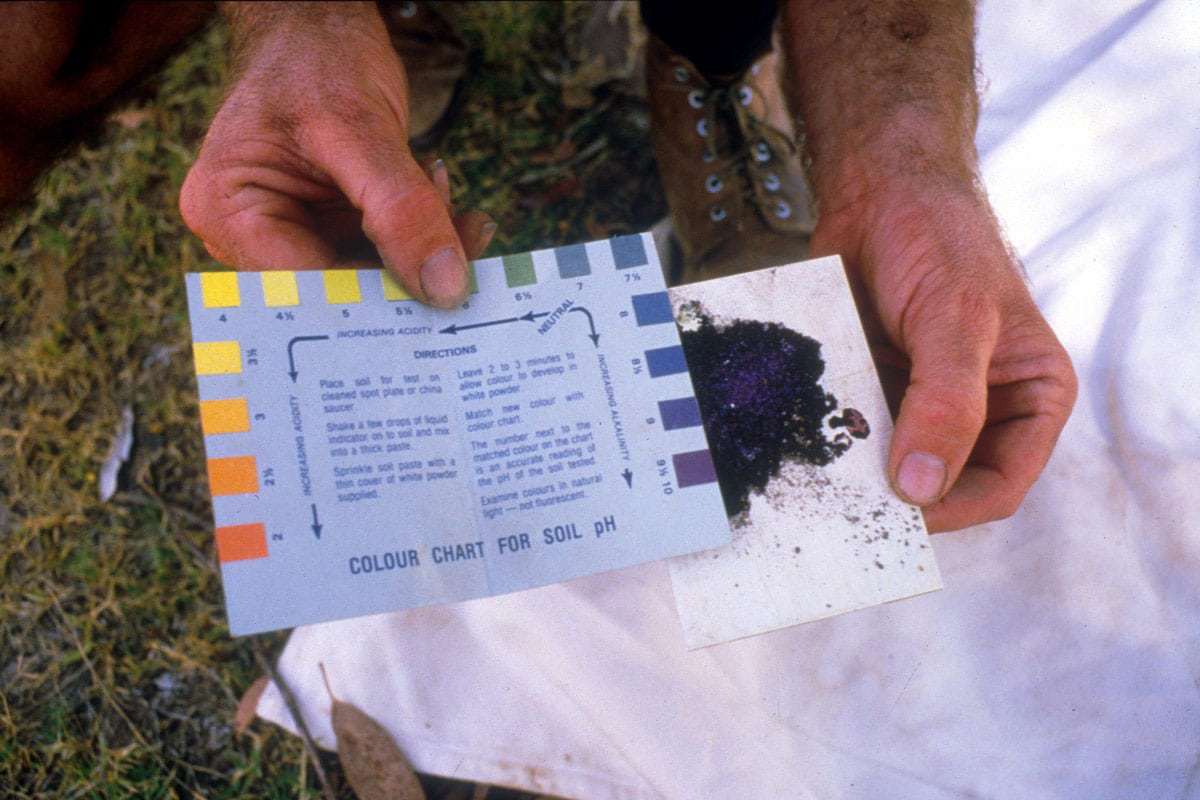 No idea what the properties of your soil are? There are a few DIY options as well as a way to send soil samples out for testing so you know what you are dealing with.
Send out your soil sample for testing: For a minimum fee you can give the Cooperative Extension System a sample of your soil and they'll tell you the pH, organic matter content and nutrient levels. This page gives a state-by-state listing of the soil testing labs in the US. They can tell you everything you need to know how about to prepare and submit your soil sample for testing
Test your soil at home with a DIY test kit: I use this kit at home to test my soil's pH, Nitrogen, Phosphorus and Potash. What I really like about this particular kit is that it's very easy to use and offers 40 tests (10 for each of pH, N, P and K). Since I have many garden sites on my property, I like to test the soil in each of my beds separately. The soil in my front yard by the road is much sandier and lacks more nutrients than the rich, black soil in my backyard in the shade. Not sure where to start? The pH level is the first and most important to check and will give you the most information to help you prep your soil.
Monitor your soil with this 3-in-1 soil meter: For ongoing monitoring of your soil, this little guy is super helpful for quick checks of your soil's pH, moisture and sunlight levels. At less than $10, you may want to grab more than one soil meter– they make great gifts & stocking stuffers for all of your garden loving friends and family.
You can also check out all of my favorite products for watering and soil improvement in my Amazon Store.
Soil Improvement 2: Amend your soil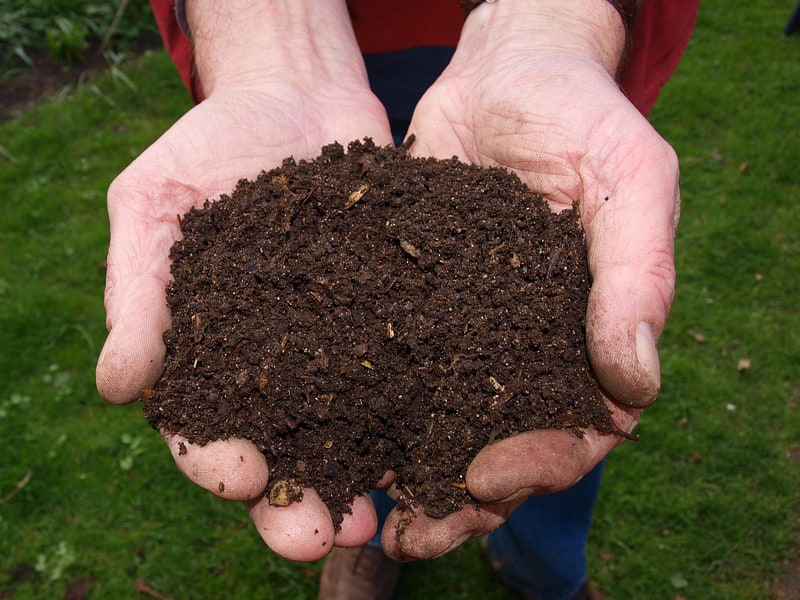 If you've sent out for a soil analysis, likely you will also receive recommendations for amending your soil that you can absolutely follow. For any DIYers out there, I'm just going to give a quick overview of the pH scale and what this all means.
The pH scale indicates acidity or alkalinity. A soil with a pH number below 7 is acid, while one with a pH above 7 is alkaline. Garden plants typically grow best in neutral or slightly acid soil (pH 7 or slightly below)
Raise soil pH with ground limestone: If the pH is low (too acidic), you can raise it by using ground limestone. In 100 square feet of garden, 5 lbs of limestone should raise the pH between ½ – 1 full unit. I would work this in gradually and continue to test your soil with a meter to ensure you are on the right track.
Lower soil pH with sulfur powder: If the pH is high (too alkaline), using ½ lb of ground sulfur per 100 square feet of garden will lower the pH between ½ – 1 full unit.
Work with what you have: Unless your pH is wayyyy off, or you are trying to grow fruit, veggies or exotic plants, I would recommend working with the soil that you have rather than trying to modify it too much. Once you know what your soil levels are, it's much easier to choose plants that will thrive in high and low acid.
Fun Fact: Adding limestone to your hydrangea plants will turn the blooms PINK. Adding sulfur will turn the blooms BLUE. If you have hydrangeas on your property, this can also be a good indicator of what type of soil you have without having to test anything ?
7 tips for choosing the RIGHT plants
This FREE guide has 7 key questions to help you pick the perfect plants for your landscape. Pop in your email below for instant access.
Soil Improvement 3: Replenish your soil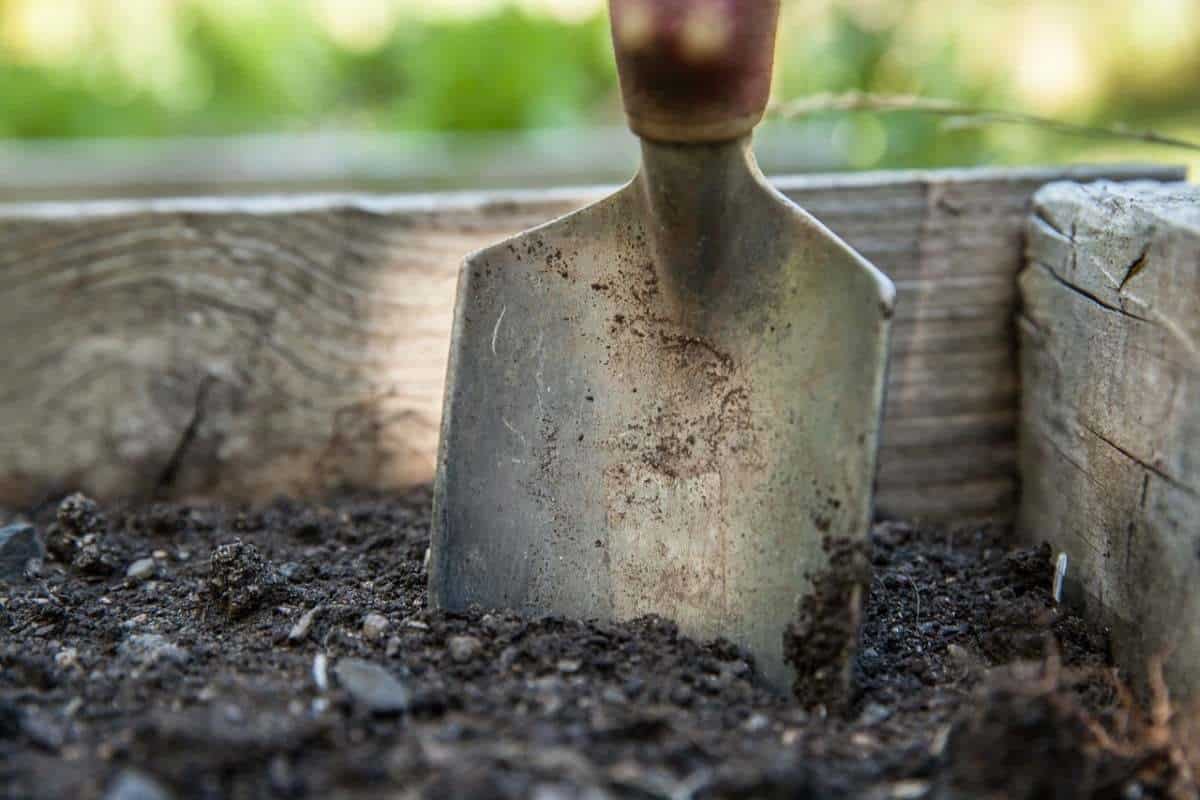 No matter what your soil's composition, it's very beneficial to replenish your soil by adding each year. This replaces any nutrients that have been absorbed by your plants, and helps them to continue to grow and thrive. In early spring, spread 1-2" of organic matter over your garden soil.
What exactly is organic matter? This can be any nutrient-rich material such as compost, manure, topsoil, peat or even grass clippings. Using a small rake or hoe, work this into the existing soil around your plants. Be extra careful not to disturb anything you've already planted, especially smaller plants and bulbs under the surface of the soil!
At the end of the growing season when I'm doing a little fall cleanup, I like to add bone meal to my gardens to replenish nitrogen, potassium and phosphorus. 1 lb of bone meal is enough to spread across 100 square feet of garden beds. Don't overdo this! About a tablespoon of bone meal is enough fertilizer for 1×1 sq ft, such as a large planter pot.
With the addition of the organic matter and bone meal each year, your soil will be in much better shape to grow beautiful plants than if you were to do nothing at all. If you're finding this information useful, you should check out my Garden Planning Bundle, which will give you all the tools you need to plan the perfect landscape.
Soil Improvement 4: Add Mulch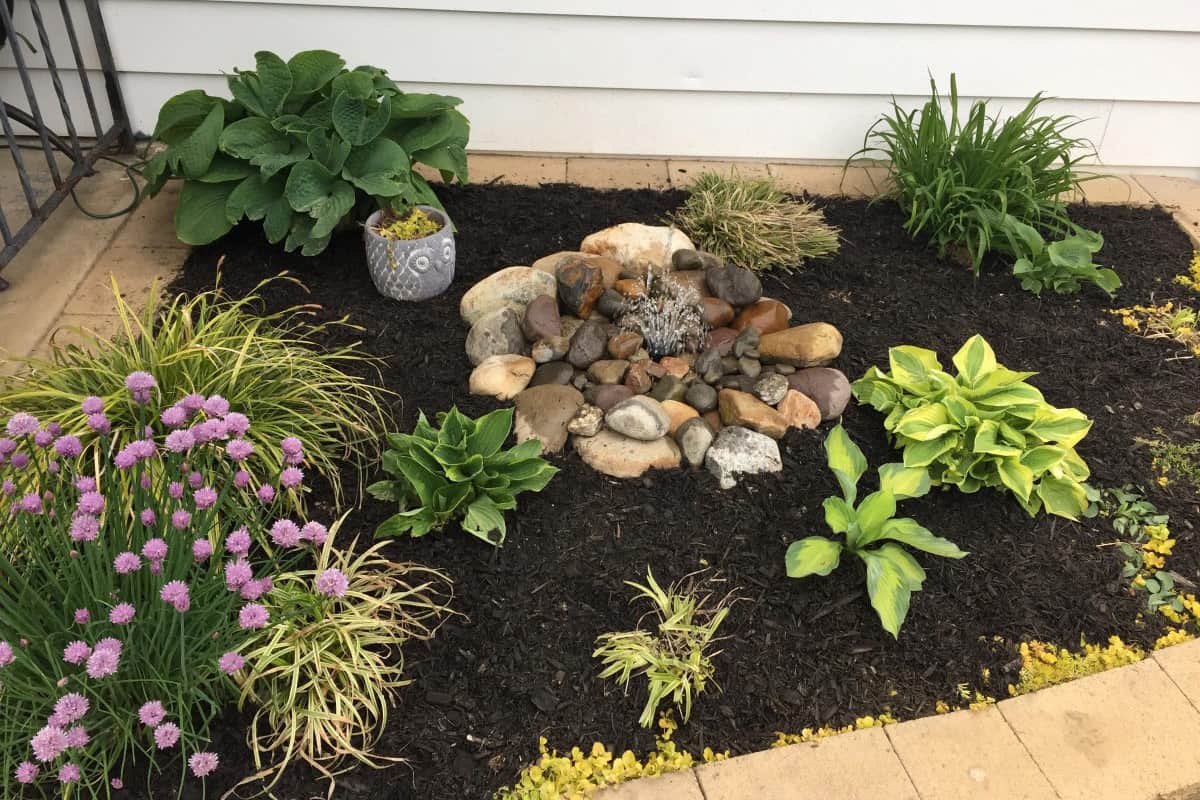 A thick mulch, about 3-4 inches deep of wood chips, compost or shredded leaves each year protects your landscaping investment and the environment.
Benefits of mulch
Makes your garden look neat, tidy and professional
slows topsoil erosion
provides nutrients for plants while protecting their roots
prevents weed growth in your gardens
saves water by keeping the soil cool and moist.
With the right amount of mulch, you'll only need to water most of your established plants during extended dry spells. Renew the mulch each year– after you've divided any plants that need it.
Types of Mulch
There are many different types of mulch available, and it comes in several colors to suit your design needs.
Personally, I use the basic shredded wood mulch in my gardens. Wood mulch breaks down after 1-2 seasons and requires re-application. It can be purchased as wood chips and tree bark nuggets in pine, cedar, cypress and other hardwood mixes.
Rubber and other non-wood mulch is permanent than wood mulch but does not improve the soil structure. This type of mulch is great for playgrounds and walking trails, as it protects the soil and provides bounce underfoot.
Here are some other types of mulch you can use:
Pine needles increase soil acidity, making them ideal for use around acid-loving plants.
Pine straw and wheat straw help control soil erosion on slopes. Hay and straw mulch may harbor weed seeds.
Decorative rock provides excellent weed control and can be used as a mulch around plantings. But, don't use stone around acid-loving plants as it may add alkalinity to soil.
Not sure how much mulch you need? This mulch calculator can help you to figure it out!
Get the best price on mulch
Buying mulch at the best price: Several times in the spring, bags of mulch (2 cu. feet) goes on sale at the big box stores at 5 bags/$10. I would wait until you can get a deal like this before purchasing your mulch. Keep an eye out for these sales in April and again around Memorial Day and 4th of July.
You can also purchase mulch in bulk from a local company that sells topsoil, such as Mr. Mulch or even Home Depot. I've even found listings for truckloads of mulch on Craigslist! Most places will have a minimum amount you need to purchase in order for them to deliver it. Mulch purchased in bulk is sold by the cubic yard so make sure you take that into consideration when ordering. If you're ready to start creating your own dream landscape, check out the Ultimate Garden Planner bundle filled with even more gardening tips and planning sheets so you can keep track of all this stuff.
Soil Improvement 5: Add Water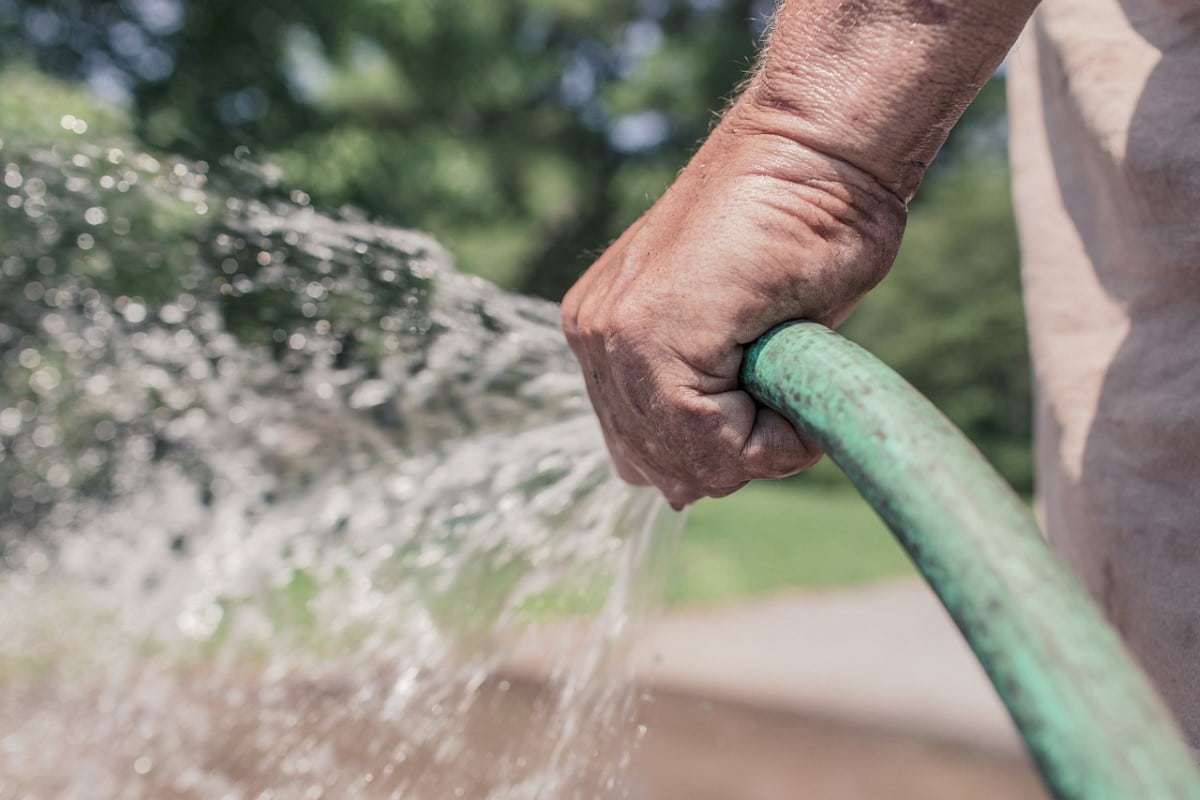 The best way to determine the amount of water needed is to purchase a rain gauge. There are many different kinds available, but here are my recommendations for a basic one, and a high-tech one:
Using a rain gauge, you'll be able to determine how much rainfall you've had. If Mother Nature doesn't provide at least an inch of rainfall in the week, you can help out your garden by providing enough irrigation to bring the weeks total up to 1 inch.
So how do we calculate this? Your plants and trees need about 1/2 gallon of water each week for every square foot of garden area. So, if your garden is 20 square feet, it needs about 10 gallons of water each week, or 2 waterings from a 5-gallon bucket.
Ex: 20 sq. ft. x 0.5 gallons/sq. ft. = 10 gallons
An easy way to figure this out, is to time how long it takes to squirt your hose into a 5 gallon bucket. Make sure you are spraying the hose at the same strength and speed that you would if you were actually watering your garden. Now you know the amount of time it takes you to provide 5 gallons of water to your garden. So, if you need to add 10 gallons of water to your bed, water it twice as long as it took you to fill your bucket.
There are more accurate equations that can be used to calculate the amount of water needed based on the amount of rainfall, but who has time for that?? A good rule of thumb is if there is a 1/2 inch of reported rainfall, water for about half the time you would for a week with no rainfall.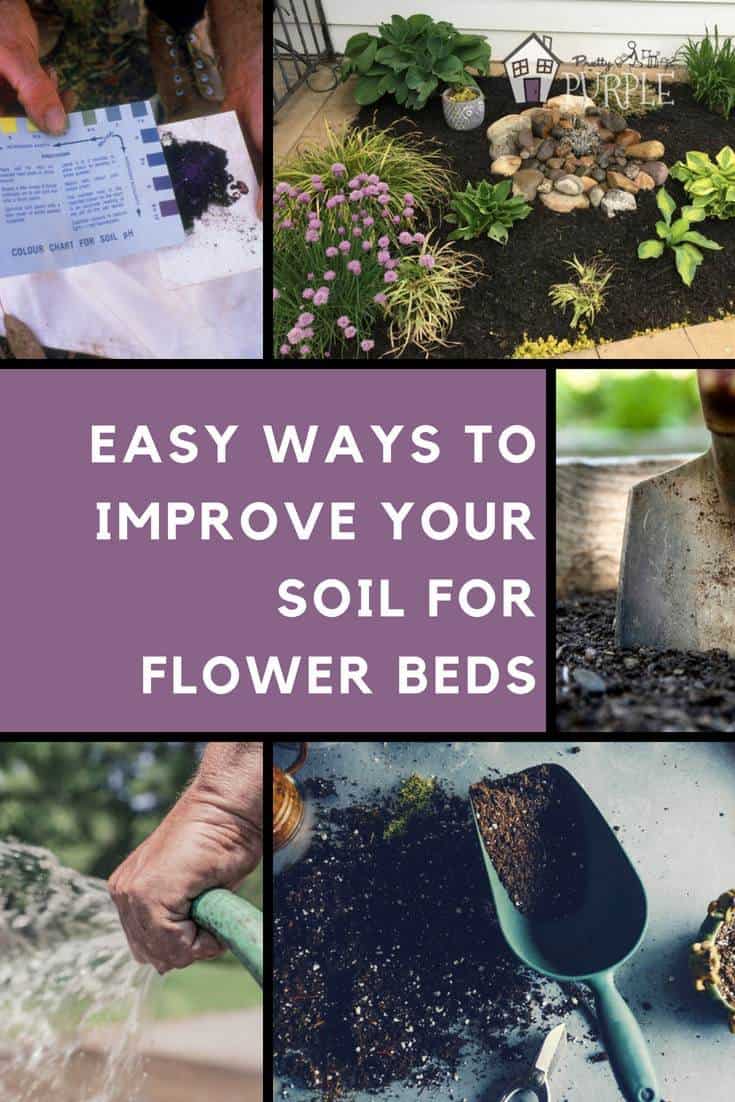 Wrapping Up
Prepping and caring for your soil is the first step to having an amazing landscape full of lush gardens. And with a little bit of planning, those lush gardens will practically take care of themselves! You are well on your way! My goal is to provide time saving tips and tricks for people I like to call "weekend gardeners". Likely you and are both weekend gardeners. We both love gardening but have busy lives. Which means we have limited time to tend to all of this stuff.
That's why I like to garden to solve problems rather than creating more problems.
Why I design gardens within my landscape:
to increase my home's property value (improving curb appeal can increase home values up to 15%)
to give myself, friends, family and neighbors something to beautiful enjoy
to guide visitors to the right entry points/locations within my yard
to hide eyesores I don't want to look at
to eliminate hard-to-mow areas (like edges of the lawn and steep hills)
to improve my lifestyle (like creating a shady garden spot to sit and read a book)
I created this garden planning bundle to give you all the tools you need to create a beautiful, professional-looking landscape.
Let the good thymes roll,
-Amy
More Posts to Up Your Gardening Game
What Blooms with What?
Never know what to plant together? Find out with this FREE Plant Pairing Guide and become a pro at combining plants for the best garden design possible!