Please note: I may earn commissions from qualifying purchases if you shop through links on this page. More info.
Staining Wood Any Paint Color You Want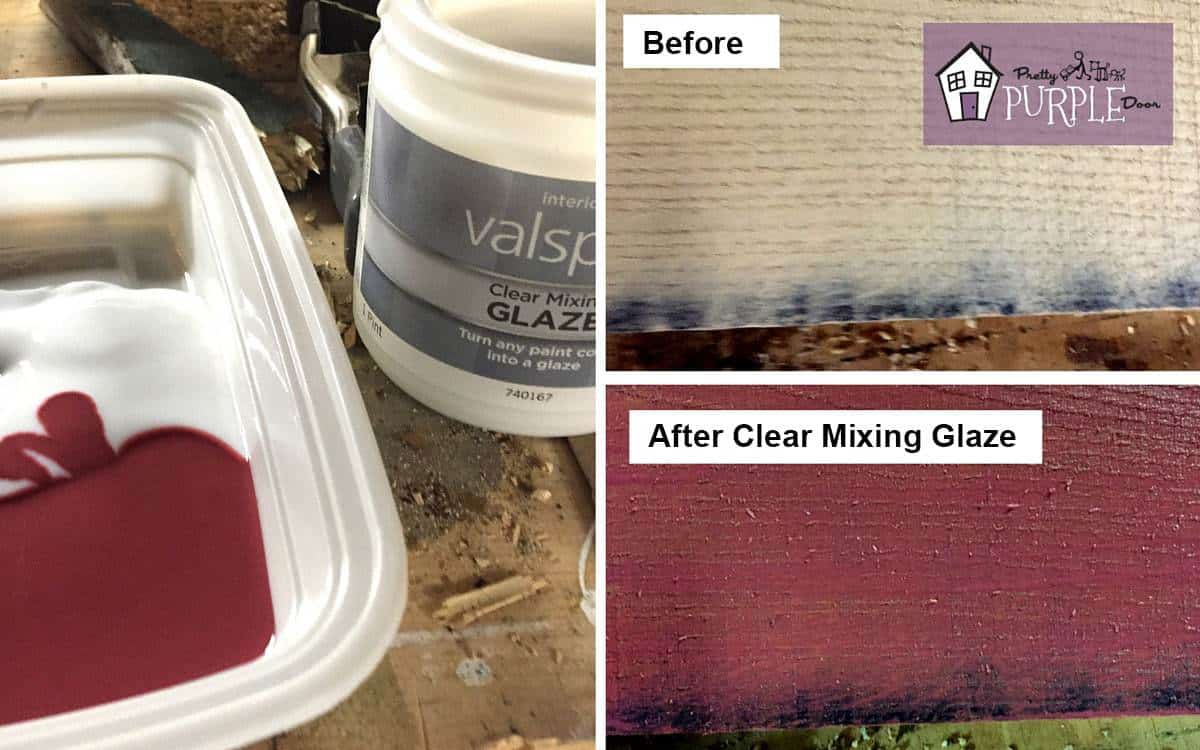 If you love wood grain but also love the bright, vibrant options available in paint colors, then this tutorial is for you. After you're finished, you'll be staining wood every color of the rainbow without losing all the beautiful knots and marks on your wood.
To stain wood any color, mix 1 part paint with a 4 parts clear mixing glaze. Or, add water to acrylic paint in a 1:1 ratio. Transparent dyes will also give wood a colorful, stained appearance.
This is especially great for very old pieces of wood (like pallets), that have been damaged, charred, weathered, etc. Staining wood with color lets you customize the piece without losing all the great details.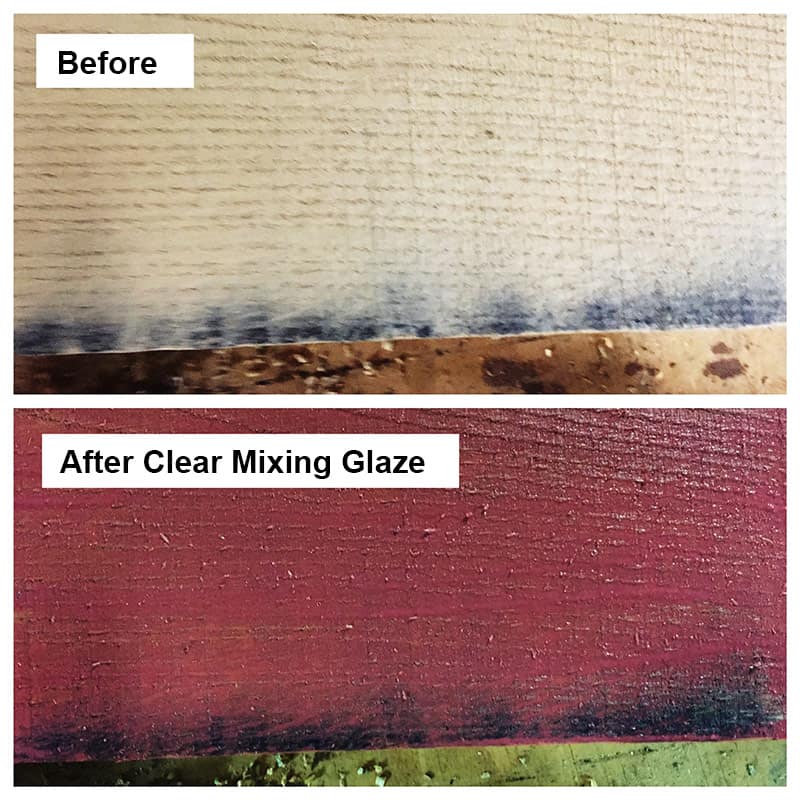 Before and after photo of a piece I stained with a barn red. You can see that the dark part of the board is still showing through, along with some grain. That's because I mixed the paint with clear mixing glaze!
Why are all stains brown (and boring)?
I love paint. I love the vibrancy, the statement it makes. And the options… oh how many paint color options there are! It's incredible! But, I also love wood. I love the grain of wood, the knots, the imperfections, the detail. Sometimes I struggle with a really incredible looking piece of wood — because I WANT that vibrancy added to it, but I can't bare to cover up the beautiful detail.
If you're like me, when you go to the stain aisle you're probably extremely… underwhelmed. There's like 15 shades of brown. Maybe one grey. But seriously, why aren't there more COLOR choices for staining wood?
I have no idea, honestly (Sorry).
Actually, some companies do make a handful of colored stains. Typically, you'll have to look at the book of stains and have it custom mixed for you at the paint counter. And because of this you'll probably have to buy way more than you need. So it's an option, but not really a cost-effective one (sad face).
But that's ok, because I found a way to turn ANY paint color into a stain. You'll get that vibrancy and punch of color you are looking for, and still be able to see all the great features of your wood. Sound too good to be true?
It's not.
Even better yet… you can use leftover paint colors you have laying around instead of buying a whole new custom stain color you probably won't use more than once or twice. The best part? Staining wood with paint colors is really not as hard as you think.
Materials
Clear Mixing Glaze – Valpar makes one (here), or you can use an artist's glaze like Liquitex Professional Glazing Fluid Medium (buy on Amazon).
Leftover Wall Paint– You don't need paint if you use TintIT
Wood in need of staining
Tinting/Staining Wood with Paint Colors Tutorial
Very simple. Pick up a jar of clear mixing glaze. Valspar makes one that you can pick up at your local hardware store. But, art supply stores have even more varieties to choose from. Many artists use glazes to thin out their paints and you can use the same product to "stain" your wood any color your want. One I've used before is Liquitex glazing fluid (buy here). All you need to do is mix the glaze with any paint color you choose.
I used a 4 parts glaze to 1 part paint ratio with the Valspar glaze… but you can increase or decrease the amount until you get the desired effect. If you want it more transparent, add some more glaze. To make it more opaque and vibrant, add more paint. It's that easy. If you're using another brand it's best to follow the instructions on the bottle and adjust from there.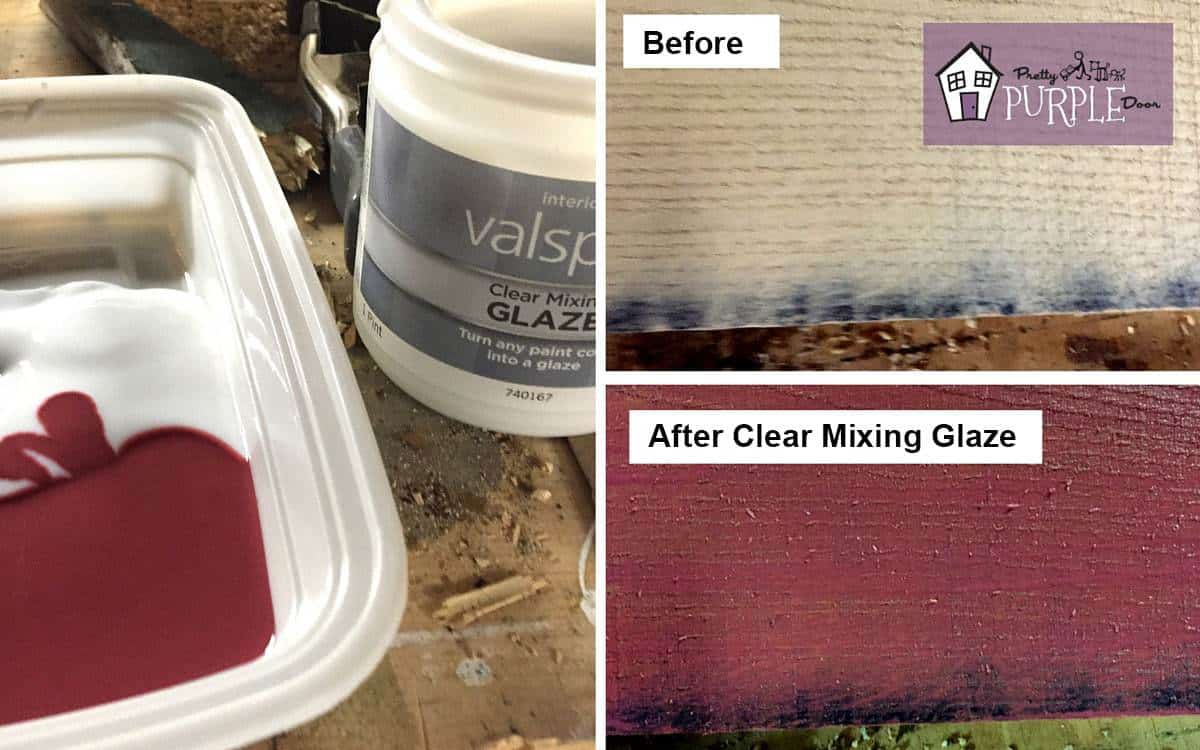 Ok. So mix your paint and glaze together until you can't see any white. I like to use a scrap piece of wood (same type of wood) to get the right consistency before I start slopping up the good piece. Use a foam brush to apply it to your wood (like you would with a stain).
That's it.
Seriously, you're done. You should be able to see the knots and grain of your wood, along with any variations in the wood color. The piece I used was from a pallet, and some of the edges had this dark char/smut on it. Call me crazy, but I liked the smut. As you can see by the photo above, I have a beautiful, vibrant red board now… but I can still see my smut through it. Happy!
Staining Wood with Paint — without clear mixing glaze
If you're reading this and you're like me… you're probably thinking… crap… I don't have that… and I don't feel like going to the store. Well that's ok because I'm going to cover a couple other options you can try to get a colored stain onto your wood.
Dilute your paint
This is pretty simple. Instead of using the clear mixing glaze, you can just dilute any acrylic-based paint with some water. Use a 1:1 ratio (one part paint, one part water). It's a great starting point, and from there you can tweak your ratio to get the desired effect. Some people like a 1:2 ratio (one part paint, two parts water) for a more translucent look. I use this technique a lot when I'm "whitewashing" boards. I personally don't think it gives the same vibrancy as the clear mixing glaze does, but if you give it a few coats of your diluted paint it will get brighter and brighter.
However, if you want to dilute oil based paint you can't use water to dilute it. Instead, use mineral spirits to thin your oil based paint.
And now, you don't have to drive to the store!
Mix your paint with stain for an antiqued look
This is actually a really cool effect. Did you know that you can mix two different color stains together? Yes… you actually can. So, maybe you have two stain colors laying around that would make your wood the perfect color?
If not… did you know that you can mix PAINT with stain? Sure you can! Just make sure that if you are using an water-based paint that you use a water-based stain. If your stain is oil-based you'll have to use an oil-based paint so that they will mix together.
Mixing paint and stain is a straightforward process; the more paint in the stain, the more opaque it will appear when applied to the project. I'd recommend the good old 1:1 ratio to start. Stir them together with a stir stick until thoroughly blended and rub onto your wood.
Now, if your paint is not diluted (other than with the stain) it's likely to cover up that awesome wood grain. But it will have a pretty cool antiqued look to it anyway. Try it out on a scrap piece and see what you think before doing it on your good piece.
You can also dilute your paint first, THEN mix it with the stain. This will give you more of a translucent effect so you can see the wood grain. Pretty cool stuff!
Just remember that you cannot mix oil based and water based paints and stains together! If you are using water-based (acrylic) stain, you will need to also use acrylic paint that is diluted with water. If you are using oil-based stain you will need to mix it with oil-based paint that's diluted with mineral spirits.
Staining Wood with Transparent Dye
Ok, so I do apologize, but you may have to go out and buy this one. But it's SUPER cool so I had to share it with you. It's a multi-use transparent dye that comes in a can (like spray paint). The one I've used before is called TintIT by Design Master.
It comes in a variety of unique, vibrant colors like Strawberry, Mango, Sepia, Plum, Sunflower, Pinkolicious (lol), Sapphire, Chartreuse, Jade, and Gold Shimmer. You'll have to take a trip to the craft store for this one. I haven't seen it any hardware stores (yet). But Michael's, ACMoore, Hobby Lobby, JoAnn's, and similar craft stores will likely carry it. I've even seen a limited selection of colors at Walmart (again, craft aisle, not the paint/stain aisle).
I have JADE at home and I love it. You can spray it on very lightly, and smear it. Or even layer it next to or on top of another TintIT color. The more layers you put, the more vibrant the color gets. It can get really vibrant like this frame below that I'm working on.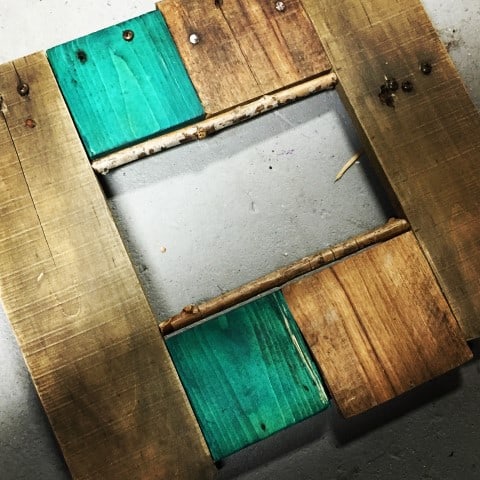 Wrapping Up
Now you know that staining wood with a paint color is super easy. My recommended method is to mix the clear mixing glaze with your leftover paint from your last home project. Follow the directions on the mixing glaze container for the proper ratios (I like 4 parts glaze to 1 part paint).
If you don't have clear mixing glaze and you're too broke, tired, or lazy to go out and buy some, you can mix your desired paint color with an equal amount of water. This will dilute your paint so it will go on more like a stain.
Another option is to mix your diluted paint with stain you already have. This will obviously change the color of your paint, and if you don't dilute the paint with water first, it will give you a pretty opaque finish. Make sure that you use acrylic stain with acrylic paint. Or use oil stain with oil paint. Dilute acrylic paint with water and dilute acrylic stain with mineral spirits.
Another really cool option for staining wood with vibrant colors is to grab some TintIT at the craft store. This is a multi-use transparent dye that comes in a can like spray paint. They have a handful of really nice colors to choose from.
I'd recommend testing any of these techniques on a scrap piece of wood first to make sure you like it. I've ruined many a project in my day trying to rush this type of thing. So, learn from my mistakes.
What do you think? Have you ever purchased a colored stain? Have you tried staining wood using a paint color you already have? How did it turn out? I'd love to hear what you think so comment below!
More Posts Like This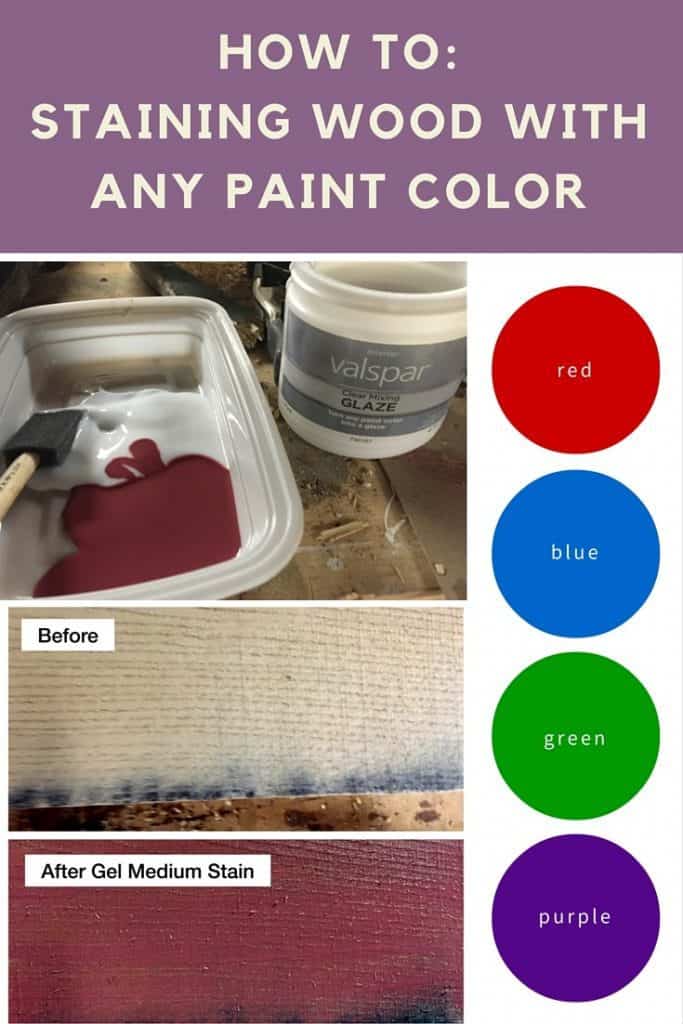 What Blooms with What?
Never know what to plant together? Find out with this FREE Plant Pairing Guide and become a pro at combining plants for the best garden design possible!
Amy is the founder of Pretty Purple Door and has been a garden designer since 2014 and graphic designer since 2005. She helps home gardeners design their own beautiful landscapes that are colorful in all four seasons, show off your personality and suit your lifestyle. Amy's work has been featured in publications like The Spruce, Family Handyman, Buzzfeed, Country Living Magazine and more. Read full bio.