Please note: I may earn commissions from qualifying purchases if you shop through links on this page. More info.
How to Stake Tall Flowers In Your Garden For a Natural Look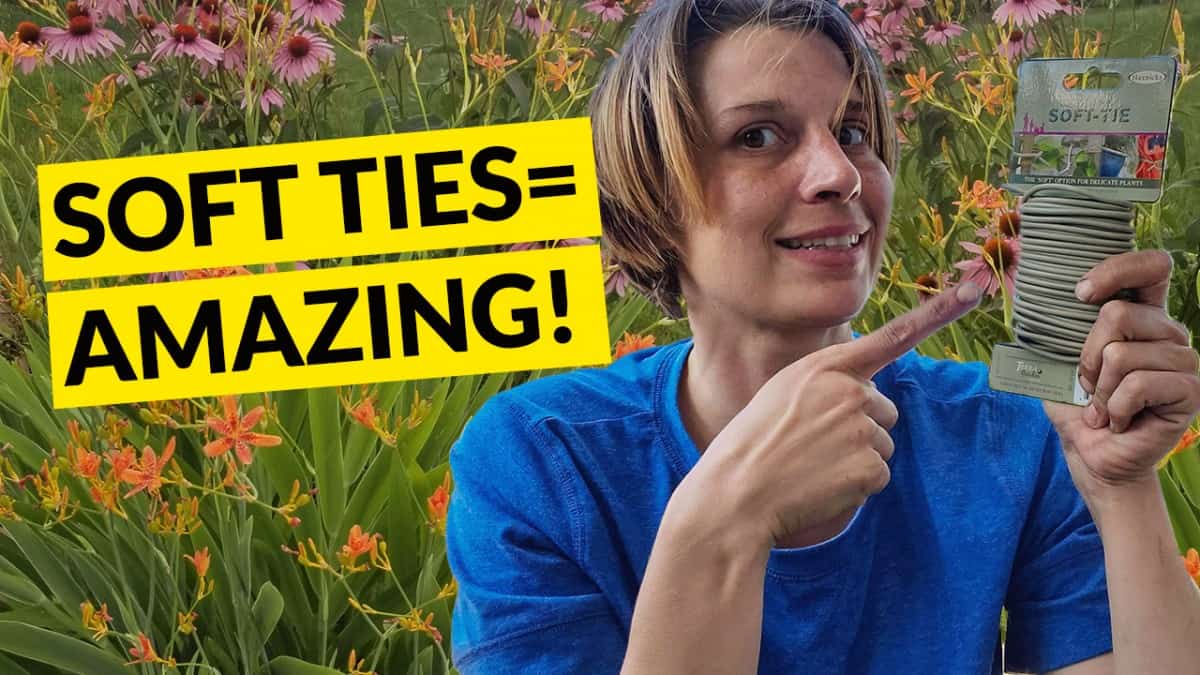 Have beautiful perennial plants or tall flowers that are flopping or falling over in your garden? Forget about those metal hoops and cages that ruin the look of your garden beds.
Instead, use slim soft ties to hold up your flowers quickly and easily, They look so natural that no one will even know that your flowers are getting a little extra help with staking.
How to tie up flowers with soft ties
This method works great if you have a large grouping of tall plants like lilies, irises or coneflowers that are all beginning to tip over.
Use scissors or shears to cut a piece of your soft tie wire off of the roll.
If possible, find an "anchor" of upright flowers near the ones that need staking. Wrap the soft tie around this small bunch/grouping of flowers that are standing upright. Twist the soft tie like a bread twisty-tie to secure the bundle.

This works best for perennial groupings rather than singular delicate flowers. In the video below I am staking a large mass of blackberry lilies. While this step is ideal, if you don't have any upright flowers nearby, skip to the next step.

Grab a small bunch of flowers that are falling down. Wrap a soft tie around this group. Now you should have two bunches of foliage that are grouped together.

If you didn't have any upright groups to tie from the previous step, just wrap another small bundle that needs staking so you have two bunches.

Use a small piece of soft tie to connect the two bunches together. Loop the small piece of wire around the wires holding your bunches together (see video below for more detail),
Continue bunching together small groups.
Use smaller pieces of soft-tie to weave all of the bunches together until you can get the entire grouping to stand upright.
If your bunches are still falling over, insert a metal or wooden stake through the center of the bunches to keep your plant(s) upright. Make sure that you loop the stake through some of the soft ties. This will ensure that the bundles stay upright.
Watch the video below because it's way easier for me to show you this than explain it 🙂
Soft ties are the solution to tie up delicate flowers
These little ties are the solution to keeping the stems of your plants and flowers from breaking! They're great for tying trees, supporting climbing roses and heavy branches and for training fruit.
The inner core of the Soft-Tie is sturdy but flexible galvanized steel wire, making it incredibly strong. With a coating made of UV-stabilized rubber, the tie can be easily cut with a pair of scissors and secured with a quick twist.
What Blooms with What?
Never know what to plant together? Find out with this FREE Plant Pairing Guide and become a pro at combining plants for the best garden design possible!
The light green color of these soft ties is what I love the most. It keeps your garden looking beautiful because the ties blend seamlessly into the foliage of the flowers or plants you're tying up.  
These soft ties last a long time and they're easy to cut and bend. The best part is that they're reusable. Similar to twist ties, these retain their shape and can be used over and over again.
So versatile & easy, after you try these slim soft ties, you'll wonder how you lived without them! The bendable design makes these a must-have for any home gardener looking for a way to stake beautiful flowers without hoops and cages.
More Gardening Posts You'll Love
What Blooms with What?
Never know what to plant together? Find out with this FREE Plant Pairing Guide and become a pro at combining plants for the best garden design possible!
Amy is the founder of Pretty Purple Door and has been a garden designer since 2014 and graphic designer since 2005. She helps home gardeners design their own beautiful landscapes that are colorful in all four seasons, show off your personality and suit your lifestyle. Amy's work has been featured in publications like The Spruce, Family Handyman, Buzzfeed, Country Living Magazine and more. Read full bio.