Please note: I may earn commissions from qualifying purchases if you shop through links on this page. More info.
Stone Edging as a Landscape Border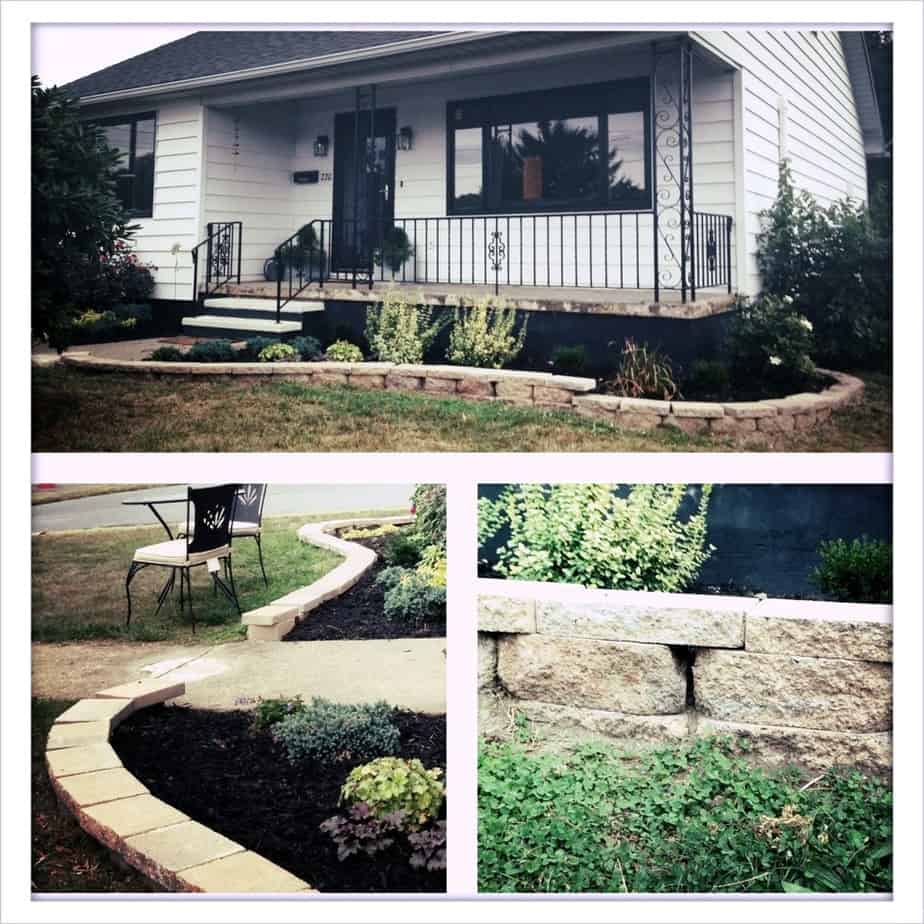 Boosting curb appeal takes only a weekend or two with this great DIY stone edging solution for your landscape border.
What's the purpose of stone edging, or any garden edging?
The main purpose of adding edging to your landscape or garden borders is to make it look nice and add some curb appeal. But there are other reasons, too! Here are some other reasons you may consider garden edging:
make it easier to cut your grass – less trim work
keep your grass, soil, and mulch in place
accentuate parts of your garden so they stand out
define the shape and form of the landscape you've created
keep your dog, kids, neighbors, or mailman (this is big for me!) from trampling your garden
Landscape Edging Materials
Well, really this is a personal choice. There are lots of options available for edging… some are conventional, and some are really wild! A couple ideas for your edging include:
stone edging/paver border (obviously I would mention this, because it's what I used!)
stone edging using actual stones you find
concrete curb edging
flexible rubber edging
brick edging
wood edging
glass bottle edging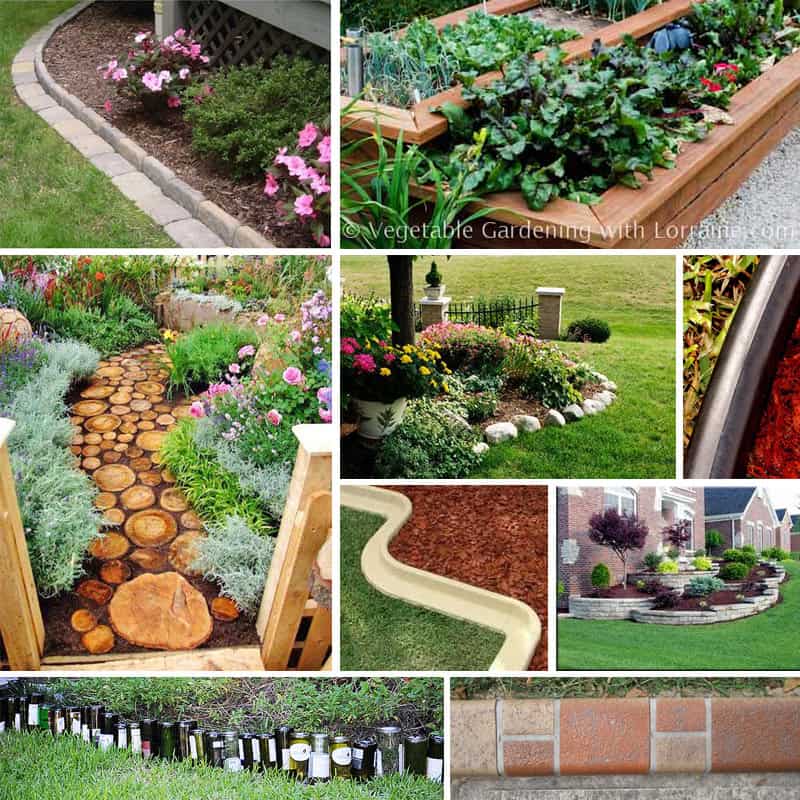 Not only are there many materials available for edging, but once you decide on your material there are MORE options. Decisions, Decisions! If you choose to work with stone edging like I did, you'll then need to decide:
the shape of the stone
the color of the stone
the size of the stone
How high will you stack the stone edging?
Will you use a brick like pattern, or something more organic and flowing?
Do you want to use various sized stones, or do you want the stone edging to look uniform?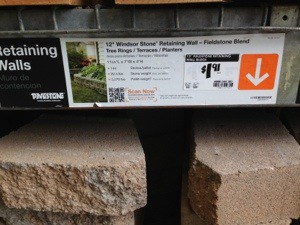 I chose a basic stone edging from the big box store for less than $2/each. The stones are multicolored and shaped like a trapezoid (who said you'd never use geometry in real-life)!
Because of the tapered shape of the stone, I was able to turn them so they would create a curve. It's more difficult to do this with straight bricks.
Tools & materials for stone paver edging project
I needed quite a few materials for my stone edging project:
A garden hose, rope or string, to map out the lines of the garden bed
Levels! I used a 3′ level, a smaller 8″ box level, and also line levels for this project
Pick axe, hoe, or a dog — you need something to dig into your soil.
Stone edging material — and the caps that go with the stone edging (if you like the look of mine)
Hammer and/or wooden mallet
Paver Base (enough for a 2″ base in the trench you dig for your edgers)
Paver Sand (enough to make a 1" layer on top of the paver base)
Garden Gloves
Tamper (buy on Amazon)
Chisel — in case you need to make cuts to the stone edging (I like this 3 piece set)
How to Install Your Stone Edging Border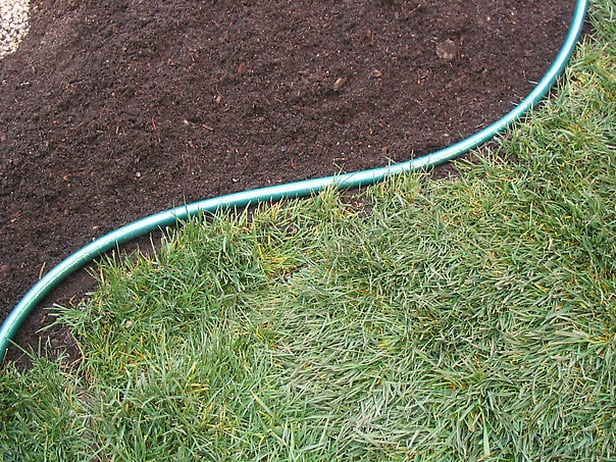 Prepare the Area
Mark out the perimeter of the area where you want your stone edging to go using a garden hose—it's flexible and easy to adjust while you're visualizing the edge of your planting bed.
Make sure that you step back to the street to see if the lines look right. I changed my curve a million times… partly because I'm obsessive-compulsive, and partly because my sidewalk curves too, and I wanted to make it look just right. Using the hose gives you great flexibility (haha).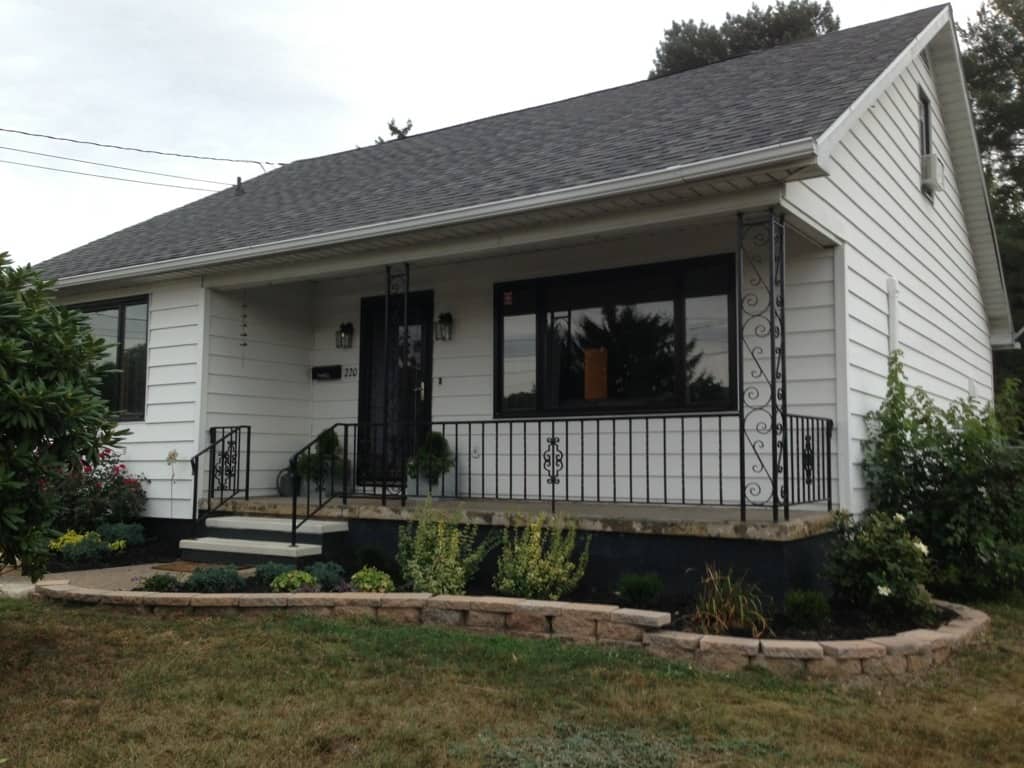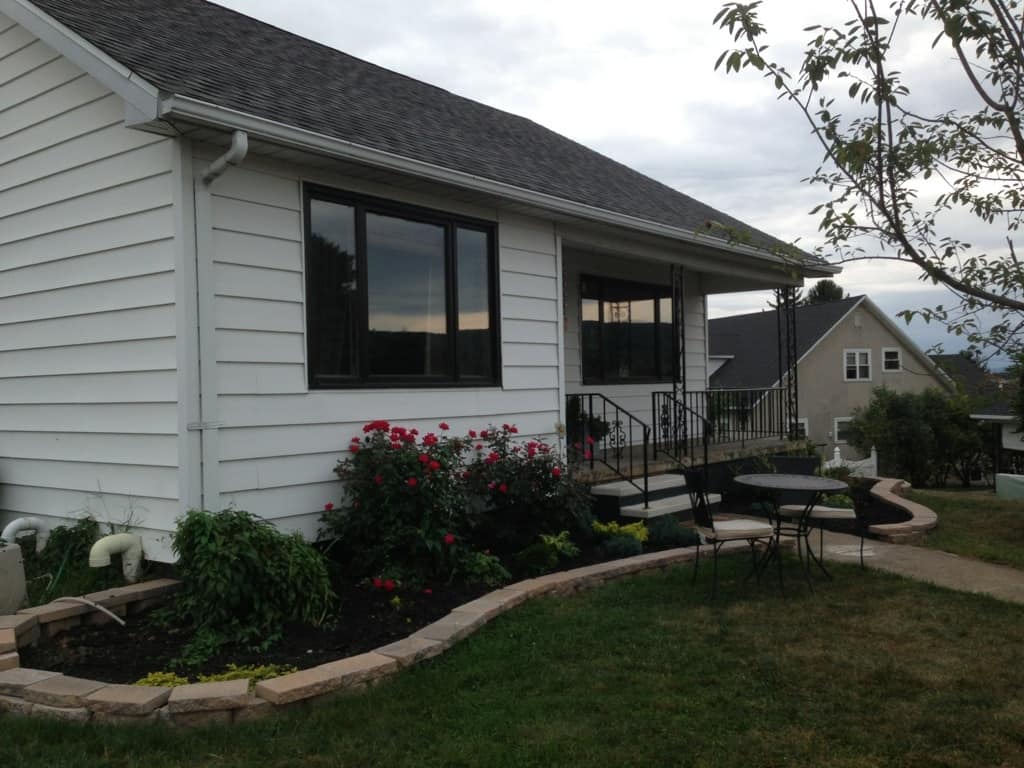 Level the Area & Dig Where Needed
The process of leveling the earth is the most time consuming part of the process. Ideally, you can set up stakes and a level line to determine the lowest and highest points of your yard. Once you know where the ground is the lowest, you can start digging everywhere else to level it with that point.
Dig a trench that's wider than your chosen stone edging. Then you'll need to dig out so that the ground is 3″ below the lowest spot along your path. This will give you room to lay the paver base and the sand and have the edging flush with the ground. This may require quite a bit of digging in some areas.
Once your trench area is level, you'll add 2″ of paver base into the trench and tamp down with a tamper. You'll want to check for level as you do this.
Next, you'll add 1″ of paver sand above the base level. I just leveled this by eye and as I added my pavers I leveled each block with the one beside it. Don't forget to check that the block is level left to right and front to back too.
Just a note that many people will not use the paver base when creating edging. It's really up to you if you want to use it. Because your garden edge won't be walked on, the sand is probably fine to use alone. But… I like to build things to last a long time so I don't take many shortcuts in my prepwork.
Tips for leveling
I myself found it quite difficult to actually level everything at once. I seemed to have better luck going by a basic plumb line, and leveling each brick individually, and with the one next to it. Make sure you check the paver for level:
side to side
front to back
level with one beside it
Set the level on top and use the mallet to tap a corner down, or the sand to lift a corner up. You need to get it completely level in all directions. This took me a long time. I often started over, poured a little more sand, and readjusted. Every brick or two I took a step back to make sure it looked right to my eye (that's the most important part!).\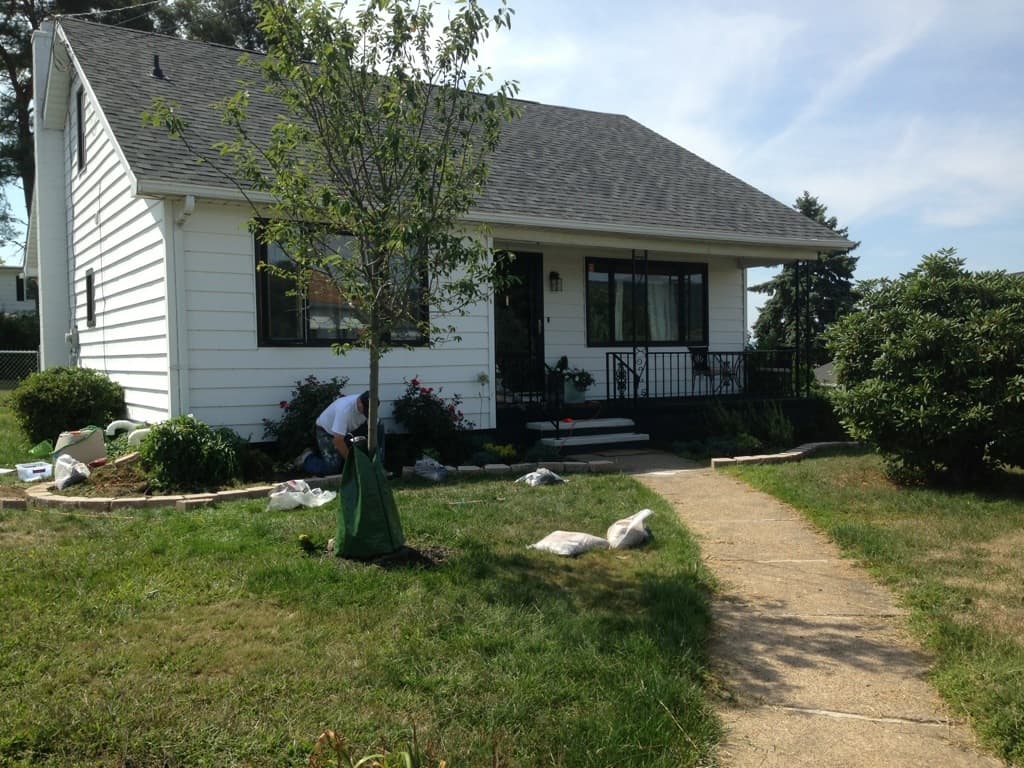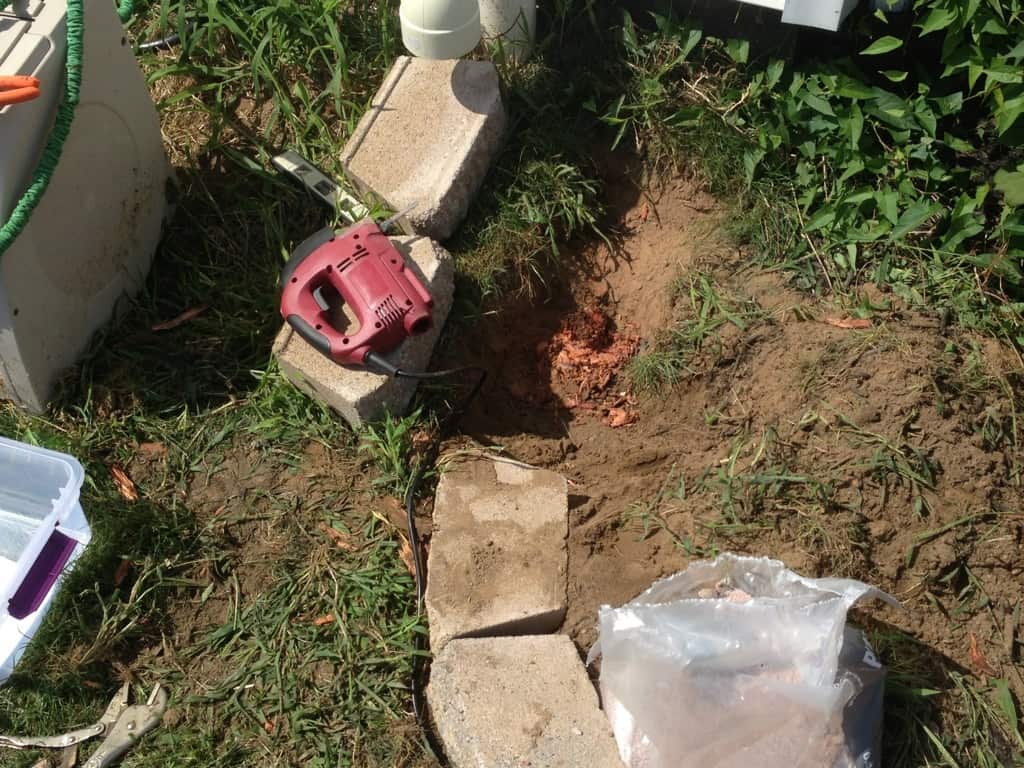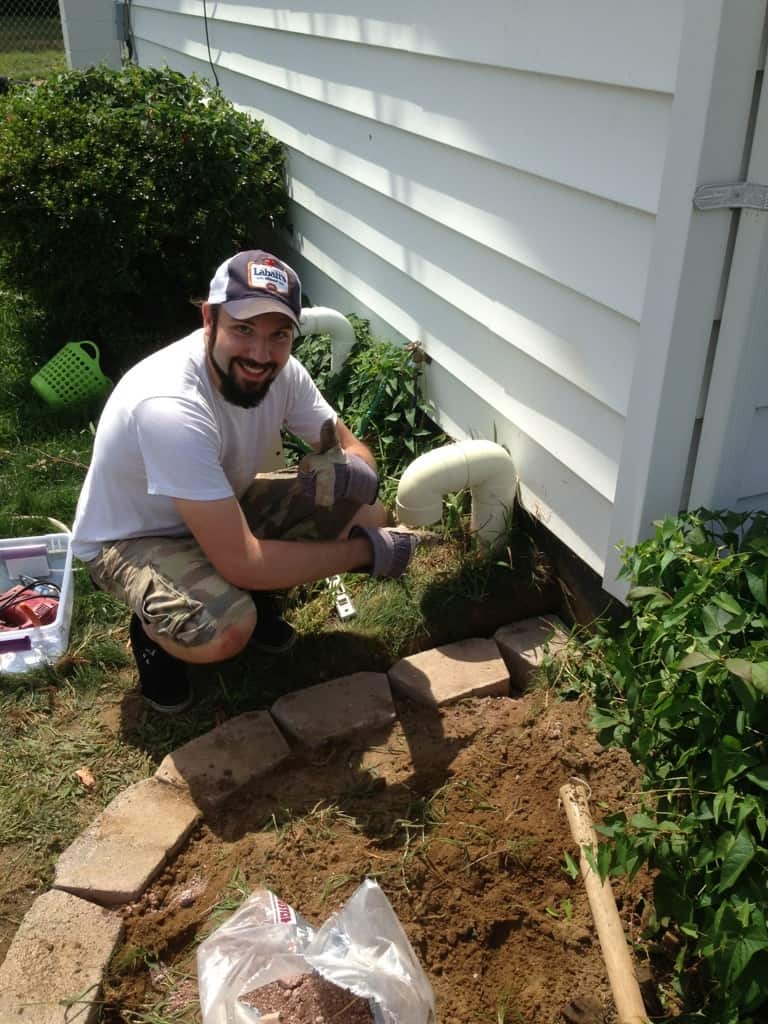 Follow the manufacturer's directions for cutting your edgers if necessary. Most can be separated into smaller chunks with a small chisel.
Add the tiers and caps
If your yard is not completely level, you may want to tier the stone edging wall up and down. This adds a lot of cool visual interest and it's really easy to just stack the bricks on top of each other to create the effect.
Depending on how you created your wall (straight or curved) the caps may need to be cut. I go over how to do this in detail in this post!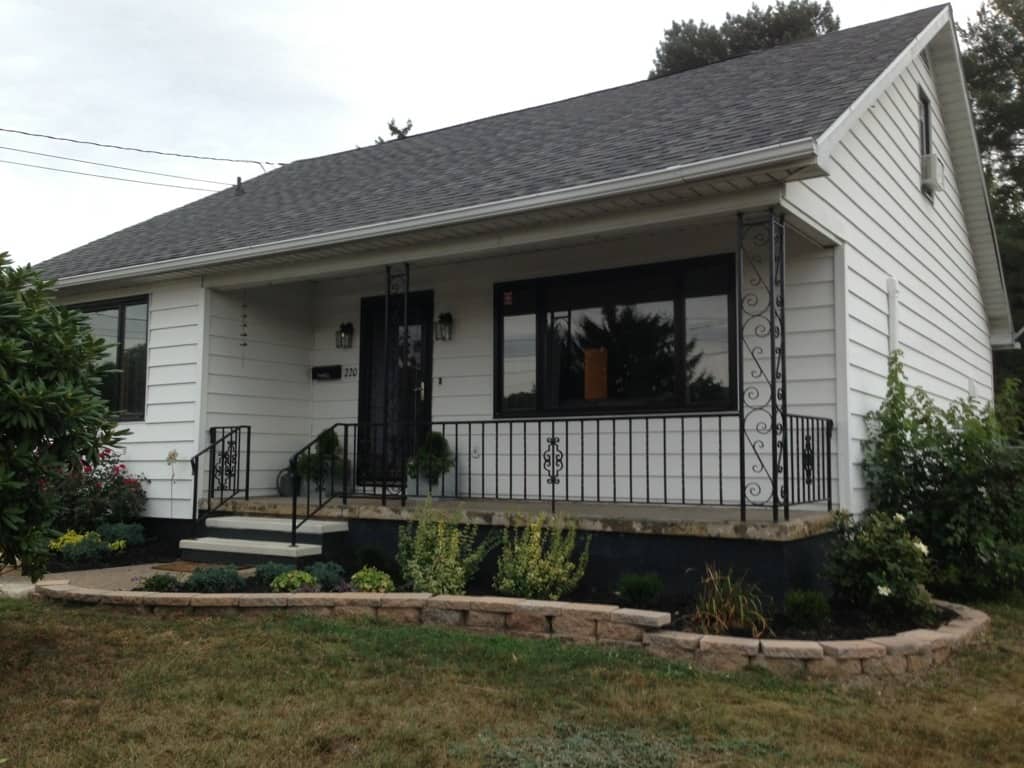 Finish the Job. Fill the empty areas of the trench with soil or some other stabilization material like mulch or gravel.
Now stand back and admire your work! Installing decorative stone, cement, or paver edging around your planting beds will not only keep your grass and mulch in place, but also give your beds a stand-out, tidy look. This little bit of sweat equity rewards you with instant curb appeal!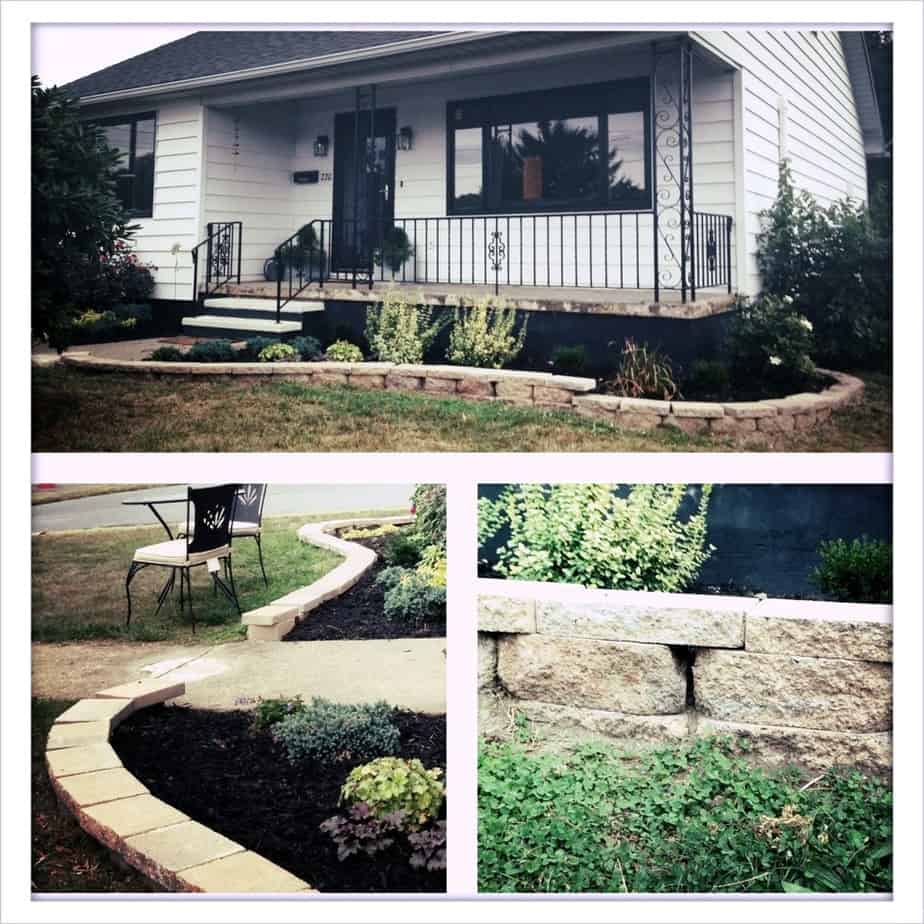 So pretty! Except for the front porch, which I randomly ripped the carpet from the other day. The projects never end. Just for some more laughs, before I even finished the stone caps, I started a whole new raised bed in the backyard! It's going to look so great when it's done.
Wrapping Up
I thought this was a really fun project and as a beginner it really did not take me long to finish and have a beautiful result. Actually getting the caps cut and installed on top of the tiered border was a bit more difficult than this part. I covered that whole process for you in this post.
If you like this project, you'll also want to check out my brick paver walkway post. I think the brick walkway looks great with this type of edging!
More Garden DIY Posts You'll Love
What Blooms with What?
Never know what to plant together? Find out with this FREE Plant Pairing Guide and become a pro at combining plants for the best garden design possible!