Call me crazy, but there's something super fun about decorating your home with ugly and terrifying Halloween decorations! But, unfortunately a lot of decorations I see are just sooooooo cheesy. I mean, come on, we can do better than that!! So, today you're in for a real treat because I've scoured the web for some awesome Halloween DIY projects that you can make this weekend!
Tastefully Horrifying Halloween DIY projects
These sunflower skulls are a surprisingly simple DIY project that you can create in less than an hour to add some Halloween spookiness to your front porch decor. You can even use this technique to make mini sunflower skull bouquets to decorate your home!
Warty pumpkins and gourds are so cool. Right? Something about the texture and the imperfections that make them desirable to buy. But… they can be expensive. A lot more expensive than a regular old pumpkin. And I have yet to see any "warty pumpkins" that are fake that you can bring out each year during the Halloween season.
So, I did some experimenting with a few different techniques and came up this with a really easy and fun way to make your own warty pumpkins. The kids can help too… they will love it.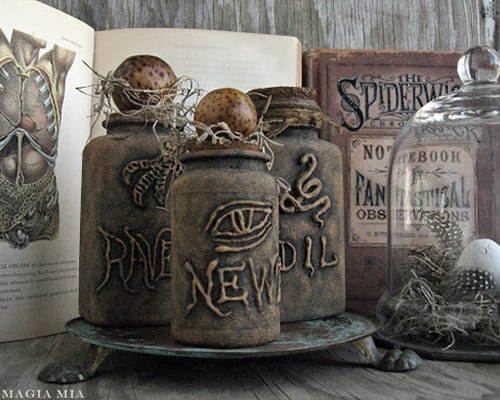 These are a perfect fit for the Witch's apothecary! Magia Mia takes old plastic medicine bottles and hot glue to make these amazing DIY potion bottles.
Use legs from a pair of white tights, some plastic spiders, and a baseball to make these beauties from Hello Paper Moon!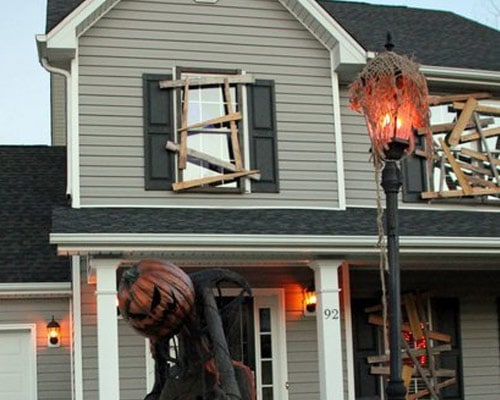 This idea is taken from a neighborhood Halloween post, but look how great these boarded up windows look? You could use some old pallets and nail them together and temporary attach to your actual window frames. Spooky.
Grab an old sheet or purchase a cheap floor runner. Using some red paint, you can create a murderous display of bloody feet entering your home. You can actually purchase this one right on Amazon.
Have dogs? How about some bloody pawprints too?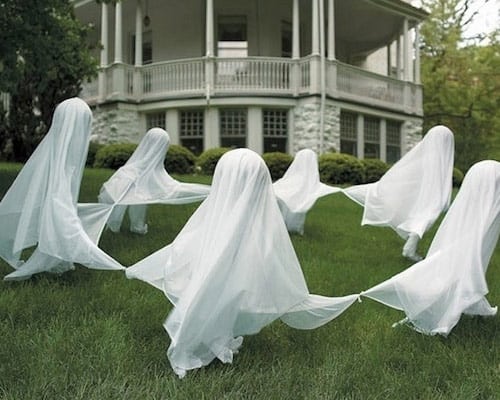 Make a ring-around-the-rosie scene of lawn ghosts! All you need to do is poke a Styrofoam ball through the top of a fence stake or dowel, stick it in the ground and cover with white fabric or cheesecloth. I love this because it has great visual impact, but it's easy to store away after the season!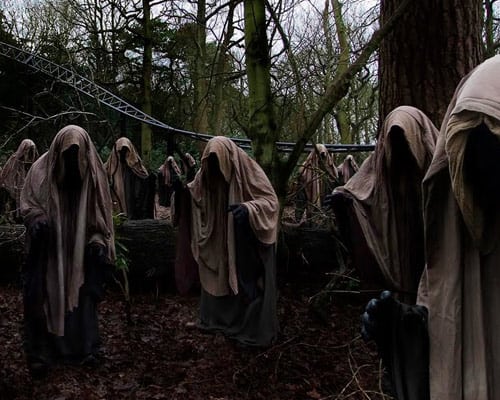 Have some old Halloween costumes lying around? Why not use them as decorations?  Drape your old costume over a simple wooden stand (if it were me, I'd make a wood base, then use a 4×4 about 6′ tall, and screw a board into the 4×4 perpendicular around shoulder-height.  If you don't have old costumes, you can still make these particular ghouls with some black fabric and a dropcloth from the big box store.
Follow my Halloween DIY Pinterest Board
Looking for more great ideas? Follow my DIY Halloween project Pinterest board for tasteful, classy, and super over-the-top spooky projects you can make for Halloween!
Wrapping Up
I love Halloween and I wish that I wasn't old so that it wouldn't be creepy for me to go trick-or-treating. But, these awesome Halloween DIY Projects are a great way for anyone to get into the fun, Halloween spirit. Don't forget to buy some candy because after you're done making all these projects you'll need it. For all your trick-or-treaters… not for you!!!!
What are some other DIY Halloween projects you've made? I'd love to see your pictures and ideas!
More DIY Posts For You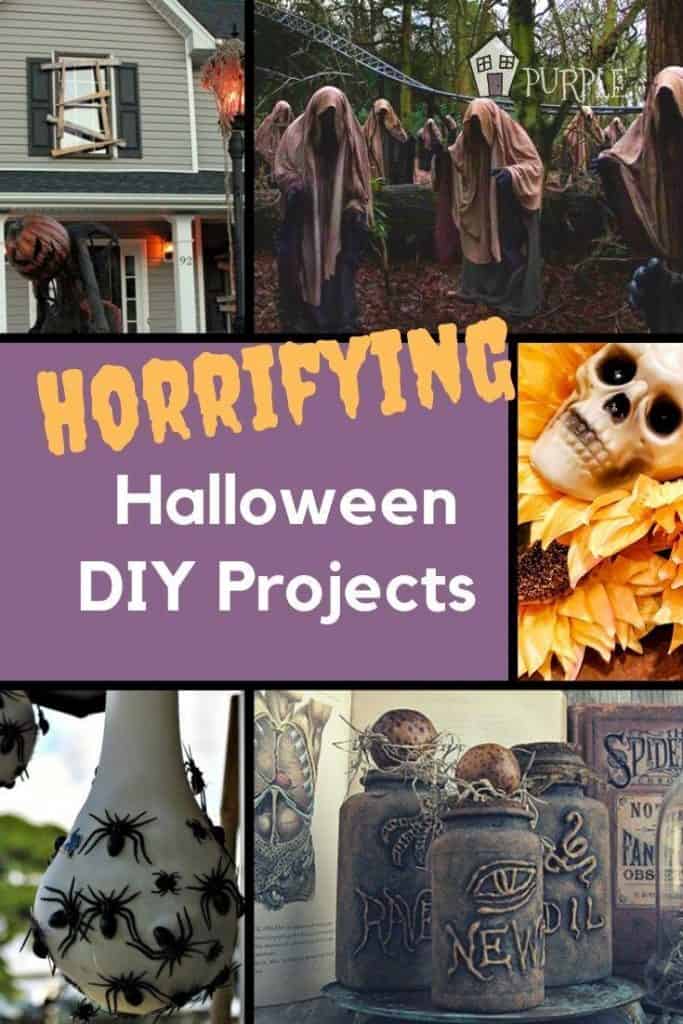 Don't Forget To Pin This Post For Later!