I like to think of classic vines and groundcovers as the icing on the cake when it comes to creating a beautiful 4-season, layered landscape. Often the most overlooked "layer", an underplanting of classic groundcovers and vines add a finishing touch to your garden by weaving and linking all of the other elements together into a cohesive design.
There's no denying when the star of the garden is the plants at foot level… and this is how you know you've done underplanting the right way. Pictured above: "Black Scallop" Ajuga (Bugleweed)
Underplanting classic groundcovers and vines in your landscape
Vines are often an overlooked element in many gardens, but they can provide a finishing touch by linking your garden layers together.
While most of us think of vines climbing lampposts and fences, another effective way to use them is by weaving them into your garden beds! Yes— you can train your vines to grow over your shrubs and into your trees! (Shop for vines online)
By doing this, you can extend the bloom season of both the vine and the tree/shrub you train them on.
Plant summer blooming vines among your spring blooming shrubs. Or try planting two vines with different
bloom seasons on the same fence!
Groundcovers are low-growing or low-spreading plants that spread in masses a foot or so tall. Just like vines, classic groundcovers can help to unify your garden design. As an added bonus, many groundcovers are can adorn your garden with pretty foliage, flowers and even berries. (Shop low-growing groundcovers)
Ground covers also have several benefits for your garden. They can help to smother weeds and keep your plants shady and cool. Classic groundcovers also help your plants to retain water so they don't dry out as quickly.
Just a friendly warning to choose your groundcovers and vines wisely. Choose only the classics as many varieties can be aggressive and choke out your other plantings. Aggressive varieties require regular corrective weeding to keep them in check… and ain't nobody got time for that!
Quick Tip: Read my post on landscape layering if you want to learn more about how to design a garden with interest in all 4 seasons of the year!
Classic Vines for your garden
I'm always very wary of vines for your garden. Although they climb and make a beautiful accent, some vines can be very aggressive. I've had vines takeover my landscape choking out my bulbs, perennials and even some smaller shrubs! So, use vines with caution. I will only recommend options that are not very aggressive.
Clematis (vine)
The vines I trust the most are clematis. There are many, many varieties that bloom in all different seasons in all different colors. If you're looking for a beautiful climbing vine that's non-invasive and non-aggressive vine, the best choice is clematis.
Clematis are beautiful and non-aggressive climbing vines that come in so many different sizes, shapes and colors. The different varieties do well in different situations, and climb to different heights.
Learn how to care for clematis here.
Here are some clematis varieties to try:
Clematis 'General Sikorski'
The large flowered 'General Sikorski' adds dramatic color to the garden in late spring and again in early fall. Dark lavender (almost blue) flowers are semi–double blooms during its spring bloom and single during the fall bloom period. Blooms on old and new wood.
Clematis 'Jackmanii Superba'
The rich purple, 5" flowers of the popular clematis 'Jackmanii' fade from deep to light purple as they age and bloom profusely midsummer through fall! Jackmanii blooms on new wood so prune back to 24″ or so in late winter or early spring before new growth sprouts.
Clematis 'Blue Explosion'
Blue Explosion blooms with an explosion of 5″ semi-double purple-blue flowers trimmed with pink tips. Lavender single flowers follow. Blooms May-June and again July-September. Prune dead stem tips only in early spring as it blooms on old wood.
Clematis 'Mrs. N. Thompson'
Mrs. N. Thompson is a lively clematis climbing vine that will cover up an old fence or dress up a bare lamp post extremely well. Bicolor spiky blooms that resemble a passion flower. Mrs. N. Thompson blooms on both new and old wood so only prune her after blooms have spent.
Clematis 'Kardynal Wyszyneski'
An award-winning clematis, Kardynal Wyszyneski is a free-flowering vine with 6-8″ glowing crimson pink flowers highlighted by a centeral cluster of dark anthers. It blooms in June-July and puts on a second show in the fall. Kardynal Wyszyneski blooms on new wood so prune in early spring just above where you see swelling buds.
Clematis 'Beautiful Bride'
Beautiful Bride gets her name because this vine resembles a wedding gown. This is one of the few clematis vines that will bloom all the way to the ground with enormous white blooms that can reach 10″ across! It blooms in early summer and again with a smaller show in late summer. Beautiful Bride blooms best on old wood so only lightly prune unhealthy stems in spring.
Zones 3-9 | 36-72″ W x 10-12′ H | hardiness zones and size vary by variety!
The best classic groundcovers for your garden
Phlox (groundcover)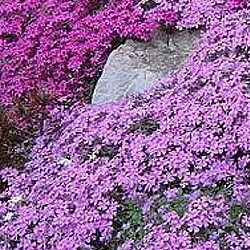 Deer avoid it. Butterflies and hummingbirds can't stay away! This classic groundcover comes in a variety of colors to make a pretty garden carpet. Just plant phlox and it grows and grows and grows. It looks great cascading over stones or the edges of a stone border.
Sedum (groundcover)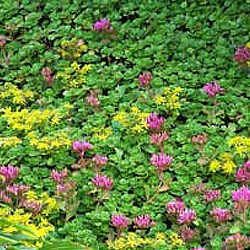 Sedum is a classic groundcover that comes in many sizes and varieties. 'Autumn Joy' and 'Angelina' are good varieties to look for. Sedum is really easy to grow and one of the most drought-tolerant and classic groundcovers available.
Zones 4-11 | 18-24″ W(spreading) x 3-24″ H
Creeping Jenny (groundcover)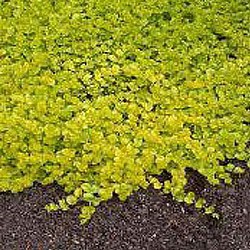 Creeping Jenny (aka Moneywort) is a another of the common, classic groundcovers I recommend. Its chartreuse color offers great color contrast to other plants and flowers. A vigorous trailer, Creeping Jenny works well for shady spots in your landscape and ALSO thrives in sunny locations. Use some for your hanging baskets for a great "spill" feature.
Zones 3-8 | 6″ H (vigorous spreader/trailer)
Ornamental Grasses
You're in for a treat — a bonus layer beyond perennial plants and flowers are ornamental grasses. Ornamental grasses deliver a lot of bang for the buck. They introduce exciting textures to the garden, along with movement and even sound as they rustle in the breeze. You can count on these beautiful, low-maintenance grasses to add interest to your landscape all year long.
Fescue 'Elijah Blue'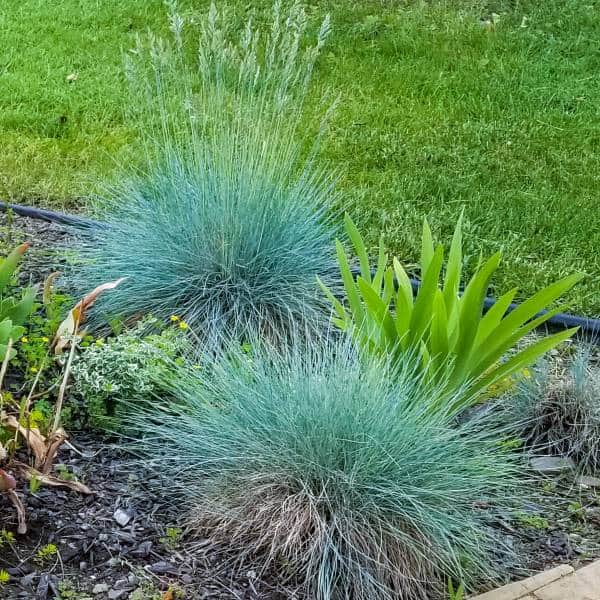 Elijah Blue Fescue is one of the most popular, no fuss ornamental grasses. The low growing blue-green clumps form in tight mounds making them great for border plantings and adding texture.
Purchase Elijah Blue fescue grass here
Zones 4-9 | 6-12″ W x 6-12″ H | Full Sun
Feather reed grass 'Karl Foerster'
A slight breeze will put the 5′ tall, feathery "blooms" in motion adding life to any landscape. Because of its strong vertical growth habit Feather Reed grass maintains its posture even in heavy rain or snow. Deer resistant.
Purchase Karl Foerster Feather Reed today.
Zones 4-9 | 2-3′ W (clumps) x 3-5' H | Full Sun
Striped tuber oat grass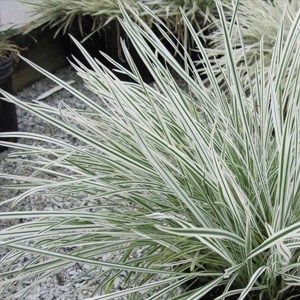 One of the brightest ornamental grasses, Striped Tuber Oat Grass is a shade tolerant grass that spreads slowly. Each little blade has white borders with a thin, dark-green line running down the center. As it grows, leaves look nearly white.
Zones 4-9 | 2′ W (clumps) x 2′ H | Shade
Wrapping Up
Classic groundcovers and vines tend to be one of the most underutilized categories when garden planning. But using classic groundcovers and perennial vines in the right way can make your 4-season layered landscape look lush and cohesive.
Vines can be planted within flowering trees and shrubs to extend bloom seasons, while classic groundcovers can be used to smother weeds and cool the soil beneath your other plantings. Not to mention both can adorn your garden with pretty flowers, foliage and even berries! Beware of aggressive varieties of vines and groundcovers, though, as they can easily take over your garden and choke out your other plants.
Remember: Anyone can put tall plants in the back and short plants in the front, but with the use of vines and classic groundcovers you can take your landscape from good to AMAZING.
Read my landscape layering post to learn more about how to create an effective landscape. It will show you how to incorporate trees, shrubs, plants, flowers, vines and classic groundcovers into your garden for 4-season interest.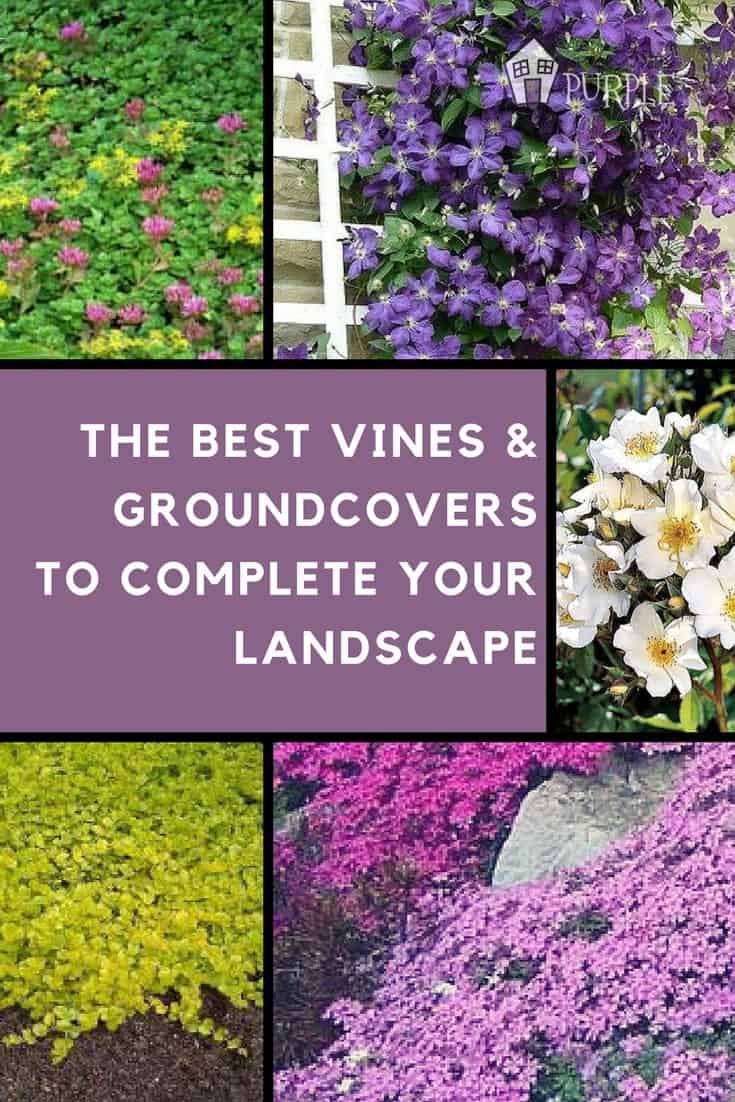 Keep Reading…
In my perennial garden plan, I'll go over landscape layering and give you some suggestions for each of the 5 layers:
Layer 1: Ornamental Trees
Layer 2: Evergreen Shrubs
Layer 3: Perennial Deciduous Shrubs
Layer 4: Perennial plants and flowers
Layer 5: Groundcovers, Vines and Grasses
More Gardening Posts For You!