My style has changed a lot over the years and this laminate media stand is one of the few modern (and low-end) pieces I have left. Well… apparently I have expensive taste because every media stand I found that I like costs a damn fortune. So, for now I decided to just do a quick makeover of the piece by swapping out the doors for more rustic ones that fit with the style of other pieces in my living room.
It always surprises me how some of my favorite DIY projects are the cheapest and easiest to complete! That definitely holds true for this super simple rustic makeover of my old laminate entertainment stand / media center — can you believe this makeover only cost about $12!!!??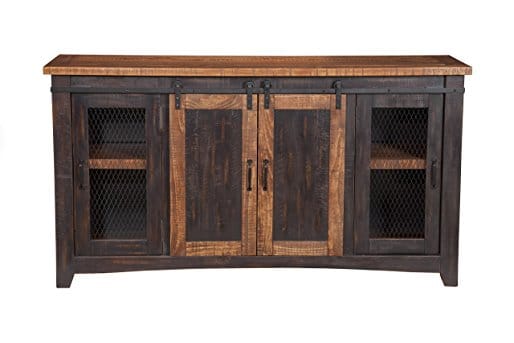 Tools & Materials
This is what you'll need:
Rustic Media Stand Makeover
Measure existing doors
All I did here was remove the original doors from my media stand and make replacements for them. The dimensions of my doors are immaterial as I doubt you have the same stand as mine. So, just remove your doors and carefully measure the length and width.
Cut wood to length
Now, you'll need to cut your wood to make the same exact sized door as the one you removed. Easy enough, right?
Connect wood to make a door frame
This is where the Kreg Jig comes in handy, as I was able to put the pieces together and connect them using pocket hole screws from behind. To make your joints stronger, you can apply some wood glue as well. Just make sure you wipe any excess with a damp rag so that it doesn't affect the way your piece stains.
Sand, Stain/Paint, Seal
Once assembled, I sanded the frame and applied the stain (I used Minwax American Chestnut stain). Since I used a stain with polyurethane, I didn't need to seal it. If you don't use a combo stain like me, you should also seal the wood after the stain dries. Or, if you are painting the frame, simply paint it and once it dries you're done. If you are looking for some creative painting ideas, I recommend you check out my posts on making your own chalk-style paint or this really cool dresser makeover using chalk paint and dark wax. If stain is more your thing, you can check out my tutorial on how to stain wood in absolutely any color you want!
Cut, Paint & Attach Gutter Guards
Ok… now that we're done painting/staining and it's all dry, we're going to attach the gutter screen to the inside of the frame. Measure the opening and cut the gutter screens a little bit longer and wider (about 1-2″) than your measurements. I used wire snips which made this way easier. If you want to paint your screen now is the time. Using spraypaint would be my recommendation for getting this done quickly.
To attach the screen to the frame, simply staple along the screen into the frame from the back. You don't have to go crazy here… just a few staples to hold it into place should be fine.
Add Hardware
Next, attach any new hardware or take the hardware from your old doors and transfer it onto your new rustic doors. You can find rustic cabinet hardware online, in the big box stores and even in the craft stores. If you are feeling really adventurous, you can even scour flea markets and vintage stores to get some unique pulls & hinges! You can purchase the 4 drawer pulls pictured for less than $20.
Hang your new doors
After attaching the hardware you should be able to simply hang/attach your new doors to your old media stand. And… that's it — you're done!
Wrapping Up
Like I said, I love these types of projects that don't cost a ton of money, take very little time and have a big impact. Although I'll probably replace this new media stand at some point, at least for now spending $12 to update the one I have is money well spent. I've considered painting the rest of the media stand as well using some chalk paint, but I really don't think it needs it.
If you have any questions or end up using my ideas to create your own rustic media stand, I'd like to hear from you in the comments below! Thanks for reading!
More Posts Like This