Please note: I may earn commissions from qualifying purchases if you shop through links on this page. More info.
20+ Water Feature Ideas to Create a Unique Dream Garden Oasis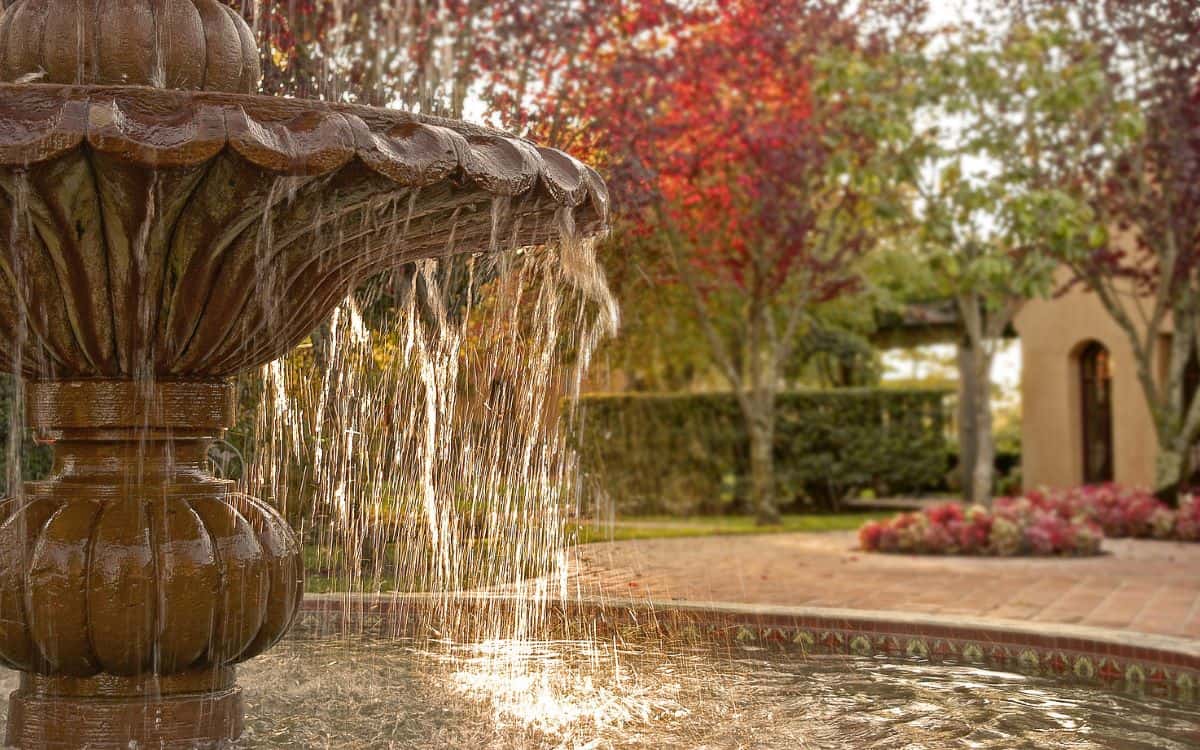 Water features can add peace and tranquility to any outdoor space. From large koi ponds to tabletop fountains, there is a water feature to suit every space and every budget! You'll be surprised how easy it is to turn an ordinary garden into a backyard oasis.
In this article, we'll explore some of the most creative water feature ideas to inspire your next outdoor project.
What type of water feature should you get?
There are so many kinds of water features to choose from. And depending on your style, budget and space, you'll have to determine which is right for you!
For example, if you want a water feature for a smaller space within a low budget, you might consider a tabletop fountain or a hanging wall fountain.
But, if you have a larger space and budget, you can install something with more impact like a koi pond or a beautiful tiered fountain.
20+ Innovative Water Feature Ideas
Here are over 20 amazing water feature ideas (for all budgets) to get your ideas flowing!
Pondless / Disappearing Fountains
"Pondless" or "disappearing" water features are perfect for smaller gardens, or anyone concerned about the dangers of water features around pets or young children.
In general, pondless/disappearing fountains are very affordable.
I actually built a DIY pondless water fountain for less than $100! It was super easy and had a huge payoff! The result was something totally unique and super tranquil. Check out my process here and try it for yourself!
There are also several other water features on this list that will give you the same "invisible pond" effect without having to DIY it.
Creek Beds / Streams
A creek bed or stream is perfect for those with an appreciation for the naturalistic garden style and a little more space to work with on their property. Creek beds are great for attracting birds and wildlife, and can also be used as a water source for nearby plants.
Other benefits include regulating water runoff, filtering pollutants, reducing flooding and erosion control.
It can be done by a seasoned DIYer on a budget or by hiring a professional. But, if you do have water issues near your home, it's always best to contact a pro. Serious foundation issues can occur if you have standing water near your foundation.
If going the DIY route, consider gathering rocks and natural materials from around your property to construct and carve out the creek bed. The sound of the running water over the randomly placed stones will be such a relaxing, natural touch.
You can also check out this article about creating a DIY french drain. A lot of the same principles can be used to make your creek bed.
If you choose to hire a professional, the installation price will depend on the size, as well as the type of rocks covering the bed and decorating the area. I've seen prices as low as $4-5 per foot for installation costs.
According to the Pond Doctor, a pondless waterfall, including a 5-foot stream, starts around $6,000. They can extend the length of the stream for $300 per additional foot.
These prices will vary quite a bit based on the complexity of your water feature and your local market. The best way to find out the cost is to compare estimates from at least three local contractors.
Koi Ponds
Koi ponds are a traditional Japanese garden feature that have completely expanded in popularity all over the world. They have become a common feature for elegant outdoor (and sometimes even indoor) spaces.
A pond filled with colorful koi and pond plants such as waterlily and lotus are a classic Zen garden vibe.
The price range is vast – it will range anywhere from $500 to tens of thousands of dollars.
For more inspiration, check out these koi ponds on AquaScapeInc.com. AquaScape creates beautiful "ecosystem ponds" that are self-sustaining with minimal maintenance. They also make the perfect home for koi.
Sculptural Fountains
A sculptural fountain usually a classical style fountain with a sculptural component. It can be made of granite, bronze, marble or cement. A sculptural fountain would be a perfect focal point for fans of the traditional style garden. There is a sculptural fountain for every budget.
Animal Fountains
For the animal lovers out there, the water feature choices are endless!
Animal fountains are made of metal, ceramic, stone, concrete, resin and sometimes other materials. There's an animal-themed fountain for every space and budget.
The entire water function system primarily hides inside the body and the water flows straight into the basin or sink.
Zen Fountains
Zen fountains are used to foster peace and positivity. If you are looking to add a peaceful and tranquil vibe to your backyard, you would benefit from an Asian-inspired Zen garden fountain.
Many Asian cultures believe that beauty lies in contrast. The fountains reflect this by featuring contrasting colors and shapes.
Zen fountains often feature a pronounced sound of running water which give a tranquil and calming atmosphere.
If you want more tips on how to turn your space into a peaceful sanctuary, take a look at my 4 tips for a peaceful garden.
Well Pump Fountains
The well pump fountain is a fountain with a non-working "pump" on it. A well pump fountain is meant to replicate real pumps used to collect water from wells in the ground.
This water feature gives more of a farm-like vibe and the water sound is truly unique.
Bird Baths
A bird bath is a basin filled with water for local birds to drink and bathe. Bird-lovers simply can't picture a garden without a bird bath.
It can be made of inexpensive, lightweight materials like plastic, or high-end and longer lasting materials like concrete or glazed pottery.
For a lower-end budget, check out this 28-inch polyresin antique style bird bath.
It's durable and easy to assemble!
For something totally unique, add a solar-powered fountain to a standard bird bath. Or, read my tutorial on creating your own solar bird bath fountain at home for under $50.
Bird baths do require some maintenance. There can sometimes be algae build-up. You also need to be sure the cleaners you use are safe for the birds (like a bird-safe pond algae cleaner).
Modern / Contemporary Fountains
Modern or contemporary fountains feature minimalistic designs with classic materials like concrete, steel, ceramic and glass.
Modern/contemporary fountains would be perfect for lovers of the modern garden style. The options are endless – there's a modern/contemporary fountain for every budget.
You can check out even more modern and contemporary fountains here.
Water Wall / Waterfall
One of the most impressive water features you can get is a waterfall or water wall. These have incredible impact in your landscaping. And, amazingly they do not need to be custom-built into your space. There are many water wall fountains available to buy online and in stores.
This waterfall/water wall fountain makes a great addition to a space with heavy noise pollution. The waterfall is very useful for blocking out unwanted sounds such as traffic or city noise. Waterfalls or water walls often attract birds and wildlife as well. A seating area near your water wall would make a perfect place to unwind in peace after a long day of work.
Some waterfalls have LED systems designed with natural elements like stones. They use an innovative water management technique to recirculate the entire system.
Hanging Wall Fountain
A hanging wall fountain is great for those who are short on space in their backyard and want to find a creative way to add a water feature. There are many variations of hanging wall fountains to suit any garden style.
Sculptural, modern, Zen and many other fountain styles can all be found in the wall hanging style.
Classical Style Fountain
Classical style fountains often feature columnar designs and are reminiscent of ancient Greek or Roman gardens. Classical fountains are known for their timeless and formal design. They look great as a focal point in a traditional style garden.
If you are a fan of bird watching, I'm sure you'd attract many with this fountain because of its shallow basin!
Tiered Fountain
Tiered fountains use layered basins to create a unique and attractive water feature. Tiered fountains can be found to suit all different styles, from naturalistic to formal. It can also be found in any size ranging from tabletop to monumental structure.
Naturalistic Fountains
Naturalistic fountains are water features meant to mimic nature. The use of natural materials such as rocks cause irregular water flow and shape, indicating that the fountain occurred naturally.
They are a beautiful option for nature-enthusiasts and fans of the naturalistic garden style.
Rustic Fountains
The rustic, farmhouse style has absolutely exploded in popularity within recent years thanks to Joanna Gaines.
This style incorporates weathered and worn-looking materials like repurposed wood and naturally rusted metals, giving the impression that they have been used and loved for many years.
This adorable well pump & barrel garden absolutely embodies the farmhouse aesthetic. This would fit in perfectly with a country cottage style garden.
Container Bubbler Fountain
The container bubbler fountain is very popular for being lightweight and portable. The location of a bubbler fountain can easily be changed without prep or planning, which is very convenient for renters or those with smaller garden spaces or patios.
Pond Spitters
You don't need to spend very much to decorate your pond. Pond spitters are among the most popular pond ornaments.
Like the name suggests, the pond spitter uses a pump to shoot a small stream of water into a pond or basin.
This keeps the water of the pond clean and carries oxygen into the pond. It would be a great addition to an outdoor pond with fish that need oxygenation.
If a spitting frog doesn't fit the vibe of your garden, here are even more unique fountain spitters that may suit your style better!
Foaming Fountain Heads
If you already have a pond in your space, then a foaming fountainhead is something to consider. The foaming fountainhead produces foamy water and gives a really extraordinary effect.
The price of a fountain head is very reasonable.
If you are considering a foaming fountainhead, here's an option from Amazon.
Tabletop Fountains
Are you looking for something to bring the outdoors in? Tabletop fountains make this totally possible!
How cool would it be to have a tranquil water feature bubbling in your living room while you enjoy a good book? Or even at the office! A tabletop fountain can really transform your space.
No matter how small your space is, it makes a perfect piece of décor.
The tabletop fountain comes in multiple sizes and styles to fit. Many tabletop fountains include a water system with a soft-glowing LED light and timer.
You can get a tabletop fountain for less than $20!
Fire + Water Fountain
Would you love to have both a fire pit and a water feature in your garden, but don't really have the space for both? You don't need to compromise! The fire + water feature is a combination of both!
Gas burners or electronic lights make the fire, and the water comes from the water source you add.
Frequently Asked Questions (FAQ)
What Are The Benefits Of Including A Water Feature In Your Landscape?
Water features and fountains offers many benefits such as:
increasing curb appeal
purifying the air
reducing noise & creating privacy
making the environment soothing
adding your personality
creating a focal point
What Size Pump Do I Need For My Water Feature?
The water pump depends on factors like size, shape and type of water feature. To learn more, check out my article about which pump size you should use.
How Much Does The Electricity Cost For A Backyard Fountain?
The electricity cost of a backyard fountain depends on multiple factors like the size of the fountain, its power and how frequently you use the fountain. To calculate the cost properly, use my tool for calculating water feature electricity costs. (Spoiler alert: it's not very much!)
Are Electric Or Solar Fountain Pumps Better?
It depends on your preference. Electric pumps are convenient because they have reliable power sources. Solar fountain pumps are eco-friendly, energy-efficient and cost-effective, but require sunlight. To learn more, I have a few articles on the topic:
How Do I Select The Right Pump With The Right Specs For My Situation?
When selecting the right pump, you should consider the following factors:
water flow rate
size of fountain/water feature
type of fountain/water feature
power source
To learn, watch my video all about fountain pump specs and how to understand what they mean.
Wrapping Up
A water feature can be a game changer for your outdoor space. It adds a sense of peace and tranquility with aesthetic appeal.
If you need help positioning your water feature in your landscape, read my article to learn how to incorporate focal points into your landscape.
Learn More About Water Features
Shop my Amazon storefront for my essential gardening books & tool recommendations!