Please note: I may earn commissions from qualifying purchases if you shop through links on this page. More info.
6 Watering Tools to Save Time & Effort in the Garden
Are you ready to take your garden watering to the next level? These amazing garden watering tools will transform the way you care for your plants and seriously streamline your watering chores. From shut off valves to quick connects to hose reels, these are time-saving garden tools to add to your watering arsenal.
Plus, learn my favorite hack for determining how much (and how long) to water your plants so they get 1″ of water per week.
Let's dive in!
Subscribe to my YouTube channel for more gardening videos!
1- Shut Off Valve – Streamline Your Watering Process
Using a shutoff valve in the garden can make watering tasks easier and prevent getting soaked by your hose when trying to switch up your tools… I know we've all been there!
The shutoff valve is a simple yet invaluable tool that will make your watering tasks a breeze. By attaching this device to your hose, you can start and stop the flow of water from your hose. Whether you're changing to a different tool or walking to another garden bed, you can turn the water off and on as needed by turning a small lever.
No more walking back and forth to the tap, and no more wasting water between plants. With a shutoff valve, you have total control at your fingertips, saving both time and our precious water resources.
Purchase the HQMPC Brass Shut Off Valve. I am a fan of this brand an use a lot of their high-quality fittings. Any solid brass shut-off valve will do the trick. I've used plastic ones before and they always leak and crack, so go with brass.
2- Quick Connect Hose Connectors – Seamless Tool Switching
Quick connect hose connectors are convenient tools for easily switching between watering tools without hassle.
Say goodbye to the tedious task of unscrewing and reattaching watering tools with the quick connect hose connectors. These nifty gadgets allow you to switch between various watering attachments with ease.
Basically, quick connects have two pieces. One screws onto your garden hose. The other piece connects to your watering tool (I like to have several of this piece). To put a watering tool onto your hose, all you have to do is pull down on the piece that connects to your hose and it "clicks" into place. Watch my video to see how it works!
No more screwing and unscrewing your sprayers! Want to go from a sprinkler to a watering wand? No problem! These connectors ensure a tight, leak-free fit, saving you time and replacement costs.
Purchase the HQMPC Brass Quick Connect. This is the brand that I use. Whatever brand you choose, just make sure you'll be able to order more of them as needed and that they are high-quality. I like to use brass fittings.
3- Watering Wands – Precise Watering, Less Strain
Watering wands have many benefits:
Precise watering: The gentle flow from the nozzle helps prevent overwatering or damaging delicate plants.
Reaching plant roots: If you wet the leaves of your plants, you can leave them vulnerable to fungal diseases like powdery mildew. A watering wand will help you water right at the ground, near the roots of your plant… without bending over!
Reaching high or distant plants: The extended length helps you water plants that are out of easy reach. It's great for potted plants, too.
Reducing strain: Using a watering wand with a long handle can reduce strain on your wrist and back while you water.
Adaptability: Most watering wands come with adjustable nozzles. This lets you adjust the stream of water pressure with a variety of spray patterns best suited for your plants.
Purchase a Dramm 30″ Watering Wand. I love the brand Dramm for watering wands, sprayers and hose nozzles. Although they are a bit more expensive than other brands, this is actually the first brand I've found that actually lasts more than one season. No more replacing! Yay!
4- Tree Watering Bags – Promoting Root Growth
Tree watering bags provide slow-release watering, promoting stronger and deeper root growth in trees.
Trees require a different approach to watering, and that's where tree watering bags like the Treegator come in handy. These ingenious bags allow the water to reach deep into the roots. Slow watering your trees encourages stronger roots and healthier growth.
Forget about constantly watering your trees and let the Treegator do the work for you!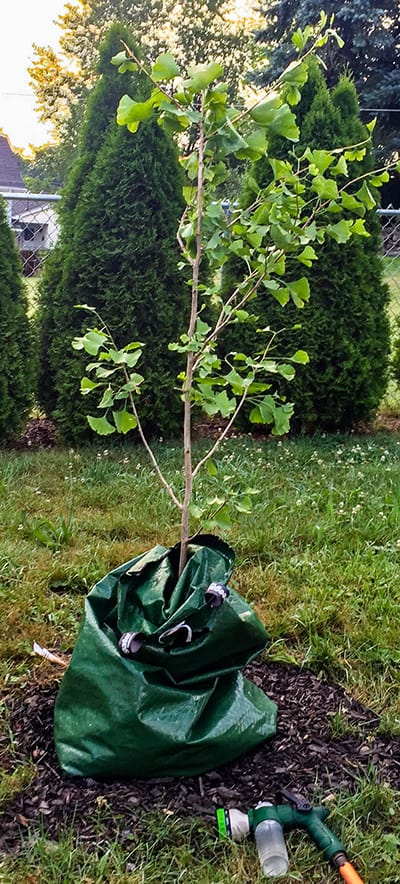 Purchase a Treegator Tree Watering Bag or a Treegator Junior. I've used many different watering bags and this is the only brand that hasn't ripped or teared by the end of the first season. They're also really easy to fold up and store for the winter!
5- Hose Retractors – Hassle-Free Hose Management
Every gardener knows that an easy-to-use and lightweight hose is a must. But hose retractors take it to the next level! They offer auto-reeling of hoses, simplifying the process of winding and storing hoses.
Tired of wrestling with tangled hoses? With an automatic reeling hose retractor, you can effortlessly wind and store your hose after use. No more messy coils or tripping hazards in your garden – just neat and tidy hose storage.
Unfortunately, they don't make the Suncast hose retractor l covered in the video anymore. But, here are some other retractable hose reel alternatives available on Amazon. I also have a Hoselink Retractable Garden Hose Reel and it's a great product.
6- Rain Gauge – Avoid Overwatering!
What if you could measure weekly rainfall? Allowing you to determine how much additional watering your plants need, without the risk of overwatering.
Enter the rain gauge!
This essential tool helps you measure the rainfall your garden received, giving you valuable insight into how much additional watering your plants need to stay perfectly hydrated.
How to Calculate Watering Time
A simple trick to measure watering time is to use my Garden Bed Watering Calculator. This will tell you how many gallons of water your garden needs per week based on its dimensions! Just enter the length & width of your garden bed and you'll know how much to water each week.
Wrapping Up
In this article, I showed you my favorite high-quality watering tools to save time and effort and revolutionize the watering process. As a bonus, check out my Flower Bed Watering Calculator helps determine how much (and how long) to water your garden beds.
And if you're looking for more awesome watering tips and tricks, you'll love my how-to posts to make a DIY-self watering planter and a DIY self-watering hanging basket (using just a 20oz. bottle with water or even a wine bottle).
More Gardening Ideas & Inspiration
What Blooms with What?
Never know what to plant together? Find out with this FREE Plant Pairing Guide and become a pro at combining plants for the best garden design possible!