Please note: I may earn commissions from qualifying purchases if you shop through links on this page. More info.
Plant Texture: for a garden you hafta touch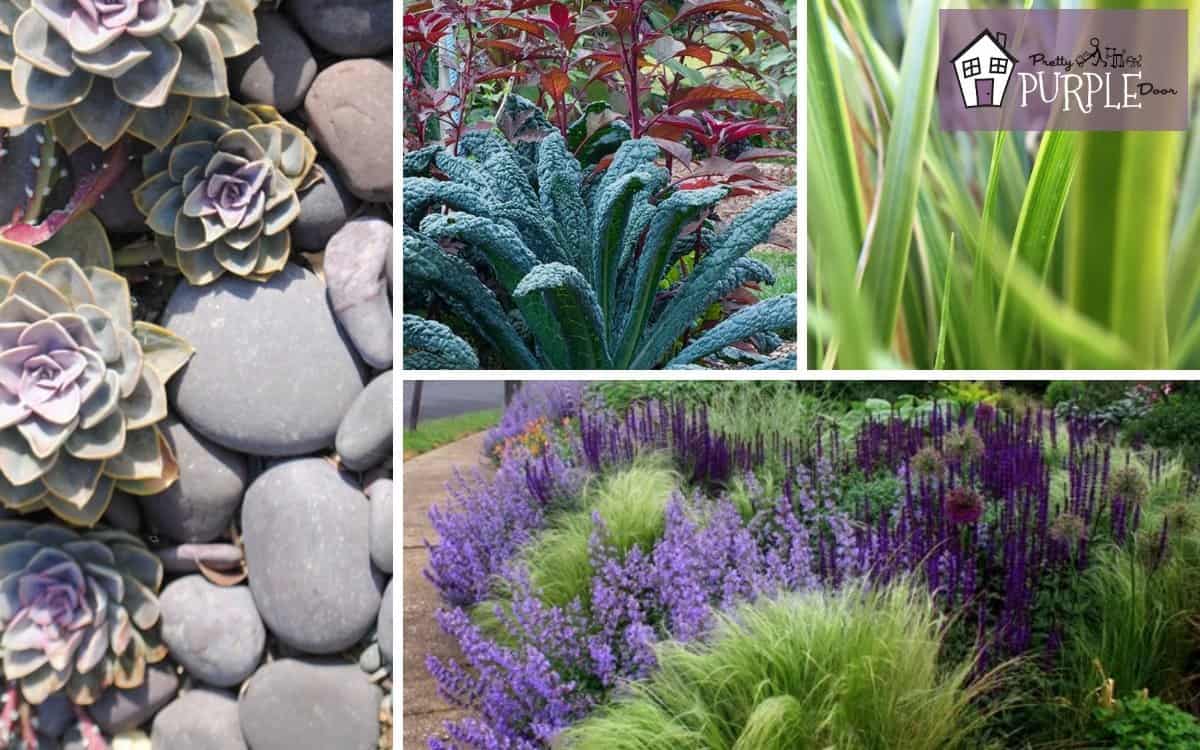 If you're looking for a subtle but powerful way to set your garden apart from the ordinary, plant texture is where it's at. It's especially important when designing a 4-season landscape.
But what exactly does it mean to use plant texture in the garden?
There are two different "levels" of texture when it comes to plants: visual and tactical.
Visual texture refers to the visual appearance of the plant, overall. For example, is the overall plant fluffy or spikey?
Tactical texture refers to the visual characteristics of parts of the plant (like the flowers, stems and leaves).
Visual Plant Texture
Visual plant texture is really the more important of the textures when it comes to actually designing your landscape. The reason that visual texture is so important is because when you are designing a garden, the way your plants interact with one another is really important. Without enough repetition and contrast of texture, color and form, your garden design doesn't work.
So what does work? Mixing up the visual texture of the plants that are near one another. The visual texture of a plant can be classified into one of three categories: coarse, medium or fine. If we use a walnut broken into pieces as an example,
Coarse texture = a walnut broken in half
Medium texture = a walnut cut into quarters
Fine texture = a walnut chopped into small pieces
Visual texture in the mixed border
In a mixed border or layered landscape, you need to have a variety of textures to create visual depth in your garden beds. If all of your plants have a fine texture, they will begin to blend together like a blog.
From a distance, a viewer wouldn't be able to discern where one plant begins and another ends. By placing plants of varying (coarse, medium and fine) texture next to each other, no one gets lost in the crowd.
A lot of people ask me, "Amy, how do I know if my garden has enough texture contrast?"
This is where your camera comes in handy. If you take pictures of your garden beds then turn the photos to black and white, you'll quickly tell whether you have enough visual plant texture.
Let's look at this example to understand how this works.

While these two plants have color contrast, they both have a medium texture. But, it's difficult to tell in the full color version of the photo. When you turn it to black and white, it's really clear that both of these plants have the same visual texture– because they blend together like a big blob.
Fixing visual texture issues
Adding some different textured foliage (coarse or fine) to break up these two plants would help a lot! (Source).

I Photoshopped (crudely) a way to improve upon this scene by adding more texture. Hostas in the front of the photo add a coarse texture to the mix while a Slowmound Mugo Pine (Source) with a fine texture breaks things up.
Mixing up the visual plant texture is a common way to add interest to your garden. If you want to learn more about getting started with your camera, check out my post, How to start landscaping your yard (when you don't know anything).
Tactical Plant Texture
Tactical plant texture is basically the way the plant feels when you touch it. For many plants, it is the foliage that has the most notable texture. For others, the bark, seed head, flower or even its stem could be the source.
Plant texture is a bit more subtle than color, but that doesn't mean it's not powerful. Texture has the ability to create a physical reaction — it makes you want to reach out and touch the plant! Ask yourself these types of questions to get a better understanding of plant texture in your own garden:
Is the plant feathery soft or sharp and spiky?
Are its leaves shiny or matte?
Is the bark smooth or rough?
Are the seed heads furry or coarse to the touch?
There are so many plant textures to choose from and you can have a ton of fun with this in your garden. It's actually one of my favorite ways to add a bit of whimsy and surprise to my own gardens and really sets my design apart from other landscapes in my neighborhood
How to use plant texture to improve your garden
Plant texture may seem like a subtle thing, but it really is another design tool in your bag that can take your garden to the next level. Without enough texture, your garden can fall flat. But, with too much, things can get real crazy, real fast!
There are two ways you can use plant texture in your garden:
Use similar plant textures to create repetition and cohesiveness in your garden.
Contrasting plant textures will add more contrast and interest.
Repeating plant texture in your garden
Repeating similar textures, even if the the plants are different colors, will help to unite your garden design. When repeating a texture, the easiest thing you can do is repeat the same plant within your garden. Many gardeners like to plant in "drifts" which means they plant a group of the same plant in a multiple of 3, 5 or even 7. By repeating the plant in the garden, you are also repeating the plant's texture and color. This is a really easy and effective way to unite your garden beds. When you're starting out, this is the simplest way to make your garden look good and make it look like you know what you're doing.
There's absolutely NO SHAME in repeating the same plant over and over again (drifts) in your landscape design. As a beginner it's an easy way to create cohesiveness. But, professional gardeners also do this often to create repetition in color, texture and form. Pictured above is catmint, salvia and mexican feather grass, all adding unique plant textures to this garden design by Thomas Rainer.
When repetition gets boring
But, for gardeners who love to buy and try new plants, this can be really boring and monotonous. If you fall into this category, using plant texture is a great way to thoughtfully introduce new plants into your garden beds. Now that you understand what texture is, you can start to identify what else may look good in your garden. If you are looking to create more cohesiveness in your garden, choose plants that have a similar texture (bonus if they are the same color!) to add to your planting.

Bonus Tip: Here are some tricks for combining your plants using contrast in texture, color and form.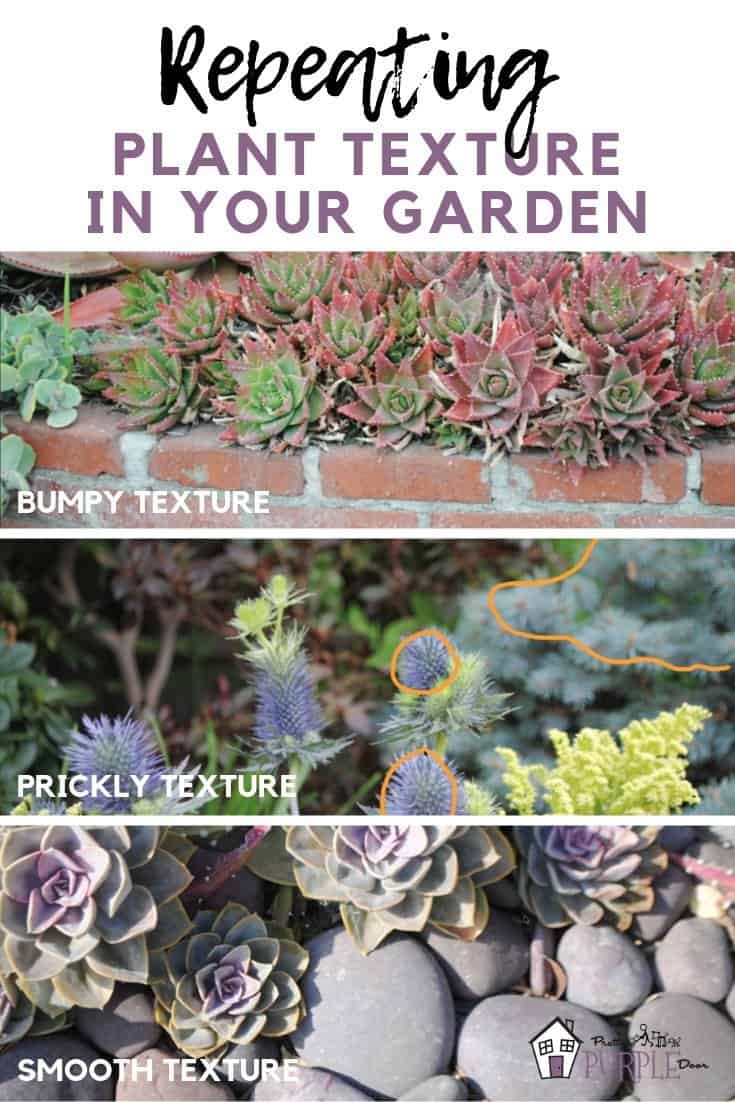 For a "bumpy" texture try planting aloe succulents along the edge of rough and bumpy bricks (ok, not plant texture but it still works). The prickly texture of sea holly matches the prickly texture of the blue spruce in the background. Or try adding smooth, grey river rock to a bed of smooth textured succulents.
(Source)
Contrasting plant texture in your garden
We've already discussed how to use contrasting textures of coarse, medium and fine to help plants in your garden to "unblob" together. You can also achieve contrast with tactical texture to create really interesting and unique combinations in your garden. Finding unique ways to play with tactical plant texture is a more subtle way to liven up areas of your garden that feel bland.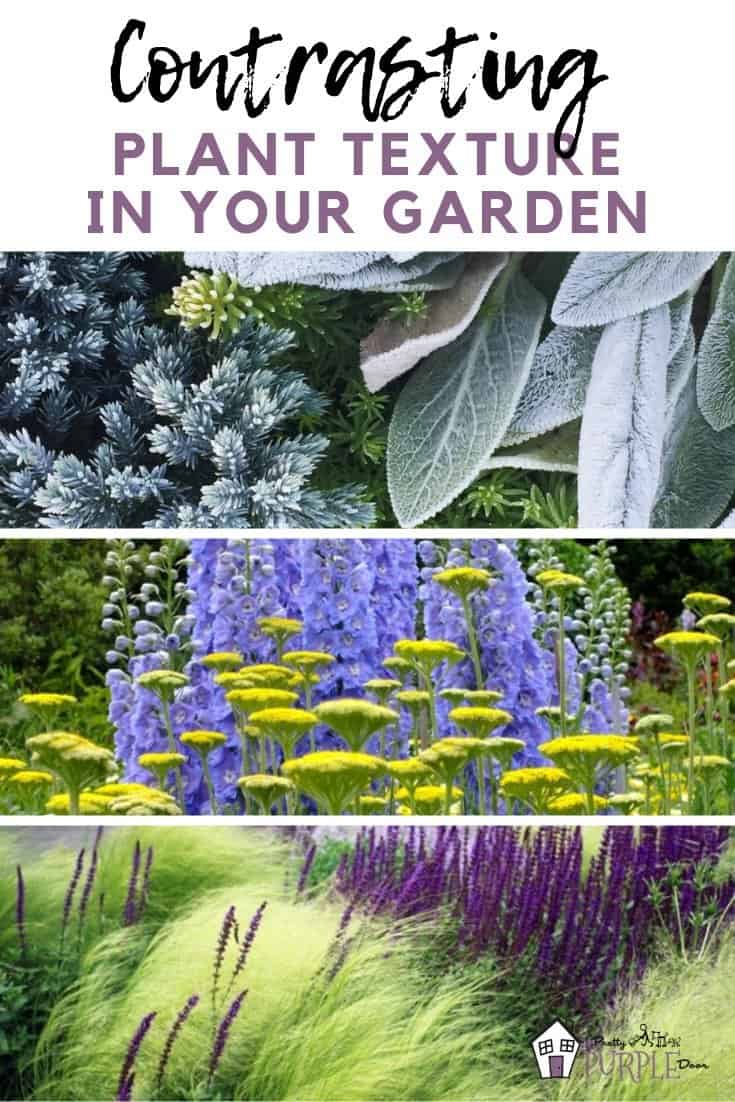 Unusual sources of plant texture
Take your garden design up a notch by incorporating unusual sources of plant texture into your landscape. You don't always have to use the blooms or the foliage of the plant. Lets explore some unusual sources of texture that can really add that "wow" factor to an otherwise ordinary garden!
Seedheads for texture
When your flowers stop blooming, don't be so quick to deadhead them. Incredible texture emerges from many common plants AFTER they bloom/ Don't be so quick to deadhead, because seedheads are one of my favorite sources of texture.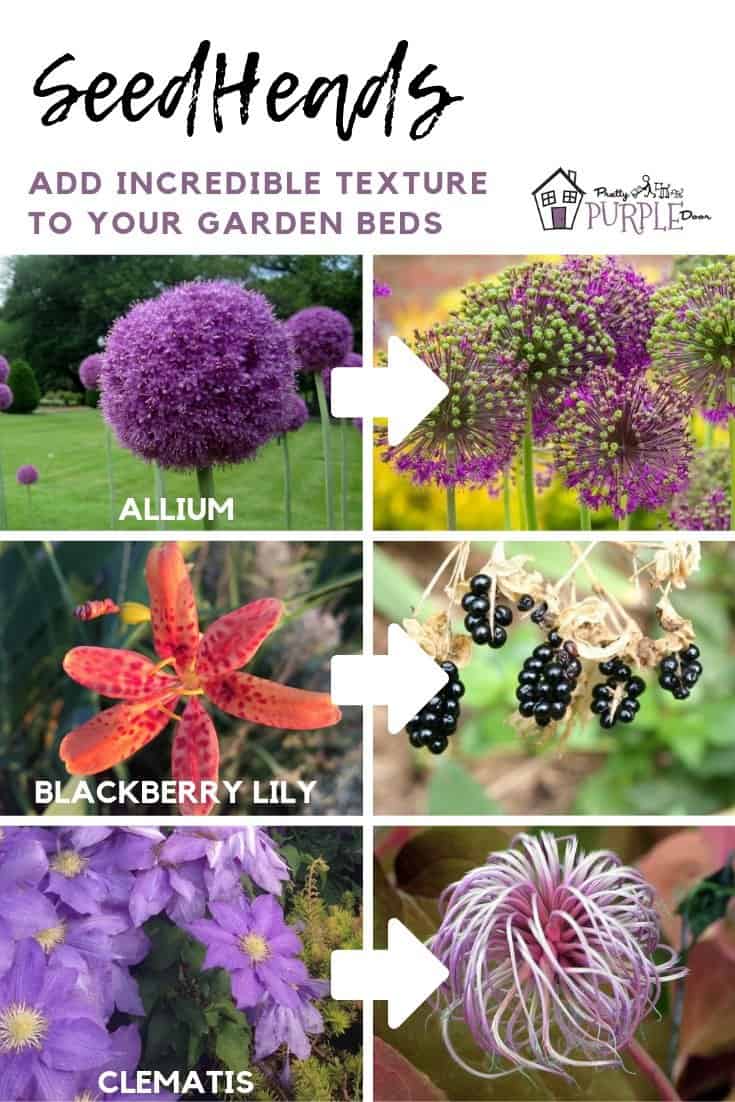 Alliums, post-bloom, turn into stalks of little green balls that can really add interest to your garden (Source). The 'hello yellow' blackberry lily morphs into these little seedpods that look like actual blackberries floating in your garden about 3-4′ in the air (Source)! And finally, certain varieties of clematis vine blooms morph into beautiful, silky, moppy seedheads in late summer to early fall (Source).
Edibles & Herbs for texture
The use of edibles and herbs is common in cottage garden design.
In cottage gardens, colorful ornamentals, edibles, herbs and medicinals are all mixed together in one garden bed. These plantings utilize every available space, creating a feeling of charm and "organized mess."
7 tips for choosing the RIGHT plants
This FREE guide has 7 key questions to help you pick the perfect plants for your landscape. Pop in your email below for instant access.
What's great about this garden style is that you can find incredible sources of plant texture in edibles and herbs. Some of the most unique textures you'll ever find are actually edible.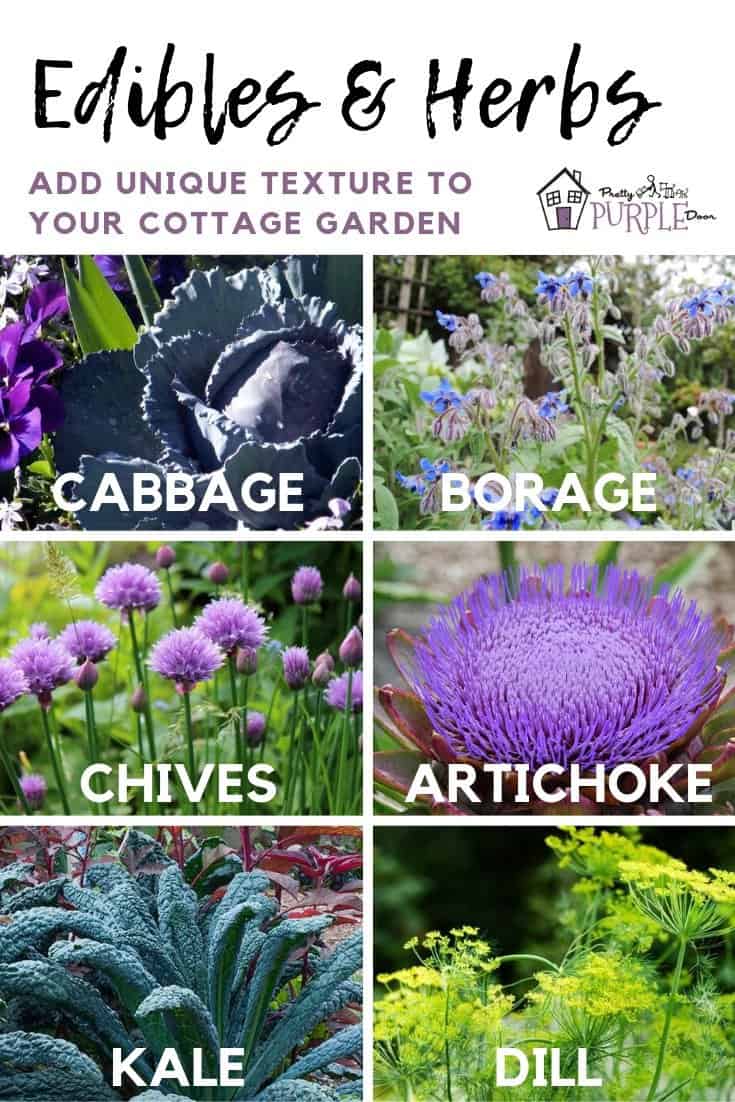 Wrapping Up
There are two different types of plant texture: visual and tactical. Visual plant texture refers to the texture of the overall plant and can be classified into the categories of coarse, medium and fine texture. When create a garden design, visual texture is extremely important. Using tactical plant texture in your garden is a more subtle way to add interest and take your garden design to the next level. Look to bark, seed heads, flowers and stems to explore different pieces of tactical texture. Finally, you can use repeating textures to unite your garden beds. Or, you can choose contrasting textures to create focal points within your garden. Some unusual sources of plant texture you can try are from seedheads, edibles and herbs.
Sue's post about weaving your garden is a great overview of plant texture. She's also got a lot of beautiful photos!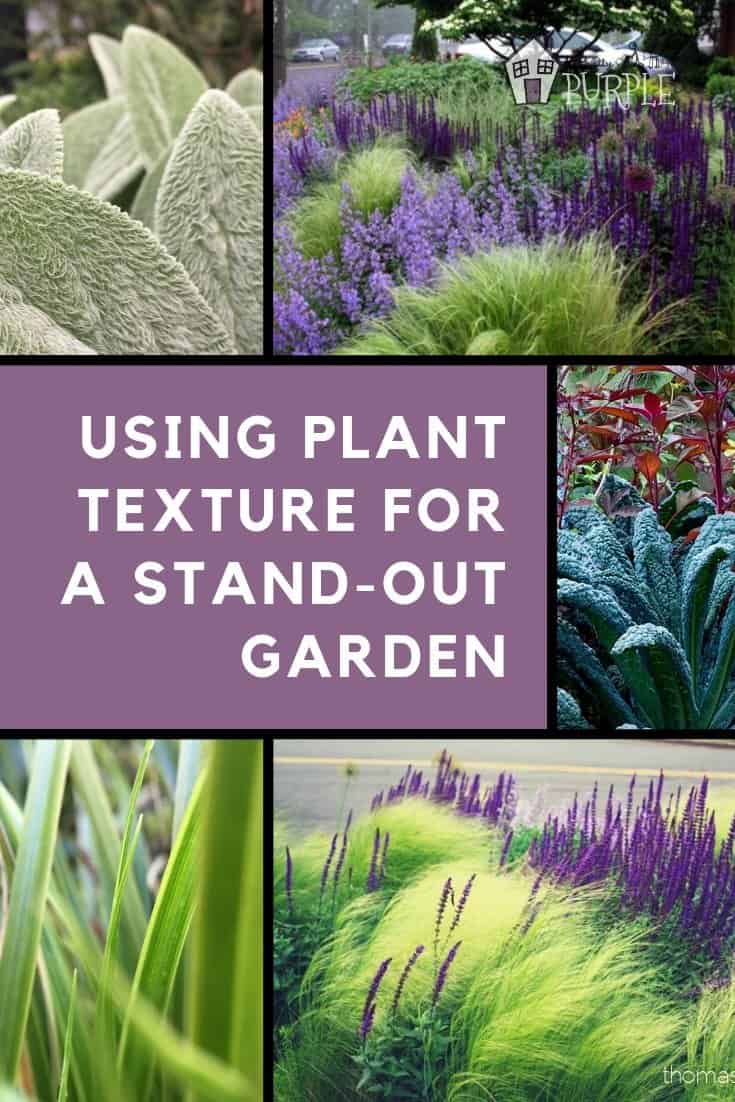 More gardening posts you'll love: