I'm Amy and I help garden lovers design impressively beautiful landscapes that are colorful in all four seasons, show off your personality and suit your lifestyle.
My straight-forward process will help you SOLVE your landscape problems and turn you into the neighborhood garden guru that everyone goes to for advice. I'll show you how to design a great plan, choose the right plants and cut down on unnecessary maintenance… no expensive degree or expert drawing skills required 🙂
Combining Gardening with Design
I am a professional graphic designer and a garden lover. It didn't take long for me to realize that all the design tricks I used at my job could also be used in my garden! So, I created my own unique DIY beginner landscaping system that easily combines gardening with design. It's so much more fun than just plopping random plants in the ground and hoping for the best.
Sign up for my free gardening class and I'll show you how it's done right NOW!
Courses & Trainings To Unleash Your Inner Garden Guru
Trying to design your landscape, pick plants and make it all flow together can be overwhelming. But, it IS possible, even if you don't think you have a green thumb.
You see, gardening is a SKILL. Just like anything else, you have to learn and practice to get better at it.
But the tough thing about gardening is that the practice you need (& mistakes that go with it) can set you years back.
So, I've created courses and trainings will help you at different stages of your gardening journey. All of my trainings provide clear cut, step-by-step answers on how to take the RIGHT actions that lead to results quickly. Because that's what we really need when we're starting a new adventure 🚀.
So, which statement sounds most like you?
My yard is a blank slate and I have NO idea what I want.
You're feeling lost with no idea how to get started planning your outdoor space.
You don't use your yard much right now and want to make the space work for you and your family (instead of just lining the edges of everything with little flower beds).
My Create a Garden Mood Board workshop will help you create blueprints to a clear, specific and implementable vision for your yard that you can DIY (or hand over to a professional).
I'm interested, but not ready to start a big project (yet).
You love the "idea" of garden design but need some guidance to get off on the right foot.
You get super overwhelmed with all of the options at the garden center and want to be able to choose plants with confidence.
My Garden Planning 101 course is a great fit for beginner plant lovers who love to learn the "why" behind the "what" and want a strong foundation to build upon for tackling future projects.
I've got a project in mind and the ambition to conquer it.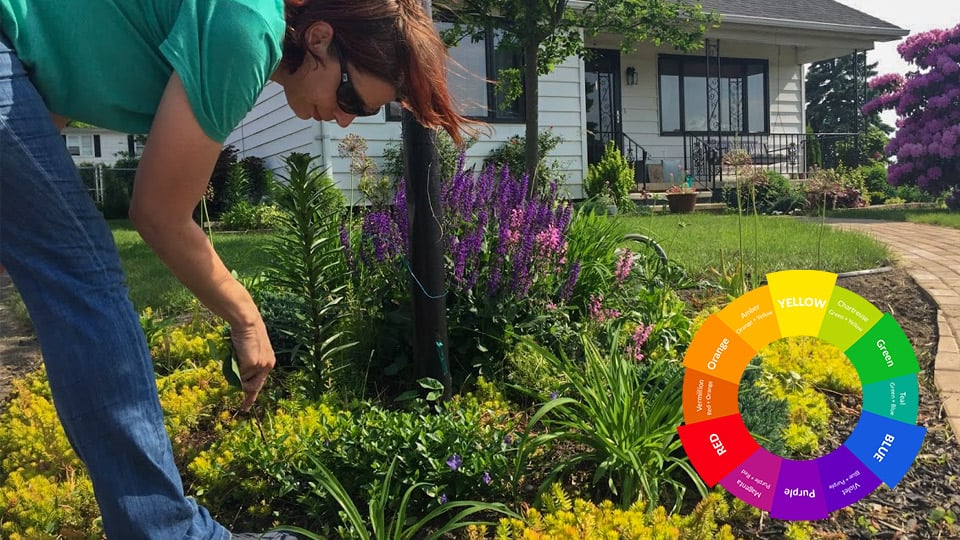 You've been devouring books, articles and videos about garden design, but are frustrated that no one provides steps for "how" to actually do it (I was, too).
You've considered hiring a professional, but don't want to settle for a cookie cutter landscape. How hard can it be, right?
My Design Your 4-Season Garden course will teach you how to design a unique landscape that looks great all year round.
This is a stress-free gardening zone (seriously)
Top Articles for Beginners
Garden design principles, tips and tricks to create a home landscape oozing with personality – even if you're not a designer.
---
Recent Posts
In this beginner-friendly step by step guide, you'll learn how to design a garden layout and plant for peace & privacy so you can get your dream garden.
Handmade wood slice Christmas ornaments make an excellent gift and a fun weekend craft project. From painting to wood burning to metal work to decoupage, here are 5 unique wood ornaments you can make to spread holiday cheer.
Whether you're trying to transition your garden into less work, or you're starting from scratch and you want to start off on the right foot, these tips for a low maintenance garden will help you do just that.
---
More of Pretty Purple Door on the Web
Check out the Pretty Purple Door YouTube Channel to get lots of actionable tips to design a beautiful home landscape that's uniquely you!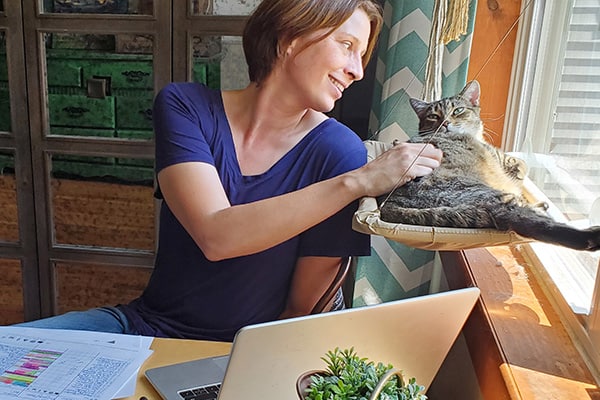 Learn About Garden Design & Get Your Questions Answered
When you connect with Pretty Purple Door on TikTok, Instagram and Facebook, you'll get "bite-sized" gardening tips and the opportunity to get your personal questions answered.
Check out episode 78 of the Easy Living Yards Podcast to hear Amy talk about DIY projects and adding color and texture to your four-season garden.