DIY Landscaping & Four Season Garden Design
Are you frustrated with figuring out what to plant and where? Is your yard filled with weeds, rocks and deer that are ruining your dreams of a beautiful, unique landscape? If you're new to landscape design, these problems can be paralyzing… leaving you with a lot of uncertainty and stress about how to even GET STARTED.
I'm Amy and I help garden lovers design impressively beautiful landscapes that are colorful in all four seasons, show off your personality and suit your lifestyle.
My straight-forward process will help you SOLVE your landscape problems and turn you into the neighborhood garden guru that everyone goes to for advice. I'll show you how to design a great plan, choose the right plants and cut down on unnecessary maintenance. No expensive degree or expert drawing skills required 🙂.
As a professional graphic designer and a garden lover, it didn't take long for me to realize that all the design tricks I used at my job could also be used in my garden!
So, I created my own unique DIY beginner landscaping system that easily combines gardening with design. It's so much more fun than just plopping random plants in the ground and hoping for the best.
Sign up for my free gardening class and I'll show you how it's done right NOW!
Learn Gardening Step-By-Step; Get Results Faster
Trying to design your landscape, pick plants and make it all flow together can be overwhelming. But, it IS possible, even if you don't think you have a green thumb.
All of my courses & educational materials provide clear cut, step-by-step answers on how to take the RIGHT actions that lead to results quickly. Because that's what you really need when we're starting a new adventure 🚀.
Here are my most popular products and who they are a good fit for:
Best for: You have no idea where to start and want to get ideas / define your style!
Best for: Your yard is a blank slate and you want to design a functional and beautiful landscape.
Best for: You're ready to choose plants and design garden beds that look great all year long.
This is a stress-free gardening zone (seriously)
Most Popular Articles
Garden design principles, tips and tricks to create a home landscape oozing with personality – even if you're not a designer.
---
Recent Posts
Here are my top picks for gorgeous trees with pink flowers that will fit into any sized landscape. You're sure to find the perfect pink flowering tree in this list!
Dozens of beautiful red flowers to add to your garden, including photos, key features and where to buy them!
These 10 landscaping tips for selling your house will get your home sold faster (and potentially for more money). Many of these landscaping tips can also increase your property value!
---
More of Pretty Purple Door on the Web
Check out the Pretty Purple Door YouTube Channel to get lots of actionable tips to design a beautiful home landscape that's uniquely you!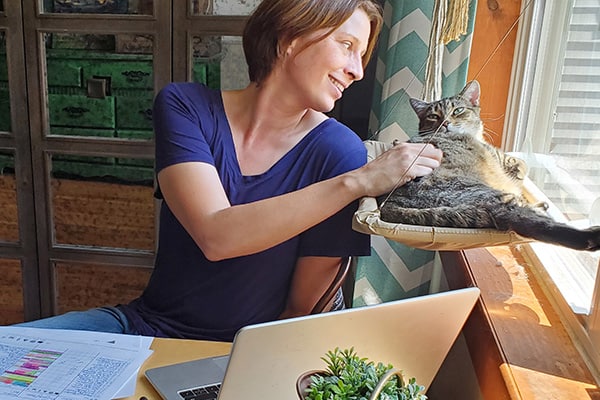 Learn About Garden Design & Get Your Questions Answered
When you connect with Pretty Purple Door on TikTok, Instagram and Facebook, you'll get "bite-sized" gardening tips and the opportunity to get your personal questions answered.
Podcast Interviews
The Horticulturati Podcast: The Art of Landscape Graphics with Lisa Nunamaker and Amy Fedele
Easy Living Yards Podcast: 078 DIY Landscaping with Amy Fedele from Pretty Purple Door
Stock Photos Provided by Depositphotos.