Please note: I may earn commissions from qualifying purchases if you shop through links on this page. More info.
Autumn Brilliance Serviceberry: a Tree for all Seasons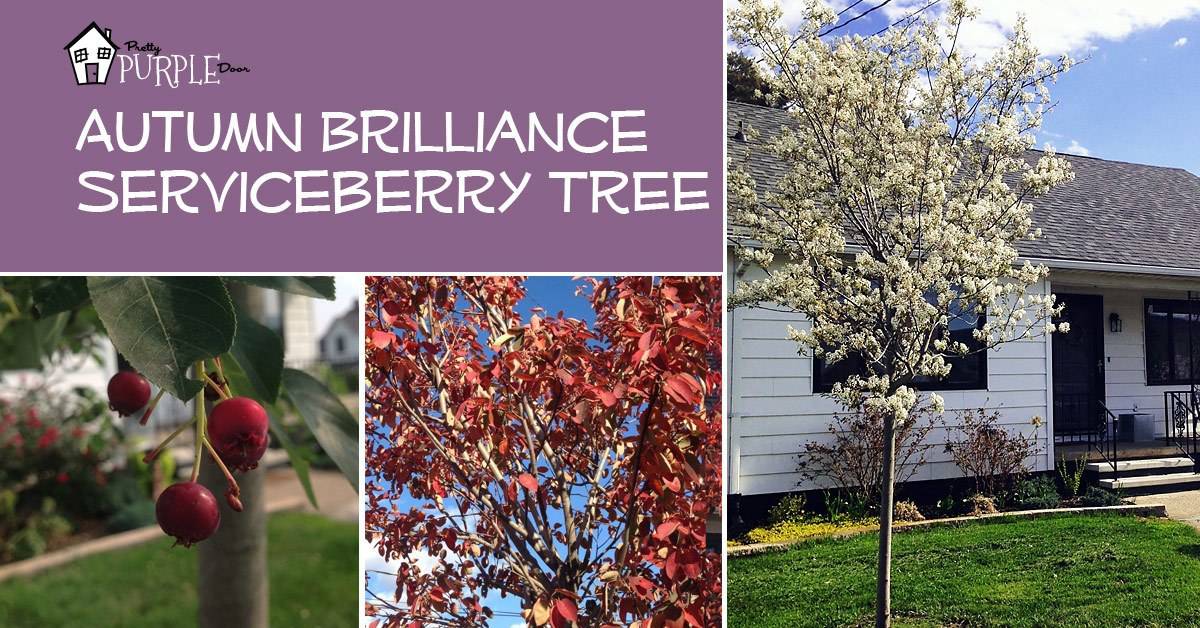 From early spring blooms to edible berries in the summer to fiery red fall foliage to branches that catch falling snow, the Autumn Brilliance® Serviceberry is truly a tree for all seasons.
And if this multi-season interest isn't enough, it's also native to a good portion of the eastern US and southeast Canada! Topping out at 25′ high, this tree is petite enough to fit into any small garden and comes in a single and multi-stem variety! It's not hard to see why I love this tree as much as I do.
So, if you're considering planting this beauty, keep on reading so I can convince you exactly why you'd be silly to wait another day.

4 Seasons of the Autumn Brilliance Serviceberry
A hybrid cross between native serviceberries, downy (A. arborea) and Allegheny (A. laevis), Autumn Brilliance serviceberry is an ornamental tree that grows in full-partial sun to about 20-25′ tall and wide. It can be purchased as a single-stem or multi-stem variety and is adaptable to most soil types. It's also fairly drought tolerant once established.
Autumn Brilliance truly does have 4-season interest, which is a rarity for such a "small" tree that will fit into almost any yard. It blooms VERY early (late April) with showy white flowers before the foliage appears. Edible berries (juneberries) taste great and attract birds and wildlife in June. Autumn Brilliance glows fiery orange-red in autumn, lighting up your landscape. In winter, an attractive branching habit and silvery-grey, smooth bark truly make this a tree for all seasons.
Serviceberry facts
Scientific Name: Amelanchier x grandiflora 'Autumn Brilliance'
Common Names: Juneberry, Saskatoon, Shadbush, Shadwood, Shadblow, Sugarplum, Wilk-Plum, Chuckley Pear, Serviceberry, Apple Serviceberry, Sarvisberry, Sarvis
Zones: 3-8
Sun: Full Sun – Part Sun
Soil: Tolerant of a variety of soil, but prefers well-drained, rich moist soil
Root System: Surface roots are non-invasive and usually not a problem. Considered "Sewer Safe"
Size: 20-25′ high x 15-20′ wide
Growth Rate: Moderate; 9-10 feet in 5-8 years (see photos)
Seasons of interest: Spring, Summer, Fall, Winter
Varieties: Single Stem & Multi-Stem
Shape: Rounded
Lifespan: 40-60 years
Serviceberry blooms in early spring before the foliage appears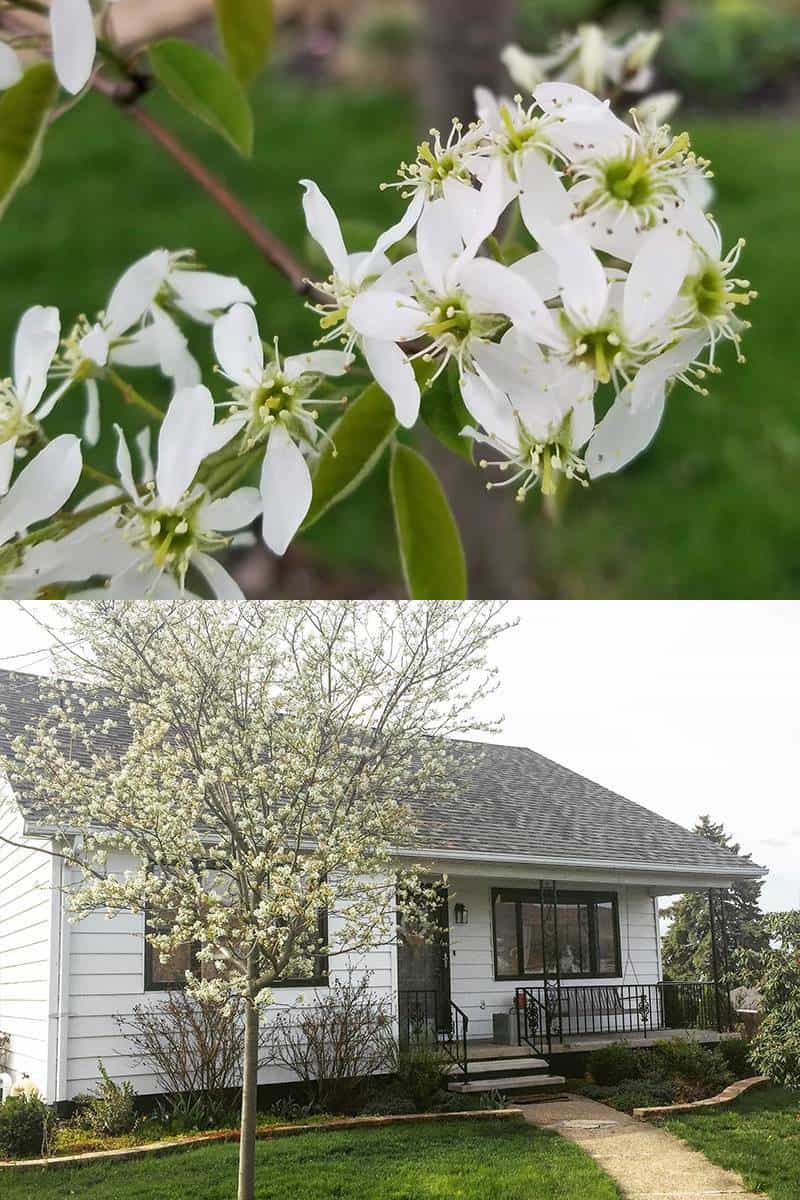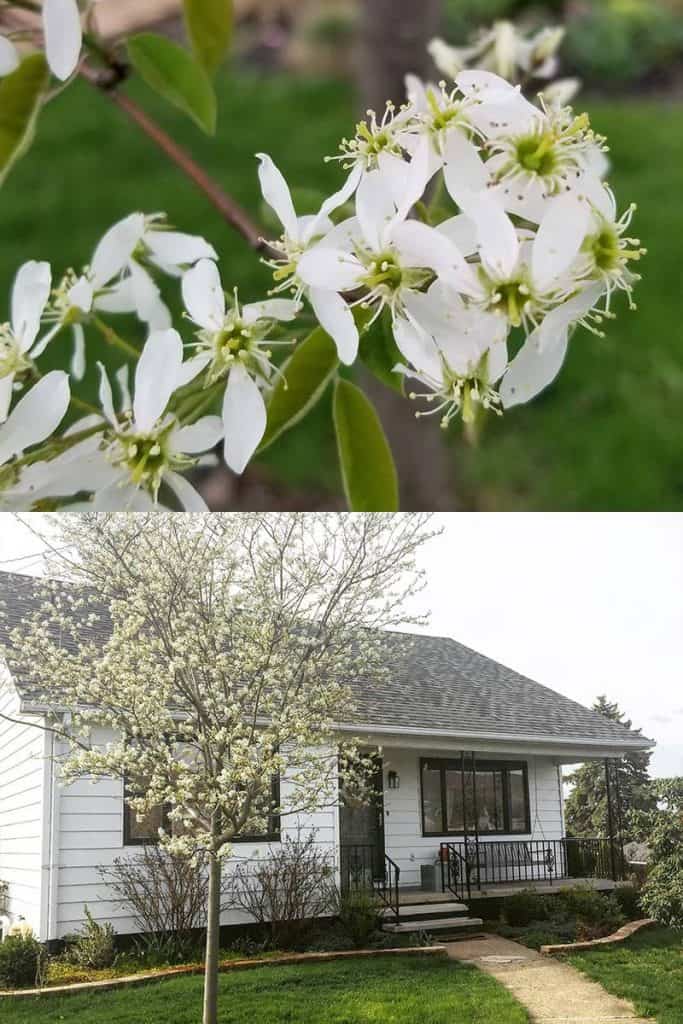 The serviceberry tree blooms with white flowers in the early spring before it even has leaves on it! The blooms note one of the first signs of spring. But, the blooms quickly fade (in 1-2 weeks), and oval shaped leaves emerge coppery-red, becoming rich green throughout the growing season.
Serviceberry trees have edible summer berries (aka juneberries)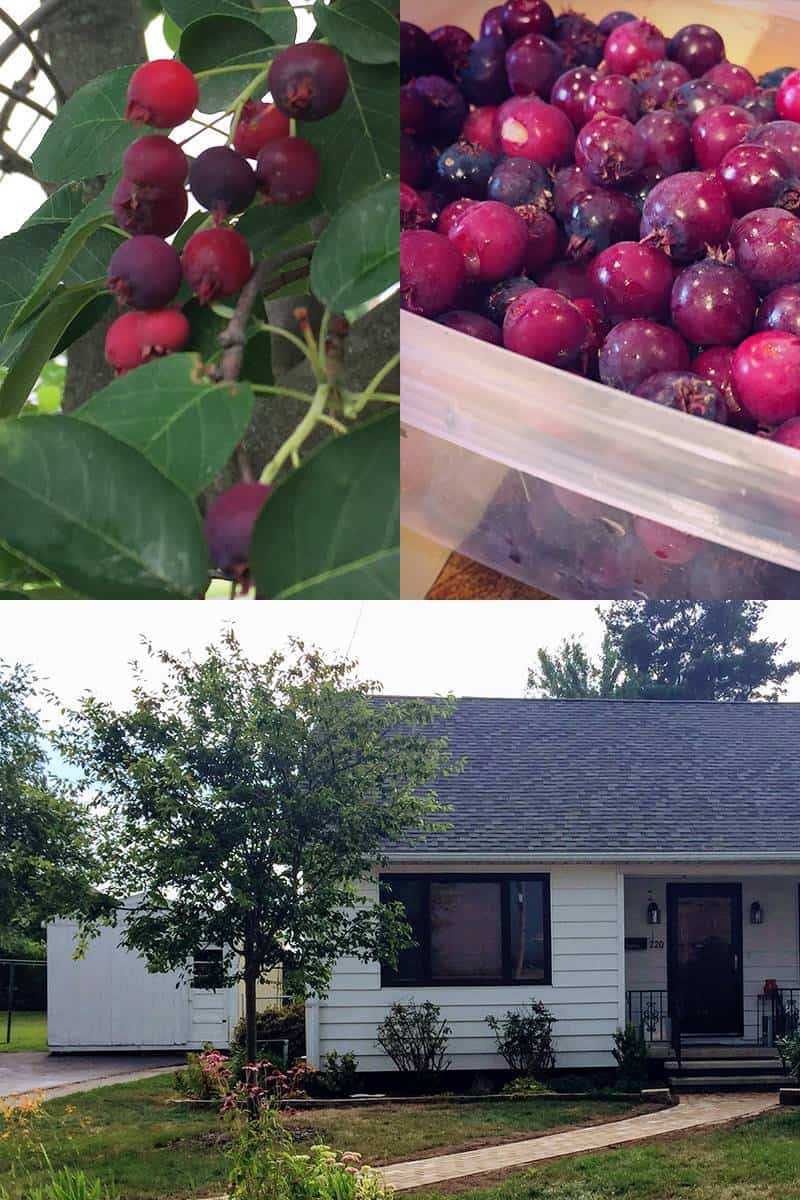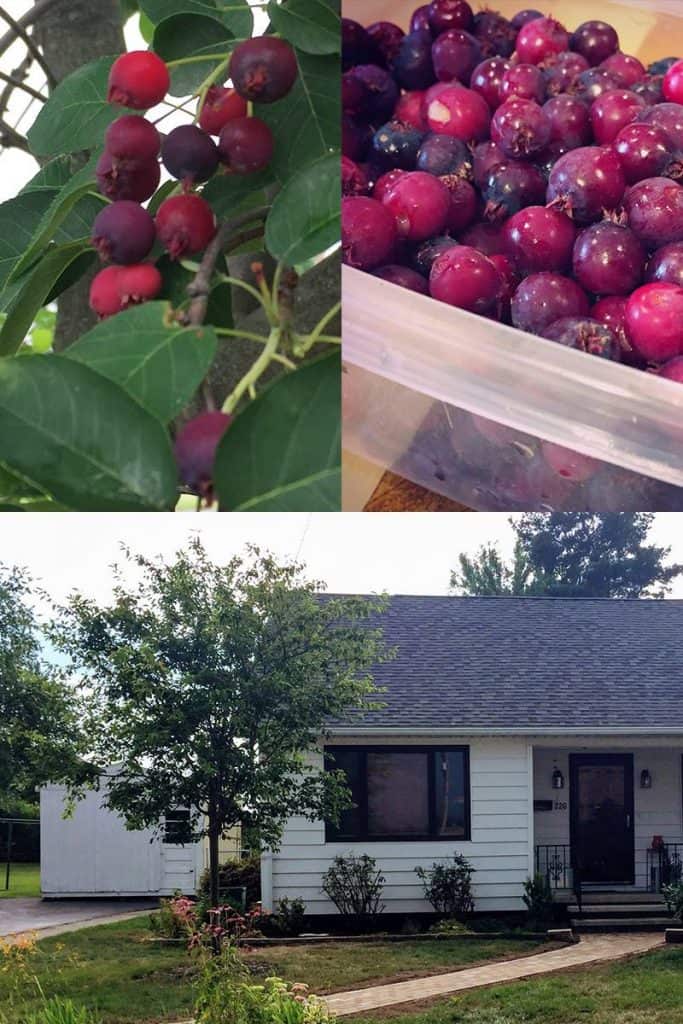 In the summer, the Autumn Brilliance® Serviceberry tree produces sweet purplish berries that you can eat! They kind of taste like a mix between an apple and a blueberry. But, you will have to fight the birds if you want some of the berries because they absolutely LOVE them, too!
Fiery fall foliage of the Autumn Brilliance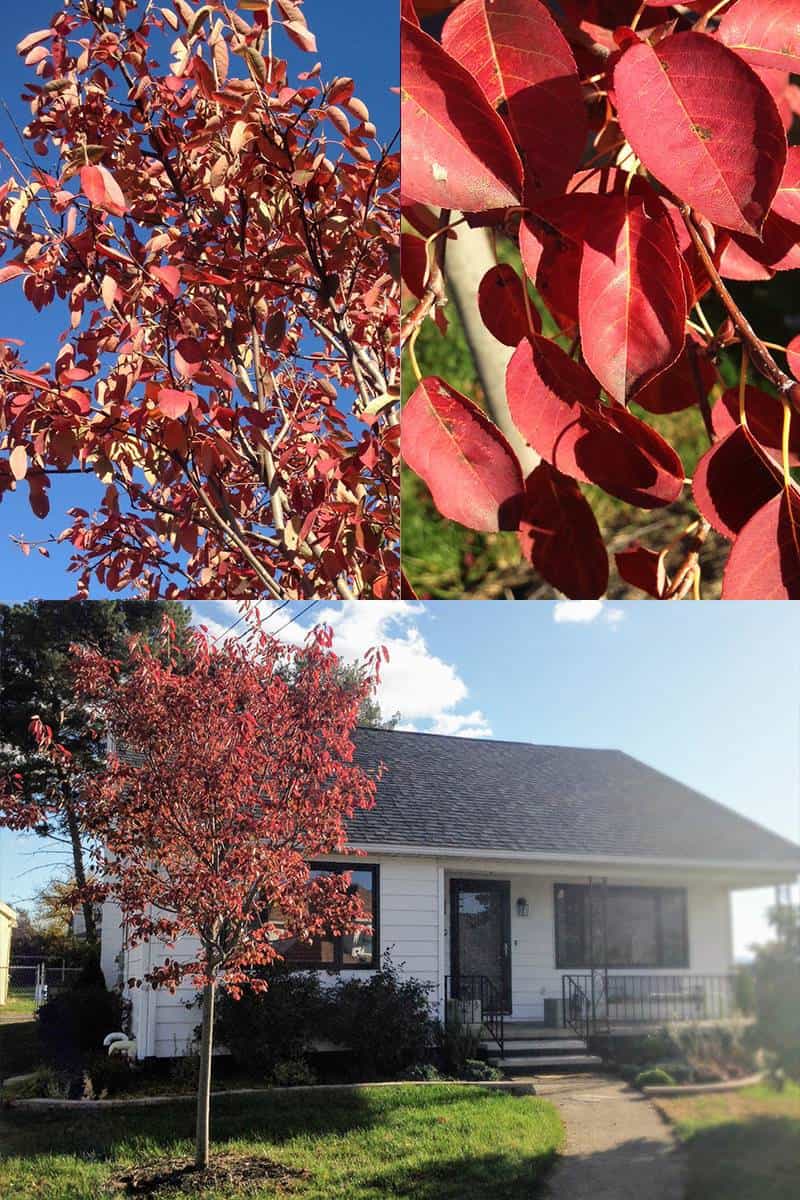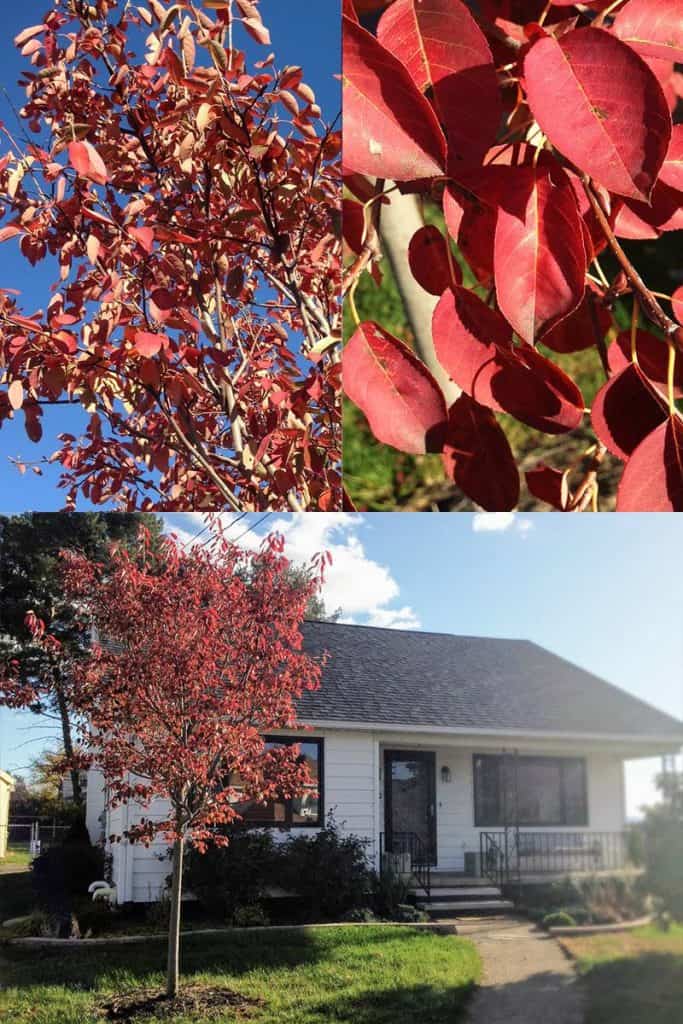 The Autumn Brilliance gets its name for the fiery show it puts on in the fall The fall color is dramatic and outstanding — fire-engine red.
Serviceberry's Standout winter bark and structure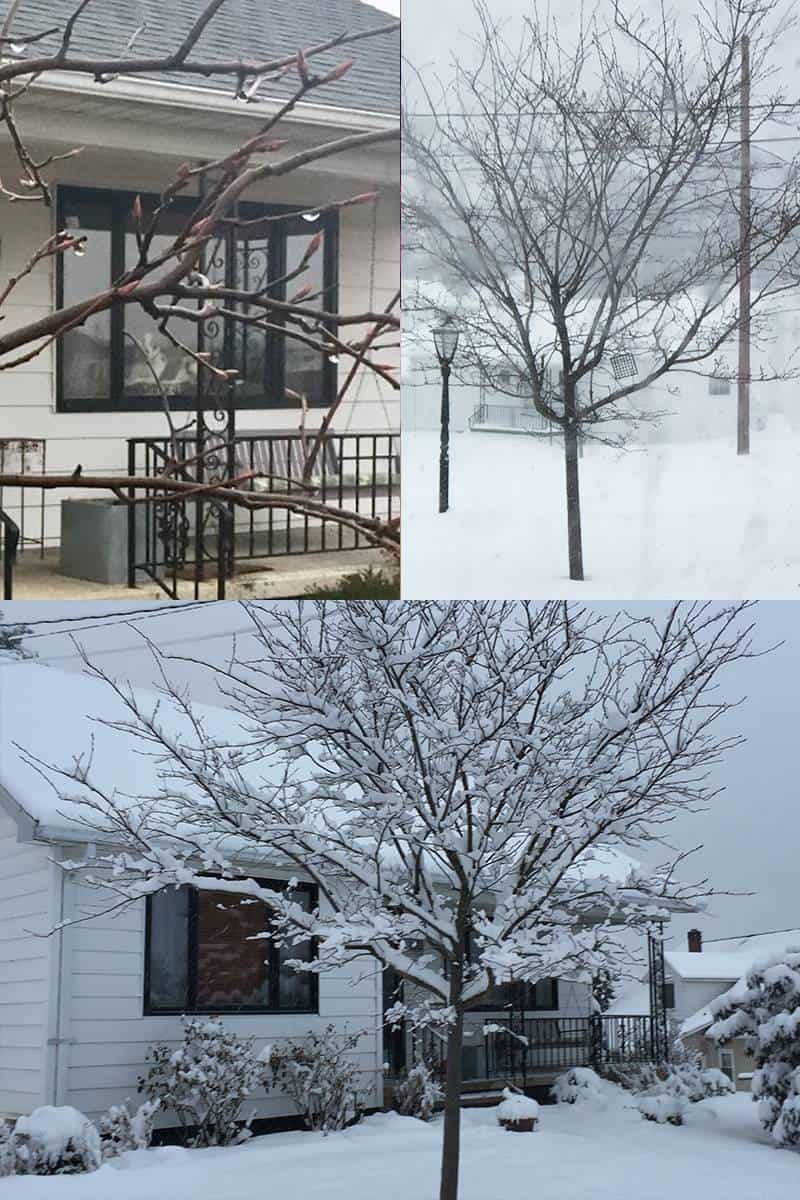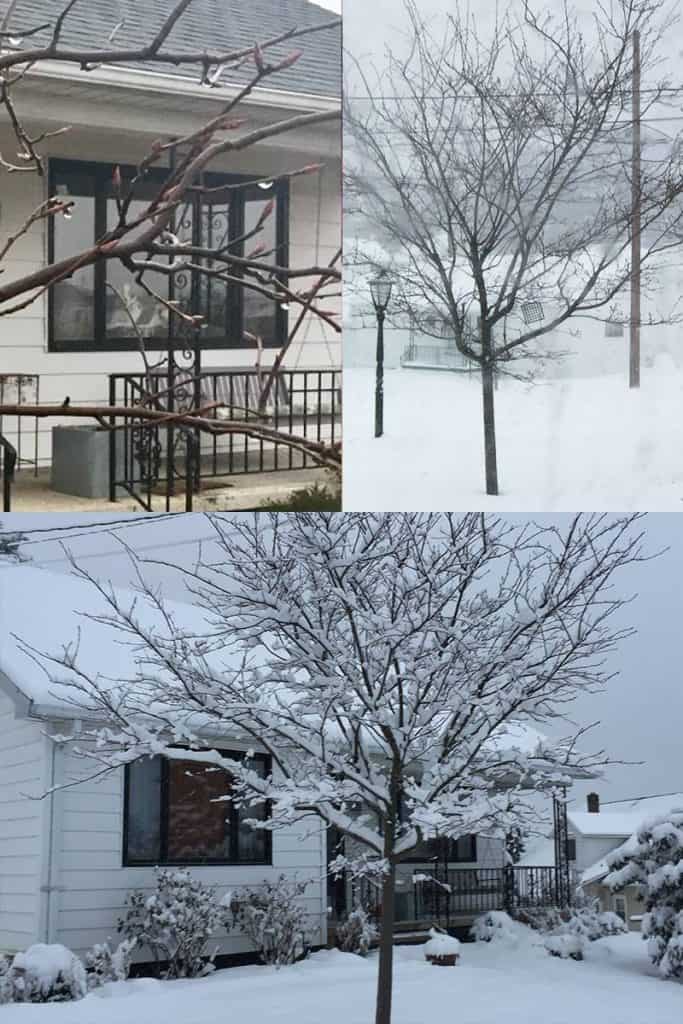 The bark is smooth and light gray and looks really lovely throughout the winter when there are no leaves.
Autumn Brilliance is also available as a single stem tree (like mine) or if you are looking for even more winter interest there's a multi-stemmed variety.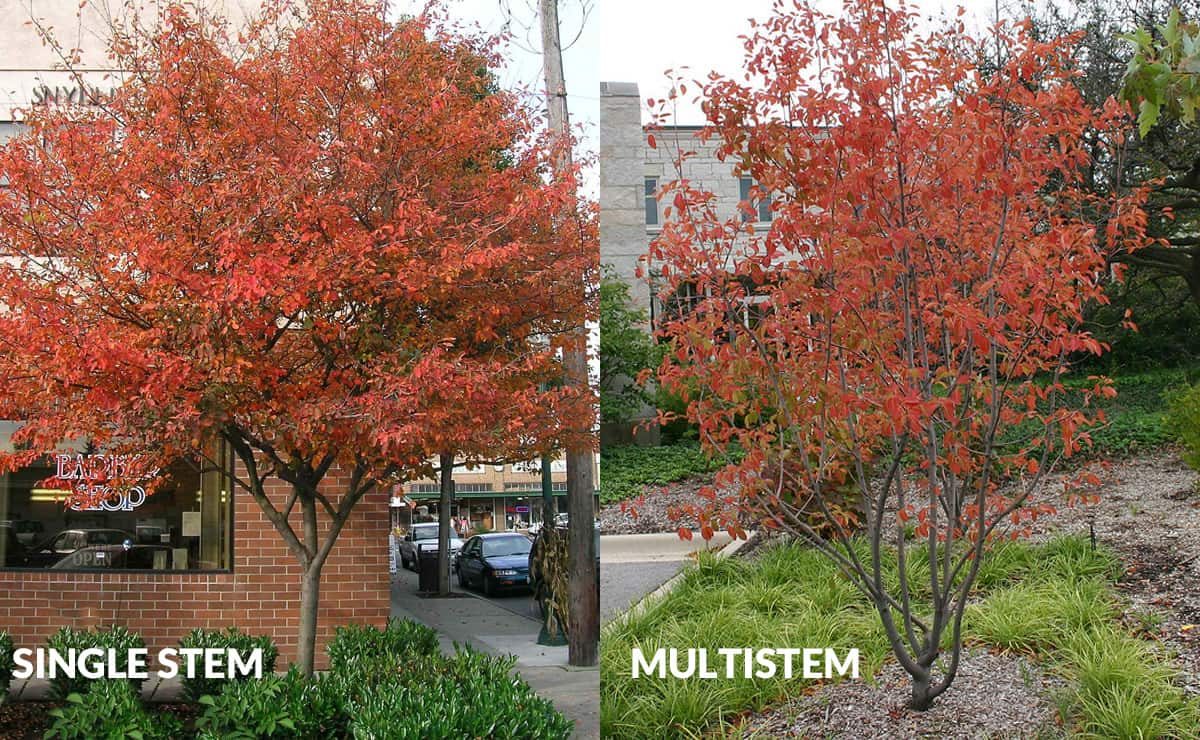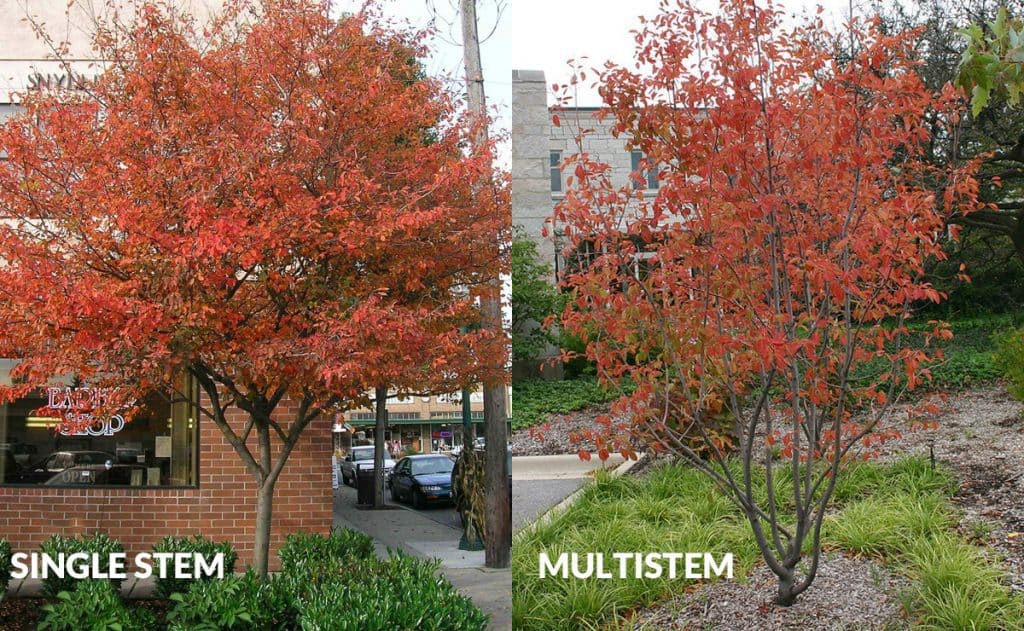 Quick tip: If you are looking for some ideas / tips for choosing the perfect front yard tree, check out this post. ?
What Blooms with What?
Never know what to plant together? Find out with this FREE Plant Pairing Guide and become a pro at combining plants for the best garden design possible!
Cost of Serviceberry Tree
I didn't want to get a dinky little tree and have to wait years for it to look half decent, especially in my front yard. So, I sprung for a larger, more established tree right off the bat.
The Serviceberry I purchased was already pretty tall — about 12′ high! I paid about $250 for this tree. Here are some prices you can expect:
| Size of Tree | Approx. Price |
| --- | --- |
| 3-4′ Height | $85 |
| 4-5′ Height | $125 |
| 8-10′ Height | $200 |
| 12′ Height | $250 |
All prices are approximate estimates
Planting a Serviceberry Tree
Getting my Autumn Brilliance Serviceberry home was the very first step. Luckily, I used a local nursery and they were able to load the tree into my neighbor Tony's truck for us.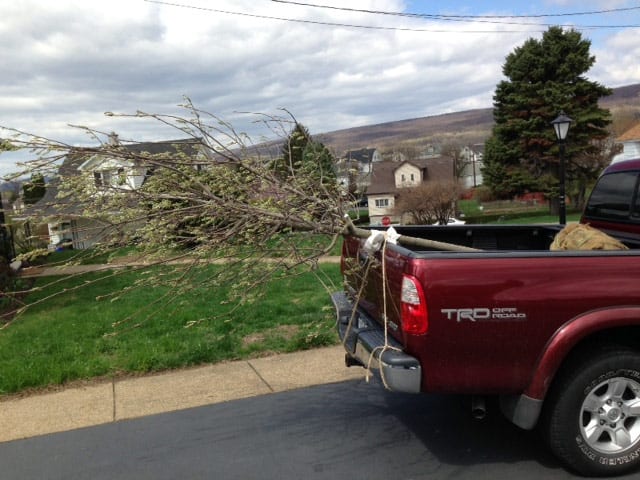 My friends at the nursery recommended digging a hole that's just shy of the height of the root ball, but 4x width of the root ball. So, we ended up digging a hole about 4 feet wide and 1 foot deep to accommodate the new tree.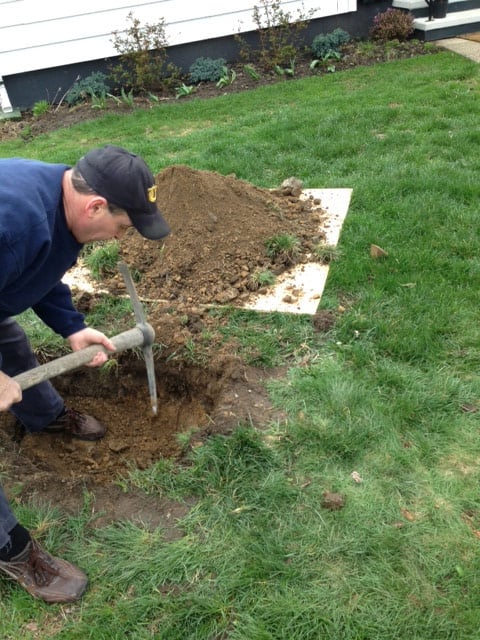 Slowly and carefully lower the Autumn Brilliance Serviceberry into the new hole. Try not to damage the limbs or the root. They also advised me to leave the tree in the burlap planting. So, this is what we did. I held the tree steady and tried to keep it level while Tony back-filled the dirt. Make sure you plant the tree so that the rootball is just a tiny bit above ground level. Planting it too deep is a common mistake and will often kill a young tree.
Caring for your Serviceberry Tree
Mulching
Cover the base of the tree and surrounding area with a 3″ layer of mulch to keep the roots cool. The mulch also helps the soil to retain moisture and suppresses the growth of weeds with can compete with the tree for water and nutrients.
Watering
Be sure to water the Serviceberry regularly, especially the first year or two after planting. A general rule of thumb is to apply 10 gallons of water for every inch of trunk diameter when you water.
For easier watering, I recommend grabbing a Treegator (Amazon link). The Treegator is a slow-release watering bag that wraps around the tree trunk. It saves time and takes a lot of the guesswork out of watering. Slow watering your plants helps them to establish strong roots, too.
Pruning Serviceberry Trees
Serviceberries require annual pruning to maintain an open canopy. This allows sufficient light penetration and air movement. Pruning also helps rejuvenate the shrub and stimulates the production of more fruit. The best time to prune is late winter or early spring is best before the new growth appears.
For the first 3 years, only prune weak or damaged branches. The tree flowers on stems that are 2-4 years old so keep this in mind when pruning. Inspect the tree for deadwood, diseased wood and crossed branches and prune those first. Use clean and sharp pruners to remove just what is necessary.
How to Fertilize Serviceberry Trees
For the best berry production, feed serviceberry shrubs with organic 5-3-3 fertilizer at six-week intervals between early April and the end of October. Scatter the fertilizer evenly around the shrubs' drip lines — the place on the soil where rain falls from their outermost leaves. Feed at the rate of 1 cup for every 1 foot of the plants' spread.
Pros & Cons of the Autumn Brilliance Serviceberry
Overall the Serviceberry is a fantastic tree. In my opinion, the pros of having this tree heavily outweigh the cons. But, if you're curious, here are some of the pitfalls.
| Pros of Serviceberry | Cons of Serviceberry |
| --- | --- |
| Native to Eastern North America | Not deer resistant |
| Attracts birds and butterflies | Produces root suckers |
| 4-season interest | Short flower bloom period (about 2 weeks) |
| Not many pests | Can be affected by aphids, spider mites and bark beetles |
| Fairly disease resistant | A few diseases may affect the leaves |
| Shallow, non-invasive root system | |
| Unique / less common choice | |
| Compact size – great for home landscapes | |
| Tasty fruit | |
| Single-stem and multi-stem varieities | |
Native to eastern North America
Serviceberry trees are native to eastern North America, which is always a huge pro in my opinion. Not only are you adding a beautiful tree to your landscape, but you'll be providing food and habitat for wildlife. Serviceberries offer fruit, nectar and edible foliage for birds, butterflies and other mammals. Skunk, fox and chipmunks enjoy the berries while deer and elk enjoy the foliage.
Native plants and trees also require very little to no maintenance once they are established.
Quick Tip: In this article you can learn more about the difference between native and non-native plant species.
Attracts Birds & Butterflies
Many birds take advantage of the fruit including chickadees, juncos, bluebirds, goldfinches, orioles, tanagers and more.
Butterflies, particularly spring azures make use of the nectar and the plant serves as a host to swallowtail larvae. The flowers can also attract beneficial insects.
Not Deer Resistant
As is true with many native plants and trees, Autumn Brilliance Serviceberry is not deer resistant. Deer enjoy snacking on the foliage of this tree.
Root Suckers
You should be aware that this tree is prone to suckers. This is common for many fruit trees. Root suckers are vigorous vertical stems that can grow off the tree's root system. Suckers can occur in both the single stem and multi-stemmed varieties of the Serviceberry.
If you've never come across root suckers before, you may want to watch this video about how to remove root suckers. I personally don't have a problem with them. To me, the pros of this tree far outweigh the hour or so I spend caring for it each year. But, I wanted to mention it in case its a concern for you.
Bloom Period
If you're looking for a really long-blooming tree, the Autumn Brilliance might not be right for you. The beautiful white blossoms are very showy but blooms only last about two weeks. I love that it blooms in early spring when not much else is going on in the garden (think daffodil season, which is late April for me).
Afterwards, the foliage fills in and you'll have to wait until June for some edible berry interest. So, while it is showy and it does bloom, it's not a very long-blooming tree. I think that the other seasons of interest make up for it, though.
Pests
Birds are honestly the worst "threat" to your serviceberry fruit. They really love to eat the berries. I don't mind sharing but if you want to harvest a lot of fruit from your tree you should cover the tree. Try draping the branches with bird netting to protect the ripening fruit.
Aphids, spider mites and bark beetles can also be a problem with native serviceberry, but I haven't found them to be a problem with the Autumn Brilliance variety.
Diseases
There are a handful of diseases that can affect serviceberries (just like any tree or shrub). Again, I've found this variety to be very disease resistant. Early detection and pruning are always the best control options. A few diseases to be on the lookout for are:
Entomosporium leaf and berry spot: small, angular brown discolorations on the leaves, often with a uellow ring around the spot.
Saskatoon-Juniper rust: yellow spots and swellings on leaves and fruit, followed by yellow, spikey outgrowths from these locations.
Powdery mildew: white dust on the leaves and stems.
Root System of the Autumn Brilliance Serviceberry
Serviceberry root systems are shallow and are not considered invasive. This variety is also a recommended tree for planting near sewer lines by University of Tennessee Institute of Agriculture.
A study conducted on the Root Dimensions of Landscape Tree Cultivars (Gerhold and Johnson) observed entire rootsystems of 46 trees found Autumn Brilliance to have one of the most shallow root systems of trees studied. The deepest root depth found was 25cm (less than 10in) with a spread of 198cm (78in) along the row and 150cm (60in) across the row.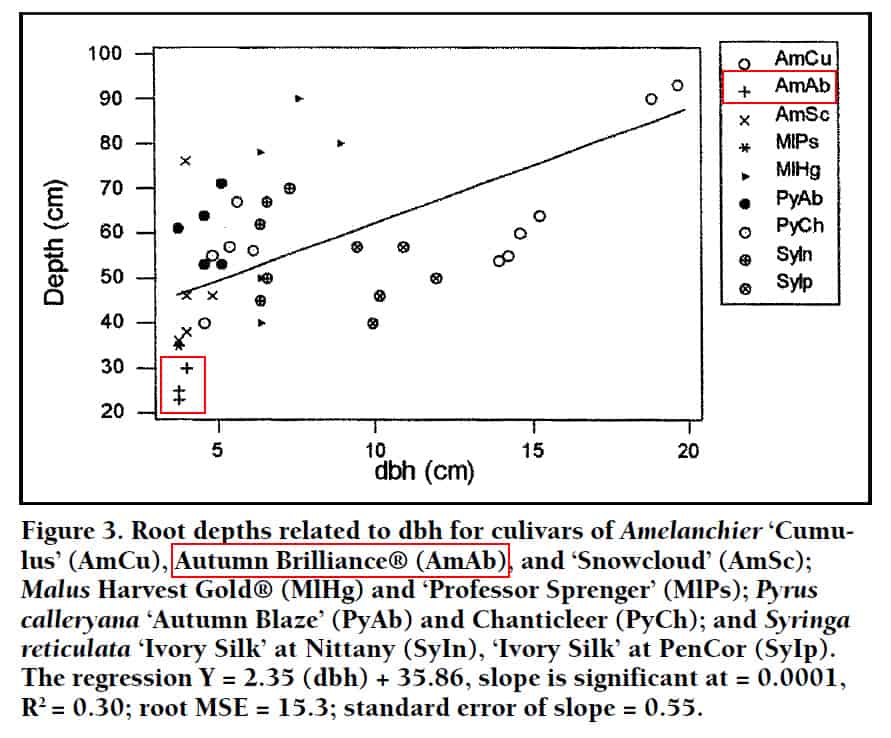 Planting under/beneath a Serviceberry tree
Other plants, such as perennials that prefer partial shade, can easily be planted under serviceberries because of their shallow, non-invasive root systems.
There honestly aren't many cons to planting this tree. It's really disease resistant, has non-invasive roots, a compact size. It also isn't used as often as it should be… making it a unique tree to add to your landscape!
Quick tip: If you're still undecided about the Autumn Brilliance Serviceberry, check out some of my favorite ornamental trees for front yards. I'm sure you'll find something over there that you like!
Autumn Brilliance Serviceberry photo gallery
I get many questions about the growth of the tree, so here are some photos I've taken over time! View my serviceberry tree photo journal.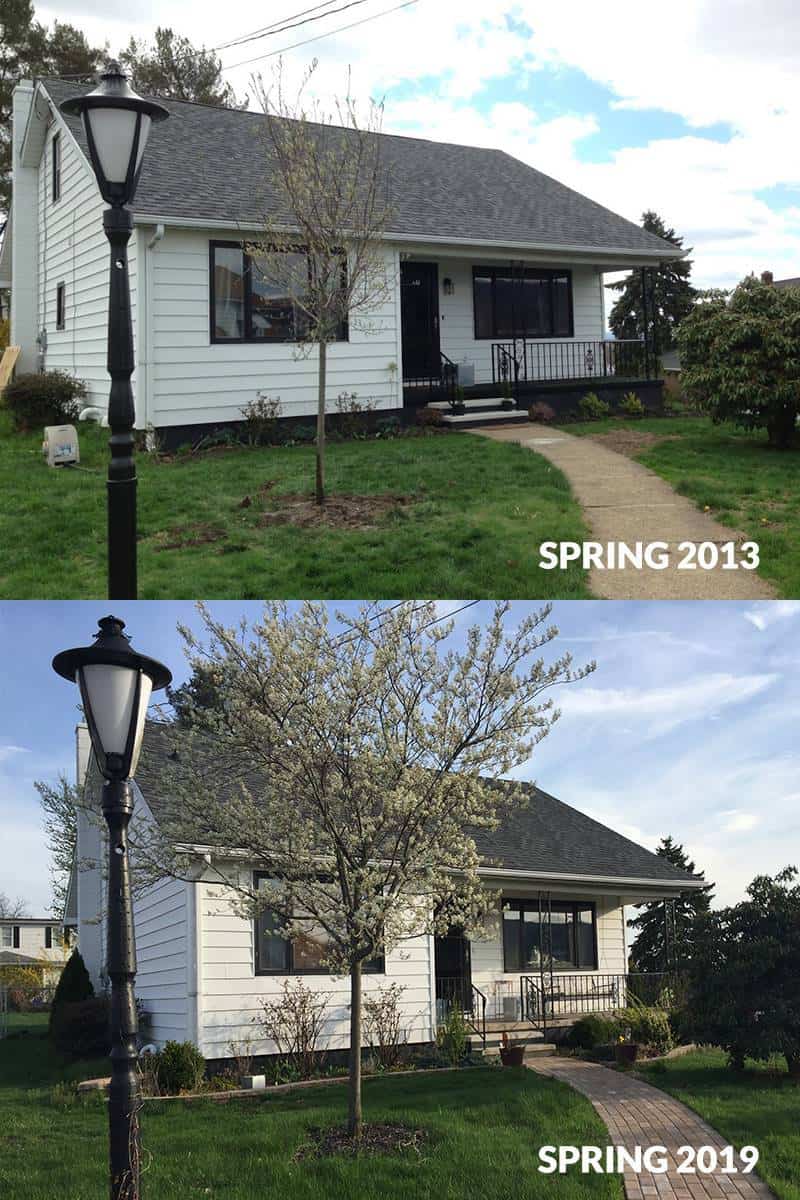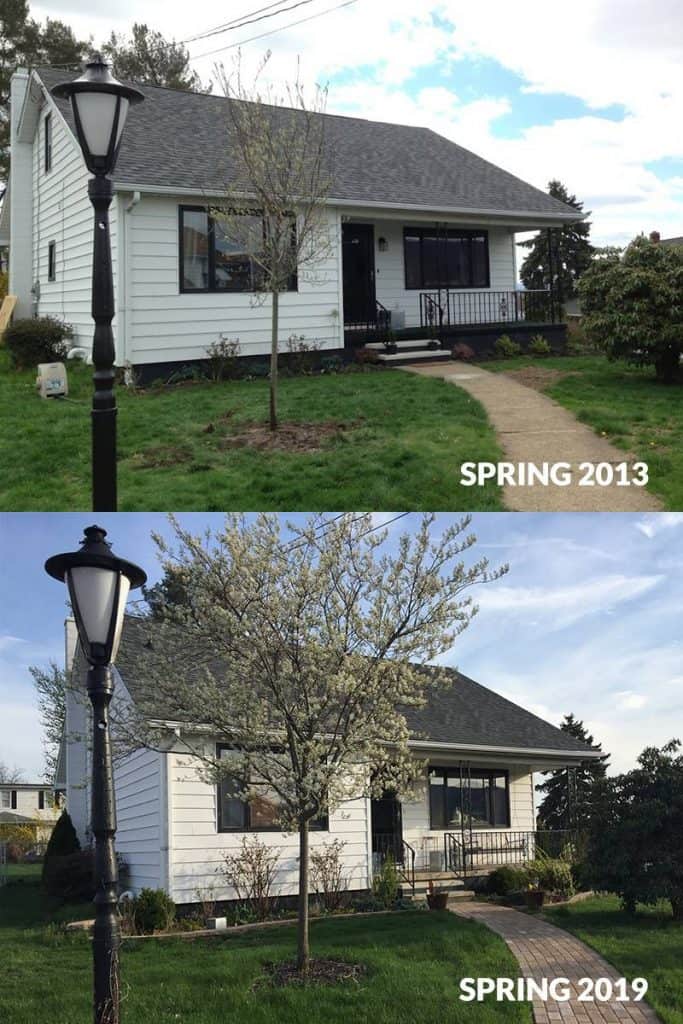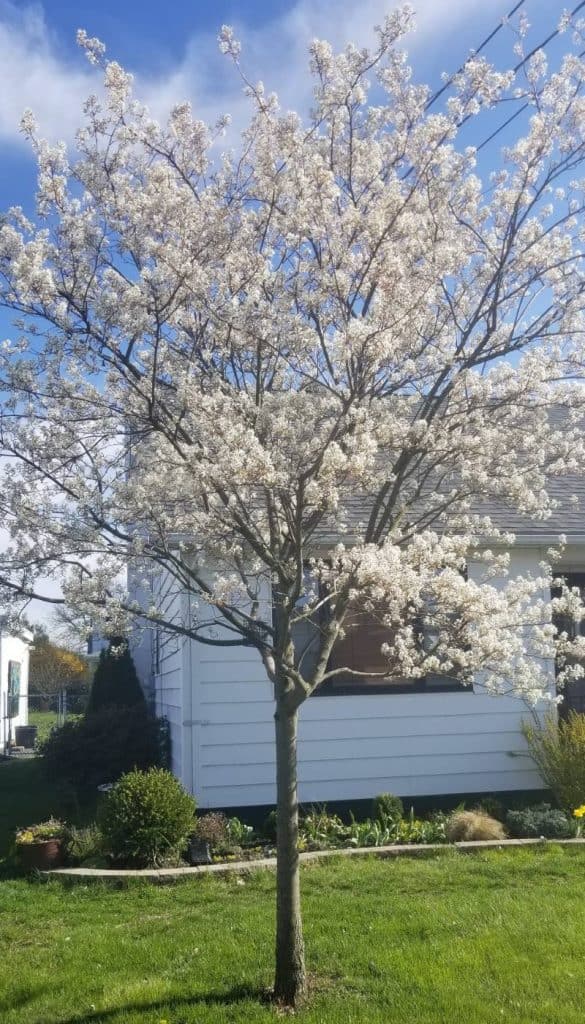 Wrapping Up
Overall I'm really happy with my decision to put the Autumn Brilliance Serviceberry tree in my front yard. It's grown each year and the color and four season interest does not disappoint. If you can't find one locally, you can order your own right from this website.
In early spring, enjoy the beautiful white blooms of your serviceberry tree before the leaves even appear. Then, in June enjoy the edible berries if you can fend off the birds who absolutely love them, too. This tree will not disappoint with its fiery fall foliage and certainly makes a statement with its unusual bark color and beautiful growing habit.
Overall, the Autumn Brilliance Serviceberry tree is a true standout in the garden and one of my top picks for ornamental trees for your front yard.

More posts you'll love
7 tips for choosing the RIGHT plants
This FREE guide has 7 key questions to help you pick the perfect plants for your landscape. Pop in your email below for instant access.