Ornamental trees can add so much color, interest and value to your home landscape. If you're like me, you have so many questions about which ornamental tree is right for you.
Questions like… Are the roots invasive? How big will it get? Is it prone to diseases? Will it look great all year round? Will it add value to my landscape?
Yep, all of these questions ran through my head as well. And I did so much research when I was looking for the perfect tree. So, I thought I'd give you all of the options I considered for my own landscape so that you'll choose a healthy tree that will look great all year, add value to your property and not cause any damage to your foundation. Here are my top picks:
What Blooms with What?
Never know what to plant together? Find out with this FREE Plant Pairing Guide and become a pro at combining plants for the best garden design possible!
Top Ornamental Trees for Multi-Season Interest
Autumn Brilliance Serviceberry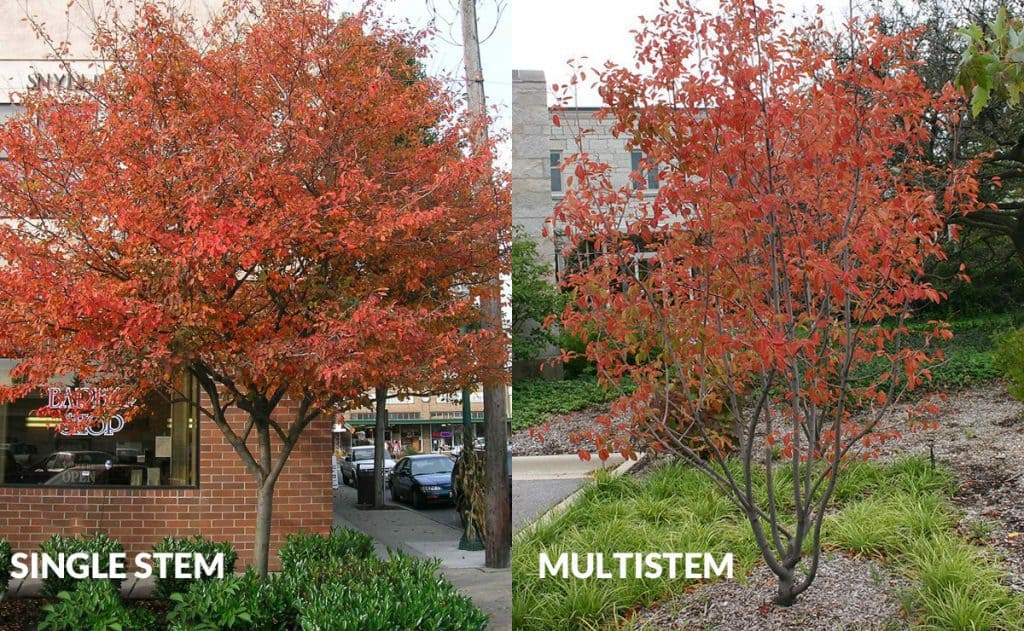 A hybrid cross between native serviceberries, the 'Autumn Brilliance' Serviceberry is an ornamental tree that grows in full sun to about 20′ tall and wide. It can be purchased as a single-stem or multi-stem variety and is adaptable to most soil types. It's also fairly drought tolerant once established.
Autumn Brilliance blooms VERY early with showy white flowers in late April before the foliage appears. Edible berries (juneberries) taste great and attract birds and wildlife in June. Great autumn color of fiery orange-red will light up your fall landscape. An attractive branching habit and silvery-grey bark truly make this a tree for all seasons.
I have this ornamental tree in my front yard so I'm a huge fan. You can read more about why I love the Autumn Brilliance Serviceberry in this post or purchase one online right here.
Bloodgood Japanese Maple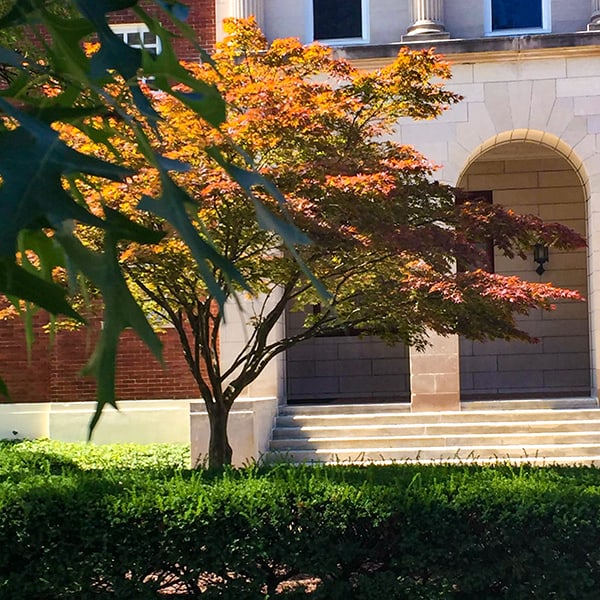 Native to Japan, China and Korea Japanese Maple 'Bloodgood' is a small ornamental tree that grows slowly to about 25 feet tall and wide. It's a great option for a front yard tree and adds year round interest to any home landscape.
Bloodgood can be grown in full to part sun and prefers moist, well-drained lightly acidic soil. 'Bloodgood' is a very common form of Japanese Maple with excellent burgundy colored foliage year round. This tree shines in fall when its foliage turns bright red.
Purchase Bloodgood Japanese Maple tree online here.
Snowdrift Crab Apple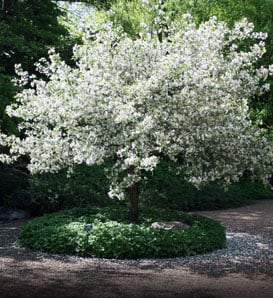 Snowdrift crab apple is a beautiful, hardy ornamental tree with visual impact during all four seasons. The Snowdrift variety grows to about 15-20′ high and wide and can be purchased as a single stem or a multi-stem variety. It prefers a sunny location and can tolerate a lot of different soil and moisture conditions.
A tree that brings color and interest in all four seasons, Snowdrift has a dense, rounded foliage habit that adds to its standout appearance year round. It can also be purchased as a multi-stemmed or single trunk tree.
In April-May, its pink buds form into snowy white blossoms. Glossy, deep green summer leaves change to yellow in the fall. 3/8″ -1/2″ round, orange-red crab apples will have birds flocking to your yard from late spring through the winter.
Purchase a crab apple tree online here.
Quick Tip: Looking for tips for choosing the absolute best tree for your front yard? Head over to this post to learn what to look for!
Kousa Dogwood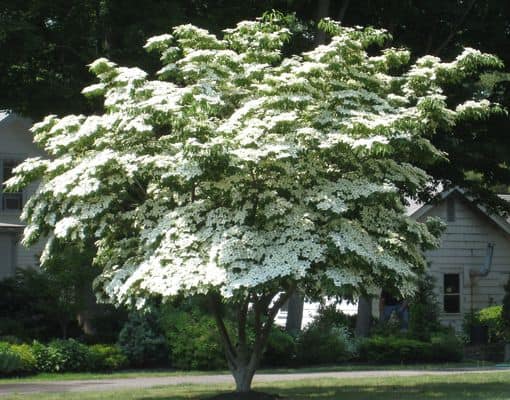 This beautiful ornamental tree grows 15-25′ H and a horizontal branching habit that will extend this tree to about 25′ wide. The Kousa Dogwood can be grown in full sun, part sun or even shade which makes it a great choice for any home owner.
In spring, Kousa Dogwood bursts into action with showy white blooms that last from May to June. In late summer, Kousa produces an abundance of edible berries that can be used to make wine. The 1-2″ round pinkish-red berries have a nubby texture that also add interest. Purple to scarlet foliage adds intense interest to your fall landscape. And lets not forget its beautiful exfoliating bark and interesting branching habit that will stand out in any winter scene.
Buy a Kousa Dogwood online right now.
Quick Tip: Narrow trees are also a great option if you are low on space. Head over to this post to discover some of my favorite skinny trees!
Stellar Pink Flowering Dogwood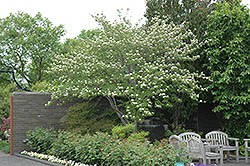 20′ H x 20′ W An interesting hybrid adorned with lovely pink blooms and foliage that changes to a reddish purple in the fall; vigorous grower with an erect habit and overlapping branches makes it a great choice for a front yard accent tree.
Purchase a Stellar Pink dogwood.
Quick Tip: Looking for more privacy? Check out this post about privacy trees that includes how to plant them along with my top picks for the best privacy trees.
Japanese Lilac
Native to East Asia, the Japanese Lilac is a beautiful tree that grows to about 25-30′ tall and 20′ wide. It can be purchased as a single trunk or multi-stemmed tree (pictured above). It grows in part sun, but produces more blooms when provided with a full sun location.
At its best in early summer, the Japanese Lilac blooms for about 2 weeks with huge (10″), fragrant creamy white clusters that are similar to lilac bush blooms but much larger. After the flowers fade, attractive seedpods will attract songbirds to your garden.
It's attractive form, disease-resistance and non-invasive root system make this a great tree near a patio or porch where you can watch the songbirds and enjoy the fragrance up close and personal.
Buy a Japanese Lilac tree here.
Keep Reading…
In my perennial garden plan, I'll go over landscape layering and give you some suggestions for each of the 5 layers:
Layer 1: Ornamental Trees
Layer 2: Evergreen Shrubs
Layer 3: Perennial Deciduous Shrubs
Layer 4: Perennial plants and flowers
Layer 5: Groundcovers, Vines and Grasses
More Tree Posts You'll Love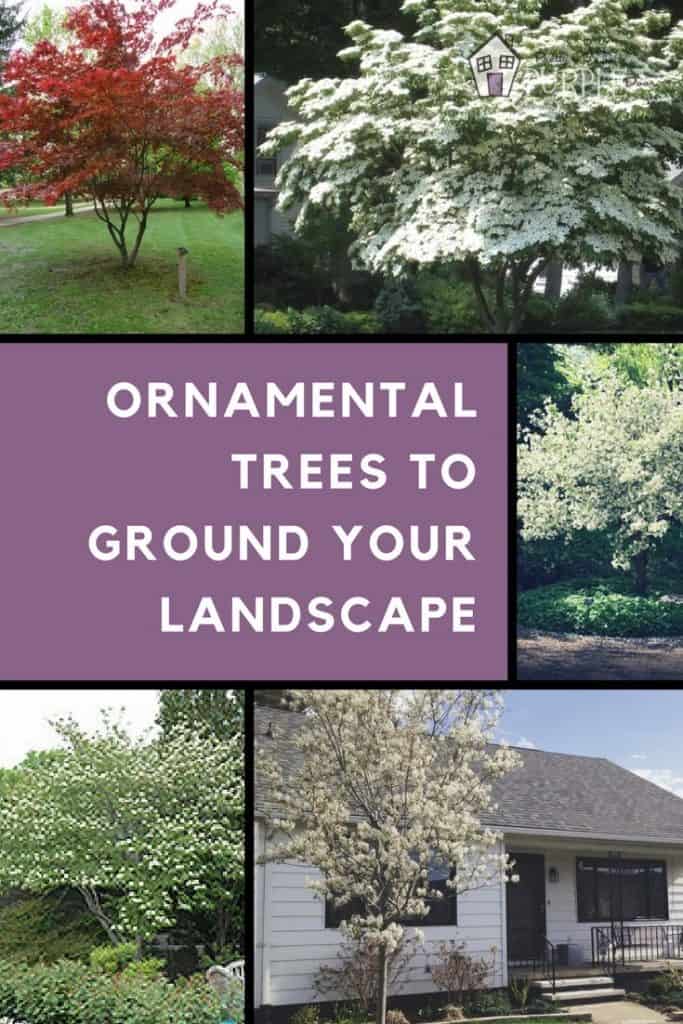 What Blooms with What?
Never know what to plant together? Find out with this FREE Plant Pairing Guide and become a pro at combining plants for the best garden design possible!