Please note: I may earn commissions from qualifying purchases if you shop through links on this page. More info.
Incredible Perennial Plants & Flowers For Mixed Borders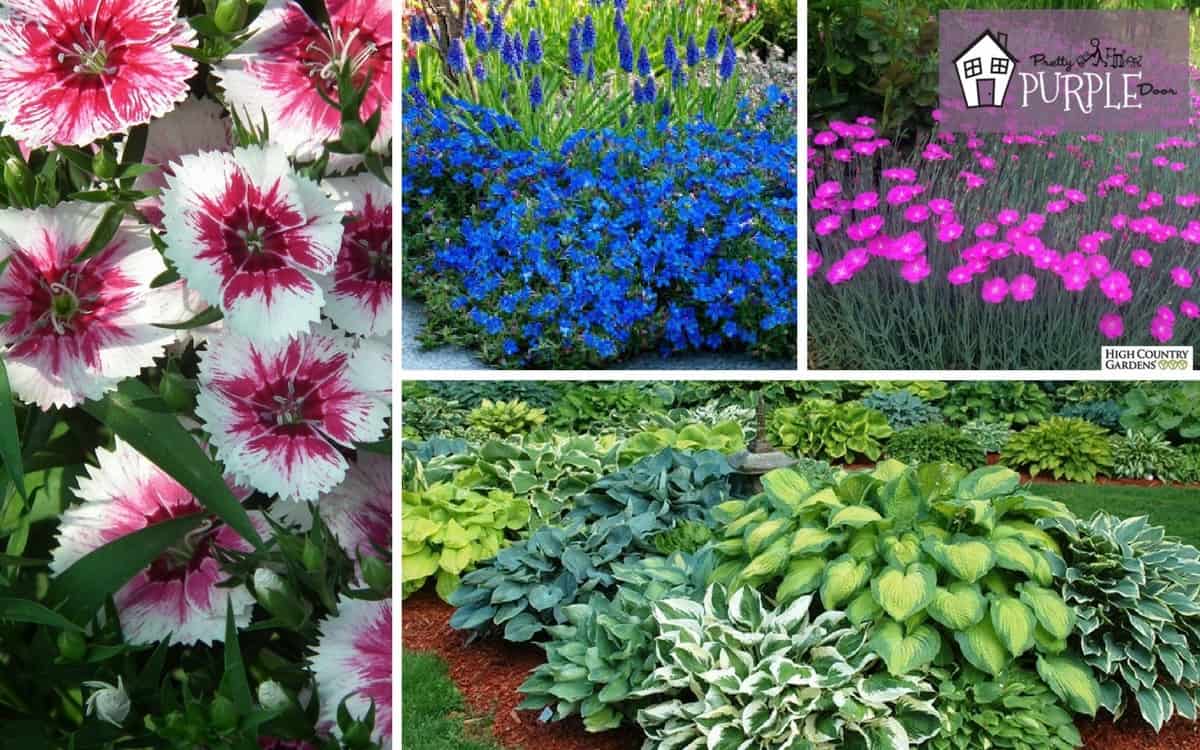 Perennial plants and flowers may just be my favorite layer of the 4-season landscape. With so many beautiful options to choose from, I doubt I am alone in that.
From late spring through early fall, perennial plants and flowers take the spotlight in a mixed border. The "bones" of your garden will almost disappear behind the wealth of blooms they offer. Plus, they come back strong year after year, without much fuss.
There are so many perennial plants and flowers to choose from that this list is really only the tip of the iceberg. Nevertheless, I included a variety of my favorite options below. They are separated by whether they need a sunny location or prefer a bit more shade.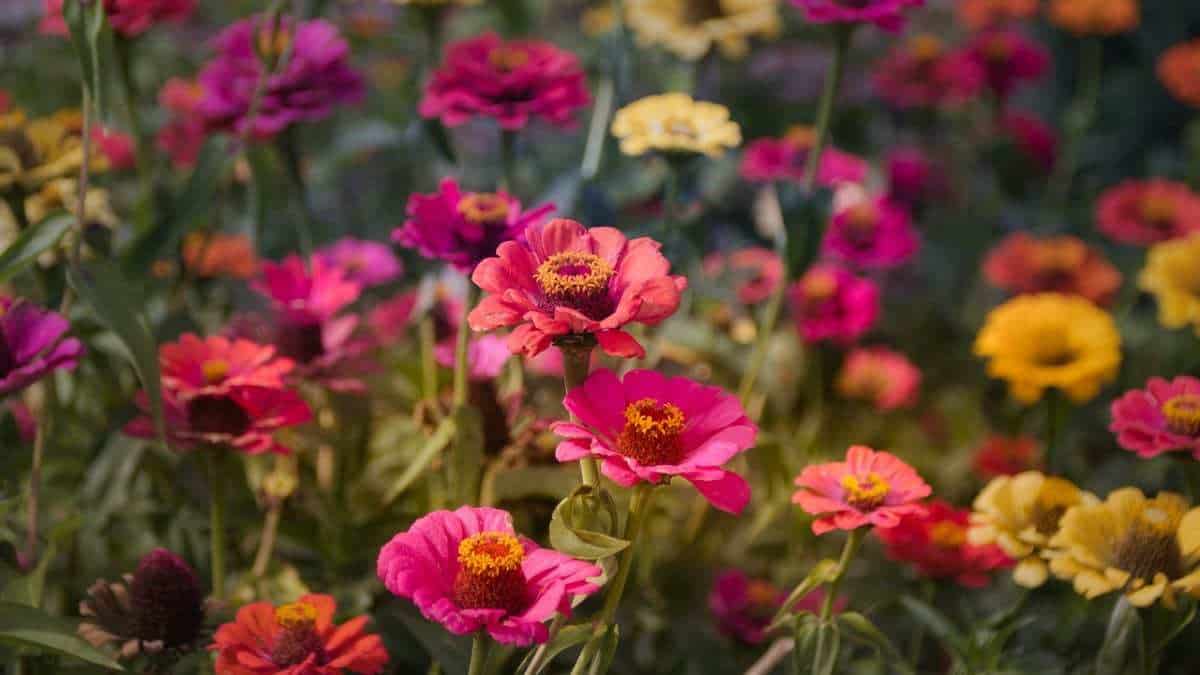 Sun-Loving Perennials for the Mixed Border
Here are some examples of common and easy-to-maintain perennial plants and flowers you can try in a sunny location.
Zones 3-8 | 24-36″ H x 24-36″ W | Full-Part Sun
Daylilies (Hemerocallis) are so easy to grow you'll often find them growing in ditches and fields, escapees from gardens. Although each bloom lasts only one single day, they carry numerous buds on each scape so they continuously bloom throughout the summer.
There are some 50,000 named hybrid cultivars in a range of colors, heights, forms, and flower sizes (the minis are very popular). Daylilies typically grow 1-3′ wide and produce numerous flower buds that are showy over a long period.
What Blooms with What?
Never know what to plant together? Find out with this FREE Plant Pairing Guide and become a pro at combining plants for the best garden design possible!
Zones 5-9 | 12-18″ W x 18-24″ H | Full Sun
Salvia (aka Sage), is part of the mint family and blooms profusely for months. Salvia are super easy to grow and attract butterflies, bees and hummingbirds. 'Blue Queen' (Salvia × sylvestris Blue Queen) is a pretty deep purple variety you should try.
Quick Tip: If you're enjoying my top picks of perennial plants and flowers, hop over to my post about Landscape Layering where you can find information about all 5 (yes… five) layers you should have in the mixed border.
Zones 3-8 | 4-5′ H x 24″ W | Full Sun
Spiky globes of blue blooms sit above coarse, thistle-like green lives with silvery-white understones. Globe Thistle (Echinops sphaerocephalus) is a very architectural plant, standing upright to over 4 feet. The foliage adds a lot of texture and even after blooming the dried seedheads will add interest to your fall and winter garden.
Quick Tip: Globe Thistle is certainly a texture superstar in the garden. If you love texture (and this Globe Thistle) as much as I do, check out this post about plant texture, featuring lots of spikey, scrunchy, lumpy, fuzzy, fluffy plants to try in your garden.
Zones 3-8 | 3′ W (clumps) x 4′ H (stems) | Full Sun
A truly lovely, trouble-free perennial for the sunny garden, the hardy coneflower (Echinacea purpurea) is pest and disease resistant. Coneflowers bloom in summer in a range of colors — pink, white, yellow, orange, and more! In the fall they attract songbirds, which enjoy eating their seed-filled cones.
Zones 4-8 | 10-18″ W x 3-6″ H | Full-Part Sun
Related to the carnation (or 'pinks'), dianthus (gratianopolitanus) comes in multiple varieties, so there's one for nearly every garden scenario. Long-blooming abundant flowers provide a delightful display all summer long.
Some varieties are even perennial, like 'Firewitch' and it will self-sow easily. Once planted, dianthus needs little tending to put on a good show.

Zones 3-9 | 12-24″ H x 18-24″ W | Full – Part Sun
Black-Eyed Susans (Rudbeckia hirta) are a garden classic with beautiful bold texture. The mounds of yellow flowers with deep-brown centers dazzle in the summer heat and all the way through fall. Each flower can last up to two weeks on the plant or in the vase. Black-Eyed Susans prefer full sun but can tolerate a partial sun area, too.
Quick Tip: With all of this talk about beautiful, blooming perennials, you may want to read my post about extending the bloom time of your flowers.

Shade Tolerant Perennials for the Mixed Border
Just because you have a shady garden does NOT mean it can't be filled with color AND bloom. Here are a few of my favorite shade tolerant perennial plants and flowers to try.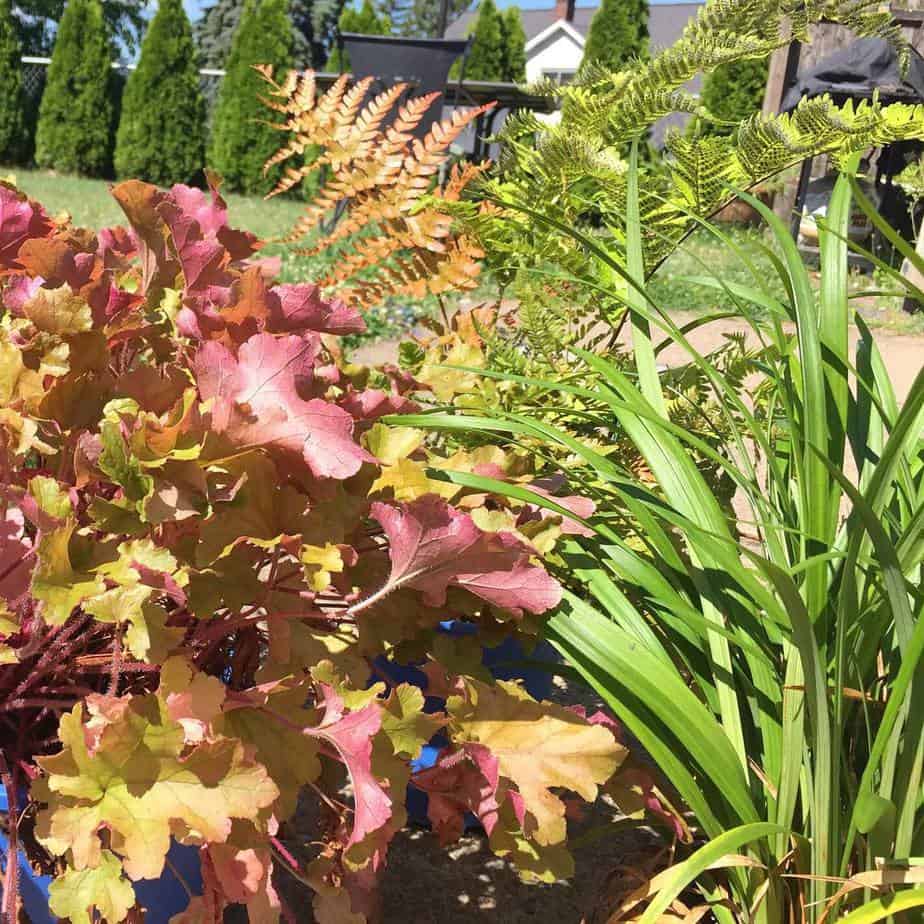 Zones 3-8 | 12-16″ H x 18-24″ W | Full-Part Sun
Coral Bells (Heuchera americana) tolerate full sun and a bit of shade. They boast tiny flowers in late spring, borne on stalks that soar 12-24" above the leaves. Coral Bells begin blooming in early June and don't stop until the end of August. You can get them in a variety of colors from deep plum purples and reds to orange to chartreuse green.
The leaves of coral bells are evergreen, even when covered in snow, adding welcome pops of pretty color to a desolate winter garden.
Quick Tip: If you're looking for some burgundy foliage in your garden, coral bells are a great option. Here are 15 more plants with burgundy-red leaves that you can try in your garden.
Zones 3-9 | 12-36″ H x 24-48″ W | Part-Full Shade
No shady garden should be without these hardy perennials. Hostas do great in a shady spot — under another shrub or tree, or shady corner of your garden that's blocked from the sun. This variegated variety is called Patriot Hosta (Hosta 'Patriot'). Hostas can be large to miniature sized, emerald green to silvery blue in color with solid to boldly patterned leaves. To top it off, hostas are very easy to care for and can be divided every two years or so.
The only downfall of the hosta is that deer love to nibble on the leaves. So, if you live in an area with lots of deer, you may want to just try one and see how it does before you invest in this beautiful shade-loving plant..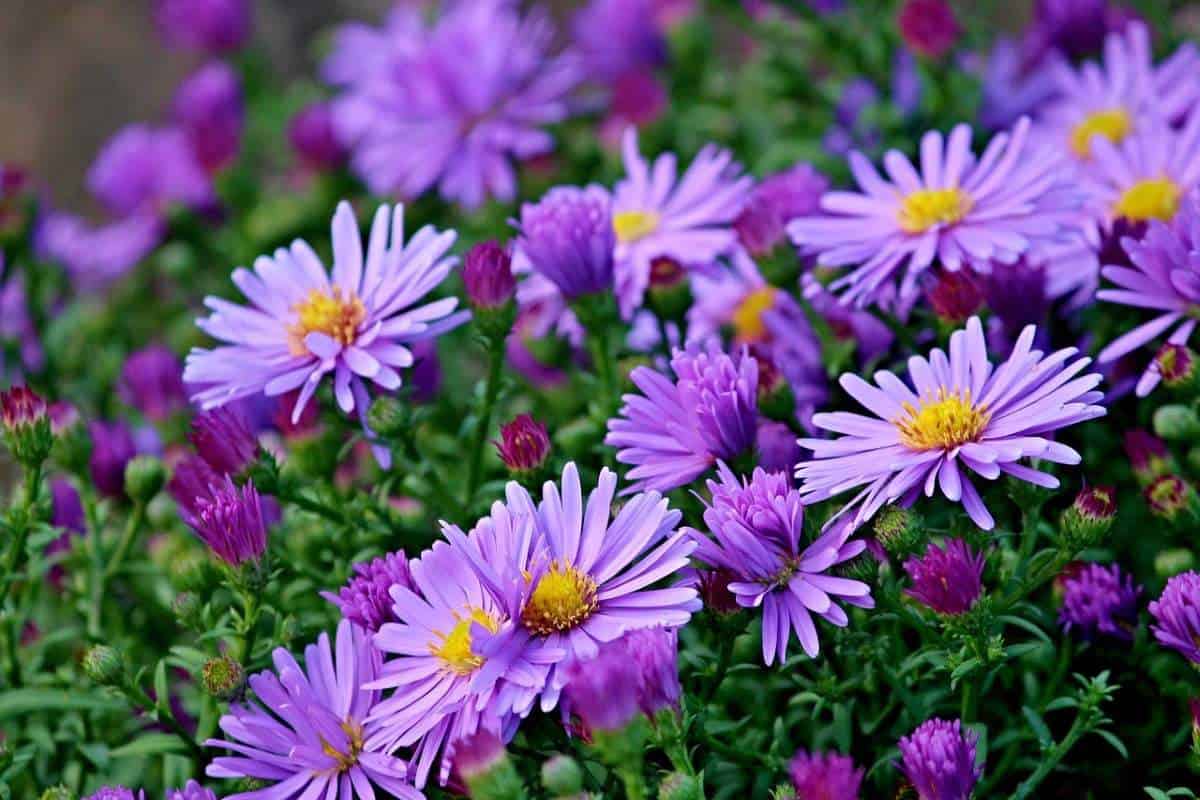 Zones 3-8 | 3-5′ H x 18″ W | Part Sun – Shade
Asters (Symphyotrichum dumosum) are late-blooming perennials blooming in August and September. Different aster varieties grow from 3-5′ high in about 18″ clumps making them a perfect choice to tuck into the back of your border.
Asters come in a variety of colors, too. Check out 'Sky Blue' (Symphyotrichum oolentangiense or Aster azureus) or the pink 'New England' Aster (Aster novae-angliae). Asters are great for a shady area which is a really rare quality that makes this a great option for your garden.
Some asters can also spread vigorously depending on the area that you live. So be sure to do your research before deciding on this beautiful fall bloomer. Or, give them a lot of space to spread out.
Zones 4-9 | 20-30″ H x 20-30″ W | Part Sun – Shade
Arguably, the astilbe is one of the most attractive of shade loving plants. Astilbe plants can display diverse foliage and flower colors. The foliage is very attractive and the plants add delightful color to a shade area or woodland garden, even after the flowers are no longer blooming. Astilbes appeal to butterflies and also make very attractive dried flowers.
Quick Tip: If you're planning a shade garden, be sure to check out my article with even more stunning plants for a shady landscape.
The Longest Blooming Perennials
While I absolutely love every perennial plant and flower on this list, I also tracked the bloom times of every plant in my garden for an entire year. In another post, I share the top 14 long blooming perennials in my garden. Some bloomed for over 12 weeks!
Wrapping Up
Perennial plants and flowers make up the fourth layer of the 4-season landscape. In layers 1-3 we talked about ornamental trees, evergreen shrubs, and perennial shrubs. Now that these "workhorses" are in place, perennial plants and flowers will add fun color and style to your landscape.
Choose perennials plants for their seasonal flowers and colors but also consider each plant's form, texture and color. Why? Because the flowers of your perennial plants are fleeting compared their foliage, which is usually on display for months before it dies back in the fall.
Since perennial plants and flowers are smaller in size, you can really add a lot of these to your landscape plan.
In my perennial garden plan, I'll go over landscape layering and give you some suggestions for each of the 5 layers:
Layer 1: Ornamental Trees
Layer 2: Evergreen Shrubs
Layer 3: Perennial Deciduous Shrubs
Layer 4: Perennial plants and flowers
Layer 5: Groundcovers, Vines and Grasses
---
Shop my Amazon storefront for my essential gardening books & tool recommendations!
More Posts Like This