We are on to layer 4, which is all about perennial plants and flowers for your landscape. In layers 1-3 we talked about ornamental trees, evergreen shrubs, and perennial shrubs. Now that these "workhorses" are in place, it's time to add some fun color and style to our landscape. That's where perennial plants and flowers really come into play. Below I have listed a few examples of common and easy-to-maintain perennials you can try.
What Blooms with What?
Never know what to plant together? Find out with this FREE Plant Pairing Guide and become a pro at combining plants for the best ​garden design possible!
Hosta
No shady garden should be without these hardy perennials. They range from
size: large-leaved to miniature
color: emerald green to silvery blue
variation: solidly colored to boldly patterned.
Hostas do great in a shady spot — under another shrub or tree, or that shady corner of your garden that's blocked from the sun. They are very easy to care for and can be divided every two years or so — leaving you with extra hostas to plant and share with your friends and family.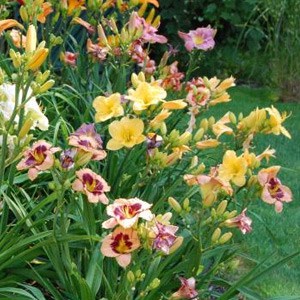 Daylilies
Daylilies are so easy to grow you'll often find them growing in ditches and fields, escapees from gardens. Although each bloom lasts only one single day, they carry numerous buds on each scape so they continuously bloom throughout the summer. There are some 50,000 named hybrid cultivars in a range of colors, heights, forms, and flower sizes (the minis are very popular). Daylilies typically grow 1-4′ in height and produce numerous flower buds that are showy over a long period. Zones 3-8.
Angelonia
Angelonia blooms non-stop all summer long. It comes in blue and purples, as well as pinks and whites. It's very drought-tolerant and you can stick it in the "hot spots" of your garden. It will thrive! Some varieties are fragrant and it attracts butterflies. Upright versions like the Angelmist or Carita series can get 2 (or more) feet tall. There are also spreading varieties, such as Serena and Carita Cascade (these are great in hanging baskets, too). Hardy to Zone 3.
Blue Queen Salvia
Salvia, commonly known as Sage, is the largest genus of plants in the mint family. Salvia blooms profusely for months and even the blackest of thumbs would have trouble killing it. Deer hate it, butterflies, bees, and hummingbirds love it. "Blue Queen" is a pretty deep purple variety you should try. Zones 5-9, about 18″ high x 12″ wide.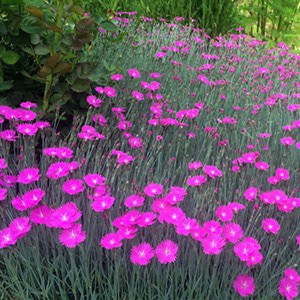 Dianthus
Related to the carnation, Dianthus comes in multiple varieties, so there's one for nearly every garden scenario. It has abundant flowers and is long blooming for a delightful display all summer long. Some varieties are even perennial, and it will self-sow easily. Once planted, it needs little tending to put on a good show.
Lithodora
Lithodora is a low, mat-forming evergreen plant that produces 5-lobed blue or white flowers from May to September. Try "Heavenly Blue" — it's one of the very few perennial flowers that are a true deep blue (not purple). The internet says that these do well in full sun to part shade, but I've had more luck with them in part shade. Perhaps it's because I'm in zone 5 so they need a bit more protection from the elements.
Echinacea Purple Coneflower
A truly lovely, trouble-free perennial for the sunny garden, the hardy Echinacea (Coneflower) is pest and disease resistent. Coneflowers bloom in summer in a range of colors — pink, white, yellow, orange, and more! In the fall they attract songbirds, which enjoy eating their seed-filled cones.
Alliums
I saved the best (and my favorite) for last: Alliums. ONIONS, shallots and garlic are alliums that you can eat, but there are many ornamental alliums too! Try the 'Globemaster' with heads that can be bigger than a softball and totally Dr. Seuss out your yard. Chives (the ones you can eat) are also a beautiful form of ornamental onion — check them out! Alliums bloom in early spring and can be 8 inches – 4 feet tall.
Ornamental Grasses
Ornamental grasses deliver a lot of bang for the buck. They introduce exciting textures to the garden, along with movement and even sound as they rustle in the breeze. You can count on these beautiful, low-maintenance grasses to add interest to your landscape all year long.
Feather Reed
A slight breeze will put the 5′ tall, feathery "blooms" in motion which adds life to any landscape. Because of its strong vertical growth habit it is more likely to maintain its posture even in heavy rains or snows. Deer resistant.  Zones 4+, 5' high (cut it back to 5″ in mid-March), prefers full sun.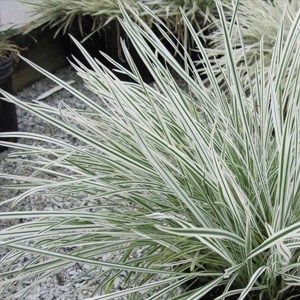 Striped tuber oat grass
One of the brightest ornamental grasses striped tuber oat grass spreads slowly and adds interest in the cooler seasons. It looks like a spiky clump, although its leaves are pliable. Each little blade has white borders with a thin, dark-green line running down the center. As it grows, leaves look nearly white.
Keep Reading...
In my perennial garden plan, I'll go over landscape layering and give you some suggestions for each of the 5 layers:
Layer 5: Vines and Groundcovers (coming soon)
Finding the perfect ornamental tree for your front yard can be a difficult process. There are a lot of factors to think about before deciding which front yard tree you'll be coming home to each day and caring for each year. Here are some tips for choosing the right tree for your front yard.
If you have a dog, you know the damage they can do to a landscape. Digging under shrubs, pounding out a dirty path by the fence, or even eating your delicate (and potentially poisonous) flowers. Lets face it… dogs are quick to turn your beautiful landscape into their...
One of the Easiest (and coolest) DIY water features yet. Make this "pondless" invisible fountain bubbler in an afternoon and enjoy for years to come!
For your pinning pleasure...