Please note: I may earn commissions from qualifying purchases if you shop through links on this page. More info.
Evergreen Shrubs – the Most Important Part of Your Mixed Border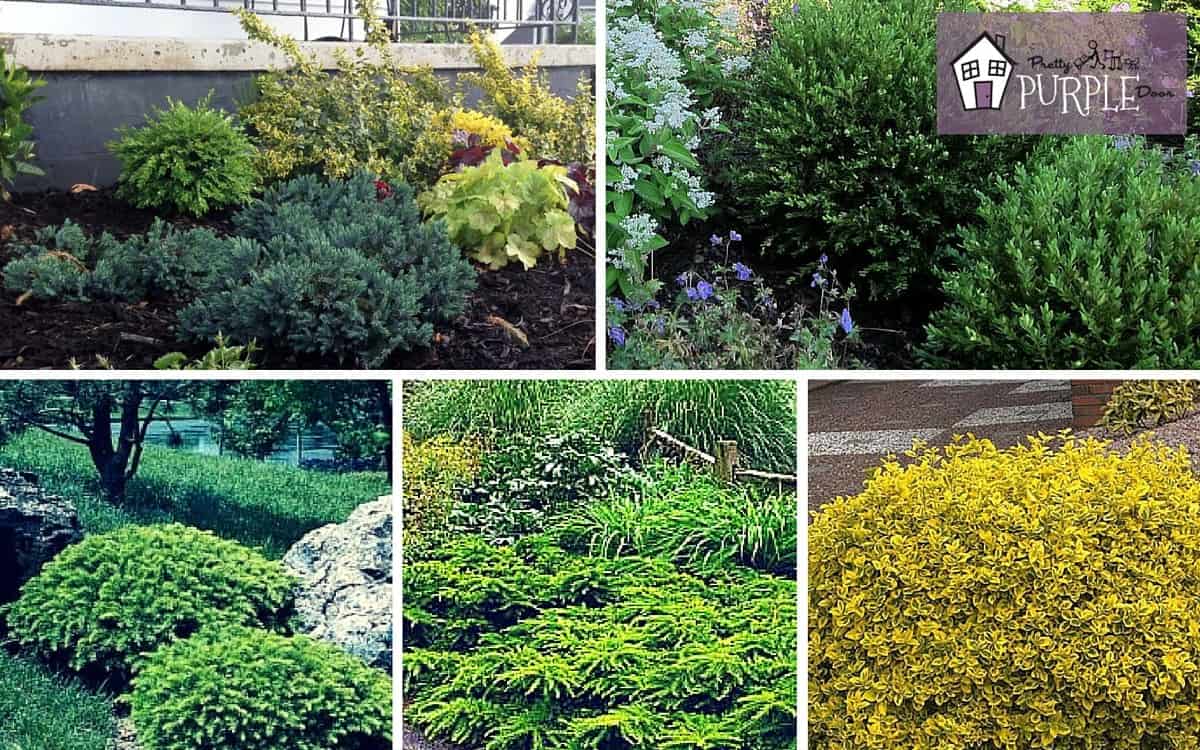 Evergreen shrubs unite the trees in your yard into a harmonious landscape. Because they often have multiple trunks and leafy branches that go all the way to the ground, they fill up the background and frame the borders. They add volume and bulk to the planting.
Even the smallest evergreen shrubs can act as edging and separate your garden bed from the lawn.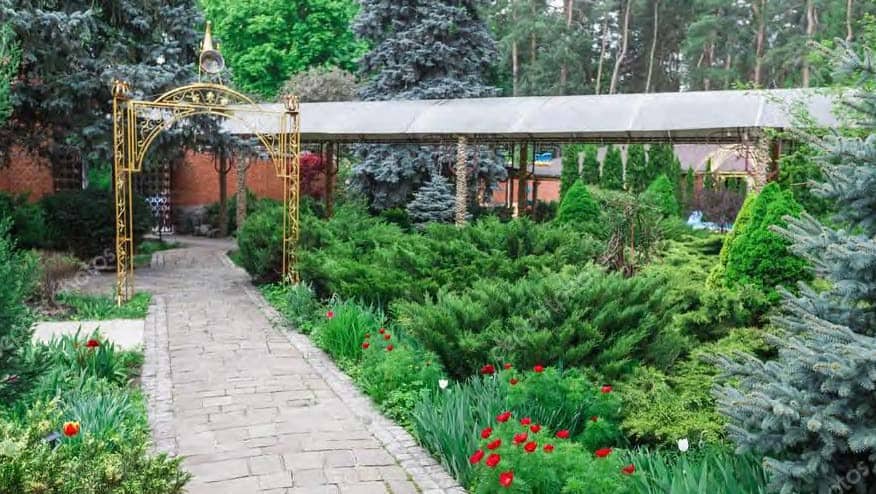 Evergreen shrubs are a great for creating structure in your garden when you don't have fences, buildings or other hardscape elements.
It's true that evergreen shrubs take a backseat to deciduous shrubs because they flower and change color throughout the year. But even though they change only modestly through the seasons, evergreen shrubs create vital green islands in otherwise barren winter landscapes.
Shop for evergreen shrubs online.
Evergreen shrub backdrops don't HAVE to be boring
Just because evergreen shrubs are workhorses doesn't mean they have to boring. There are many textures and options to choose from.
Evergreen shrubs can have very small leaves, pointy pine needles or even appear soft and fluffy. Planting opposing textures next to each other accentuates the differences and makes for a more interesting landscape.
The same goes for shape and size. You can pair tall, interestingly shaped evergreens with well-behaved, mounded ones. The effect is dramatic and eye-catching.
Taking advantage of evergreen shapes also allows more plants to be packed into an area.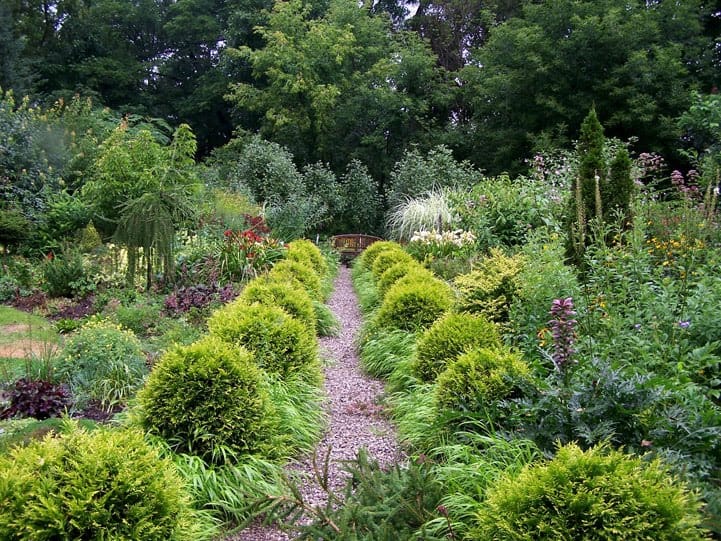 Tips for using evergreen shrubs in your landscape
Here are some tips for using evergreens to create a flowing structure that will hold up throughout every season:
1. Group evergreen shrubs together
Choose one plant as the focal point and add others that compliment its color, texture and form. Head over here if you want to know more about plant groupings.
2. Repeat evergreen shrubs or shrub groupings
Repeat the same grouping or plan a complimentary grouping farther down the border. Repetition helps to create unity and flow in the landscape — learn more about this here.
3. Break up evergreens with deciduous shrubs or plants
Between the evergreen groups, plant deciduous shrubs and perennial plants. Showcase one or two with outstanding winter interest.
4. Stagger evergreens for a casual look
For a more casual, cottage style look, stagger evergreen shrubs so they don't line up in neat rows.
Quick Tip: Interested in adding more depth and dimension to your landscape? Check out my post on Landscape Layering to learn more.
Evergreen shrub suggestions for a 4-season landscape
Here are the evergreen shrubs I'll explain in more detail:
Wintercreeper 'Emerald & Gold'
Boxwood 'Northern Charm'
Juniper 'Blue Star'
Yew 'Tauntonii'
False Cypress 'Golden Mop'
Azalea 'Hot Shot Girard'
Abelia 'Radiance'
Dwarf Loropetalum 'Purple Daydream'
Indian Hawthorn 'Pinkie'
Rhododendron 'PJM'
Check out these popular 5-6′ evergreen shrubs
Check out my favorite narrow evergreen trees for privacy
The trademark of the emerald & gold euonymus (wintercreeper) is its free flowing form and variegated foliage: in this case, green on the inside, golden on the outside.
Zones 5-9 | 3' H x 4' W – See more euonymus varieties you can purchase today.
This oval/round shaped evergreen shrub has emerald green foliage. The small round leaves have a fine texture and turn dark green in fall. 'Winter Gem' is also a great variety to consider. Check out my boxwood size & growth rate comparison to find the boxwood that's right for you.
Zones 4-8 | 4' H x 4' W – Shop for boxwoods online.
What Blooms with What?
Never know what to plant together? Find out with this FREE Plant Pairing Guide and become a pro at combining plants for the best garden design possible!
This evergreen stands out because of the cool blue tones of its needles. Short in stature, blue star junipers will add subtle pops of color to your landscape year-round.
Zones 4-8 | 2' H x 3' W | Purchase blue junipers online right now.
The dark green foliage of yews look great in a wooded area amongst mature trees, in a shady corner or planted on a steep slope. There are spreading, mounded and even upright varieties to choose from. The compact variety Tauntonii (Taunton's Yew) has a pleasing form and can tolerate shade.
Zones 4-7 | 3-4′ H x 5-6′ W – Find the perfect yew shrubs here.
Golden Mop False Cypress is a unique evergreen shrub mop-like, with stringy leaves that color best in full sun. Golden Mop will add contrast to your mixed border and is a great option in rock gardens, slope plantings and Asian garden schemes. It's a slow-grower but this cypress is definitely worth the wait.
Full Sun | Zones 4-8 | 3′ H x 4′ W | More Info
Quick Tip: If you're looking for skinny privacy trees, head over to this article featuring my favorite narrow evergreen trees.
A great partial sun option for a mixed border, 'Hot Shot Girard' azalea is a hardy, ornamental evergreen shrub with brilliant flowers. This azalea catches fire in mid-spring with orange-red 3″ ruffled blooms.
Part Sun | Zones 6-9 | 2-3′ H x 2-3′ W | Purchase
Quick Tip: If you liked these options but are looking for some more, check out my post on 5-6′ evergreen shrubs!
Radiance abelia is a tough, yet beautiful, evergreen shrub with a compact habit with variegated foliage on contrasting crimson-colored stems. The foliage begins medium green with creamy yellow margins and ages to silvery-green with cream margins. Fragrant, white tubular flowers appear mid-summer to fall, attracting pollinators to your garden.
Full Sun-Part Sun | Zones 6-10 | 2-3′ H x 4-5′ W | More info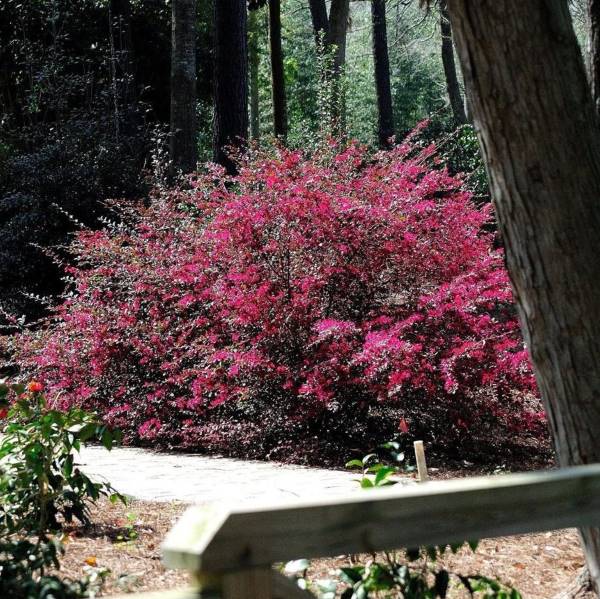 Dwarf loropetalum is wider than it is high and features this beautiful, dark purple foliage year-round. Each spring, it bursts with dark pink (almost red) clusters of flowers. This shrub has a nice, compact rounded form and is fairly deer resistant and also drought tolerant once established. It has a lot going for it!
Full Sun-Part Sun | Zones 6-10 | 2-3′ H x 3-4′ W | Purchase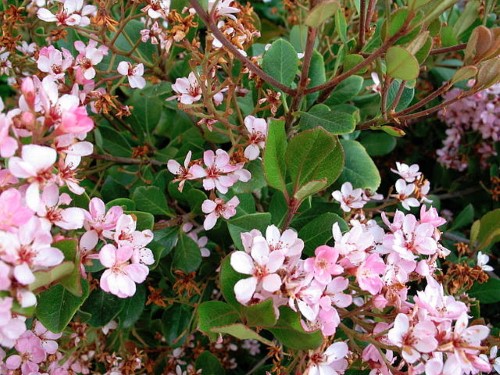 The Indian Hawthorne is a no-fuss small and slow-growing shrub native to southern China and Japan. It bursts with pink or white clusters of flowers in spring, which give way to dark blue berries that attract birds and other wildlife the rest of the year.
Zones 7-9 | Part-Full Sun | 2-3'H x 3-4'W | Purchase
PJM blooms in very early spring with mauve colored blossoms that contrast with the small, dark green leaves. The evergreen foliage takes on a mahogany-brown winter color. This variety is noted for its tolerance for heat as well as cold. This is a very popular choice in my hometown (Northeastern PA) because of it's early bloom time, evergreen foliage and overall low maintenance.
Zones 4-8 | Part Sun | 3-4'H x 4-5'W | Purchase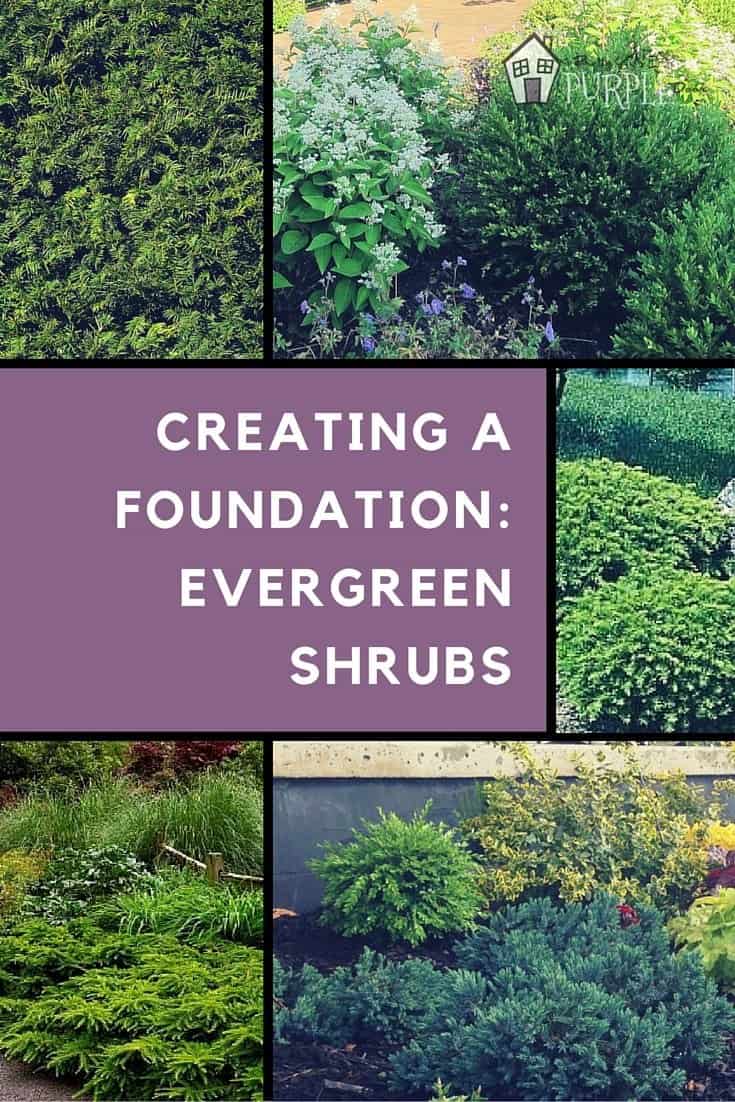 Wrapping Up
Evergreen shrubs are probably the most important part of your perennial garden plan. They create an awesome backdrop for your other showcase plants, so they don't get lost in your house colors or other distracting objects.
Evergreens stay green all year round… even in the bitter cold of winter. Some great picks for evergreen shrubs are the emerald & gold euonymus, northern charm boxwood, 'blue star' juniper, 'tauntonii' yew and 'hot shot girard' azalea.
While you're choosing your evergreen shrubs, think about using the left textures, shrub sizes and even color variation to really play off of each other and make for a solid but interesting foundation row.
If you want to learn more about creating an effective landscape, be sure to check out my post about landscape layering and creating a mixed border.
With so many to choose from it's hard to pick just one evergreen shrub for your landscape. What's your favorite evergreen tree or shrub? Leave a comment on Facebook and let me know!
Keep Reading
In my perennial garden plan, I'll go over landscape layering and give you some suggestions for each of the 5 layers:
Layer 1: Ornamental Trees
Layer 2: Evergreen Shrubs
Layer 3: Perennial Deciduous Shrubs
Layer 4: Perennial plants and flowers
Layer 5: Groundcovers, Vines and Grasses
More Gardening Posts You'll Love